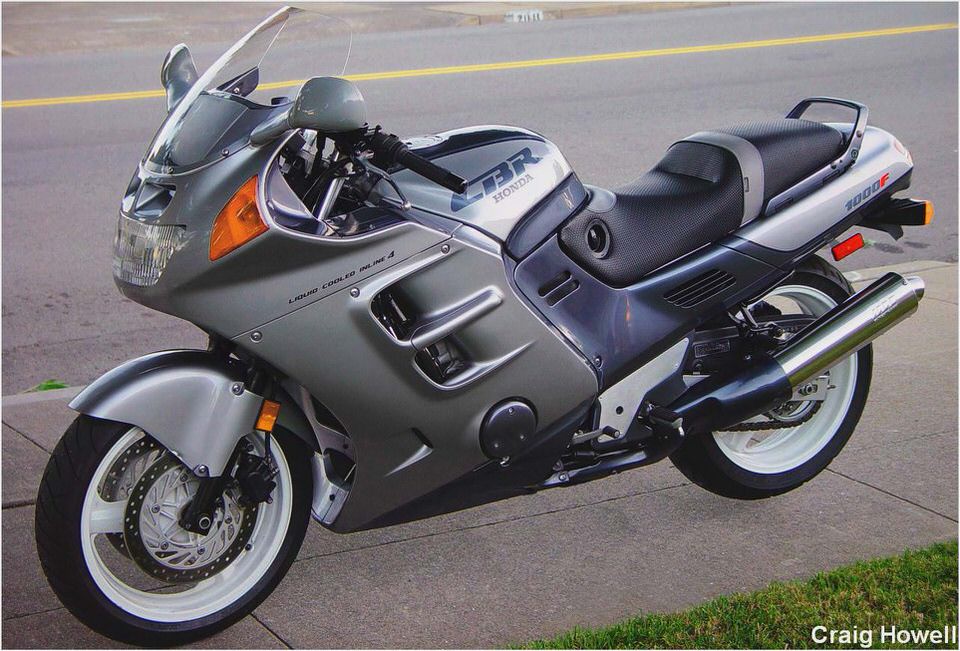 MY PERSONAL REVIEW ON THE HONDA CBR-1000 F (Built 1987 – 2000)
MY STORY,
TECHNICAL REVIEWS AND
INTERESTING KNOW-ABOUTS
RELATED TO THE DECENNIA OF
THE LEGENDARY HONDA CBR-1000 F (from 1987 – till 2000)
HONDA CBR-1000F HURRICANE: THE INTRODUCTION OF A LEGEND.
Long before the CBR-1000RR was the CBR-1000F, and while the two may share the bulk of their respective model denominations, that was as far as the similarities went.
The CBR-1000F was power-packed for its day, and with acres of aerodynamic bodywork was a first-rate tool for comfortably slicing your way across the country at a rapid old pace.
HISTORY OF THE LEGENDARY CBR-1000 FAMILY
Launched in 1987, by today's standards the bike is devoid of any esthetically redeeming features. At the time some people thought it was unbelievably futuristic, others thought it had grown up in a forest of ugly trees.
It features a liquid-cooled, DOHC, 998cc, four-cylinder 16-valve engine, which makes a claimed 130hp or thereabouts. A balancer shaft kept things smoothish below 5000rpm, making it very civilised until it got a decent wind up its skirt. The engine began life housed in a steel perimeter chassis and ended up in the same – a clear case of don't fix what ain't broke.
Suspension was by 41mm air-assisted forks up front and a monoshock at the back.
The year 1989 saw modifications made to the model's cam chain tensioner, to try and stifle the dreaded rattling that occurred at disturbingly low kilometres, but really amounted to nothing more than an irritating rattle. Apart from that, the forks became more sophisticated, wheel sizes grew to accommodate radial tyres and it got heavier. More importantly the bodywork underwent a significant change, which immediately made it easier on the eye and lowered its seat height at the same time.
The next change of any significance came in late 1992/1993, when the Dual Combined Braking System (abbreviated as DBCS) arrived. This much-maligned attempt to stop the inept throwing themselves up the road under brakes, was met with scepticism and sarcasm.
Briefly, the front brake lever operates the front calipers and also proportionally applies the rear brake. The back brake pedal operates the rear caliper and one piston of each front brake caliper. However, it was an important step on the evolutionary ladder in recognising that a good number of riders are incapable of saving themselves, and DCBS has since evolved into a sophisticated and worthwhile piece of equipment.
From there onwards the changes were small but aimed at making the quality and appeal of the bike continue, which it did. The CBR-1000F is quite rightly an icon, and even now 13 years after my photo model (SC-24 Type of 1996) was produced, it represents an outstanding used bike buy.
BEHAVIOUR ON THE ROAD
The CBR is a big motorbike in the old style of long and stable. Actually, it feels big because it is big. This translates into a roomy ride that allows the more generously proportioned among us to enjoy the scenery rather than worry about how to relieve the pressure spots.
It's also very kind to pillions, having a decent seat, low footrests and a grab rail.
Early models need some speed before the steering really lightens up, but thankfully once moving it steers fairly easily despite the weight of about 260 kg wet. The downturned clip-on bars mounted above the yokes are relatively comfortable and like all sports style bars improve the faster you go. The footrests are comparatively low and in concert with the soft suspension do little for the cornering clearance.
The combination of a low seat (780 mm), a semi sporty riding position, good fairing protection and a decent fuel range of well over 300 km from the 21 liter tank, make the CBR very good at fast touring. However, if you like to up the pace you'll find the fuel consumption increases significantly.
Strangely even this seems to have been considered, as the reserve tap is big and easy to find, even in winter gloves. The bike is covered in similar thoughtful details that are appreciated over time. Lights are big and bright, the front giving a particularly good spread.
THE TRADITIONAL AND PRACTICAL HONDA MADE DASHBOARD
The dashboard is of course very dated now, but nevertheless neat and typically Honda, clearly reflecting that Honda also builds cars. It even has a centrestand – an item that's becoming an ever-rarer piece of standard equipment these days.
Below 5000/rpm the engine is as close to a magic carpet as it's possible to get. It pulls from nowhere with a purring silkiness that is as muscular as it is friendly, and although the bottom end power isn't exceptional, it's certainly enough.
There's plenty of muscular midrange that builds in a nice, dependable way, but once the tacho needle hits seven thousand, the story changes as the engine boosts forward all the way to the 10.500/rpm redline and an indicated 250 km/h. So I'm told.
Make no mistake, the CBR Thousand F is still a fast motorcycle.
Handling in the twisty stuff is resolute and needs some shoulder work, and although the larger bumps and holes can disturb the plush but somewhat basic suspension, it rarely gets compromised.
Things may scrape, but the bike is enormously forgiving and is capable of being ridden well by riders of all abilities. In the event that things do get out of hand, the twin 296mm discs gripped by dual opposed piston calipers still provide enough power to stop you in a remarkably short distance, regardless of criticism from test ride experts. Sure the DCBS linking takes a little time to get used to and may not suit everyone, but it works and works efficiently well.
IN THE WORKSHOP
Servicing costs can be kept low if you do the services yourself, but servicing at a dealers is not prohibitively expensive, especially if you take off the fairing yourself.
Even so the CBR is pretty simple, with valve clearances being by simple screw adjuster. A basic service is recommended every 6.000 km with a valve clearance check at every 12.000 km.
The cost for the service comes in at approximately – 140 for the minor and about – 200 for a major, if no adjustments need to be made.
WHAT TO LOOK FOR?
The CBR-1000F is a very reliable motorcycle with virtually no known problems.
Mostly, bikes with more than 60.000 km on the clock can get a little rattly in the cam chain and alternator chain, as the tensioner and the chains themselves wear out.
However, it's an easy fix that won't stress the bank account unduly, and will give at least another 60.000 clicks before needing more attention.
If the rest of the bike is beautiful, just strike a bargain based on a mechanic having a listen.
While on the subject of cam chains, some owners report that the carbs go out of balance quite quickly, which in turn causes the cam chain to clatter because of the uneven running at idle.
Balancing the carbs goes a long way to improving things, but by now there will be a bit of wear in the carbs, so setting up may well be not quite as good as it was.
The six-speed gearbox is typically Honda, by means of being a little bit clunky and not without the odd false neutral, but unlikely to give trouble. In fact there's more likely to be problems with the linkage getting gummed and seized, leading to a doughy, stiff feel at the lever.
When buying, if it sounds okay then it probably is. There are stories of igniter boxes playing up but I don't personally know of a single case.
Always try to spend your time checking out the things that wear, such as bushes and bearings, and then the consumables that can add a surprising amount to the purchase price if you have to replace them.
Because of its size and weight, chains, sprockets and tyres can get a hard time if the rider is aggressive with the throttle.
However, because the CBR tends to be the choice of more mature riders, it's not unusual to find that the bike will come with all manner of 'sensible' extras, like racks, panniers, chain oilers etc, which can help offset the cost.
Always take care and look carefully for accident damage. The CBR has clever little fairing protectors built into the side of the fairing, which are very effective at preserving the panels in the event of a drop, but they do nothing for the mufflers. They are also fairly cheap to replace should they get marked.
Other indicators of damage may be found around the fairing mounting holes. Look for crazing in the plastic, which shows that the plastic has been stressed at some time. If nothing else it may give a clue to the type of Neanderthal that may have been entrusted with the servicing.
Naturally the suspension will be way past its best unless someone has spent money on it, and so will the brakes. So make sure you check the forks seals and disc thickness. Once again though, neither should put you off, just adjust the price accordingly.
WHICH MODEL TO CHOOSE?
In my opinion the advent of the linked braking system in 1992 puts anything before that out of the equation.
The year 1993 saw different carbies thrown on to give better throttle response, plus a restyle that endured to the demise of the model in 2000.
In terms of what would be the best, there's not a lot to choose from between them; your decision can safely be made according to price, condition and what extras are likely to be thrown in.
Personally, for me the later models got better looking, as they looked classier than the VFR.
More particularly, I like the colour schemes, especially from the 1996-model with the flamed design.
MODIFICATIONS
A set of 36 liter panniers from Givi or the 30 liter units from Honda's own catalogue are essential for serious touring, after the replacement has been done of the original endpipes into a pair of LASER PROSTOCK mufflers, which are lovely to look at and which also produce a really beautiful, mellow note.
Heated grips for year-round riding would also be a worthy addition if you live down south – then just a freshen-up of both brakes and suspension, some higher, flatter handlebars and you can leave well alone.
==================================================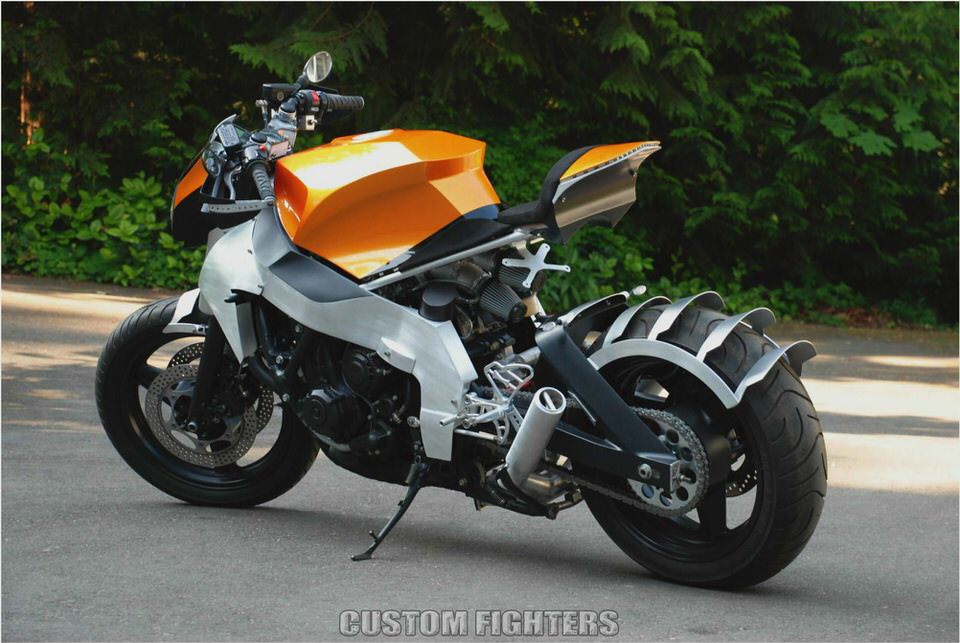 SUMMARY OF MY PERSONAL REVIEW:
The HONDA CBR-1000F is classy, refined and a truly great bike and it also represents everything that Honda is reknowned for.
The fact that it is considered bland may in fact be its finest attribute, after all – not everyone needs to make statements about themselves or their choice of mount.
As a used buy for a person who wants to ride for the sake of the ride, it's still one of the most relevant and practical bikes in the market place.
==================================================
THE STORY OF MY OWN CBR-1000F
(Type SC-24, built in 1996, with DBCS and 3-coloured flame scheme)
I bought my own CBR1000-F (1996) on 23/01/2009, with at about 70.000 km (69.792 km to be exactly) on the clock, which is the start of a still-going-on love affair.
I still look back upon fondly the day of my (second hand) purchase in January 2009. As my first bought motorbike, a powerful, energetic and fast Kawasaki ZZR-1100 D-type (1994) is still on duty to courier on during the week, my CBR is my 'nice' ride – the weekender, if you like.
Compared with the 149 HP powerful engine of my Kawa ZZR, my CBR's 130 HP means a big figure back, knowing that on a relatively open, sweeping road the Kawa ZZR is simply superb and tremendously fast and furious.
Though the CBR is a rather heavy beast to wheel around the garage or thread through traffic, after building up only a little speed, his weight (as only disadvantage) melts away, leaving a stable, confidence-inspiring ride instead.
Apart from regular servicing and consumables, the CBR never cost me a cent – it is super reliable, even when it had racked up well over 69,000 km.
MUFFLER TUNING OF MY OWN CBR-1000F
To become an extremely deep sound effect while starting and accelerating and for the purpose of a nicer sportslook, instead of the original (black) pipes, my CBR now is equipped with a goodlooking full inox LASER PROSTOCK exhaust system, as an added bonus, which produces a much heavier deeptone sound, giving my motorbike a more agressive expression and an even more powerful character.
If you don't mind the conservative styling and you're after a fast point-to-point machine whether you're solo or two-up, the CBR-1000F is one of the utmost brilliant budget options, believe me!
According to my personal experience, a Honda CBR distinguishes itself from a lot of other motorbikes by means of reliability, quality, comfort and low fuel consumption (depending on the riding style).
==================================================
EVALUATION OF THE HONDA CBR-1000 F
TOP OF THE CLASS
Easy to live with
PERFORMANCE
Max power: 130 HP at 8600/rpm
Max torque: 8,3 kg-m at 6.500/rpm
INSURANCE
Model: 1996 Honda CBR-1000FS
Cheepest quote: – 100,00 (12 months, in combination with a car insurance)
ROADTAX (BELGIUM)
At about – 45,00 (12 months, depending from the city you live and the local taxes)
==================================================
So dear Honda-lovers, I hope to be helpful with this quite detailed information, comments and technical reviews I just shared upon my personal knowledge and experience.
Best regards from a passionate HONDA CBR-driver.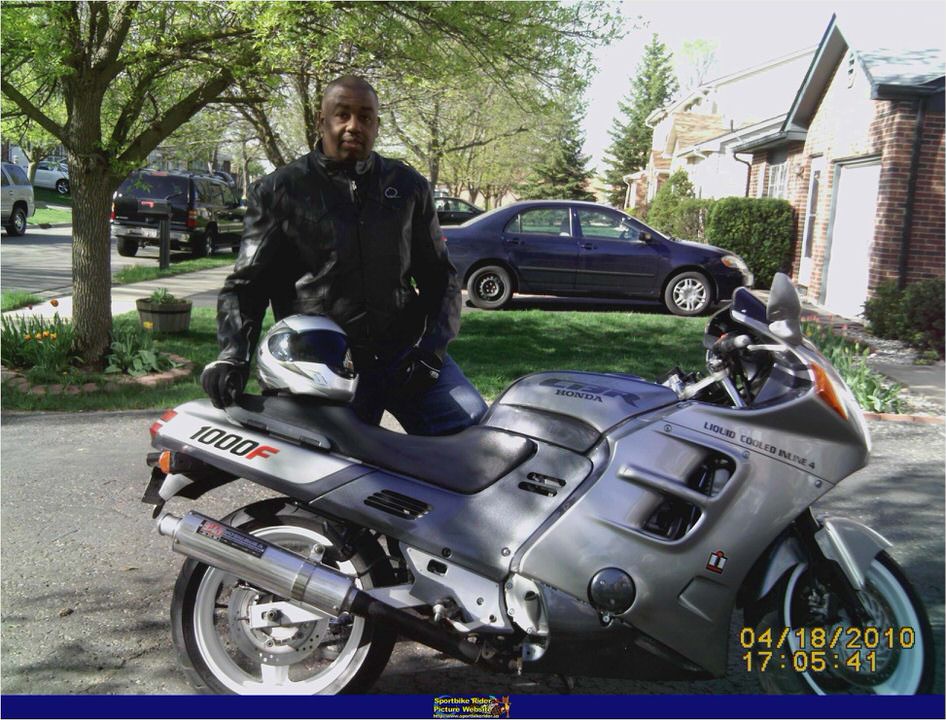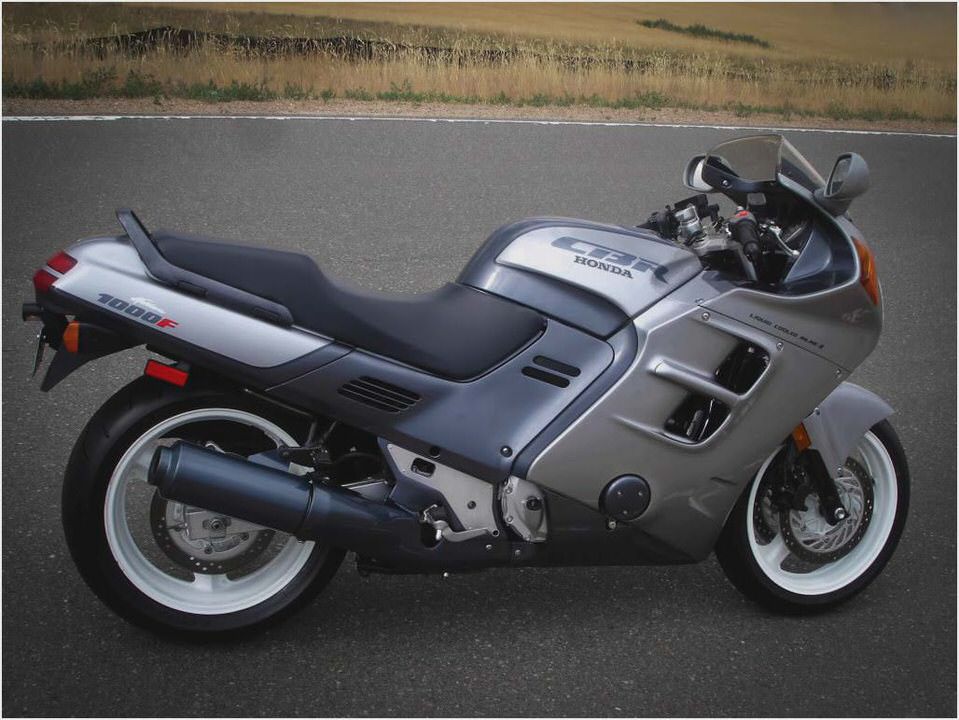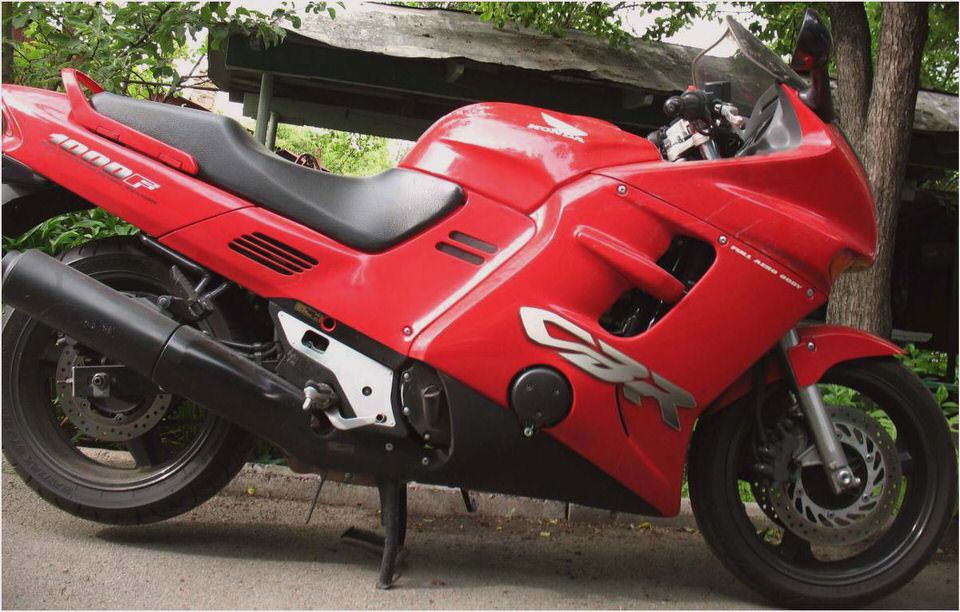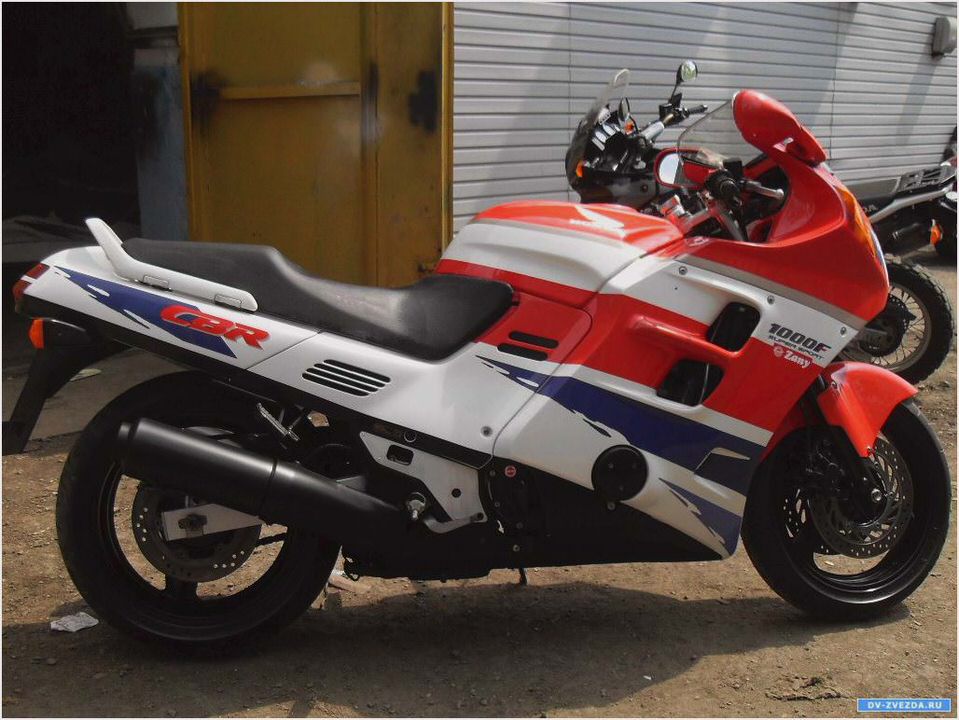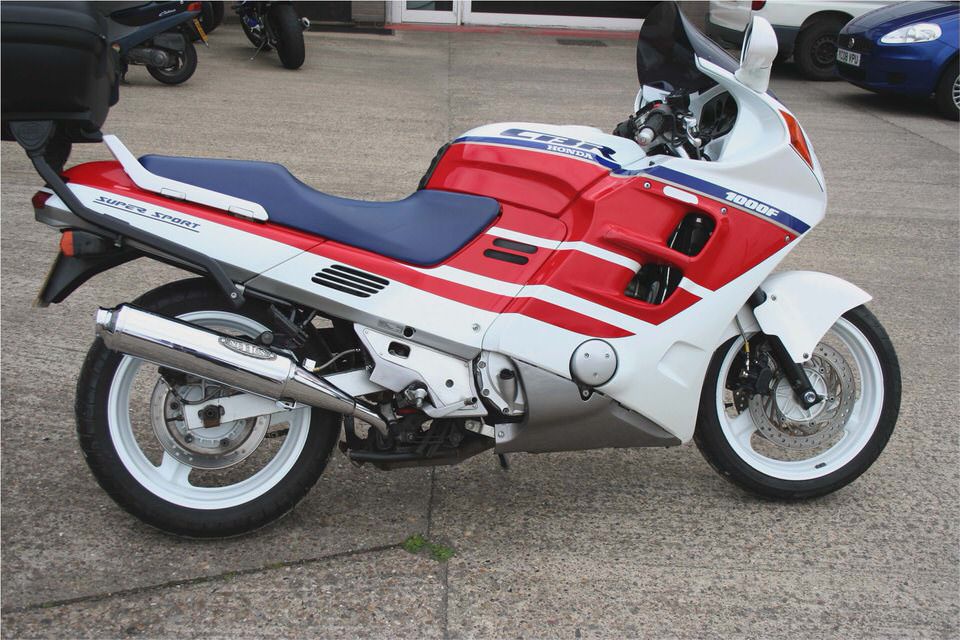 Glamour PGM FI Bike – Prices, Reviews, Photos, Mileage, Features & Specifi…
2013 Honda CB1100 Review
2014 Honda Odyssey new car sales price carsguide.com.au
2012 Honda VRF 1200F motorcycle review @ Top Speed
2014 Honda VFR800F Interceptor First Look Review- Photos- Specifications