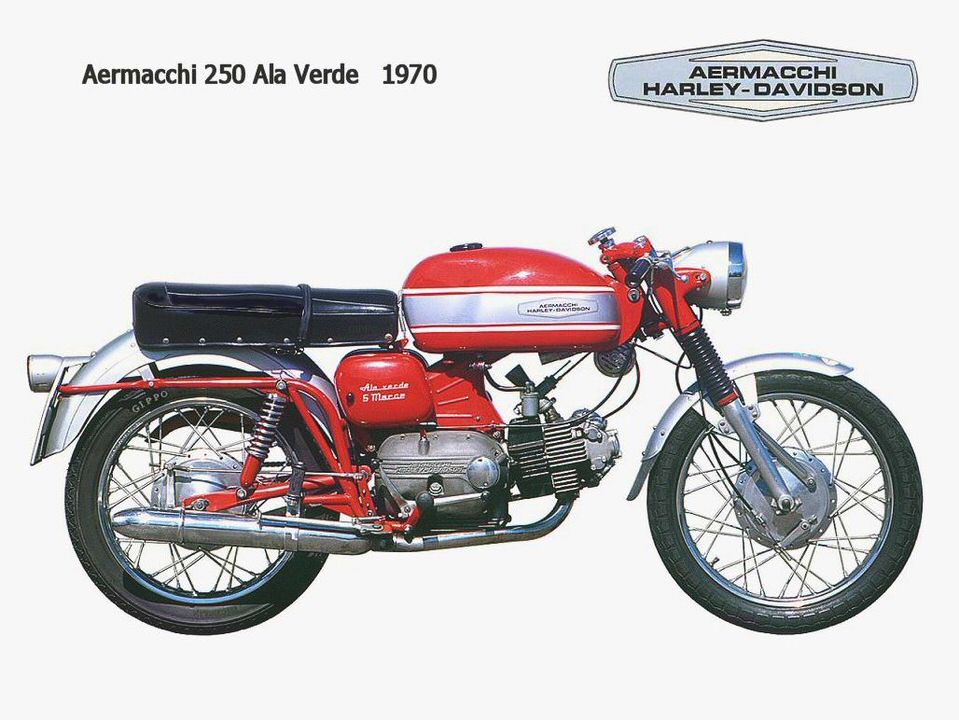 Wardy's Second
Jeff Ward, of Newport Beach, Calif. holds up his No. 1 plate after clinching the AMA Supermoto Championship at the Queen Mary Docks in Long Beach, Calif. on Sunday, Nov. 5, 2006. It marked the second AMA Supermoto Championship for Ward. (Larry Lawrence photo)
15 Minutes Before All Hell Breaks Loose
Wow, I can't believe I came across this photo. This is Roebling Road, maybe 1990, Kurt Hall (60) leading Valvoline Suzuki teammate Mike Smith and coming up fast is Mike Harth (65) on a bike he borrowed from a novice racer on the spur of the moment. About 15 minutes after this photo was taken all hell broke loose in the pits.
Harth, who won, had been protested by Smith I think. Smith said the decision wasn't up to him. The novice rider Harth borrowed the bike from had to work the next morning, had a long way to travel and couldn't stay to get his bike torn down. Harth was furious with being protested. This was $1000 Suzuki money he'd just lost.
What he did next has become part of WERA racing lore and I will tell the tale someday soon.
Monster Energy Supercross Season Preview Show to Air Sunday on CBS Sports
(News Release)
Supercross Legends McGrath, Carmichael, Emig and Stanton Breakdown the Most Competitive Season Ever
AURORA . Ill. (December 23, 2010) – The Monster Energy AMA Supercross, an FIM World Championship, season preview show will air this Sunday, December 26 at 5:00 p.m. EST on CBS Sports, featuring a new format. The new format features an expert panel representing 16 AMA Supercross class championships.
  Jeremy McGrath, Ricky Carmichael, Jeff Emig and Jeff Stanton, will provide their analysis of the upcoming 2011 Monster Energy Supercross season.
The one-hour preview show, which will lead out of Sunday's CBS Sports NFL coverage, will take fans through the highly anticipated story lines that are emerging as the 2011 season closes in on the gate drop of Anaheim 1 Saturday, January 8.
"We look forward to once again showcasing the best of Monster Energy AMA Supercross on CBS Sports in 2011," said Rob Correa, Executive Vice President, Programming, CBS Sports. "We have a long history with this exciting sport and the up-coming season looks to be one of the most anticipated in years."
To preview what's being called the greatest season in the sport's history, the legendary panel will breakdown the upcoming 2011 coming season and foreshadow the excitement that fans can look forward to from season opener in Anaheim to the season finale in Las Vegas. Defending AMA Supercross class champion Ryan Dungey will stage his title defense against arguably the deepest field of riders in supercross history.
McGrath, who is the all-time winningest rider in supercross history with seven titles and 72 main event wins, says he can't remember a season with a field this talented.
"This is possibly the deepest field in the sport's history," said McGrath. "There has not been a season in a long time where so many different riders have the potential to win. I can't wait to get this season started."
Stanton, a two-time AMA Supercross class champion, has high expectations for the 2011 season.
"There are so many questions marks this year because you don't know who will step up and rise to the challenge," said Stanton. "There is a lot of uncertainty and that makes for a great season of racing. Personally, I hope that these young guys, like Trey Canard or Jake Weimer, surprise the veterans. Last year, Dungey proved he is a champion.
Reed and Stewart are both champions and when you add in the rest of the field, it's exciting just to see how it will all unfold. The season preview show will give fans an in-depth look at what this amazing season has in store for all of us."
Five-time AMA Supercross class champion Carmichael says that the title chase in 2011 is wide open because anyone can win.
"This season could closely compare to the 2005 season, but I believe this one could edge it out if everyone stays healthy just because there are more guys that have a chance to actually win straight up and not because of a technicality," said Carmichael, who won the 2005 AMA Supercross class championship, which was billed as the perfect storm.
For more information on the Monster Energy AMA Supercross, an FIM World Championship, please log on to www.SupercrossOnline.com. For all media requests, please contact Denny Hartwig dhartwig@feldinc.com or 630-566-6305.
Feld Motor Sports, Inc. is the world leader in specialized arena and stadium-based motor sports entertainment.  Feld Motor Sports, Inc. productions include Monster Jam ®. Monster Energy Supercross, AMA Arenacross Series, Nuclear Cowboyz. and IHRA ® Nitro Jam ® .  Feld Motor Sports, Inc. is a division of Feld Entertainment, the world's largest producer of live family entertainment.  For more information on Feld Entertainment, visit www.feldentertainment.com .
Future Supercross and Motocross stars will battle for points and purse at 2011 AMA Racing Pro/Am events
(News Release)
PICKERINGTON, Ohio — The American Motorcyclist Association (AMA) is pleased to announce the 2010 AMA Racing Pro/Am motocross schedule. These events are where dreams begin for amateur racers, and where they earn the credentials to line up at an AMA Supercross or AMA Pro Racing Motocross event.
"Our Pro/Am competitors race at these premier tracks for the points, purse money and contingency that will help them get to the next level," said AMA Director of Racing Joe Bromley. "This year's schedule is one of the best, with 53 events at some of the country's most challenging race tracks and staged by the sport's top promoters and organizers. This schedule will no doubt help prepare the fastest amateur motocross racers on the planet for the pro ranks."
A highlight of the 2010 calendar is the historic Florida motocross facility, Gatorback. Promoted by Unlimited Sports, the location will host the first and last rounds of the schedule.
"Pro/am racers are hungry, not just for the points to get their pro license, but for race wins," said Wyn Kern of Unlimited Sports. "For many of these kids, they need to excel to keep their dreams alive. This creates an unmatched competitive atmosphere and an incredible on-track show for the fans of the sport. The AMA Racing Pro/Am events are two highlights on our schedule, and we're looking forward to two stellar events."
AMA Director of Supercross Kevin Crowther added that the AMA Racing Pro/Am schedule and points process has contributed significantly to the skill and readiness of incoming AMA Supercross riders.
"The AMA Racing Pro/Am program is critical to the natural progression of a rider through the amateur ranks of AMA amateur motocross all the way up to getting their AMA Supercross license," Crowther said. "We are pleased to see such a strong schedule for 2011. The program gets stronger every year and makes our job of licensing new professional Supercross and Motocross riders even more rewarding."
AMA Racing Pro/Am motocross events are open to both professionally licensed and A-class amateur motocross racers. The events allow amateurs to gain experience on America's top tracks and prepare for the fast pace and long motos that professional racing demands.
To be considered for a professional motocross license, competitors must have earned at least 75 advancement points (at the time of application) in AMA Racing Pro/Am motocross events in a continuous 12-month period. Points are based on overall finishes in either the 250 Pro/Am and Open Pro/Am classes. Points from each class are not combined.
Memories of Meadowdale
One of the iconic landmarks of Meadowdale was its Pure Gasoline grain silo located near one of the main entrances to the track. In 2006 you could barely read the sponsorship logo on the weathered old silo. (Larry Lawrence photo)
Many vintage aficionados consider the early 1960s as one of the most interesting times in American road racing. Flat track dominated the professional racing scene in this country and in the years after World War II. Daytona and Laconia were typically the only road races.
The was a bit of an anomaly in the mid-1950s when road racing had a surge at tracks like Dodge City (an airport course) and Windber, Pa. (a city park), and Torrey Pines, Calif. (an abandoned Army base and now site of a famous golf course), but through the late '50s it was back to just Daytona and Laconia.
Sports car enthusiasts began building road race course at a rapid rate in the late 1950s and early '60 and a growing grassroots club road racing scene, led the AMA to dramatically increase it national road race schedule in the 1960s. One of the most interesting circuits to host AMA Road Race Nationals in the 1960s was Meadowdale International Raceway in Carpentersville, Ill. about an hour northwest of Chicago.
What made 2.5-mile Meadowdale motorcycle course unique from other road race circuits was the track's infamous Monza Wall. The Monza Wall was inspired by the famous Italian circuits Wall turn. Meadowdale's Monza turn was steep and it got steeper the higher you went.
Coming out of the Monza Wall led to the front straight with large grandstands on the outside of the track and a four-story scoring and announcing tower over looking the pits. The paddock was complete with covered pits with second story spectator viewing area on top, all in whitewashed wood.
Anyone who talks about Meadowdale talks about the Monza Wall. Jody Nicholas, who won the first AMA national at the track in 1963, said "If you went all the way to the top [of the Wall] you rode nearly perpendicular to the ground. The radius of the turn was about equivalent to what you'd expect on a mile track so it was much tighter and seemed steeper than Daytona.
It was very likely the first time any of these riders had ridden a high-bank turn. The Daytona races went to the Speedway in 1961, but the banking wasn't used there until '64. Meadowdale probably played a part in convincing AMA officials that racing on banking was at least workable giving them the confidence to go ahead with it at Daytona.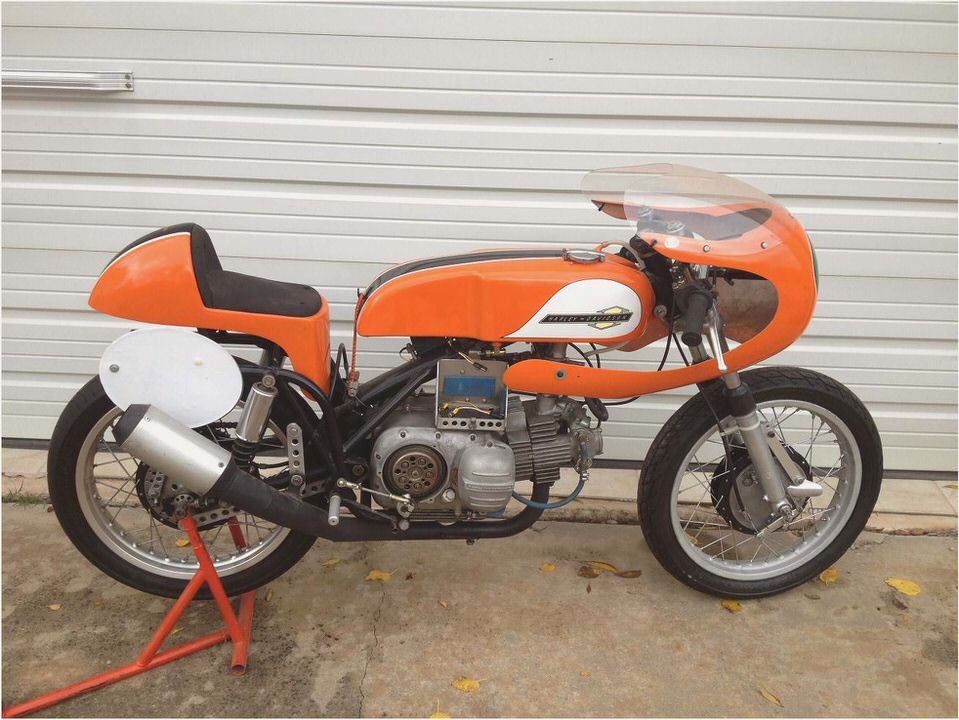 With its high-banked turn and three-quarter mile long front straight Meadowdale, built in 1958, was a very fast circuit, with the motorcycles averaging over 80 mph on the 2.5-mile motorcycle course (the track had other configurations going up to 3.3 miles) during the 150-mile nationals.
Winners' circle photo after first win by a Yamaha in AMA national competition – 1963's Meadowdale 100 mile AMA 250cc event. Left to right: Pat Gardiner, fellow student and fraternity member of Nicholas at the University of the South, Jody Nicholas, John DiSimone, mechanic and Tom Clark, AMA official. "I felt sort of guilty," Nicolas said. "That little two-stroke was so fast compared to the Harley Sprints. Nixon and Roeder were on Sprints and I just walked away from them." (Nicholas Collection)
Looking at Meadowdale's Monza Wall for the first time left riders scratching their heads.
"It was a very hard track to figure out," said Dick Mann, a two-time national winner at Meadowdale. "When we first went to the track we looked at the Wall and didn't want to ride on it. A lot of riders stayed near the bottom in the first couple practice laps, but eventually we got up the nerve to ride up there and found it was a much faster line. You'd ride about midway to three-quarters up the Wall and your bike's suspension would be completely compressed from the G force."
The other interesting thing about that era in road racing was the diversity of motorcycles. You had Harley-Davidson KRs, BSA Gold Stars, Triumph 500 Twins, Matchless G50s and a few other brands such as Norton. All were allowed European style fairings for the first time in 1963.
Some teams went with them others continued without fairings.
The diversity was even more evident in the 250 class, which now ran at all road race nationals. There you had the new Aermacchi-built Harley-Davidson Sprint CRTT, Ducati Diana, Honda 250 Hawk, Yamaha TD1 and various Bultaco, Montesa and Parilla 250 racers. Yamaha was eager to give it's TD1 a strong introduction into U.S. racing and it came along just in time for the new road race tracks that were now hosting AMA nationals.
Some of the top racers were given $500 per weekend just to race the Yamaha in the 250 class.
Nicholas was hot coming into the Meadowdale debut in '63. He'd won Laconia in June and was certainly one of the favorites at Meadowdale. Unbeknownst to anyone but Nicholas he'd seriously tweaked his shoulder in a regional cushion track flat track in Marion, Ohio, a couple of weeks before Meadowdale.
He could barely lift his left arm at all, but fortunately the BSA and the Yamaha he'd ride in the National and 250 races respectively had low clip-on bars.
"I could get my arm up enough to put it on the bars and once I did that I was good," Nicholas remembers. "I lived in Nashville at the time and BSA paid me 100 dollars, which was worth a lot more then than it is now, to transport the BSAs from Nutley, New Jersey, to Chicago (Meadowdale). Joe DiSimone, a dealer outside of Philadelphia, was helping me and he'd arranged for me to race that Yamaha TD1A."
Nicholas won the 250 race on the TD1A that day at Meadowdale, becoming the first rider to win a 250 national on a Yamaha. "I felt sort of guilty," Nicolas said. "That little two-stroke was so fast compared to the Harley Sprints. [Gary] Nixon and [George] Roeder were on Sprints and I just walked away from them."
In the 150-Mile National Nicholas didn't have it so easy. Riding the unfaired BSA, he battled Dick Hammer riding a Harley KR with a full fairing. The two battled wheel to wheel most of the way with Nicolas nervous running the under-geared BSA up to 120 mph, singing the motor past redline to 8000 rpm in Hammer's draft.
The high-speed circuit took its toll on fuel consumption. Nicholas had to pit for fuel. "That BSA only had a five-gallon tank versus the Harley's big hand fabricated eight gallon tanks," he explained. "That pit stop cost me about 30 seconds and I started chipping away at Dick's lead and I had it down to about 13 seconds with a few laps to go, but he had me covered."
But the race took a sudden turn when Hammer ran off the track with two laps to go. His Harley suffered a flat rear tire. He pulled in the pits, but his crew waved him on and he limped home to second slithering around with a completely flat tire.
Remnants of the old Meadowdale racing surface remained in 2006. (Larry Lawrence photo)
Nicholas' double marked the first time a rider won both the National and 250 race on the same weekend.
The Meadowdale race lasted for two more years. Mann won both the 1964 and '65 races on Matchless racers. In '64 Hammer had it won until a shift lever broke. In '65 lady luck was with Mann again.
Roeder was leading with a 20-second lead until his bike began sputtering on the final lap. Three turns from the checkered flag Roeder's Harley rolled to a stop and Mann zoomed by to win the final national held at Meadowdale.
By the mid-1960s things were not going well financially with the circuit. An unpaid contractor smashed his bulldozer through a guardrail in the middle of an SCCA race. Barely 10 years after the track was built it fell into disrepair and closed for good in 1969. Today Meadowdale's grounds are a forest preserve and weed-infested remnants of the original pavement still exist.
Walking the grounds you can easily make out the course and some guardrail posts remain. The Monza Wall was leveled years ago and little of the infrastructure remains, expect for an old landmark – a grain silo with a faded Pure Gasoline logo painted on the top.
Meadowdale will always be remembered by those fearless riders who braved its steep Monza Wall. Tracks like Meadowdale helped move along the trend of European-style road racing in America. The sport quickly gained momentum, which eventually led to a separate AMA national road racing championship by 1976.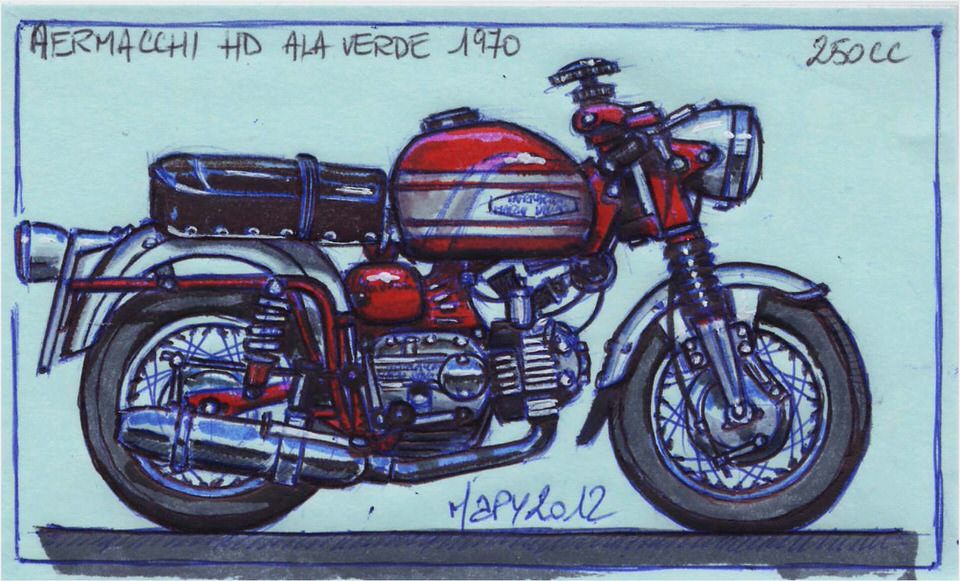 Harley Engines
HARLEY HUMMER .com
Harley-Davidson Motorbike repair manual
Motorcycle Hemmings Daily
No-reserve E28 M5 for sale in Wisconsin German Cars For Sale Blog