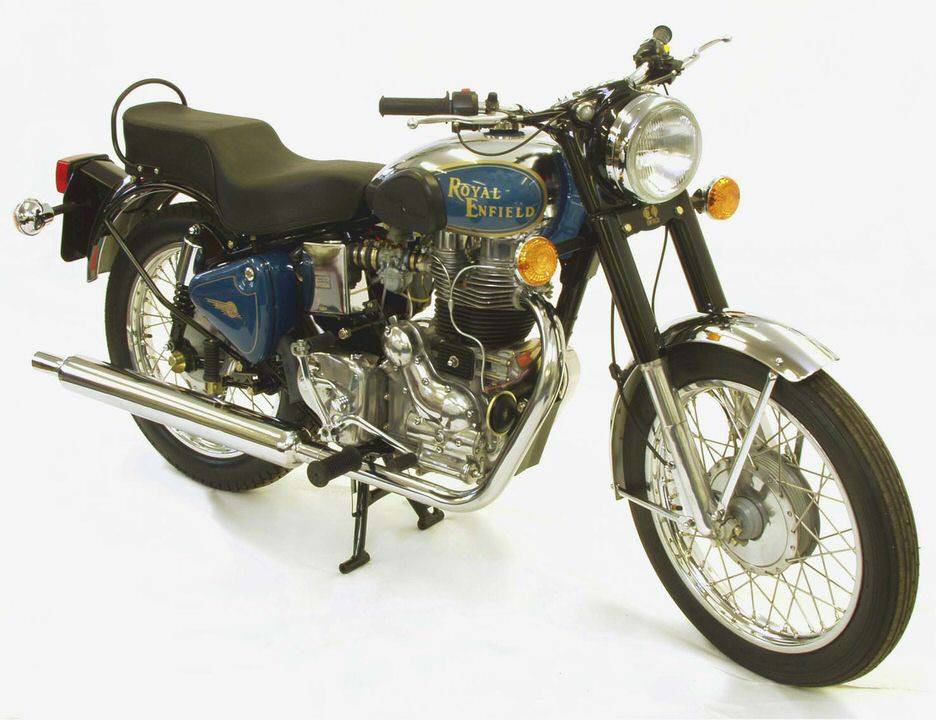 Refreshed Upgraded
Overview
'Bullet' as soon as we hear this word, the first thing that comes to our mind is a picture of a macho bike making thumping sound. This bike holds the record for the longest production run bike in India since 1955. What makes this bike a living legend, let's find out.
Design and Style
The vintage look of Bullet is the biggest USP of this bik e. Give it a look and this bike takes you back in time. It looks like a bike of 60's which has a strong road presence thanks to its heavy structure and metal. It has a typical circular headlight with twin pilot lamps on both sides. This bike lacks cowl, visor and features black colored circular rear view mirrors on its handlebar. Its full size orange colored side indicators are placed on its beefy front forks.
These forks are partly chromed and complement the styling of its steel rims. Its front wheel gets fully covered with its simple mud guard. Its full size fuel tank features classic styling on it which gives it retro look when seen from either side.
It has body colored tool kit on its both sides and you will also notice it's extremely long chrome finished silencer, brake pedal and engine. Bullet has a familiar seat which also has an integrated steel grab rail at the back. The rear styling of this bike features its chrome finished rear fender which displays its number plate and also carries its tail light.
Bullet has a heavily chromed instrument console which adds premium touch to this bike. The completely analogue instrument console lacks a tachometer and features speedometer and odometer in a circular dial which is surrounded by a chrome ring. Its fuel gauge is also placed just below its speedometer with other noticeable indicators.
Bullet uses a 4-stroke, 346cc UCE engine . This air-cooled engine is capable of producing a power output of 19.8 bhp at 5250 rpm . The single cylinder of this engine musters up a torque output of 28 nm which is available at 4000 rpm. Bullet is equipped with a five-speed manual gearbox with one gear down and four gears up-shift pattern.
This is a very powerful engine which offers incredible low and mid-range. The power tapers off as soon as 5000 rpm so the bike does everything in a quick manner. The gear ratios of this bike are relatively taller so that you can effectively use the throttle of this bike.
The gear transitions are not butter smooth as you need to put some effort while making transitions. The bike avoids frequent gear transitions thanks to its huge amount of torque. The bike starts building torque as early as 2000 rpm. It helps this bike a lot to move frequently in city traffic. This engine is the first choice of many riders who go for hill rides where you need a lot of turbo at low rpms.
The bike never feels strained in such conditions and impresses you with its strong performance. Bullet does 0-100 km/hr in less than 16 seconds and can cruise at the top speed of 120 km/hr. It has a very refined engine which has no signs of harshness and stays vibration less even when pushed hard. Royal Enfield has worked on the thumping sound of Bullet in order to lower down the noise pollution.
The bike makes less sound than its previous generation models.
Royal Enfield Bullet may give you a fuel economy of around 25 km/ltr in city conditions while these figures may increase up to 5 km/ltr on long runs.
Being a rider, you get optimum comfort on this bike while driving it. It has a wide seat which makes it extremely comfortable on long journeys. The seat feels well positioned and its handle bar seems well in reach.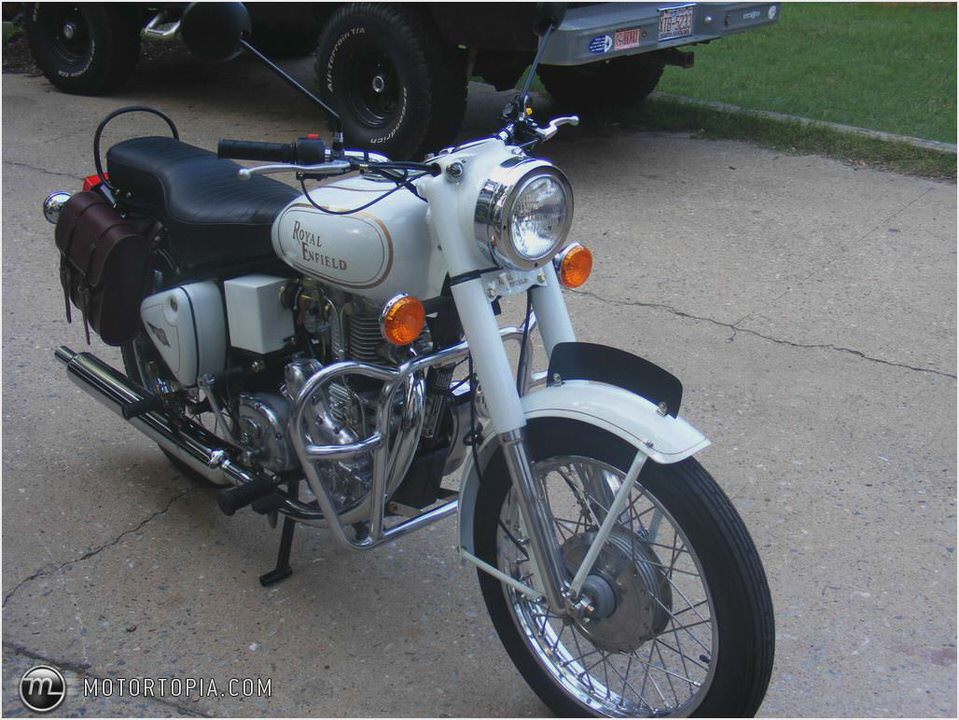 Its handle bar gives you a wide chest riding posture which gives you confidence. Royal Enfield Bullet also offers a firm palm grip but you may notice few vibrations on this handle bar. The foot pegs of Bullet are placed in the front which helps you to relax on long journeys.
The bike has a lockable tool kit and apart from this, there is no storage space in this bike . Bullet has a pass button and powerful headlight for your safety which offers you bright vision at night.
Bullet's suspension system has telescopic front forks and swing arm with gas filled shock absorbers at the back. Both wheels of Bullet are equipped with drum brakes and there is no optional disc brake in this bike. It has a front drum brake of 178 mm while it has a rear drum brake of 153 mm.
This bike has an awesome wheelbase of 1370 mm which helps this heavy machine to maintain its stability around corners. It offers superb handling on highways and feels quite relaxed in city also. Its ground clearance of 140 mm improves its handling at high speeds. The bike stays grounded with the help of its capable suspension system.
Its suspension can digest most of the potholes easily and avail you a comfortable ride in city conditions. We wish if this bike had wider tyres and optional front disc brake. These brakes can keep this bike under control but you constantly miss the precise braking.
Moreover, its tyres are not able to hold this bike properly due to its heavy weight.
Royal Enfield Bullet has 19 inches spoke wheels and it's only offered in one variant and black color.
Bullet 350 UCE is priced at INR 1 lakh (ex-showroom, Delhi (approx. may vary)). The bike is far away from modernity as it has no option of electric start, digital instrument console and disc brake. We agree it has a powerful and refined engine but that doesn't prove its worthiness . Only few people who are true fan of Bullet may find it a complete value for money bike.
Yes, you can fall for the vintage look of this bike but we certainly feel either Royal Enfield should lower its price or stuff this bike with few features.
Royal Enfield Bullet Electra 350cc – Bikes4Sale
The Royal Enfield Motorcycle: An Open Letter Through a Time Warp
2006 Royal Enfield Bullet 500 ES Electra X Road Test Rider Magazine
Bullet Enfield Price Owners Guide Books
Royal Enfield Trials Ash On Bikes