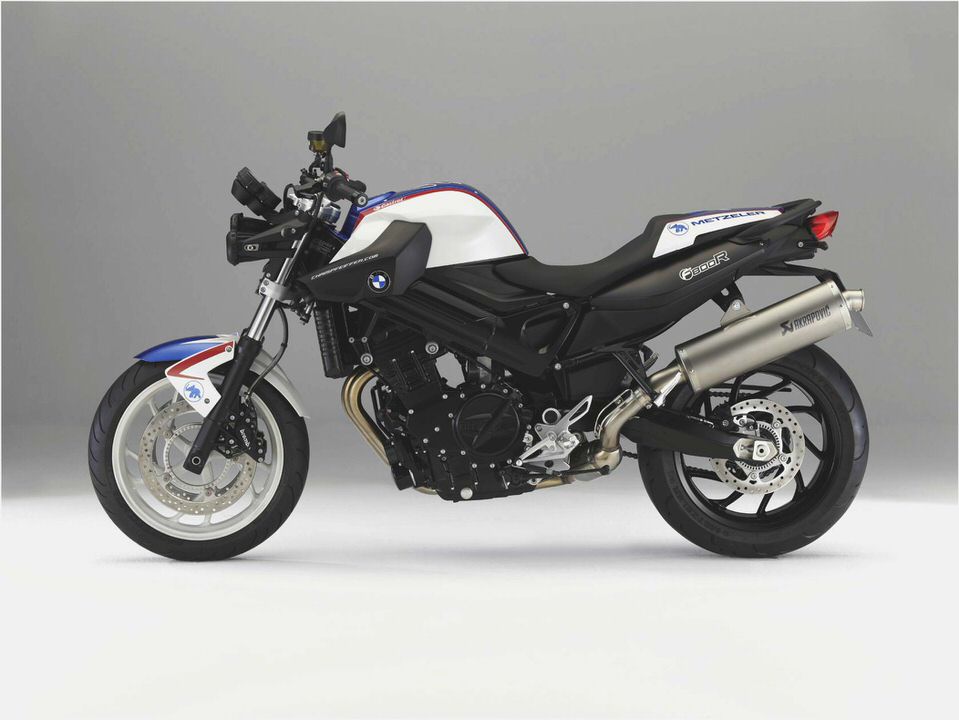 999
Same as Original
8 Desember 2009
For those who like freestyle, the name Chris Pfeiffer would have been familiar. By using F800R BMW motorcycle, a series of championship titles have been achieved. Starting from the European Stunt Riding Champion, to 4 times world champion.
And many championships to reach. "I really appreciate the great support offered by BMW, and for me just F800R the perfect stunt bike. As I pointed out to the most recent," Chris Pfeiffer explains.
Hendrik Von Kuenheim, BMW Motorrad President, has kept his promise last November. He said that, BMW will present a replica of Cris Pfeiffer Edition F800R when presented to the public in Eicma, Milan. This motorcycle was built to honor accomplishments ever achieved.
The plan of this motor will only sell as many as 68 units.
BMW F800R Cris Pfeiffer Edition, made very much like his own freestyle riding. Paint a complex design, a special edition of exhaust Akrapovic and other features that support to enhance the sporty style.
In design, scattered all over the body with colors BMW Motorsport with composition of non-metallic white Alpine, metallic Lipine Blue, non-metallic Magma Red and matt Black Silk. With black on the gear and swing arm, made it quite a contrast chime. Plus white on the front rim makes the sporty impression.
The back seat cover was merged with a similar color.
In fact this bike has no windshield, the reason for this special edition bike has a pure character. F800R Chris Pfeiffer also has a high level of individuality both the authenticity and value. Thus Chris Pfeiffer also signed his name in the middle of the tank, and also the sponsor stickers will be optionally given.
Chris Pfeiffer F800R machine equipped with a liquid-cooled parallel twin is embracing technology 4-valve per-cylinder with 798 cc engine capacity. Just as F800R, 2-cylinder in line, impressive and attractive. Although large and responsive power, fuel consumption is actually quite efficient.
Even in the low engine speed range, with 4 valves, stroke designed not too short. With a piston diameter of 82 mm and 75.6 mm stroke, the engine speed increases easily. Even to build 90% of the maximum torque can be obtained at 5000 rpm.
Between 5000 and 8000 rpm, the engine provides a dynamic levels when energy is delivered, to the accompaniment of a unique voice. With a nominal output of 64 kW/87 dk at 8000 rpm, the engine can produce 86 Nm torque at 6000 rpm.
"This machine is full of 'fun', I like the responsiveness especially on the lower and middle rounds, it is absolutely necessary in order to produce a spectacular tricks", said Chris Pfeiffer.
Other features that contribute to the dynamic performance of F800R is the total weight is only 199 kg with full fuel conditions. Other orientations are the ratio of teeth and chassis.
To chassis specifically tailored to the demands of naked bike in general. Is a combination of frame and swing arm light that uses double-sided and not a single-sided like the BMW F800S.
"There is no difference between replica and motor version I use, this show is easy to drive F800R. I just change the tire pressure is dependent on road conditions."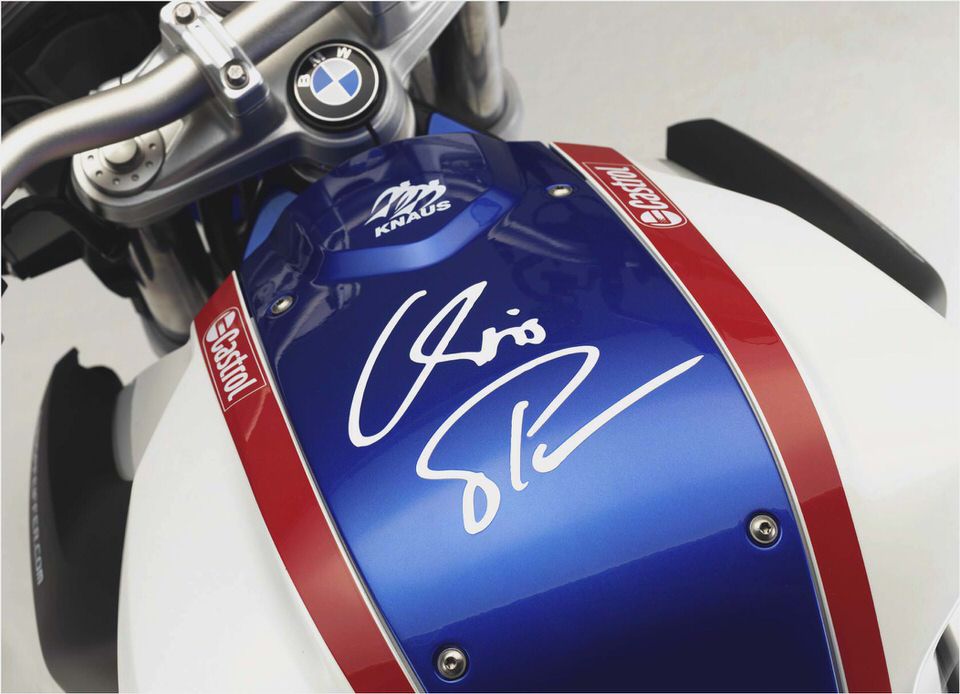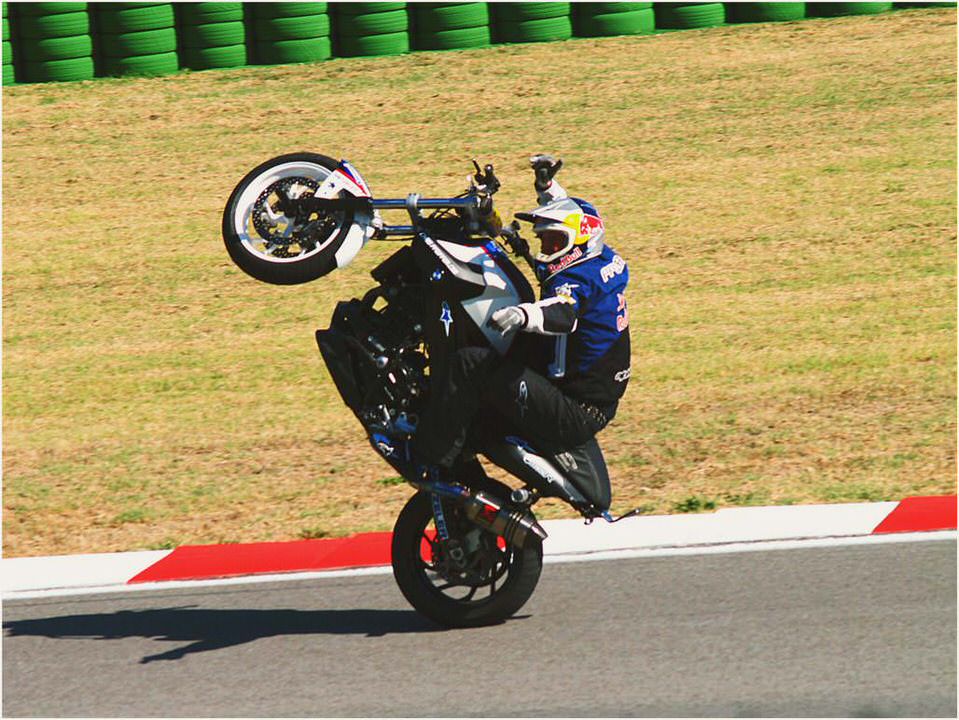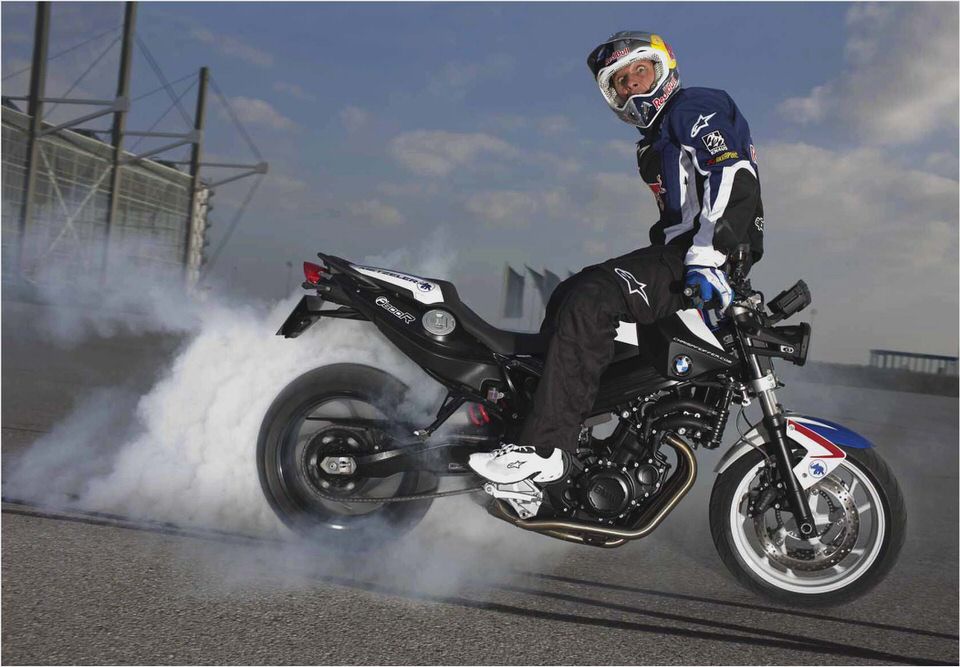 BMW i3 Electric Car Overview – HybridCars.com
BMW R51/3
First ride: 2014 BMW R1200GS Adventure review – Road Tests: First Rides…
1967 BMW R69S Hemmings Motor News
Airhead Wabi Sabi owning and maintaining my 1975 BMW R75/6