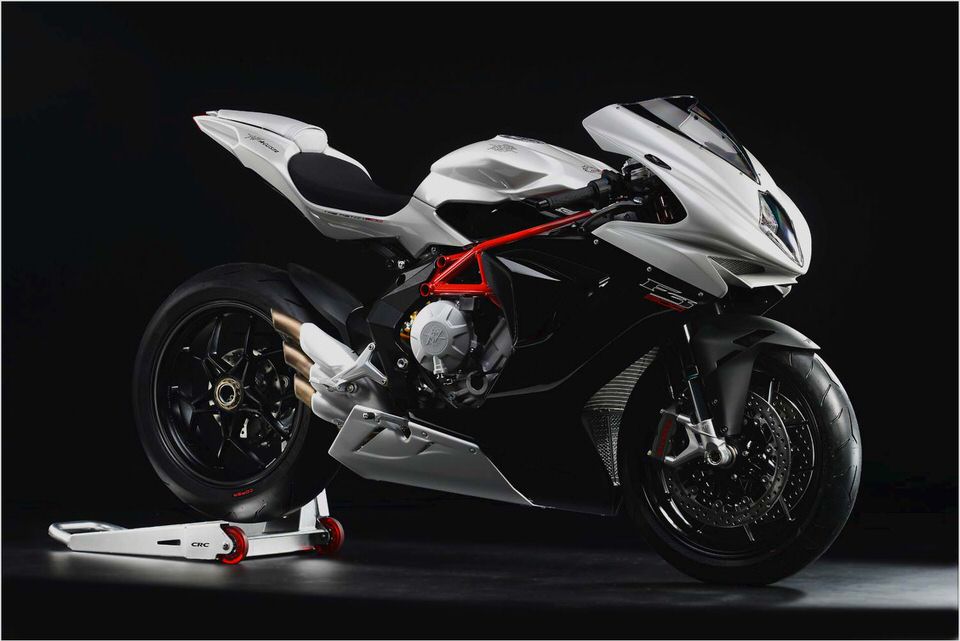 Test: MV Agusta F3 675
Words: Costa Mouzouris   Photos: Riles and Nelson
ADVERTISEMENT
It has also seen its share of bad times, ceasing production throughout the 1980s before being resurrected by Cagiva in 1991. Under Cagiva's wing the company produced the remarkably sexy F4, a bike that rivals the Ducati 916 in the timelessness of its design.
Unfortunately, Cagiva also put the Italian brand into considerable debt, and over the next few years the company changed hands, going first to carmaker Proton, then to a couple of financing companies, and then in 2008 to Harley-Davidson.
Only H-D insiders probably know what was behind the purchase of MV by the American manufacturer, but things didn't go any better and the Motor Company sold MV to Claudio Castaglioni, probably the only person in MV's recent history to actually give a damn about the company's future.
Costa drove 900 miles to ride this motorcycle.
Castaglioni sadly died in August of last year, but not before overseeing the development of the F3 675 triple. It's the 2013 F3 that I drove 900 km to New Jersey Motorsports Park to ride recently, in what was my first exposure to an MV Agusta.
Track day impressions
The three-cylinder engine makes a beautiful sound through that exhaust.
Unlike a fungus, this isn't a bike that needs to grow on you, and you don't have to be a fan of sport bikes to appreciate the F3's beauty. It's compact, slender and very well executed in design.
Straddle it and you immediately notice how narrow it is between the legs. Of course, it has a supersport-extreme, racer crouch, with low-mounted clip-ons and high footpegs, but this isn't a bike intended for a cross-country trek anyway.
Fire it up and it backs up its supermodel looks by emitting an arrestingly seductive triple-cylinder growl from its unique, triple-outlet exhaust. The sexy sounding exhaust is, however, accompanied by an uninspiring mechanical clatter generated by the primary gears.
Unfortunately, my enthusiasm was subdued by the first bike I got on, which had some sort of fuelling issue, the engine lagging in response to throttle movement by a fraction of a second. And when it did react, it was in an abrupt, angry manner (sounds like me – 'Arris).
It made trying to learn the track, which I'd never ridden on before, quite challenging as I focused more on trying to be smooth and prevent an unintended, stratosphere-hugging highside exiting corners.
Thankfully a trip to the upper atmosphere was prevented by standard-issue adjustable traction control, but it was unnerving to say the least, not having proper throttle control on a torquey, 129-hp motorcycle.
A problem with the EFI on one of the test bikes made Costa's first trip around the new-to-him track unnerving.
Eventually that machine (one of three that were available for nine journos) was taken out of rotation as the engine light came on in the dashboard indicating there was a problem with the EFI system. A diagnosis later revealed that it had something to do with the communication between the ride-by-wire throttle and the ECU.
The F3′s cockpit puts you in a racer's crouch; it's great for the track, but probably not what you'd want for touring.
Thankfully the second machine I rode had no such issues, though throttle response was still imperfect and the bike seemed less forceful in the upper revs. This did allow me to exploit the F3's handling, which proved to be very nimble. MV Agusta makes a lot of light of the fact that the F3's crankshaft spins opposite the wheels' rotation.
This, theoretically, reduces the inertia created by the gyroscopic effect of the wheels, thus easing turning transitions.
Without a direct comparison to the F3's nearest competitor, the Triumph Daytona 675, I couldn't say if it turned quicker than that bike, though I can say it did turn in remarkably quick. It also handled the high-speed, right-left-right transition through the esses leading onto the fast front straight with significant ease.
The F3 turns in very quickly, and handles left-to-right turns with ease.
Dunlop provided Sportmax Q2 radials for the track test (stockers are Pirelli Diablo Rosso Corsas) and they had very good grip, though they did begin to lose some of their tenacity and start to drift a bit after several sessions.
The F3 responded well to late trail braking.
The F3 responded well to late trail braking, particularly important when riding through one long right-hand sweeper that tightened up into a second-gear corner, the F3 slowing into it smoothly while at maximum lean.
Also helping in this respect was the bike's capability to reduce rear wheel hop through electronically controlled, adjustable engine braking. This made the bike feel like it had a slipper clutch when downshifting into turns even though it did not.
The only place the 173-kg (dry) F3 lost some of its composure was while riding over Wheelie Hill — a sharp crest between two right-hand turns — where it would shake its head as the front wheel left the pavement. An optional electronic module adds both wheelie control and a lean sensor to the bike's standard traction control, so if you're intimidated by a little headshake, get it.
Suspension by Sachs. Costa didn't fool around with the adjustments as much as some of the other testers – after spending a summer racing CBR250s, he's not as picky.
The six-speed gearbox worked quite well, with a slightly notchy feel attributable to the machine's low mileage. It is assisted by an electric quick-shifter, very useful when hammering the bike full-throttle and without the clutch through the ratios. Gear ratios were very close, making it a great track-ready transmission.
Here's what that triple looks like, when you peel the clothes away.
Curiously, after taking a break between sessions, I got on the same machine and discovered that the smooth throttle response of my previous session was gone, power now coming on forcefully and requiring a subtle throttle hand through turns.
I only discovered post-session that the ride mode (one of four) had been set from standard to sport for the last rider (standard mode explained the softer top end I'd experienced in an earlier session). Throttle response was too abrupt in sport mode, though power delivery got decidedly livelier, the engine feeling stronger throughout the rev range despite delivering its maximum output in each of the four power modes.
Ideally a compromise between the softer response of the standard mode and the lively acceleration of sport mode would be preferable.
One of the available modes is a custom map, in which throttle sensitivity, torque curve, engine braking, engine response and rev limit abruptness can be set individually. Limited saddle time meant I took the bike as it was handed to me, so I didn't sample the custom map options, though I suspect somewhere in there I would find a map that suited my riding style.
The F3 has an option for a custom adjustable fuel injection map, so users can tweak the throttle sensitivity, torque curve, engine braking, engine response and rev limit abruptness. Costa didn't have time for that.
The suspension worked well after I added some rear rebound damping following my first session, in which it was set up too soft and the bike wallowed exiting corners. I gave up making further suspension adjustments after some riders, thinking they were riding at a MotoGP-level event, requested sag, high-speed compression damping, and a slew of other suspension adjustments.
Here's your bird's eye view.
I cringed when someone grabbed a hammer and flat-blade screwdriver to adjust the rear preload on one bike by hammering on the spring's lockrings. The ensuing damage to the lockrings made me want to hammer his fingers flat, but these weren't my bikes, so I refrained.
Overall impression
Overall I left the track with mixed feelings. On one hand I wanted to fall in love with the F3 as I'd been anticipating riding one ever since I saw the first concept. On the other hand, riding it revealed its flaws, particularly with the EFI tuning.
And it wasn't too encouraging to see one of the three bikes used for the press launch fail.
Also, heat from the engine melted the adhesive that bonded small stainless steel vent screens to the inside of the fairings of the two working machines, causing the glue to flow and sully the bodywork. Hopefully this will be remedied very soon, as the MV engineer that flew in from Italy for the event snapped pictures of it with his smart phone, and no doubt emailed them immediately to the factory.
There's no doubt the F3 is a beautiful bike and on the racetrack it will reward with nimble handling and class-leading power (it makes five more hp than the Daytona). At $14,999 it costs just $400 more than the Daytona 675R, though the latter is equipped with high-spec Ohlins suspension compared to the F3's Marzocchi/Sachs setup.
Available in white, and red and white! Maybe you could call the one on the left the Canadian colour edition.
MV Agusta distributor Motovan says that 2012 models are sold out and they are taking orders for 2013s. I have no doubt they'll sell out also due to their low numbers and high desirability; I'm just not yet convinced that they're quite ready for primetime.
Gallery
Check out all the pics that go with this story! Click on the main sized pic to transition to the next or just press play to show in a slideshow.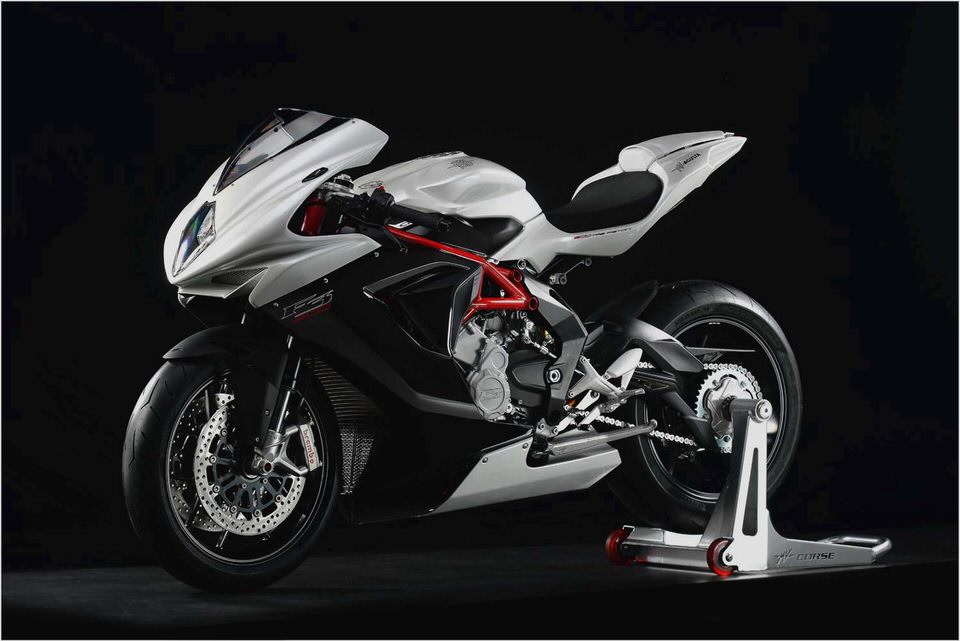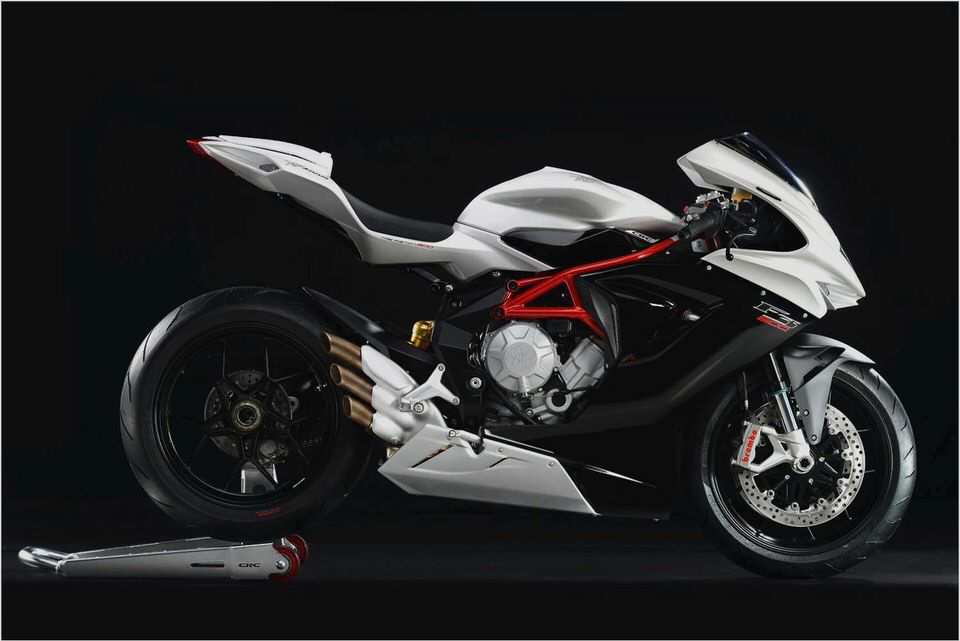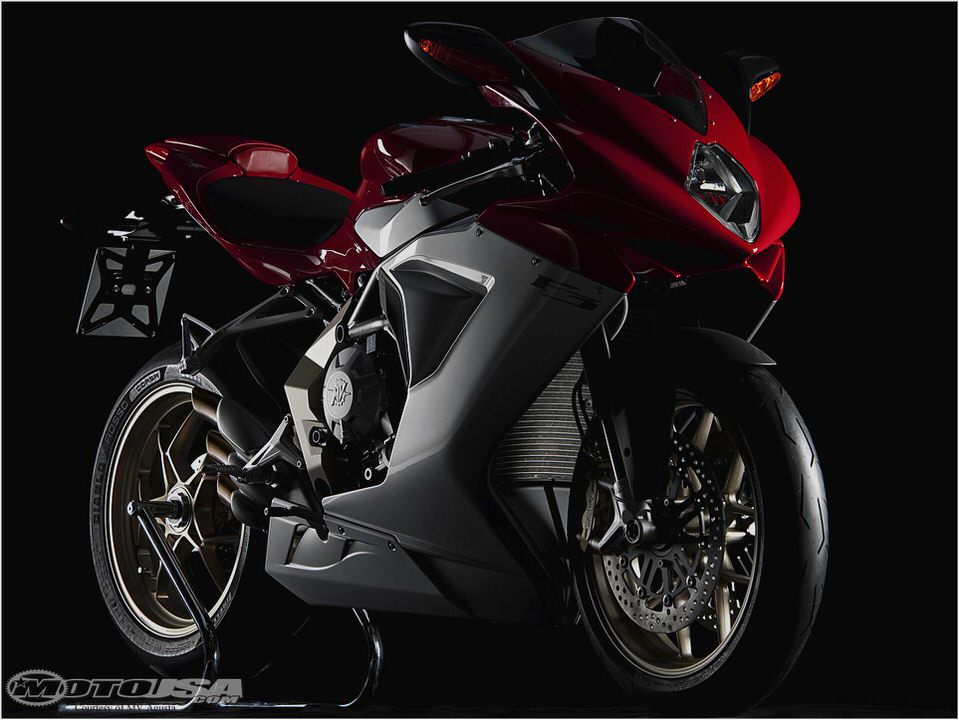 2013 MV Agusta Brutale 1090, 1090R and 1090RR Revealed …
Details: 2010 MV Agusta F4 RideApart
MV Agusta Brutale 910 Review – Ultimate MotorCycling
MV Agusta, The First Italian Motorcycle Manufacturer to Produce in Brazil…
Ducati 1199 Panigale S vs. MV Agusta F4 RR – Ultimate MotorCycling