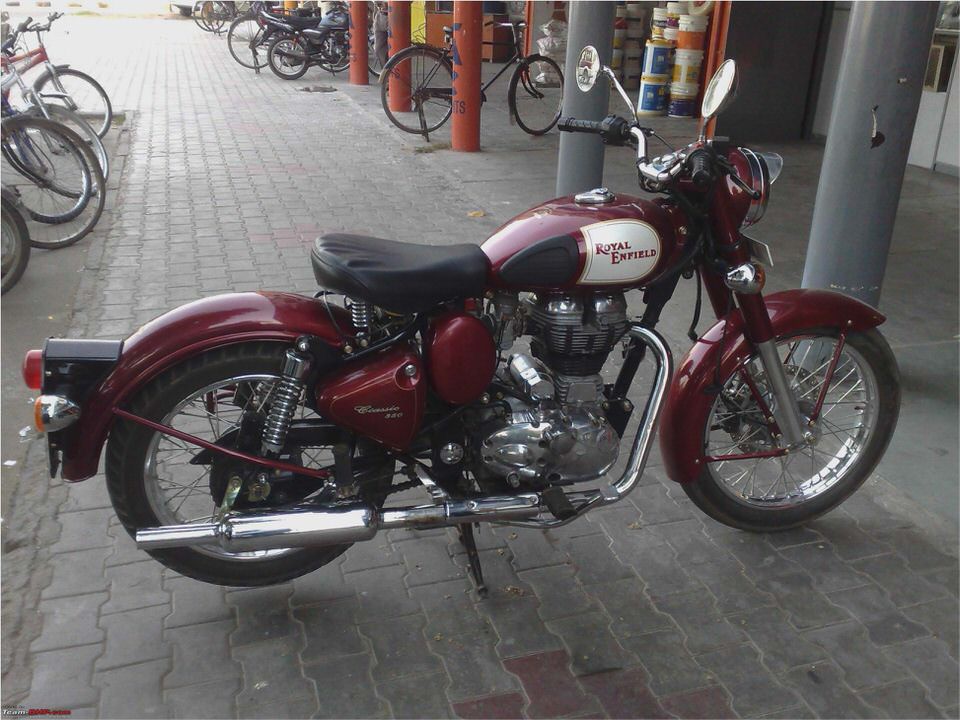 Eicher Ltd.
Company History – Eicher Ltd.
YEAR EVENTS 1955 – The Company was incorporated on 3rd of November.
– The manufacture of motorcycles,three wheelers, scooters, components, agricultural engines etc. The company's motorcycles are marketed under the trade name ROYAL ENFIELD. 1983 – The company issued 35000 14% mortgage debentures aggregating to 3.5cr and redeemable in 12 half yearly instalments beginning from 20 june 1986.
A super deluxe of the `Bullet' was introduced and it gained good market acceptance. 1984 – The Company issued 3,00,000 15% NCD's aggregating to 3cr to UTI on private placement basis. These were redeemable at a premium of 5% on 4th March 1992.
Work in Chennai was distrupted due to a cyclone in November 84. and power shortage.
1985 – The company revalued it's land and buildings, plant, machinery and equipment on 30 June and the net surplus of 1312.97 lacs was transferred to Capital Reserve. – 50,000 15% NCD's amounting to 50 lacs were issued to LIC on private placement. 1987 – The company was declared sick and a reference was made to BIFR.It entered into a revival plan with Eicher Tractor.
A technical collabration was entered into with Mitsubishhi Heavy Industries Ltd. of Japan for the manufacture of a new series of engines and portable generating sets of contemporary design. 1990 – This year saw the company entering into an alliance with Eicher Tractors for synergistic benefits in capacity,manpower and marketing.The amount invested is 2.5cr by Eicher Tractors.
– Sri S Viswanathan was appointed as Chairman and Whole-time Director with effect from 19th November 1990 and Shri Badri Agarwal as Managing Director with effect from 4th April.
1992 – The company undertook a modernisation programme of it's motorcycle division which was partly funded by ICICI, IDBI and IFCI.The company increased it's licensed capacity to 1,20,000 vehicles per annum for two wheelers and also decided to manufacture light weight motorcycles, mini motorcycles and geared mopeds for which it entered into a collaboration with ZUNDAPP of W.Germany.The subsidiaries of this company are Enfield Sales Ltd. and Enfiels Mofa Ltd.
– Sales of Agro Engines were also adversely affected due to reduced availability of concessional Bank credit and lower subsidy for purchase of Pumpsets for agricultural use by various State Governments.
– A New Genset marketing division has been set up for promoting the sale of portable gensets.
1993 – The Company is taking steps to introduce the concept of Total Quality Management (TQM) and studies are being undertaken to understand the allied areas like Total Quality Control (TQC), Total Employee Involvement (TEI), Just in Time (JIT), etc.
1994 – The Company has sold its Agro-Engines Geneset businesses along with Thoraipakkam and Ranipet Units to Greaves Limited for a consideration.
– The Company has sold its Corporate Office Building on Anna Salai, Chennai, in July, to Industrial Development Bank of India.
– The Company has sold the entire equity shareholding of Enfield Mofa Limited.
– The Company successfully launched the lowest fuel-cost motorised two-wheeler on Indian roads – Diesel Motorcycle, in november 1993.
– Prototypes of a new Bullet model 'Citi Bike' has been developed and are currently under road testing.
– The Company is currently in touch with several foriegn two-wheeler manufaturers to explore the possibilties of expanding the current product range of the Company.
– The compny has entered into a long term agreement with world-renowned RD Company -AVL of Austria – with a view to continuously upgrade the Bullet motorcycle for exports as well as for the domestic market.
– The company has reached an understanding with Fritz Egli and Switzerland for acquiring know-how for production of 535 624 cc Bullets.
– The Company has taken up modernisation of its Bullet plant.
– With effect from 23rd June, the name of the company stands changed to ROYAL ENFIELD MOTORS LIMITED.
– The Company has issued 10.3 Lacs Equity Shares at par to the Financial Institutions as per terms of the One Time Settlement Package. The company proposes to redeem by reissue, Series I and Series II Perference Shares aggregating to Rs.100 Lacs 75% of the arrears of dividend on the preference shares held by Financial Institutions has been waived as part of the One Time Settlement.
– During the year, Enfield Mofa Limited ceased to be a Subsidiary of the company.
– The Company has formed a new division – Customer Service Department – to strengthen product deveopment/testing facilities with a view to quickly assimilate the acquired know-how as well as to build necessary skills for continuous improvement of existing product and development new products/variants in house
1995 – The Company issued 7,00,000 No. of equity shares at par to the Banks and Financial Institutions during the year as per the terms of One-Time Settlement package.
– The Company also issued 1,28,051 – 15% Cumulative Preference Shares of Rs. 100/- each fully paid up to the existing Preference Shareholders in redemption of existing Cumulative Preference Shares and towards arrears of Preference Dividend for the period 1.7.86 to 31.3.93 as per the Company Law Board's approval dated 22.9.1994 under Section 80(A) of the Companies Act. 1956.
1996 – The year witnessed merger of Eicher Tractors Ltd. (ETL) with Royal Enfield Motors Limited (REML) with effect from 1st April, 1995 pursuant to the Orders of the Hon'ble High Courts of Delhi and Madras.
– In accordance with amalgamation scheme, the Company will be allotting 1,40,10,478 No. of equity shares to the shareholders of erstwhile Eicher Tractors Limited in the ratio of 1:1.
– During the current year, Company's tractor plant at Hyderabad was awarded ISO 9002 accreditation. With this company's plants at Faridabad, Ballabgarh, Parwanoo, Hyderabad and Marketing Division have been awarded ISO 9000 accreditation.
1997 – The successful launch of SHAHENSHAH – New styling 39 HP (SAE) tractor in November 1996 was an important milestone for the company.
– With Alwar plant also being awarded ISO accreditation, the entire tractor operations have now been integrated through one ISO-9001 certificate.
– Modernisation of the Bullet Plant at Chennai has been completed. The Company has also firmed up proposal for implementing the expansion programme at a new motorcycle plant.
– During the year, Ramon Demm was awarded ISO 9002 accreditation and with this both divisions of Gear Business (Parwanoo Thane) have obtained ISO 9002 certification.
– During the year Mr R C Maheshwari was appointed as Whole-Time Director for a period of 5 years. Mr Vikram Lal, Mr Badri Agarwal, Mr Alok Dutta, Mr S Sandilya – Directors, retire by rotation and being eligible offer themselves for reappointment.
1998 – A Technical Collaboration Agreement with M/s. Valtra Inc. Finland for manufacture of 61 and higher HP tractors in India has been finalised.
– At Ramon Demm, the capacity has been expanded through productivity improvement achieved consequent to successful implementation of three year wage agreement signed during the year.
– The Company has launched Information Technology led Business Process Reengineering.
– A tie-up with M/s. Steyr, Austria, has been made for upgradation of transmission designs and also developing a new transmission with features required for export of tractors to USA and Europe.
– Mr. Vikram Lal has resigned from the Board of all Group Companies and Mr. S. K. Bhargava has taken over as Group Chairman and CEO of the Group.
1999 -Eicher Tractor Ltd (ETL) has joined hands with Vaitra group of Finland to foray into the powerful tractor segment
-During the year two new Models of 50 61 HP with technology from Valtra Inc. Finland have been developed and are under extensive field testing.
– The 535cc bike has been successfully launched in the European market in the third quarter of the year with plans for introduction in domestic market during the first half of 1999-2000.
– During the year, a line for manufacture of Camshafts has been commissioned at Parwanoo. Eicher Demm has achieved the distinction of ISO-14001 certification during this year.
– The company had launched information technology lead business process reengineering.
2000 – ICRA Ltd. has downgraded the Rs 88-crore long-term non-convertible debenture programme of tractor and two-wheeler marker Eicher Ltd. to `LA+' from `LAA'.
– The Company has launched 312 SUPER-DI model with a 2 cylinder engine giving a totally new look to the product.
– The Company introduced new 61 HP model in April 2000 – `EURO POWER 6100′, developed in technical collaboration with Valtra Inc. Finland.
– During the year Mr S Sandilya and Mr P K Kapse, Directors, retire by rotation and being eligible offer themselves for reappointment. Mrs Rita Vasan, Nominee of ICICI Limited and
Mr Badri Agarwal ceased to be Directors during the year.
2001 – Royal Enfield Motors, a unit of Eicher Ltd, part of the Rs 1,000 crore Eicher Group, has launched its new model 'Bullet Electra', here on August 23
2003 –Signed MoU to collaborate with corporation bank which will be financing eicher tractors to farmers.
2004
-Royal Enfield tied-up with Syndicate Bank to finance purchases.
Royal Enfield Desert Storm 500/Classic Chrome 500 in ICB's comprehensive…
Royal enfield 350 Trials 1948 Grease n Gasoline
Classic Bike News – March 2011.
2014 Kawasaki KX250F 2014 2015 New Motorcycles,Classic,Price,Pictures…
November, 2009 Latest Bikes, New Motorbikes and Racing information