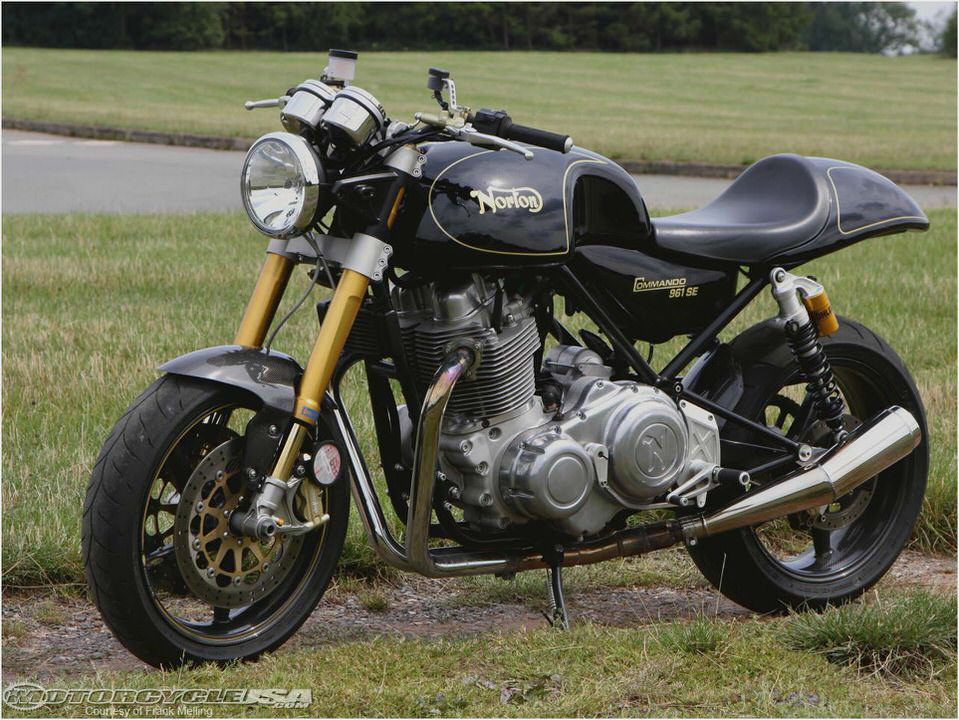 The NORTON COMMANDO – Pure Visual Bliss
It took 2 years from the prototype in 2005 to the production model of 2007. Mr. Dreer gained prominence with the development of the handcrafted Norton Commando VR 880 in the late 1990s . When his hand-built Norton Commando VR880 was featured in Cycle World in 1999 . he responded by producing 50 of the updated classics. Then, in 2002, Norton America begins development of the all-new Norton 952 Commando .
To compare it with the older model, the most obvious change is the motor. The crankcase is now horizontally split and the powerplant is now of unit construction compared to the older version which like all British bikes had a separate gearbox. Although the parallel twin remains similar, the internals are all new, viz. crank, cylinder heads, etc. Ofcourse the older Commando was having 836cc displacement compared to 952cc in its present incarnation.
Fed by a pair of 39mm Keihin carburetors, this new with 88mm x 79mm of the 961cc engine produces 80 rear-wheel horsepower at 6500 rpm and 65 lb-ft of torque at 5200 rpm. Carrying the traits of the legend are the frame of welded chro-moly steel tubing and an aluminum swingarm. The chassis geometry is also identical, with each bike sporting a 24.5-degree rake, 4.0 inches of trail, and a 56.5-inch wheelbase.
The fuel tank is 4.5 gallons and the seat height is at 32 inches. The base model 961 comes equipped with a 43mm non-adjustable fork and preload-adjustable twin rear shocks for suspension while braking duties are carried out up front by twin 320mm rotors with two-piston calipersand in the back by a single 240mm rotor works also with a two-piston caliper.
The 17-inch wheels are spoked steel retaining the legend's aura and it adds charecter to the bike's image, with 120/70ZR-17 and 180/55ZR-17 Michelin Pilot Road tires.The sportier 961S features an upgraded suspension and higher performance brakes. Its 43mm fork and rear shocks are three-way adjustable and its brakes are supplied by Brembo. The front have a pair of
320mm rotors gripped with four-piston calipers while the rear brake consists of a 240mm rotor and a twin-piston caliper. Instead of spoked steel wheels, the 961S adopts cast aluminum in the same sizes. Michelin Pilot Powers replace the Michelin Pilot Roads. These upgrades, and the adoption of a solo seat, manage to shave 15 lbs off of the 961's claimed 430-lb dry weight. The Commando Signature Series (961SS) takes the 961S's upgrades one step further.
You will have the BST carbon fiber wheels that are as light as they are expensive, so are the fully adjustable Ohlins suspension. Rest of the components are in tune with the Sports series.
For more photos and information, check out the bike at Norton Motorcycles
Valve Actuation: Push rod, hydraulic lifter, two valves per cylinder
Bore x stroke Compression ratio: 88 mm X 79 mm 10.1:1
Horsepower Torque: 80 rear wheel @ 6500RPM 65 foot pounds @ 5200RPM
Ignition: Crank fired electronic
Carburetors: Twin 39mm Keihin FCR
Gearbox: 5 speed
Final drive: 520 O ring chain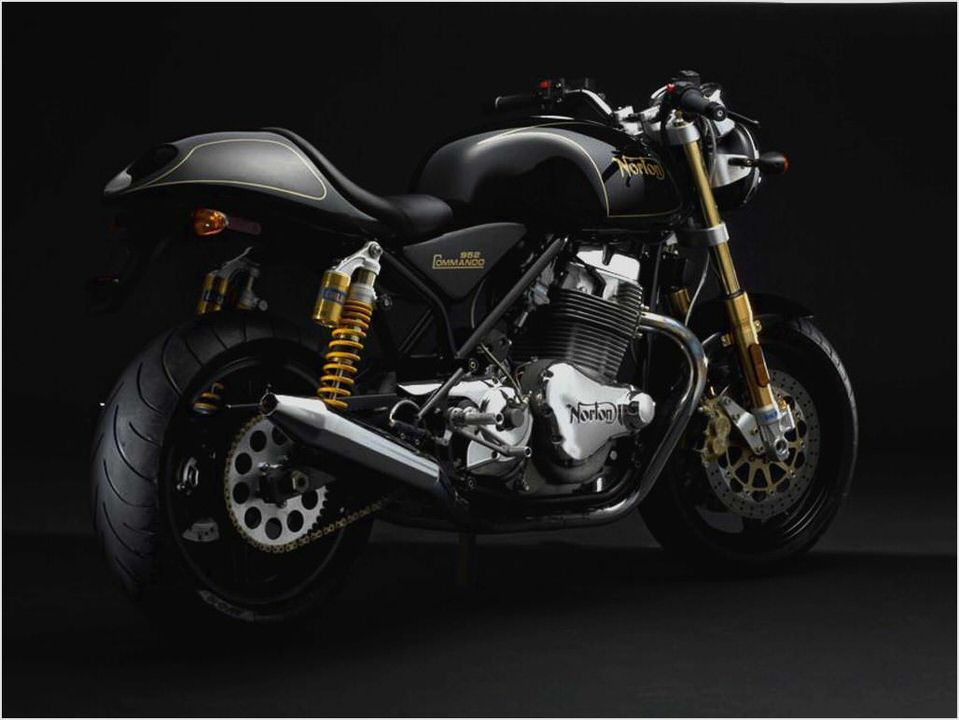 Clutch: Cush drive clutch
Primary drive: Direct gear drive
Frame material Swing arm: 4130 chromoly steel with Formed Aluminum
Wheelbase, Rake Trail: 56.5, 24.5 degrees 4
Front Rear Suspension: 43mm Ohlins RSU – Adjustable preload, compression, and rebound damping Ohlins reservoir-style twin shocks – Adjstable ride height, preload, compression, and rebound damping.
Front Rear wheel: 3.50 X 17 BST Carbon Fiber 5.50 X 17 BST Carbon Fiber
Front Rear tire: 120/70 X 17 Michelin Pilot Power 180/55 X 17 Michelin Pilot Power
Front Rear rotors: Brembo 320mm semi-floating hi carbon stainless steel Brembo 220mm rear rotor
Front Rear calipers: Brembo 4 piston Gold Line Brembo 2 piston Gold Line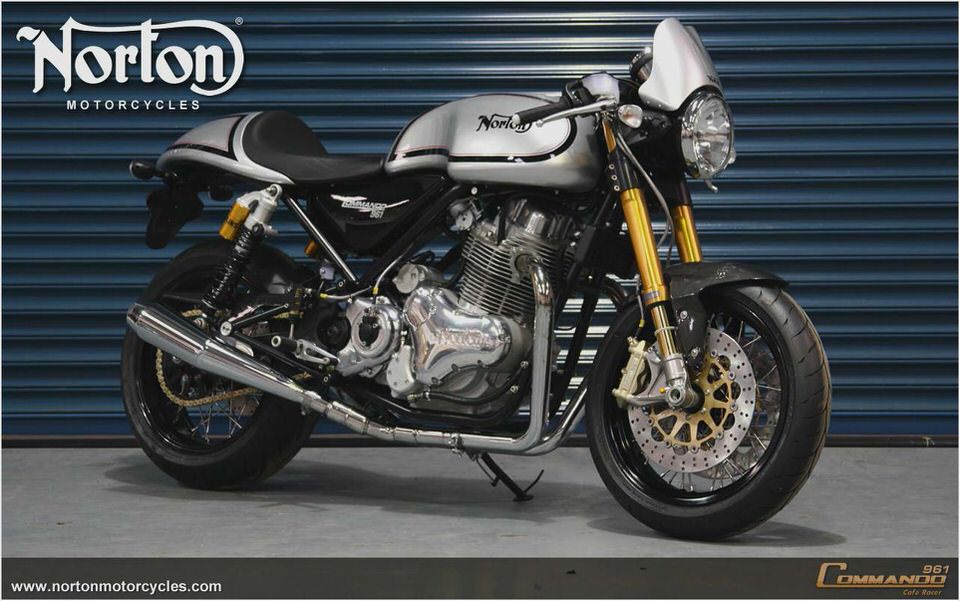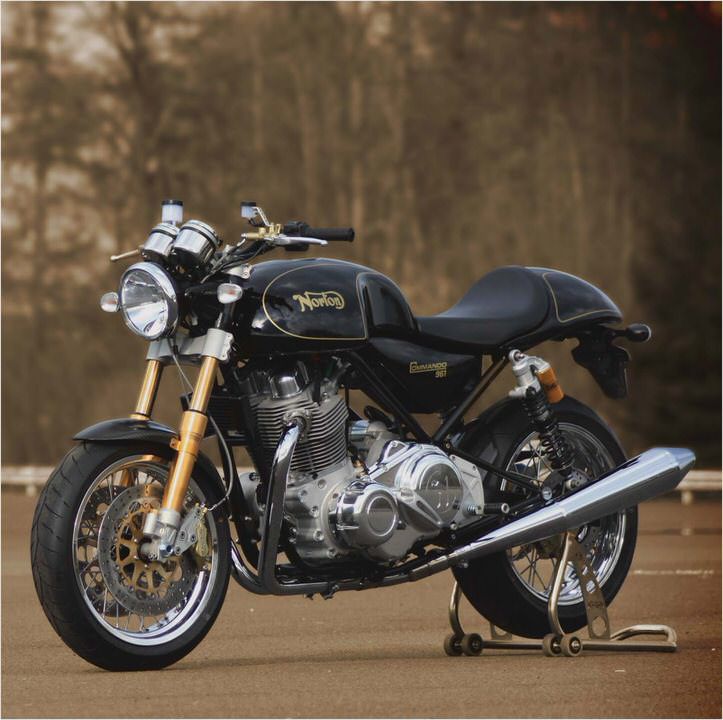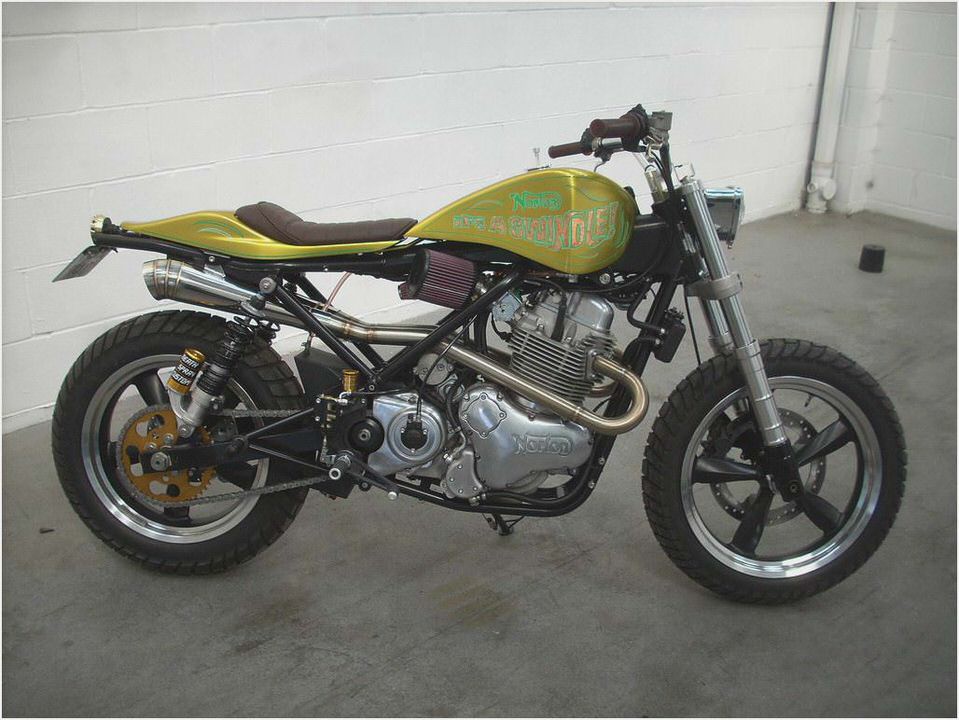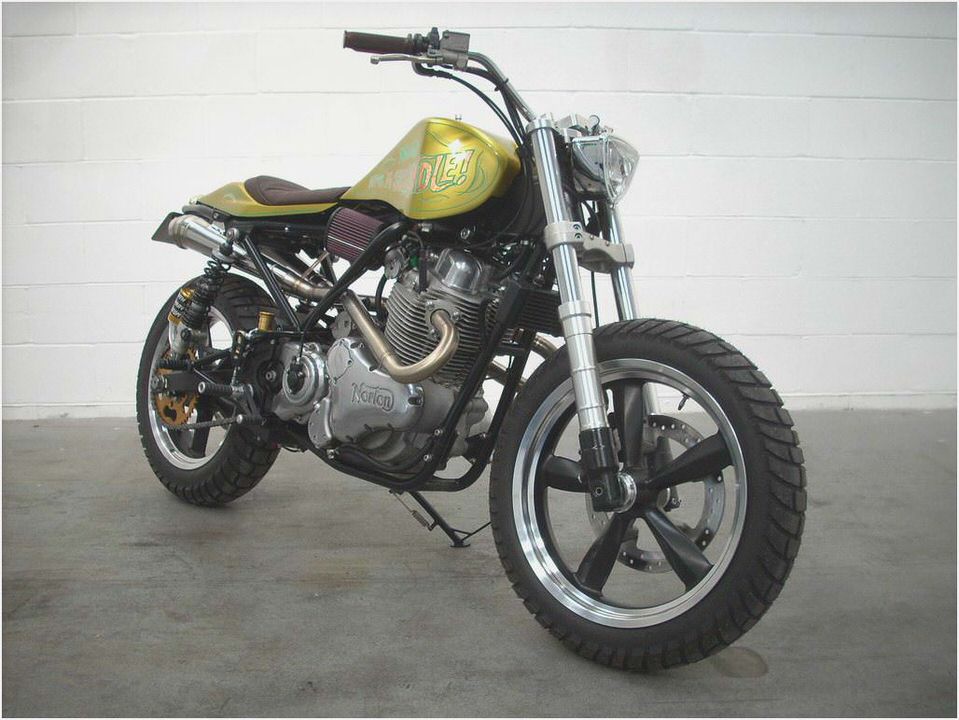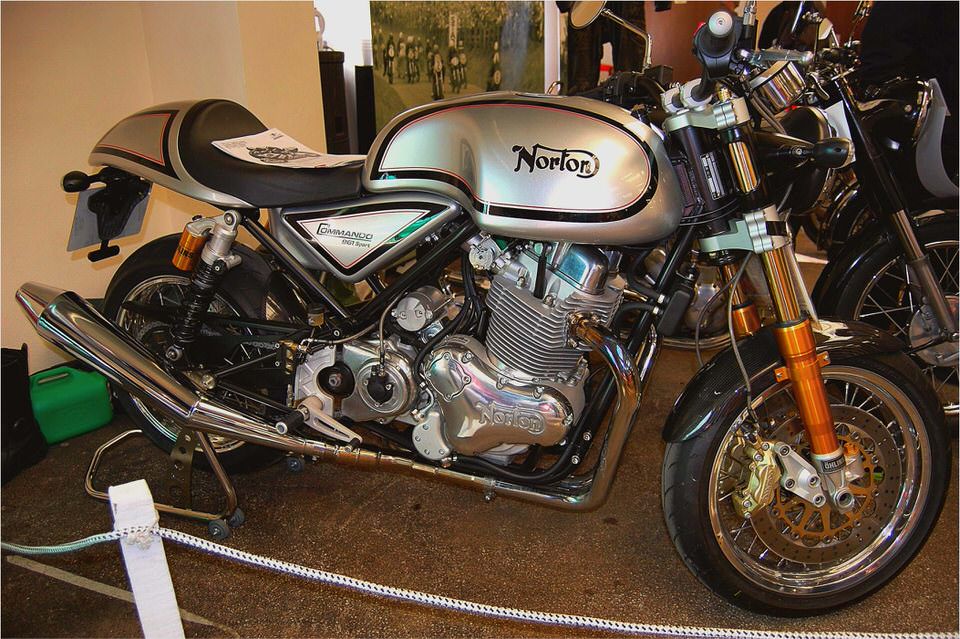 The Norton Commando 961 SS – Yahoo Voices – voices.yahoo.com
Ton up
Andover Norton Bikes
1970 Norton Commando 750 Short-Stroke Production Racer Classic…
1971 Norton Commando Cafe Racer for Sale Classic Sport Bikes…