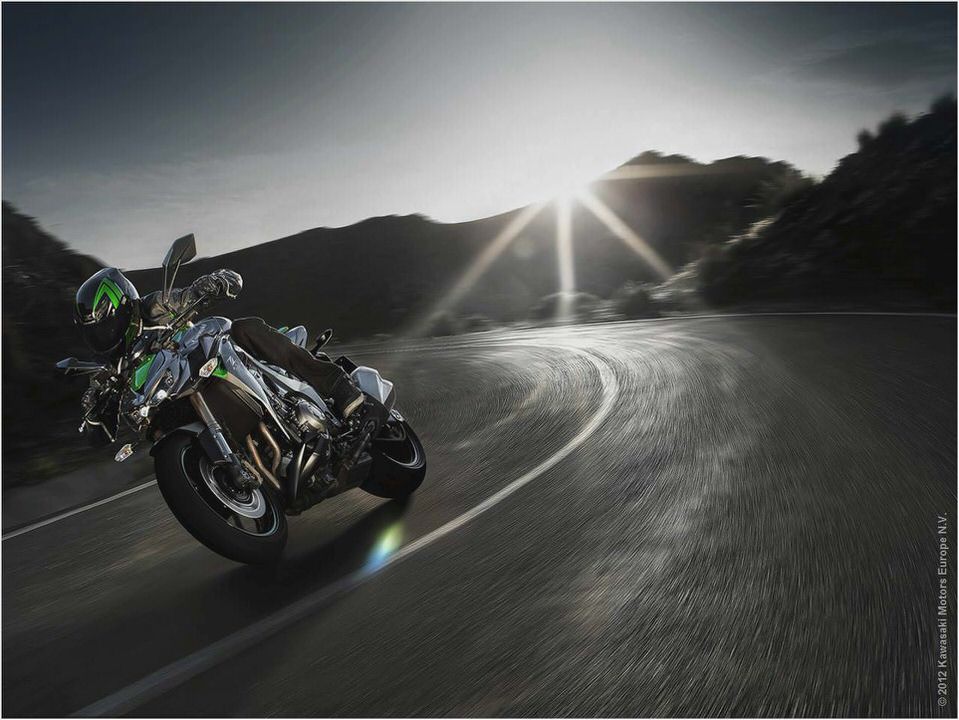 With its strong, muscular lines the Thunderbird oozes cruise from every angle.
But there is more to the Thunderbird than meets the eye. This critically acclaimed motorcycle, voted 'Cruiser of the Year' by top US magazine Cycle World, rewrites the rules on the way that cruisers should perform, bringing Triumph's reputation for handling and engineering excellence to the mainstream cruiser market for the first time.
Thunderbird devours curves and laughs in the face of those who say cruisers don't handle. From the very first corner you take, the Thunderbird will pay you the ultimate complement, flattering the rider with its impeccable handling and dynamic qualities in acceleration, handling and braking. An ABS braking option has been offered as an option too, offering additional security in all conditions.
Powered by the all-new 1600cc T-16 parallel-twin engine, the Thunderbird delivers class leading power, torque and fuel economy figures, with a refinement previously unheard of in the mainstream cruiser class. And if the 85bhp and 108 ft.lbs. of the standard bike is not enough, Triumph is also offering a 1700cc dealer-fit big bore kit to boost power to 100bhp and torque to 118 ft.lbs. for a truly memorable experience.
Triumph has also endowed the Thunderbird with a range of over 100 other accessories to allow owners to add their personal touch to the Thunderbird. From stripped down street rod to a soft touring bagger, Triumph's Genuine Accessories further enhance this award winning motorcycle's character and style. It truly is what cruiser riders have been waiting for.
Go on a legend reborn.
Strong, muscular lines. Impeccable manners. Outstanding engineering. A tour de force.
Voted 'Cruiser of the Year' by Cycle World magazine in the USA, Thunderbird rewrites the rules and brings Triumph's reputation for handling and engineering excellence to the cruiser market. Personalisation? No problem, with great paint schemes and over 100 accessories.
It's what cruiser riders have been waiting for.
Triumph Thunderbird
Twice awarded ЃeCruiser of the YearЃf by leading US magazine Cycle World, Triumph's Thunderbird
cruiser has been an unbridled success since its introduction in the summer of 2009.
Designed from the ground up as Triumph's first entry in the mainstream premium cruiser sector, the
Thunderbird combines classic cruiser styling and ergonomics with the British companyЃfs engineering
and design excellence.
At the heart of the Thunderbird is the 1600cc T-16 parallel-twin engine, a unique feature in a class
of V-twins. The character-laden engine features a 270-degree crankshaft and delivers a mountainous
146Nm of torque at just 2750rpm.
Triumph has used the knowledge gained developing class leading sports bikes like the Daytona 675
and Speed Triple to endow the Thunderbird with levels of control and precision previously unheard
of in a cruiser. The tubular twin spine steel frame features chunky 47mm forks up front with five-way
adjustable twin shocks at the rear, which can be adjusted to cater for everything from spirited solo
riding to two up touring. Powerful twin 310mm floating discs up front are grabbed by powerful
four-piston brakes for progressive stopping power, with optional ABS for increased rider security.
The Thunderbird comes dripping with acres of chrome adorning the high-quality cycle parts. The high
specification includes five-spoke cast alloy wheels adorned with bespoke Metzeler tyres, while the tank mounted speedo includes a comprehensive on-board computer which includes a clock, two trip meters and fuel gauge, in addition to a small and stylish tachometer and self-cancelling indicators.
A large, 22 litre, fuel tank has been fitted to the Thunderbird which, when combined with class-leading
fuel economy (around 17% better than the competition according to Triumph's internal tests) ensures
that long rides in the low and comfortable saddle will not be interrupted by inconvenient fuel stops.
Part of the ThunderbirdЃfs attraction is its ability to be customised to the riderЃfs personal taste. A range
of almost 100 accessories are available for the Thunderbird and allow it to be turned from an all-road
cruiser to a stripped down power cruiser or even a bagged-up light tourer. Among these accessories is a 1700cc big bore kit, screens, panniers and a wide range of chrome and leather items for even more presence and pizzaz.
For 2011 the Thunderbird comes with a wide range of standard and limited run special colours.
Standard options include the ever popular metallic Phantom Black and two-tone Pacific Blue with
Fusion White centre stripe and Aluminium Silver with Phantom Black centre stripe.
Special colour options include the Phantom Red Haze and Phantom Blue Haze, hand painted
flamboyant schemes that change form near black to resplendent red or blue depending
on the sunlight.
A new highly graphical scheme based on the new Cranberry Red paint will also be available
in 2011, alongside two variants of a Crystal White and Sapphire Blue design which feature bold
new Triumph graphics.
A special edition Thunderbird SE is also available and comes complete with a range of
touring-orientated factory fitted accessories as standard and a unique Carnival Red colour option.
Triumph Thunderbird Highlights
Engine: 1597cc Liquid-cooled, DOHC, Parallel-twin, 270є firing interval
Instruments: Analogue speedometer featuring integrated rev counter, scroll button on handlebars, LCD trip computer, fuel gauge and clock.
Rear Suspension: Showa chromed spring twin shocks with 5 position adjustable preload, 95mm rear wheel travel
– Cycle World Cruiser of the Year in 2009 and 2010
– Bespoke 1,600cc parallel-twin powerplant delivers 146Nm torque
– Class leading handling and braking characteristics
– Low, 700mm, seat height for classic looks and easy riding
– Almost 100 official accessories for limitless customisation options
– SE version comes with dedicated light touring accessories
– Large, 22 litre fuel tank for long-distance cruising
– Special new colour options available for 2011
– Two year unlimited mileage warranty as standard
The Thunderbird model has been very important to the history of Triumph. We have to go back to 1950 to find the original Thunderbird 6T, a motorcycle specifically designed for the American market. In fact, its name is derived from a native American mythical bird of enormous size with supernatural powers and a taste for human flesh.
Just two years later in 1952, the Thunderbird became famous around the world largely due to it being Marlon Brando's motorcycle in the movie The Wild One.
In 1981, the Thunderbird name was placed on a 650cc roadster and reappeared in 1994 on a bike with a 900cc three-cylinder engine. And now that the English brand is going through one of the best times in its history thanks to its growth in the global marketplace, a mythical name from the past is reappearing; the bird of thunder is back and rumbling from two cylinders.
Triumph is fortunate that its rich history allows it to design bikes without looking to outside influences, a strategy that has allowed the brand to enjoy great successes. So when the company announced that it would make a large displacement, custom-style bike to fill the gap that existed in its line between the 865cc America and Speedmaster, and the huge 2.3-liter Rocket III, we knew that its engine wouldn't be a Harley-style, V-twin engine.
So we're not surprised that the new Thunderbird is powered by a new water-cooled, parallel-twin engine that displaces 1597cc, with a DOHC 8-valve head. The engine makes 85 horsepower and 14,90 Kgm (108 ft/lbs) at 2750 rpm. For those who want more power, Triumph offers a kit that adds 12 horsepower and more torque.
Besides these stout power figures, Triumph's engineers have managed to tune the engine to feel and sound strong. Its thrust is direct and linear, as if pulled by a locomotive, and every turn of the thick throttle is accompanied by a fierce punch and an exhilarating sound of the 270-degree crankshaft and the work done on the exhaust system.
Another sensation we notice at the moment we turn the ignition key, located on the right side of the bike, is one of refinement. And one should not confuse refinement or smoothness with a lack of character, as any engine that has pistons that displace roughly 800cc each is brimming with character. The smoothness of the engine is achieved by placing two balance shafts in front and behind the cylinders, and by the use of an advanced fuel injection system by Keihin that has an oxygen sensor for each cylinder (which allows for constant optimization of the fuel mixture).
Aside from the all-new, T-16 engine, the Thunderbird also gets a new six-speed gearbox. a gearbox that has a tall overdrive sixth gear for long, high-speed cruising.
As we mentioned earlier, Triumph has always maintained its own identity and this is obviously reflected in the design of the Thunderbird. There's no V-twin engine or Harley aesthetic, as the Thunderbird is a statement of Triumph's distinctive principles. To say that its design is very British doesn't help much, and it also doesn't help that the bike isn't very photogenic.
It is better appreciated in person, particularly the long exhaust pipes that are better proportioned in the flesh.
The design is of a muscular bike-a massive fuel tank that holds 22 liters (5.8 U.S. gallons) and sits atop the engine is a striking element that makes the bike look physically wider than it is. The softly padded seat is set low, a scant 700mm (27.6 inches) from the ground and is set far back from the handlebars due to the large fuel tank. The foot peg location stretches out the legs and the width of the bike opens them wide.
Passengers on the Thunderbird will find a very small seat with only a strap to hold onto. But if long journeys are your thing, you should know that Triumph has a large catalog of accessories to increase the cruising appeal of its bikes.
What hasn't been so successful is the low placement of the speedometer on the fuel tank. What bothers us most is the confusing array of km/h and mph markings that demands us to lower our eyesight for a closer look, something we now have to do often thanks to the increasing threat of radar traps (overseas). In contrast, important and practical information is pleasingly displayed on the small LCD screen; odometer, trip meter, a clock, fuel level, and miles to empty.
Accessing this information is as easy as pushing a button next to the screen.
One design principle we respect in the Thunderbird is functionality. The Thunderbird eschews things like wire wheels, a single front disc, and a long, exaggerated front fork found on many cruisers. The braking system is a real standout in the cruiser segment. In front, two large floating rotors measure 310mm each and are clamped by Nissin brand four-piston calipers. In back, another 310mm rotor is mated to a two-piston Brembo caliper.
The brakes are more than up to hauling down the 308-kilogram (claimed dry weight equivalent to 678 lbs.) bike without any trouble. For those who need more, a version is available with ABS.
The Thunderbird is a long motorcycle, which is the norm for this class of bike. The wheelbase measures 1615mm (63.6 inches), but thanks to the rigid chassis, cornering is easy and doesn't require constant mid-corner corrections. Aggressive riders will find the Thunderbird willing, but the footpegs will occasionally scrape the ground; one of the only reminders that this bike is a custom.
Suspension movements are well controlled due to the action of the thick 47mm forks with 120mm (4.7 inches) of travel, and the five-position adjustable (for preload) rear shock absorbers with 95mm (3.8 inches) of travel — on the generous side for a bike in this category. Handling is lighter than one might expect in a bike that weighs over 300 kilograms thanks to a low center of gravity and wide set handlebars that give enough leverage to make maneuvering easy.
Having tested the Thunderbird in the city, on secondary roads, and on the highway our general impression is very positive in all of these environments; our only gripe is that we didn't have more time with the bike. To make sure that doesn't happen to you, you should know that putting a Thunderbird in your garage will require purchasing the base machine at a U.S. MSRP of $12,499 and the ABS model at $13,799.
Highlights
The sound emitted by the two-cylinder engine and its long exhaust pipes is successful in bringing together the rider and the ride.
The low seat height combined with its wide handlebars and the 19-inch front wheel greatly facilitate the bike's maneuverability when stopped and at low speeds.
Triumph offers a large number of accessories for the Thunderbird, from touring accessories to a kit that increases power by 12 horsepower.
Uncategorized Motortrend
View the latest first drive review of the 2009 Hyundai Genesis. Find pictures…
Your Butler – The Wall Street Job Report The Wall Street Job Report
BACK TO THE FUTURE, MRS. DOUBTFIRE, THE STING, THE DEVIL WEARS PRADA…
GORDON DUFF: FALSE FLAG NUKE ATTACK ON U.S. JUSTIFIED'. "KING'S…