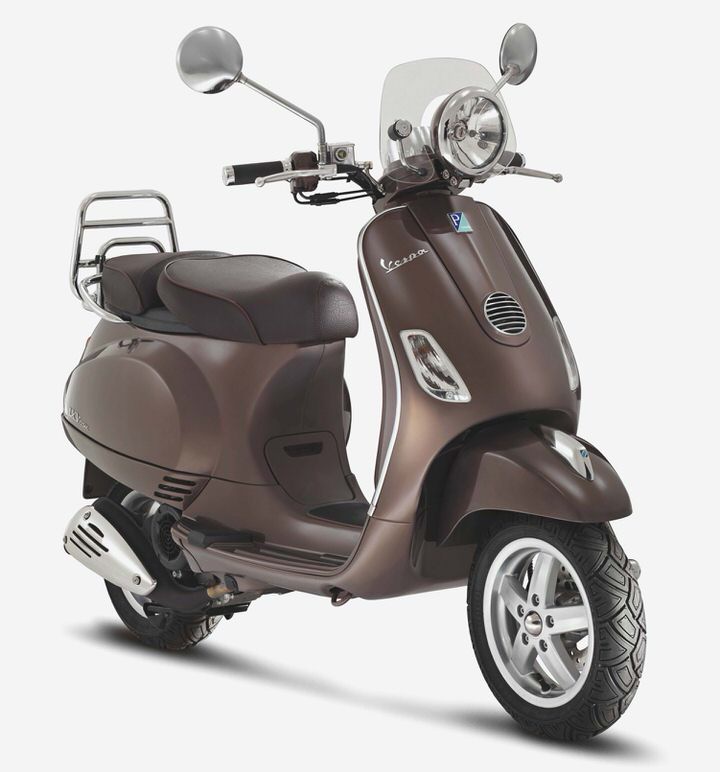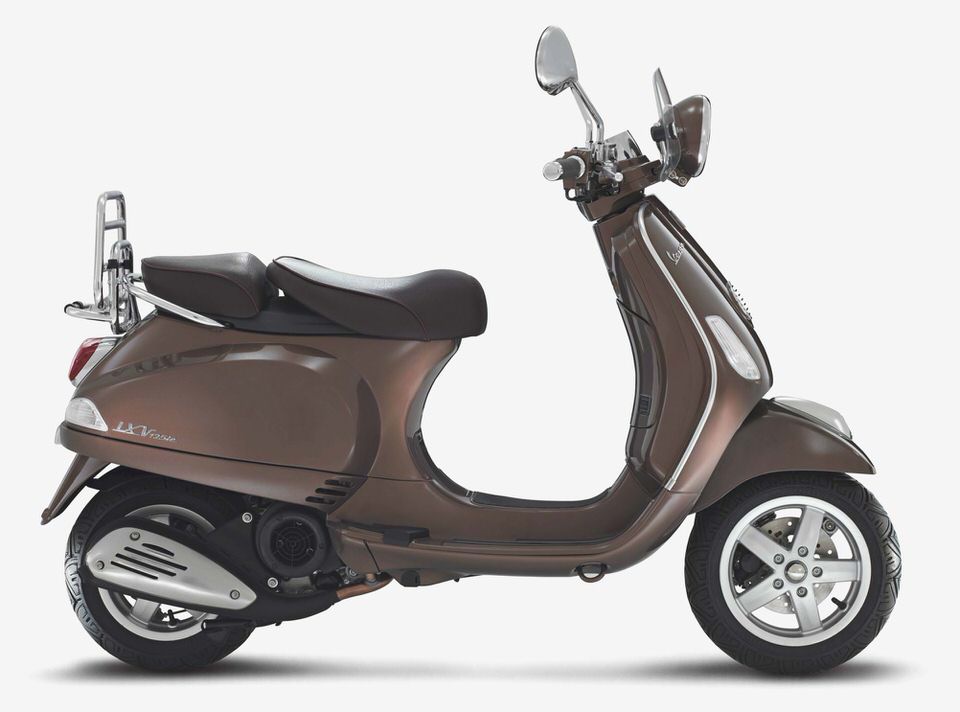 Vespa Scooters
The very latest news on prices and special offers relating to new and used Vespa scooters and mopeds brought to you by Scootercrazy!
Below you will find all the information on 2013 Vespa models including colours, prices, stats and technical information. There are also some great advertising images and info of Vespa old and new.
Vespa Primavera
The latest edition to the Vespa scooter family. An enhanced replacement of the Vespa LX, with many new features and design aspects taken from the Vespa 946 including the new LED lights, increased storage space and aerodynamic design offering more space for passengers.
This scooter is offered in a wide range of colours and is set to be a big contender for other similar scooters in the spring.
Manufactured in the same Italian factory as it's predecessor but with more style, speed and that little extra something this time round. The PX is the scooter for every need, whether it be commuting to work, nipping through busy streets, or just to be brought out on those glorious summer days to enjoy a leisurely ride and then relax in your favourite beer garden (after arriving in style!).
Vespa owners are more than just owners of a scooter, they are part of a community of riders who have a passion for quality and style. Why not become part of that community and invest in the ever-classic Vespa PX. Available in store now!
Available in four colours including the new midnight blue for 2012 ( there is still a limited number left in the original azzuro blue) in both a 125cc and a 150cc.
Vespa GTS Super
The launch of the most powerful Vespa ever built – the Vespa GTS 300cc Super proved to be such a success that Vespa decided to introduce the 125 version – the Vespa GTS Super 125c! The 125cc version has been fitted with an electronic fuel injection engine and offers incredibly high performance and practically, not to mention a stylish way of getting around town!
The racing soul of this superb scooter is obvious at first glance – the front suspension with the spring in bright red, the front shield with chrome trimmed grill, the round headlights with black trim, the sporty dashboard and the design of the black seat, clearly inspired by classic Vespa models. The liquid cooled, four valve, four stroke engine absorbs less energy and helps reduce fuel consumption, providing sufficiently lower running costs. Service intervals have also been extended by 65% from 6,000Km to 10,000Km.
The Vespa GTS Super 300cc is the most powerful Vespa ever built and one that we know you will agree is worthy of the Vespa historic title of super.The increased engine performance provides quick pick up and acceleration and gives a higher level of torque making the scooter flexible and quick from low speeds.
The steel frame and metal panelling gives the Vespa superior rigidity and control that you would expect and the chassis features 12 inch wheels with classic link arm front suspension that reduces the lunge effect and provides neutral braking.
It also has new features that highlight and reflect its sporty nature:
* New Dashboard
* New steering column cover
* New crest on front fender
* Rear suspension spring to emphasize the sporty design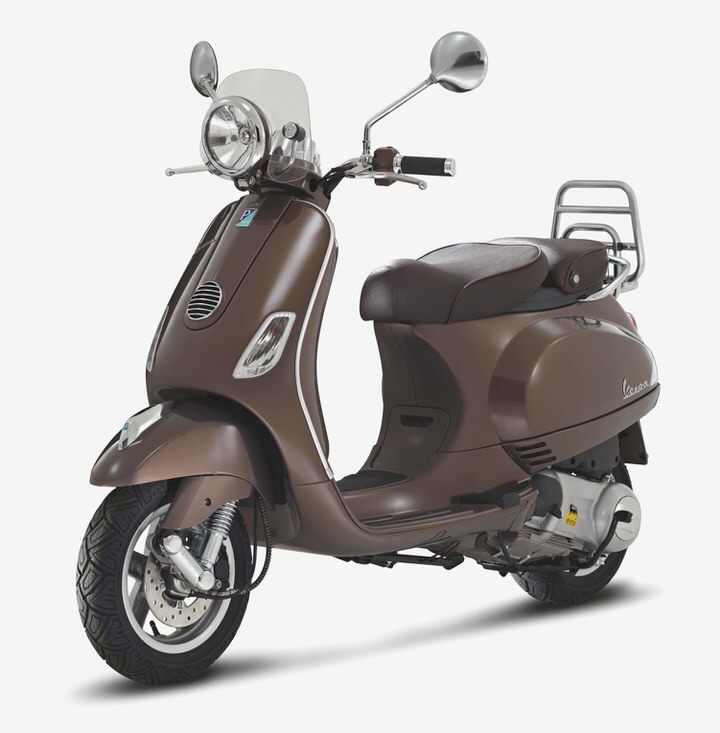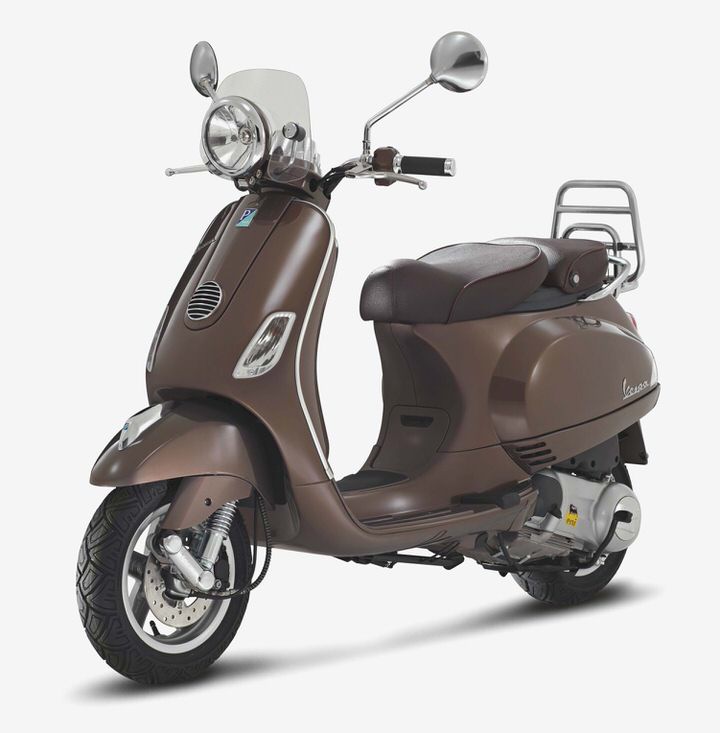 * Black wheel centered with silver rim
* New sporty seat design in black
* Power 22cv @ 7500 rpm
*This model is now being phased out and replaced by the Vespa Primavera* The Vespa LX displays a successful blend of classic Vespa style, modern design and twist and go ease. The round headlamp and rear view mirrors in chrome plated steel are a style statement straight out of Vespa history.
Vespa has added a unique feature to the LX model – an 11 inch front wheel with a new five-spoke design in aluminium alloy for greater stability and pinpoint steering.The Vespa LX also utilises storage space to the rider's advantage. The under seat compartment holds a full face helmet. There is a bag hook on the front of the saddle and the inside of the front shield has a glove compartment.The Vespa LX has two different engines- a powerful 50cc two stroke and a 125cc four stroke on with an anti-theft ED is standard.
*This model is now being phased out and replaced by the Vespa Primavera* With environmental and economic concerns being so evident amongst today's society the natural progression of the LX was to introduce a scooter which is capable of enhanced fuel economy and lower emissions.as a result the LX 3V was born! During development of the new 3 valve engine particular attention was paid on reduction friction throughout the engine to deliver benefits in performance, economy and noise.
The new crankshaft, camshaft bearings and roller rocker delivers the reduction of friction needed to improve efficiency in terms of lowering fuel consumption and a performance increase. In search of the best compromise between improving performance and reducing fuel consumption, 3 valves are the most effective solution. This configuration improves the engine efficiency by increasing intake capacity of the engine compared to a conventional 2-valve engine.
This results in a cleaner combustion burn giving increased smoothness, significantly improved fuel economy and lower emissions. The new 3 valve engine allows for mpg figures higher than the top seller in the 125cc category with consequent savings in operating costs for the end customer. Consumption cycle calculated (WMTC 2.1) for the new Vespa 3 valve engine which delivers 27 miles per litre (123 Mpg) which is an improvement of 27% compared to previous "Leader" engine design.
Every 4,000 km travelled in an average year * you save over 34 litres, the equivalent of more than 1,500 km additional distance!
The new 3 valve engine also has an extended maintenance period (distance between each service) to every 10,000 km. Available in a 50cc and 125cc, standard or touring version.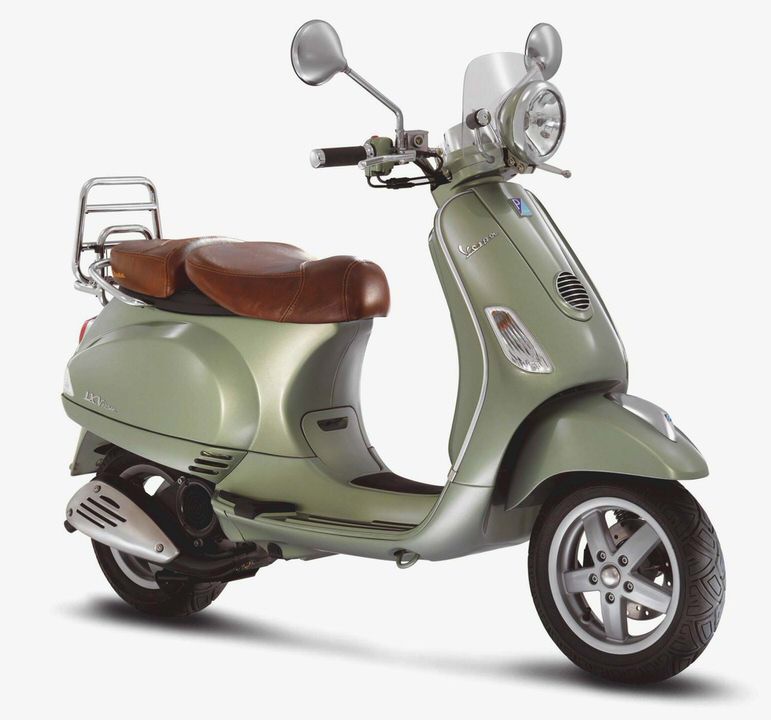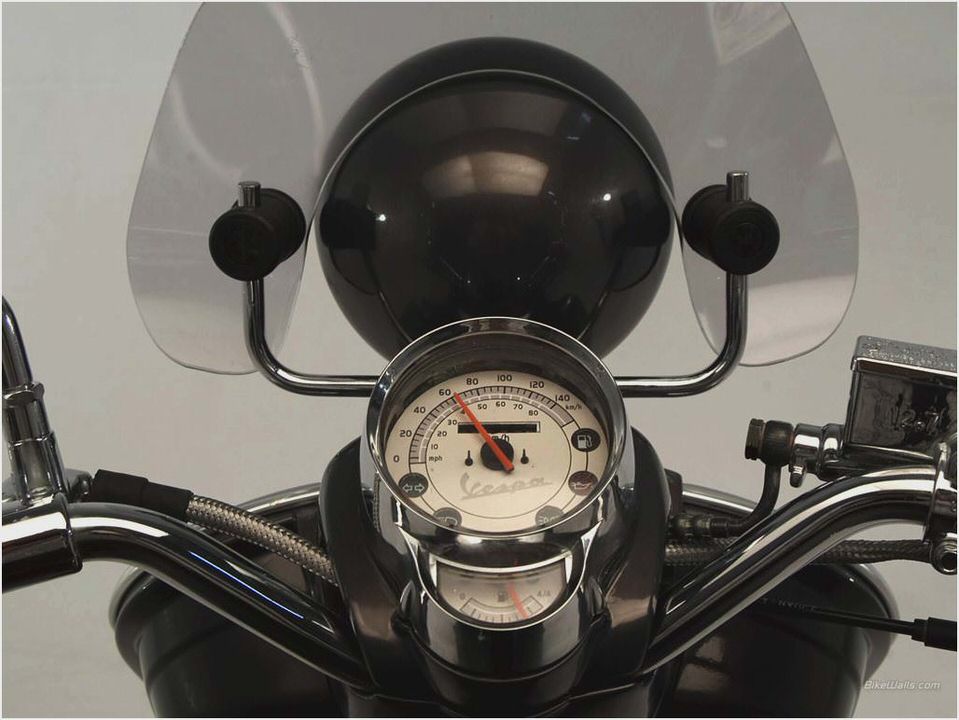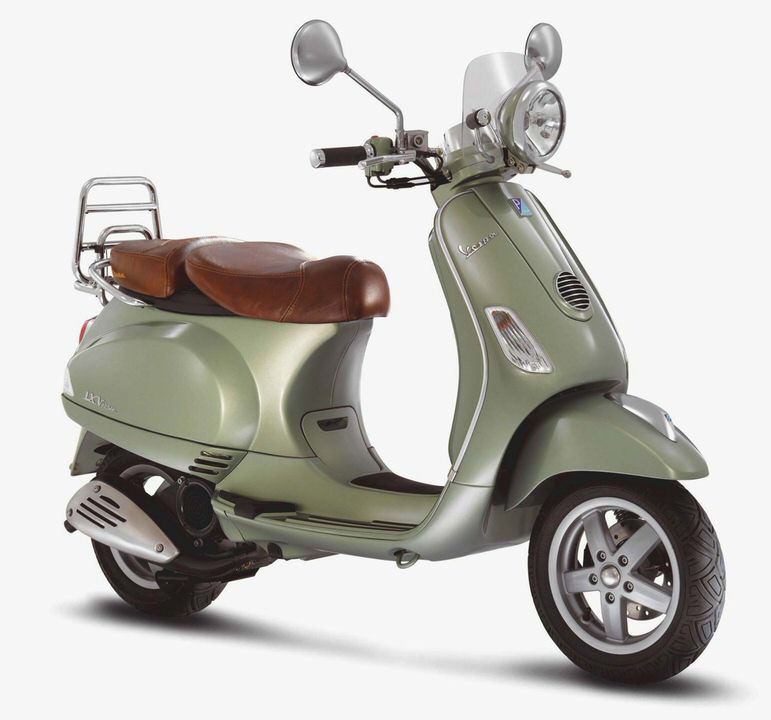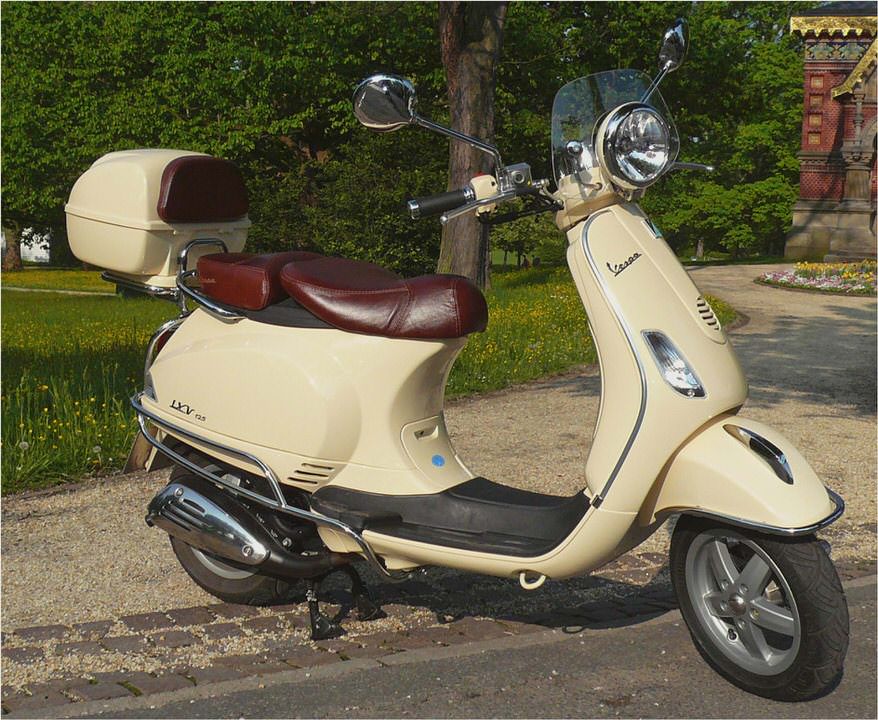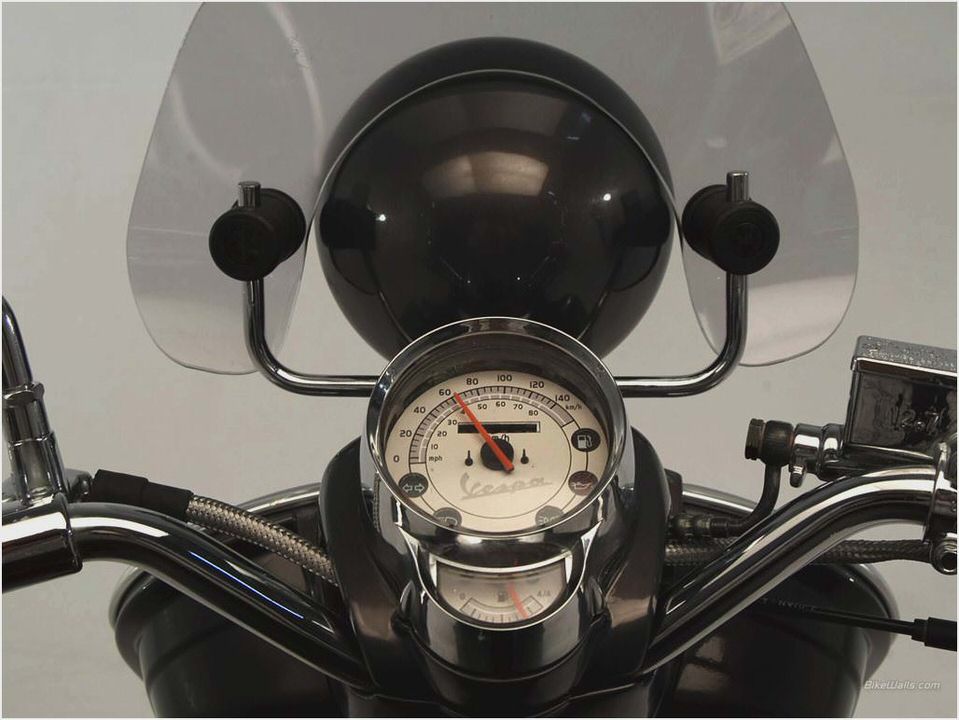 Vespa Scooter Index Motor Scooter Guide
Vespa S- Road Tested, Reviewed and Relished – Indian Cars Bikes
Vespa LX150 – Motorcycles Review
History The Vespa Club of Britain
Vespa Turns 65 – Scootersales.com.au News