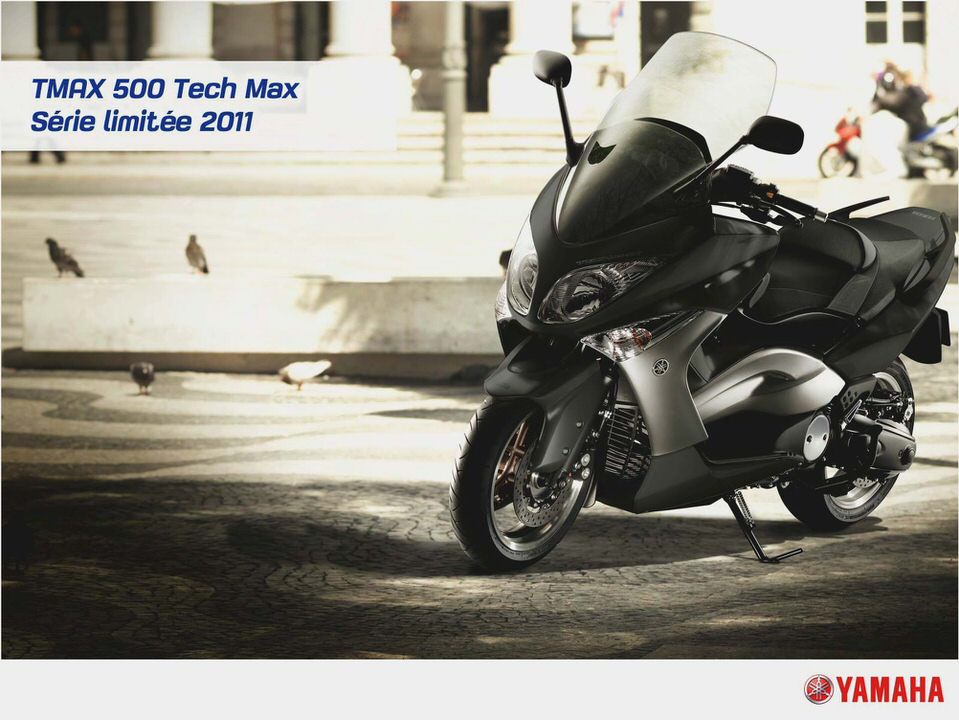 YAMAHA TMAX (XP500 / XP530)
The TMAX was first introduced to the USA and Canadian markets for 2009 in Dark Blue and Cadmium Yellow shades. The TMAX brought sport bike influence to the maxi-scooter scene, but curiously lasted just three years in the USA (2009-2011).
After 2011, the TMAX was dropped from Yamaha's USA lineup, but Canadians received a new generation of TMAX – perhaps as penance for skipping the 2011 model year there. This heavily updated TMAX was first shown at the global EICMA show in November, 2011. The new TMAX gets a 35cc boost to 530cc and offers new styling as part of a significant mid-cycle overhaul.
It remains on sale in Canada as of 2014.
Generation One: TMAX 500
Unlike most scooters, the TMAX offers awesome handling and braking. In these areas it's the gold standard for maxi-scooters. The die cast aluminum frame and 15" wheels combined with light weight and R6 inspired brakes makes this scooter a blast through the twisties.
Unfortunately, Yamaha didn't squeeze more than average power from this scooters 495cc engine. The TMAX motor does an adequate job but it's not at the same sporty level as the rest of the scooter. Top speed is an impressive 100mph, but
it is leisurely about getting there. Hitting 60mph takes 10-11 seconds which means you'll be battling Corolla's off the line. For comparison, a 600cc Honda Silverwing accomplishes this feat in about 8 seconds. The acceleration isn't anemic, but the sports oriented crowd that the TMAX seems to lure might be left wanting.
Conversely, the lower power output means this big fuel injected scooter gets above average fuel economy for its size (45mpg). Bigger scooters like the Silverwing and Suzuki Burgman 650 often consume gas at 30 – 40mpg.
Generation Two: TMAX 530
For 2012 the TMAX received a large number of revisions that represent a significant update – and at the same time gets axed from the USA market. The 2012 TMAX wasn't an all new scooter as the frame and core engine are the same, but most aspects of the TMAX did get a significant overhaul.
The motor got a 2mm bump in bore and lighter pistons, which boosts the displacement to 530cc. Yamaha is calling this motor all new, but it's really a heavily massaged version of the original motor. Besides the displacement bump, Yamaha redesigned the valves, used a ceramic cylinder coating instead of an iron liner and tweaked a whole list of stuff like the water pump, camshaft design, cam chain tensioner, crankshaft and connecting rod.
The throttle body has also been bumped to 34mm (from 31mm) and the airbox and radiator are re-designed for higher performance. The new curved radiator is pretty trick.
The changes to this motor are so widespread that very few parts can be exchanged between the original TMAX motor and the revised one. The result of these changes is about 10% more torque and it peaks lower at 5250 RPM instead of 6500 RPM. This really improves the former weakest area of the TMAX – mediocre acceleration.
Engine aside, the TMAX gets a host of other upgrades like a redesigned and lighter swingarm, a larger rear disc (282mm vs. 267mm), lighter 5 spoke rims and an adjustable windscreen. The new 5 spoke rims are a particularly nice touch.
The style of this scooter has also been overhauled with a newly aggressive front end, LED tailight and a more futuristic dash.
One result of all of these changes is a 7 lbs weight reduction to 481 lbs. That's still a lot of scooter, but the increased power, lower RPM torque peak and small weight savings combine into a serious improvement in acceleration and driving enjoyment.
Storage Convenience
The TMAX is solidly aimed at the maxi-scooter crowd, and thus offers a solid list of features and storage options. The TMAX boasts dual glove boxes – one on each side of the dash. Neither spot is huge, but combined they provide ample storage for your small items like gloves, paperwork, sunglasses and snacks.
The under seat storage area takes care of swallowing the bulky items, although you're not going to fit two full face helmet in here like you can with some other maxi's. If you do want a bit more storage, Yamaha sells a rear top case for around $200.
The TMAX offers a bunch of nice features that make touring easy. There's dual trip odometers, a fuel tripmeter and a clock. 2012 TMAX's go a step further by adding an ambient air temperature gauge and displaying both your average and instantaneous fuel milage.
Other features include a light in the underseat storage area, adjustable drivers backrest, folding mirrors, and an adjustable windscreen on 2012 examples.
Comparison
Compared to larger scooters (ie. Honda's Silverwing and Suzuki's Burgman 650), the TMAX is less suited for long trip comfort but it does offer better fuel economy and a 30-70lbs lighter weight. The TMAX also has less storage than those two larger scooters, so the TMAX is more at home as your daily commuter than as a long distance touring bike. For more info on the TMAX check out the reviews here and here .
The TMAX offers arguably the most sporty styling of the maxi-scooters being offered these days. Yamaha has really hit a nice niche by offering sporty styling in a touring capable maxi-scooter package. With the first generation, Yamaha just needed to add a bit more power so it could hang with the big boys like Honda's Silverwing. Piaggio's X9 500, Kymco's Xciting 500 and of course Suzuki's popular Burgman 650.
Now that they've done this for 2012 – and without hurting the fuel economy – Yamaha has a winner on their hands. 500cc is a great size for a maxi-scooter where good power and good fuel economy are both attainable. It's nice to see Yamaha continues to see value in this segment and has put a huge effort into improving their sharp TMAX.
Now they just need to return it to the USA.
OWNER REVIEWS (1) – Browse the Yamaha TMAX Owner Reviews REVIEW – Add a Review of Your TMAX
Pros:
* Aluminum Frame
* Sporty styling and handling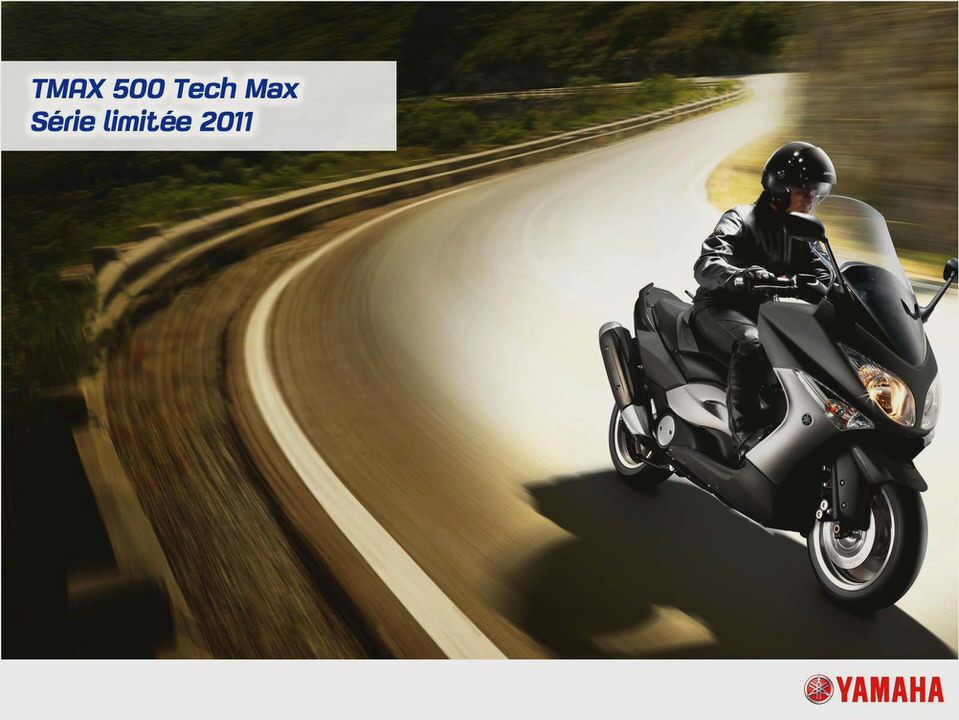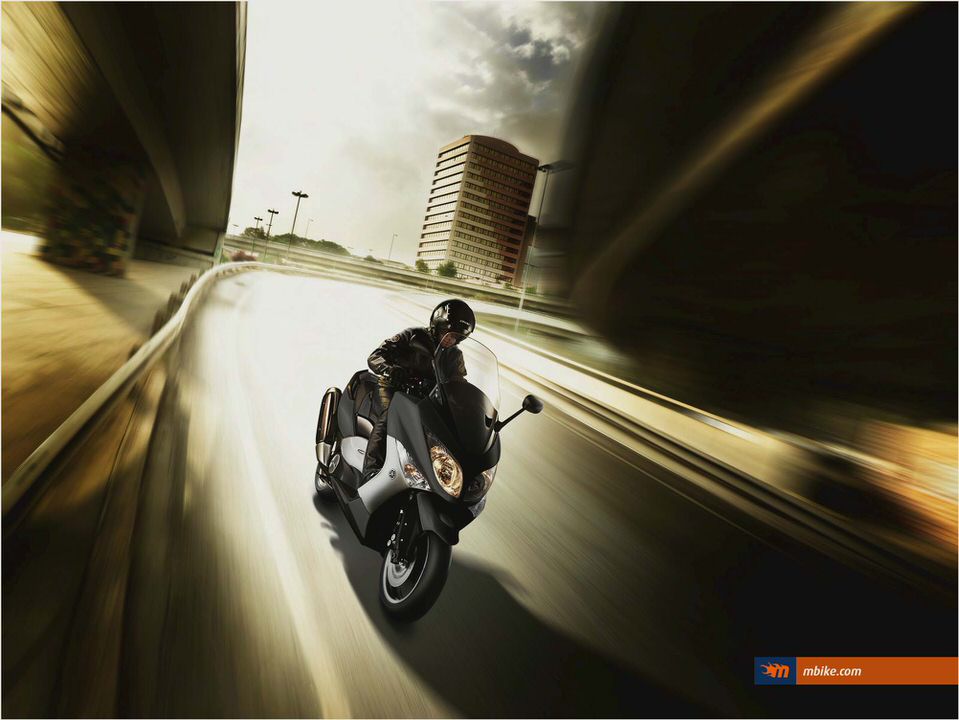 Cons:
TMAX Service Manual – Great Manual. Requires registration to download.
MotorscooterGuide Forums – Visit the forum on this site to chat about this scoot.
Nice TMAX Review – Check out this writeup from MotorbikesToday.com
TMAX Review – Great article from TheScooterReview.com
Another TMAX Review – From Wheels.ca and the Toronto Star
Key Specs:
* Engine: 4-stroke, liquid-cooled, DOHC, 4-valve, parallel twin
* Displacement: 495 cc (pre 2012), 530cc (2012)
* Bore and Stroke: 66 x 73mm / 68 x 73mm (2012)
* Compression Ratio: 11:1 / 10.9:1
* Maximum Torque: 34.2 ft-lb @ 6,500 rpm / 38.3 ft /lbs @ 5250 RPM
* Maximum Horsepower: 43hp
* Fuel Delivery: Mikuni 31mm / 34mm fuel injection
* Estimated Fuel Consumption: 50mpg
* Lubrication: Dry Sump
* Ignition: TCI / Electric Start
2011 Yamaha FZ8 Review – First Ride –
Specifications of a 1989 Yamaha XT600 eHow
Yamaha YZR-M1 – Motorcyclist Magazine
New "XJ6 Diversion" to be released as 2009 European model Designed as…
2010 Star V Star 950 Comparison – Motorcycle USA