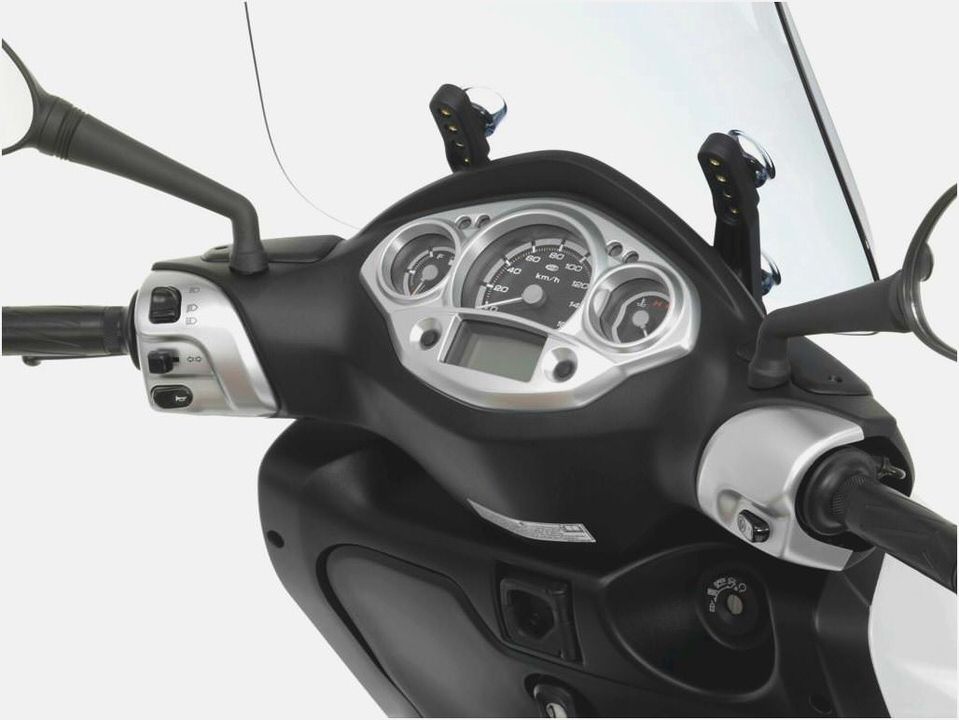 Yamaha X-City 250
New Yamaha X-City 250 looks really impressive. Completely new design, transferred from tops to clay model, and then the finished product looks very modern and serene. This form will be most appreciated by those who do not crave aggressive lines and flawless aerodynamics …
On a front wheel nicely supplements the front armor and plastic placed in front of the driver's legs. Below two large protruding headlights are white blinkers, unavoidable details of each new motorcycles and scooters.
Special attention was paid to the seat. Care was taken when designing the ultimate in comfort and saddle fit riders of all ages. The front end is very narrow, which allowed easier leg contact with the substrate.
The seat is in two levels so passenger sits on a slightly elevated and has an excellent view of the road ahead.
Under the seat there is enough space for a jet helmet with some trinkets or briefcase. Side armor is dominated by a large X-City logo above which lies a great and functional passenger grab handles. The rear end ends in a recognizable style Yamaha.
Very similar to the model X-Max. Slightly angled stop light blend with other lines and rear give the compact and calm look.
Windshield is big, dark and slightly skewed. Unfortunately it can not be adjusted for height and the problem becomes field of view that the upper part of the windscreen divided by half. It only applies to drivers with a 175-180 cm in height, which will lack easily rectified by purchasing a larger and wider windscreen as it offers a rich array of accessories. Behind the windscreen lies very clear and simple instrument panel.
Includes analog pointer speed, fuel and coolant conditions. A small digital display shows temperature, time and total distance traveled and current. There are also signal lights and two buttons to adjust the current time and edit distance traveled.
The combination of colors allows good visibility of instruments and when the strongest daylight.
The area under the steering wheel has been used. Compartment for small items contain a lock and just above the hook for hanging bags or bags.
X-City 250 is the first Yamaha scooter high wheel. Wheel 15-inch rear and 16-inch front paired with hydraulic suspension surely provides a comfortable ride even on rough roads. Two discs, one diameter of 270 mm front and 240 mm at the rear provide a good safe and precise braking.
Good posture contribute tires Pirelli Pilot Daemon, which come standard with this model.
Yamaha X-City 250 uses proven engine, already built in to the popular model X-Max 250 The main improvements have been achieved by using electronic fuel injection and different ratios during the transfer of power to the rear wheel. Such changes were necessary in order to X-City with its large wheels maximize strength and meet Euro3 standards. From the volume of 249.8 cc engine develops 21.2 hp at 7500/min, with torque of 21.5 Nm at 5800/min.
Yamaha X-City 250 to provide enough vibrancy in the city with the possibility of crossing and longer vangradskih relations.
Incoming search terms:
yamaha x city 2014
yamaha x city 250
2014 yamaha x-city 250
x city 250 2014
yamaha x city 250 2014
yamaha x-city 250 instruments
yamaha x city yakıt tüketimi
yamaha x-city 250 test
yamaha x city 250 review
yamaha x city 250 noir
The History of Bike Freestyle & Dirt Jumping eHow
Page 1 – Yamaha R1/YZF-R1 series model history timelines
New Yamaha YZF R15 Review, Pictures & Specification (150cc Bike)
Motorbike: 2011 YAMAHA pictures PW50 (2-Stroke) specifications in Motorbike…
Road Star Warrior