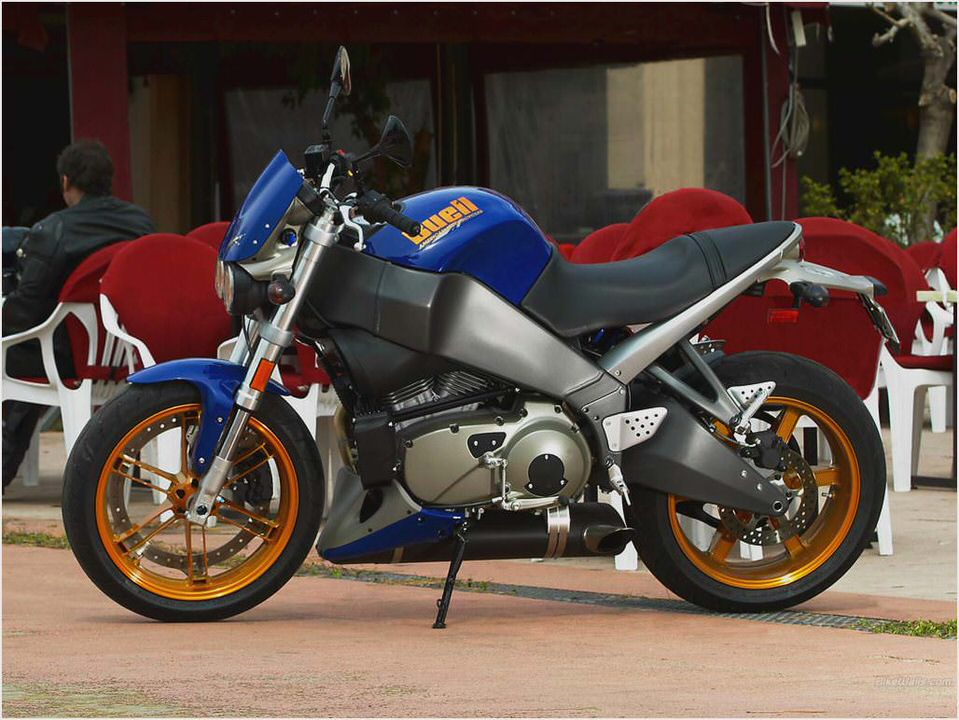 2005 Buell XB12S – The Evil Twin
0702_sbkp_16_z+2005_buell_xb12s+left_side.jpg
There's only so much you can do to trick out another 'Busa or Gixxer. What do you do, then, when you want to build a custom sportbike that's really different? Easy-start with a bike that's really different, which is exactly what Rick's Motorcycles in Plaistow, New Hampshire, did to create the wild-looking Buell custom seen here.
When it comes to unusual motorcycles, they don't get much more different than the Buell. With its ultrashort wheelbase, the fuel carried in the frame, the oil carried in the swingarm, the front brake mounted to the rim and a torquey V-twin motor that has a raw character more like a big-block Chevy than a manic Toyota, the Buell is unlike any other motorcycle on the market, making it a perfect starting point for a truly unique custom sportbike.
Buell likes to categorize its standard bikes as streetfighters, and in a lot of ways this creation from Rick's holds true to that stripped-down streetfighter aesthetic. With an absence of sparkly adornments and look-at-me graphics, this bike has mutated from a skinny streetfighter into something much darker and meaner, the two-wheeled equivalent of the huge bruiser you don't make eye contact with when you're out drinking. How did this bar brawler come to be?
The guys from Rick's have built plenty of customs that have previously been featured in this magazine. You might remember Goldmember, their 24kt gold-plated Honda CBR900RR/1100XX hybrid and the General Lee turbo Gixxer, both of which were featured in the January 2006 issue of SSB, as well as a fat-tire Hayabusa that was the subject of a three-part budget build-up project featured this past summer. But this Buell is a completely different direction than those previous builds.
What inspired such a dramatic divergence? BJ Basnett, co-owner (with his brother Johnnie) of Rick's, puts it down to boredom. I love GSX-Rs and Hayabusas, BJ says.
The reason they're so popular is that they're really good bikes, but I needed a change. Combine that with the fact that both BJ and Johnnie have a thing for old-school American muscle cars that share so many characteristics with the Buell, and this bike almost becomes a foregone conclusion.
The starting point was a 1200cc, 2005 Buell XB12S, more commonly known as the Lightning. Delivered from the factory with an almost ridiculously short 52-inch wheelbase, the lack of distance between the two axles is a big part of what makes the Lightning so unique. When the Basnetts decided to tweak the chassis, then, they avoided the temptation to go overly long with it.
With that in mind, Jason Sapp at CS; Customs in Mocksville, North Carolina, was commissioned to fabricate a swingarm that was wide enough to accommodate a massive 300-series rear tire, but that only stretched the wheelbase by six inches. Sapp also double-braced the arm for rigidity and integrated an internal oil tank (another core element of the Buell design). Much credit goes to CS; not only for building the impossible, but also for getting it finished impossibly fast to have it on the bike in time for this photo shoot.
Once the arm was on the bike, the Basnetts converted the drive system from the standard belt drive to chain drive-without a jackshaft-utilizing an offset front sprocket that they fabricated in-house. Direct drive is a much more user-friendly system than a jackshaft, but it requires considerably more engineering to construct in the first place.
The bike was converted to chain drive for two reasons: one, because no one makes a drive belt long enough to work in conjunction with the extended swingarm, and second, because belt drives are notoriously sensitive to anything other than absolutely perfect alignment. The new chain system will allow for a little lateral movement, should any exist in the modified drive on this bike.
The Basnetts even retained the Buell's factory-fitted belt tensioner (now, technically, a chain tensioner) that the chain runs over. Don't worry-you can't hear the chain running over it; the bike is way too loud for that.
Since there were no aftermarket wide wheels available for the Lightning, the Basnetts widened the stock rear wheel to accommodate the fatty tire. The rim now measures 10.5 inches wide and is modified to carry a custom-made billet bracket that holds a Suzuki rear brake caliper.
In addition to the Suzuki brake bits, the rear suspension, a Tricky-brand air-ride system, was also originally intended for a Suzuki before Johnnie modified it to work with the Buell frame and CS; swingarm, even going to the extra effort to plumb it into the fork as well. The back end has six inches of drop courtesy of the air ride, and the front has around three.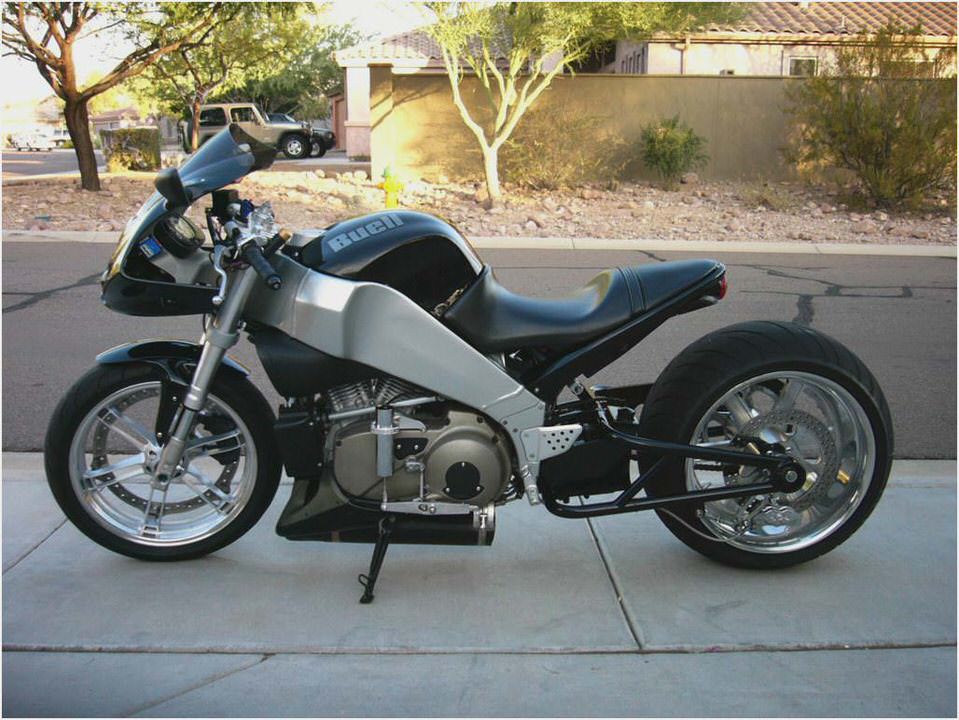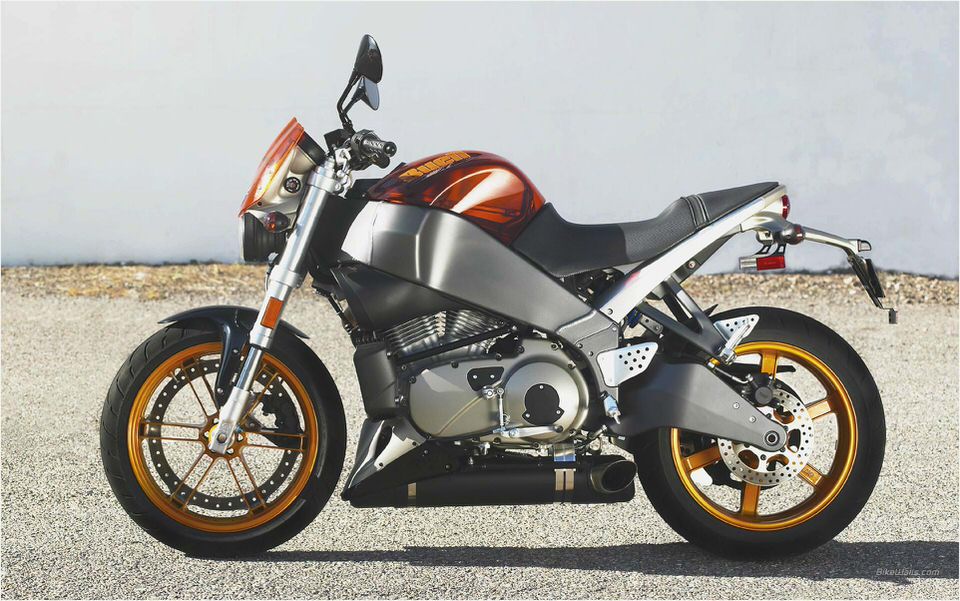 Though the big back tire is the bike's biggest visual cue, those air intakes sticking out of the gas tank grab your eyes, too. What you see on the top of the bike isn't actually a gas tank (fuel is carried in the frame on the Buell), but an air box cover that the Basnetts have pierced with a pair of straight up-n-out velocity stacks sourced from Chopper Guru Eddie Trotta. Rest assured, these are fully functional.
The other unique styling touches to this bike include the oddly shaped headlight, which came from Joker Performance, and the beautiful tailsection was patiently hand-made in-house by Johnnie Basnett from pieces of alloy, including the under tray section. To finish off this area Johnnie took a side-mount Pro-One license plate kit and modified it to fit under the tail.
At this point the look of the Buell had changed so much that some of the other factory-designed pieces just didn't look right anymore, so Johnnie re-shaped the front fender to fit the bike's new style, junked the high-and-proud factory handlebars and put on some straight-and-flat drag-race bars that transform the Buell's riding position as well as its looks.
Any modified bike needs a suitably different exhaust, so Rick's made its own short, straight-through system from raw tubing. Once shaped, the crew finished it off by wrapping it with racer-chic heat tape. Damn right, it's LOUD!
As this bike was all about being different, the boys went in the opposite direction from chrome, and powdercoated everything that was once bare metal in stealth-like black. This finish covers all of the engine covers, the wheels, rear sprocket and most of the miscellaneous brackets.
The ultimate finishing touch is always the paint, and as the whole point of this bike had been to turn current style upside down, graphics just weren't an option. So Rick's in-house artist, Eric Chase, applied some House of Kolor Rattle Snake paint that has a flip/flop effect, shifting from green to maroon as the light catches it in different ways. Eric then finished it off with some old-skool pinstriping and christened it with the name El Gemelo Malo (The Evil Twin, en espaol) painted on the tail.
Like BJ says, Hayabusas and Gixxers are indeed great bikes, and we see some really impressive customs based around these donor bikes, but Rick's really is right on the money with this dare-to-be-different Buell. Seeing something so unusual, and something that's been so ideally executed, is like a huge breath of fresh air.
The Evil Twin-how completely and utterly appropriate.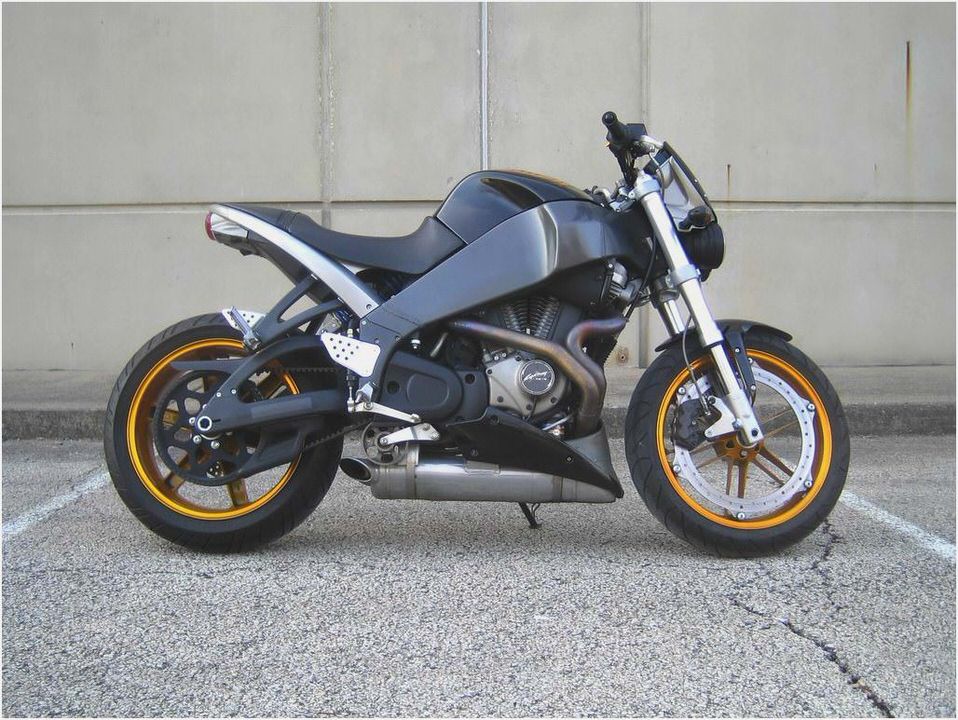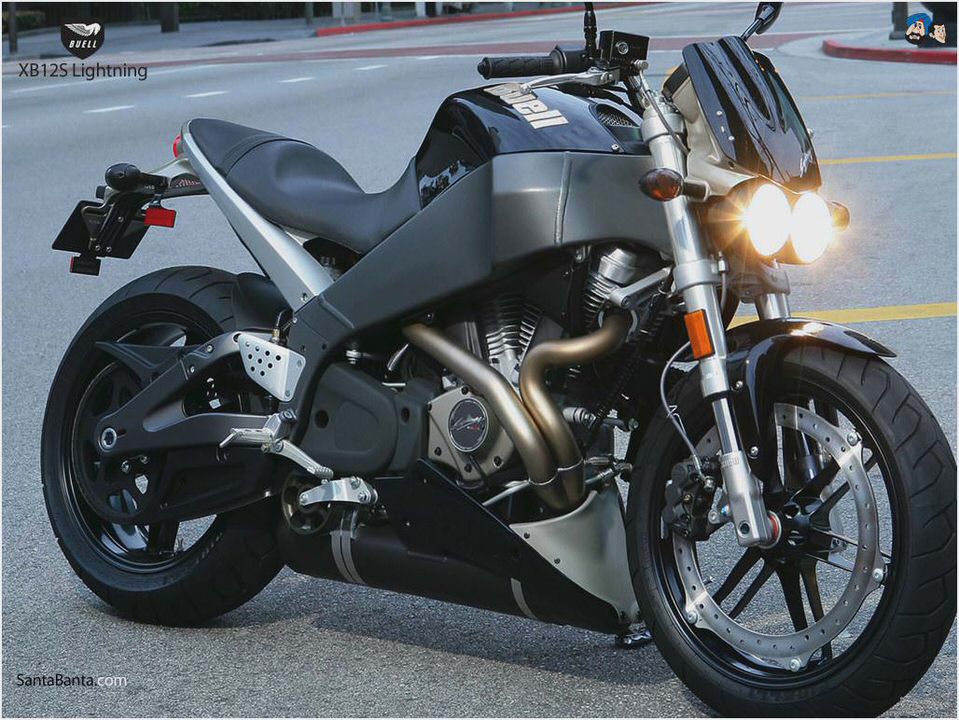 2006 Buell Lightning CITYX XB9SX – Used 2006 Lightning CITYX XB 9SX at…
2010 Buell Ulysses XB12XT-Buell
Used 2004 Buell Blast – Reviews, Prices and Specs at Motorcyclist Magazine
2013 EBR 1190RS motorcycle review @ Top Speed
2008 Buell Ulysses XB12XT performance picture comparison news