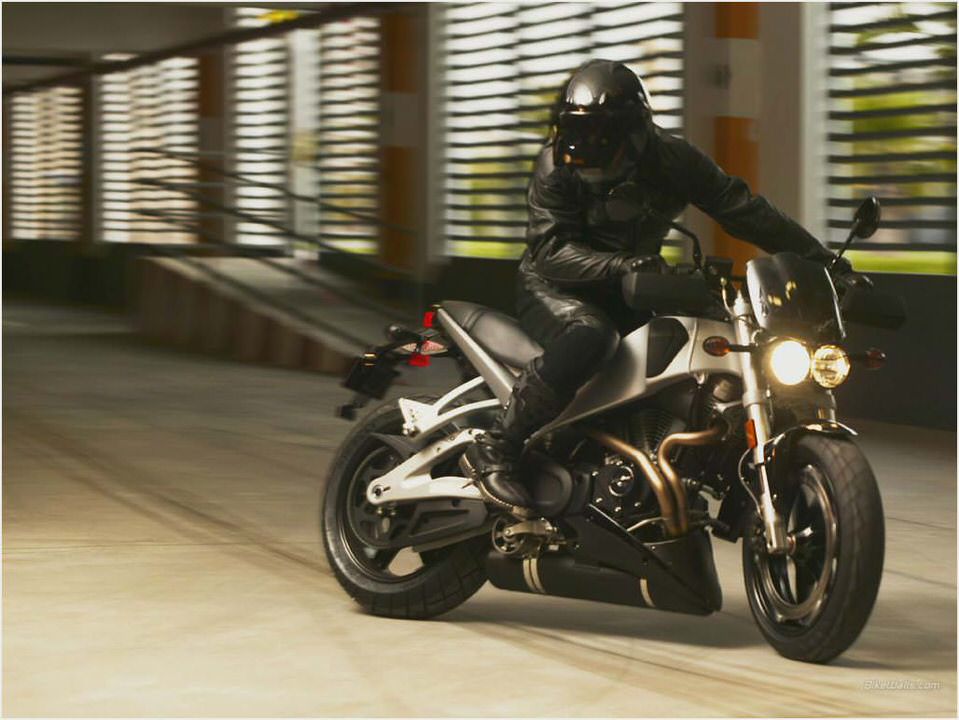 First Ride: 2004 Buell Lightning CityX
Way back in 1984, Erik Buell was watching The Terminator. The opening scenes portrayed a vision of the future where control of the planet in the Year of Darkness, 2029, was contested between man and machine in a wasteland of destruction. A dune buggy roared into view trying to make its escape. Erik thought how much easier it would be if the escapee were on a bike.
His mind started working on his own vision of a two-wheeled urban future. The result was to be a machine steeped in modern technology that could cope with any eventuality the metropolitan arena of the 21st Century could throw at it and its rider.
Twenty years later and the Lightning CityX XB9SX is the result, even if we are still pre-apocalypse. The CityX (say it 'City Cross') is, in true Buell style, something different, a little left field and outside of the box. The basis of the machine is the XB9R Firebolt, launched in 2002. Although the basic Harley-Davidson motor remains, capacity is up to 984cc to provide a wide, smooth delivery of power, perfect for the city streets.
Initial concerns were that Buell should have used the bigger XB12R motor, but it isn't needed. For a start the smaller engine allows for better traction and low speed control, has a wider spread of power and improved fuel economy (50mpg is claimed) over its bigger brother. Buell has also remapped the fuel injection to pass impending European Cat II fuel emissions.
The CityX utilises the three basic principles of Buell technology; mass centralisation of the major components (engine, shock, frame) to improve handling; chassis rigidity to maximise feedback; and low unsprung weight in the form of lighter wheels and brakes. The large, rim-mounted ZTL (Zero Torsional Load) front disc plays a part, transferring braking forces directly to the wheel rim rather than via the spokes. This means the wheel can be lighter but still deliver superb stopping power.
And boy do they stop well!
Aesthetically Buell wanted to try a new approach. The air box cover, fly screen and part of the tail are all translucent blue in a kind of funky iMac style, while the hand guards and headlight cage help give the CityX a mean urban streetfighter look. A comfortable yet aggressive riding position comes courtesy of a tall seat and motocross-style bars, which are wide enough to provide good leverage while hooning around, but also narrow enough not to hit cars while filtering.
Well, most of them.
Mirrors though are a bit on the poor side, being small and continually in need of readjusting. The rubber-mounted engine doesn't vibrate them as much you would expect but even so visibility behind is not great.
On the plus side, the CityX's clutch is remarkably light. And thankfully so, as most of its time will be spent posing and dodging traffic along the more affluent city streets. The gearbox retains the characteristic Harley clunk but is easy to get used to and to me it just adds a little personality.
Switchgear is basic Buell, in other words simple to use and easy to reach. The clocks are nice looking and a doddle to read, with a cool blue backlight. Their digital readout gives you two trips, an odometer, a clock and a fuel reserve light.
Don't forget these babies will only do around eight miles once you hit reserve!
The one real flaw I did come across centres around the rear of the bike. Forget tail packs or pillions – unless they are the size of a small child – as the rear seat is absolutely miniscule. The tiny rear hugger does its intended job by protecting the shock, but it does mean the rear of the bike is very exposed. Expect a very wet and splattered back if riding in the rain!
For the first time a Buell comes shod with Pirelli tyres as standard – chunky-looking Scorpion Syncs in this case. This move away from the Dunlop D207/8 series comes from a desire to clothe the CityX with rubber that not only looks like aggressive supermoto-ish tyres, but also works admirably in all weather conditions. They don't disappoint.
The majority of the CityX's riding will take place on urban A and B roads, and that's a good thing as above 70mph she does start to shake her head, which is unnerving. Stick under this and you'll get the best from the big V-twin and its otherwise capable chassis.
Sales figures may not be breaking any records for Buell but the brand is growing rapidly. A 130% sales increase this year already over 2003 has been strengthened by many dealers starting Rider Owner Groups. Europe-wide the age demographics of riders, their needs and the environments in which they are riding have changed dramatically over the past few years, and Buell is one company aiming to capitalise.
The CityX should help them do just that.
VERDICT
The CityX is capable, quirky, good value and produces plenty of low down torque, but it doesn't really fit into any category. But is that a bad thing? Even with all its urban aggression it's not a supermoto and it's not a practical commuter unless you wear a rucksack.
That said, the CityX is a fun tool that will be at home on city streets and rural B-roads.
Typhon 1190: the badass Buell streetfighter that could have been
Buell 1125R – Motorbikes Reviews, News & Advice – bikepoint.com.au
Buell 1125R – Page 2 – Sportbikes.net
2008 1/2 Harley Softail Cross Bones, Buell Ulysses XB12XT – First Look
2009 Buell Lightning CityX XB9SX – Motorcycle Test performance picture…