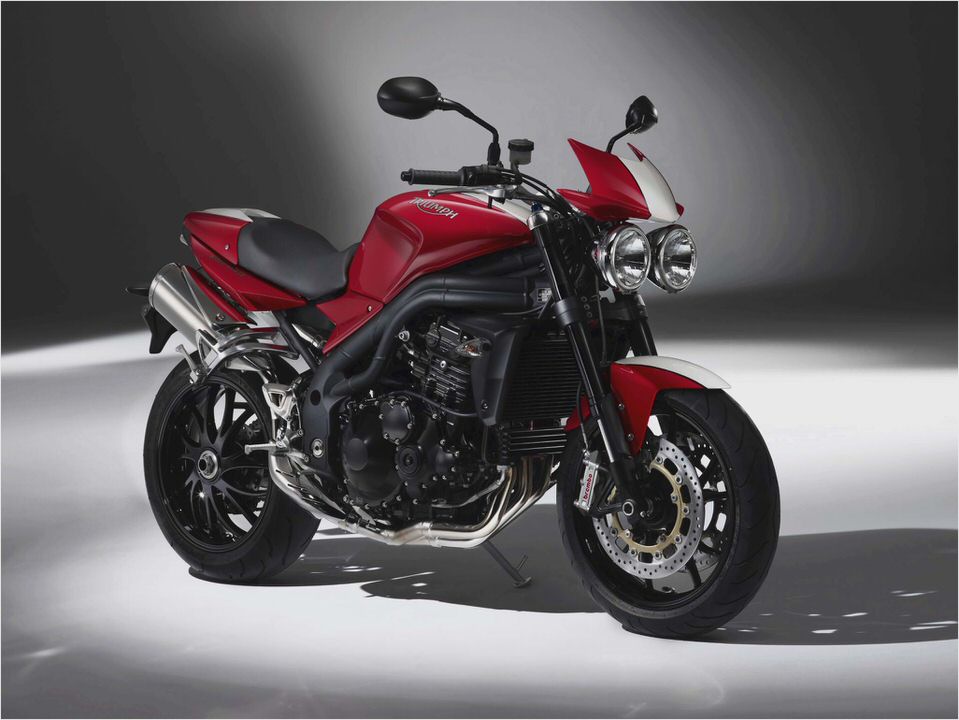 2007 Triumph Speed Triple
The Triumph Speed Triple returns to our 2007 Streetfighter Comparo beefed up and ready to improve upon 06's last place result. While the Aprilia Factory Tuono can be compared to a title holder who returns even leaner and more agile, the Speed Triple for this year's test is peaking on a triple-dose of 'roids.
As one of 50 limited-edition '07 Speed Triples souped-up with an aftermarket exhaust and scores of carbon fiber bolt-ons from the Triumph accessory bin, this year's S3 looked and performed better than its predecessor. No surprise there. Although the majority of the special-edition Triples were snatched up by dealers as soon as they were made available, we somehow got our grubby mitts on a test unit.
So how did we end up with one? 'Cause we're cool.
Once the modified Triple rolled into our garage we were surprised by how delicious the 3-into-1 aftermarket Arrow exhaust looks and sounds. We were flabbergasted, however, when we compared dyno numbers from last year and noticed the Speed Triple had jumped up 13.5 horsepower!
Achi machi. That's kind of just cheating isn't it? As we tried to justify the juiced Trumpet in our minds as a Factory Speed Triple, we discovered the aftermarket pipe is for off-road use only, meaning our Trumpet tester isn't even street legal. Well, that shot our factory argument down in flames. So this year's Speed Triple and its unofficial third-place results get a Marion Jones-like disqualification from the final rankings.
But there is no disputing the fact that this bike is a real kick in the teeth.
This year's Speed Triple was an absolute riot – the highlight being its distinctive three-cylinder mill. We harp on it every time we throw a leg over one, but Triumph has a sweet-sounding gig going with its distinctive 1050cc Inline Triple. Not only does it emit a grin-inducing exhaust note, with a downshifting backbeat that we can't get enough of, it produces gobs of torque even when it isn't hopped up on aftermarket juice.
On our dyno, the enhanced Triple peaked at 123 ponies at 9400 rpm, as we stated above, a mammoth increase from last year's 109.6 hp. The Triumph also gained 5 lb-ft of torque, with its 73.2 lb-ft at 7700 rpm peak and high dyno torque curve dilly-dallying around in a lb-footage world all its own.
The aftermarket mods make the grunty Triple even gruntier, with the British beauty a real pub brawler in the engine category because of its copious torque teetering on the edge of sanity right from the get go. Only the high-torque Kawasaki Z1000 rated above the S3 on our tester's scorecards. With its 79mm bore and 71.4mm stroke, the almost cubed Triple does an excellent job delivering the best characteristics of the Fours and Twins.
The highlight of the Triumph is the motor, says BC. While deceptively smooth and docile in delivery, the Triple makes good power and lots of torque. A strong grunt down low, a very linear power delivery and a smooth throttle makes the Triumph a great bike for doing wheelies.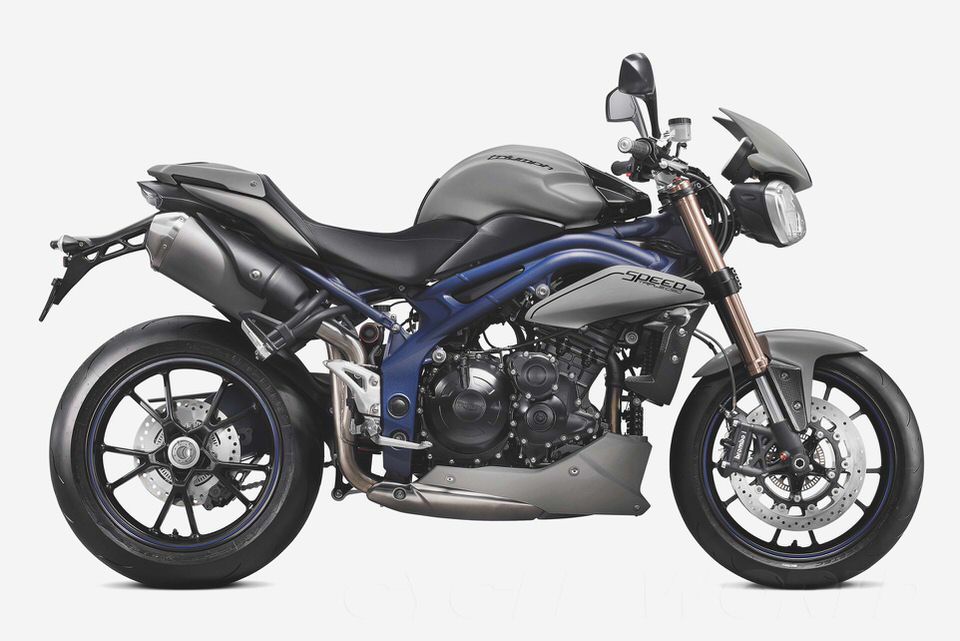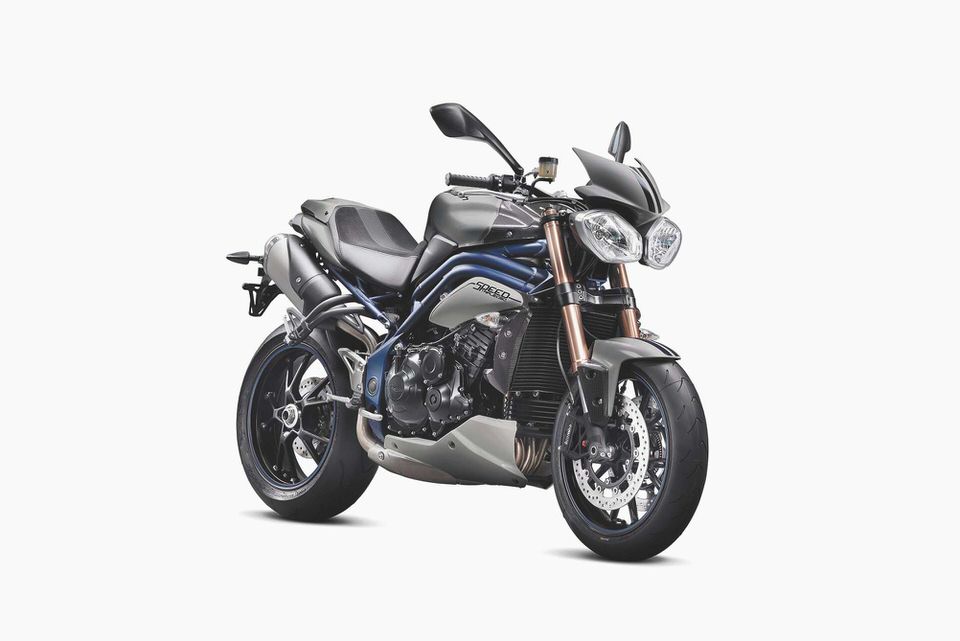 Our testing ringer, Jimmy Filice, also enjoyed the Triple saying, It has good throttle response and sounds really cool.
Gone is the starter complaint we had during last year's test, when the S3 required over a second of cranking before firing to life. This year's ECU-controlled digital ignition had our test motorcycle rip-roaring with the blink of an eye.
The Triumph's six-speed gearbox didn't impress any of us, as you can see by its last place result on our overall Transmission scores. The transmission wasn't as slick or precise as its competitors, with riders registering complaints about missed shifts between both first and second and false neutrals in the first three gears.
Exhibiting a drastic improvement from '06, however, were the Triumph's brakes, with last year's S3 binders mushy and the major complaint lodged by our crew. Nothing changed on the Speed Triple's spec sheet, with dual 320mm rotors and four-piston Nissin radial calipers up front still teamed with a 220mm rear disc and two-piston caliper out back. The secret to the improvement is internal, with the caliper pistons now Teflon-coated.
Our return testers from '06, Ken Hutchison and Brian Chamberlain, both took immediate notice of the improved brakes.
Hauling the big Triple down from speed didn't take an act of Parliament, muses Hutch on the improved binders. After a while it actually infused some confidence to go ahead and late brake, trailing it in a bit while carrying good entry speed. That's a nice upgrade to the Triple's track worthiness.
In the handling department the Triumph pulled third behind the two Italians. While it sports the steepest rake angle at 23.5 degrees and second-shortest wheelbase at 56.2 inches it couldn't match the nimble Ducati Monster. much less the swift Aprilia Tuono.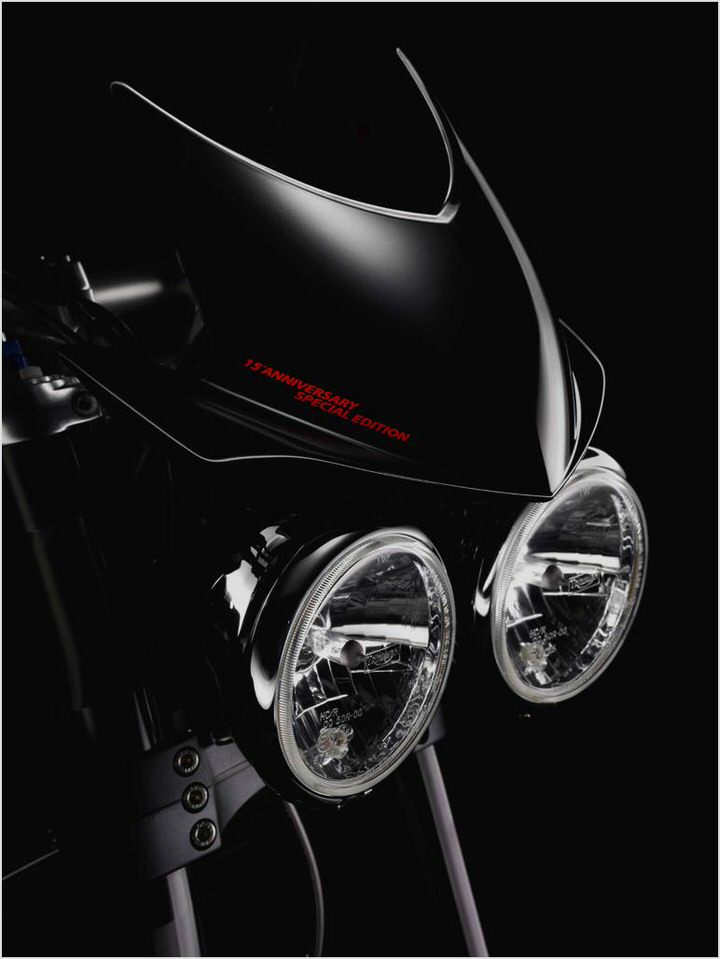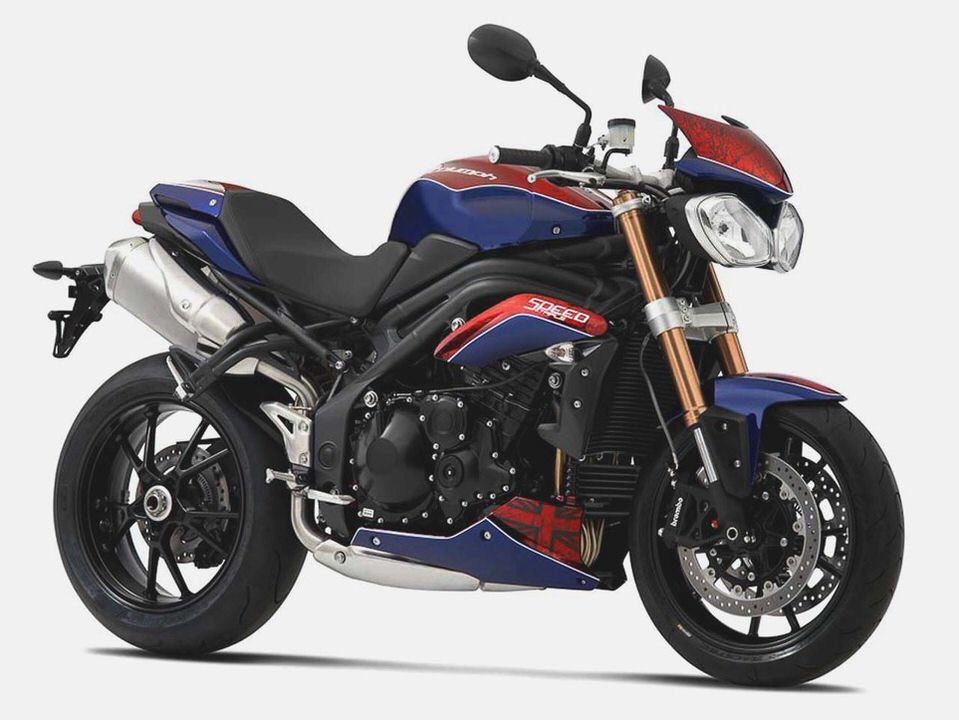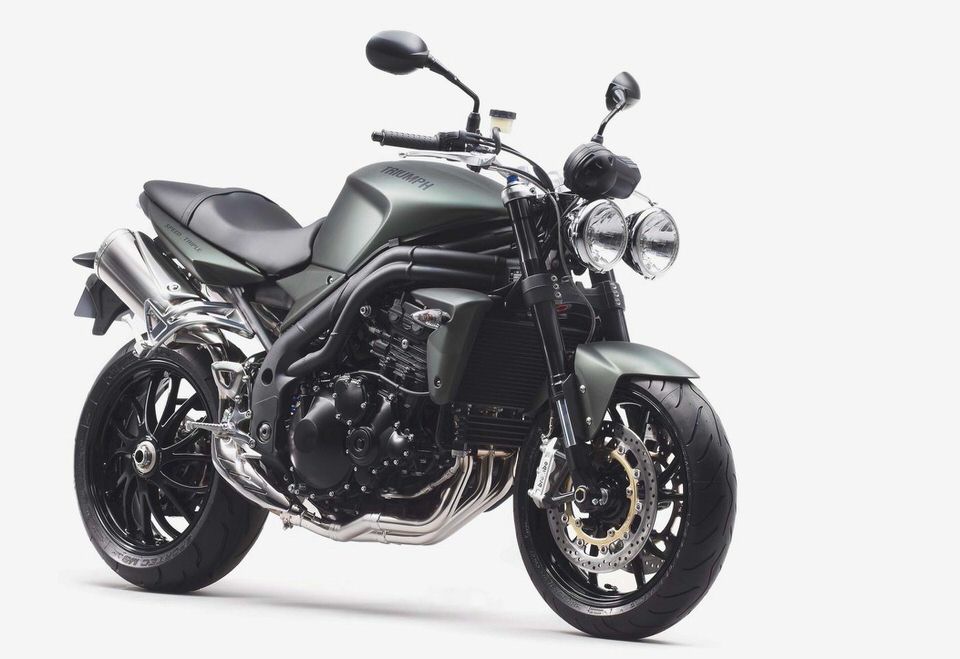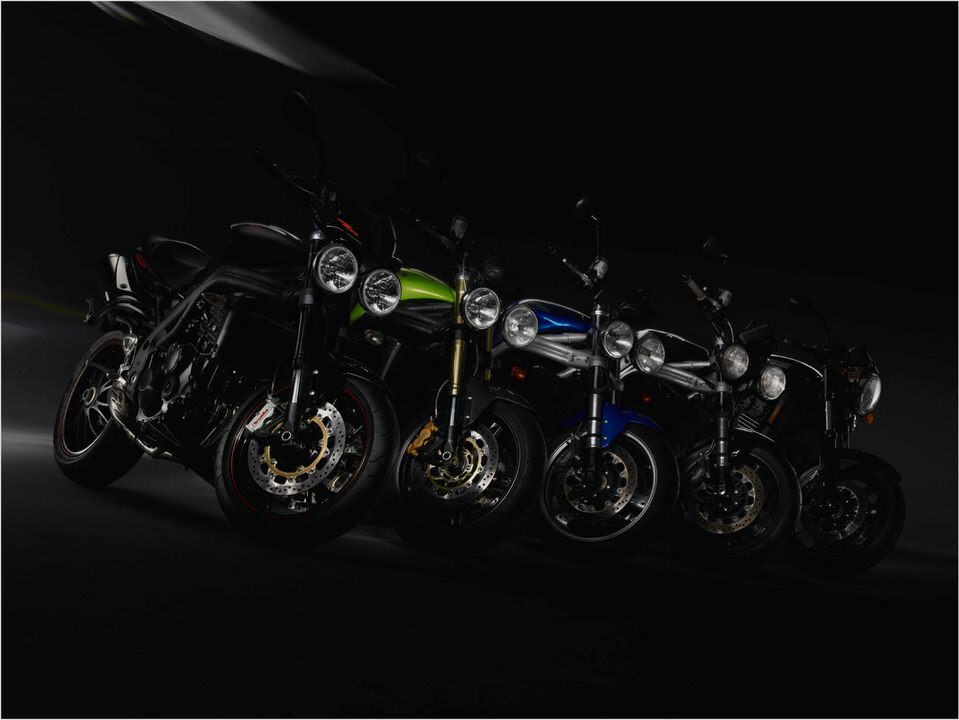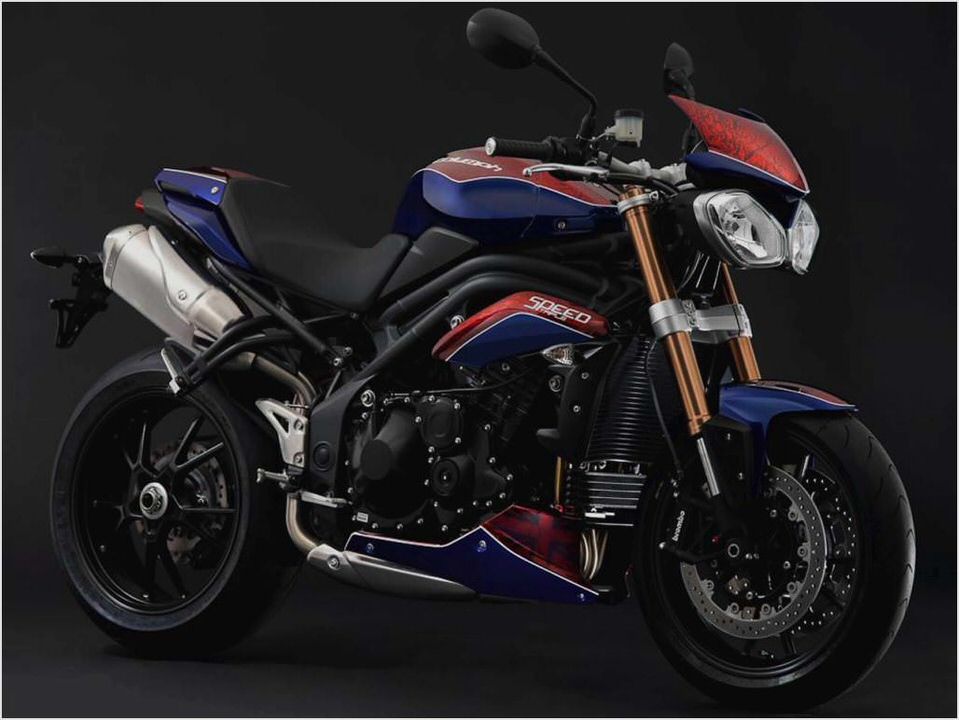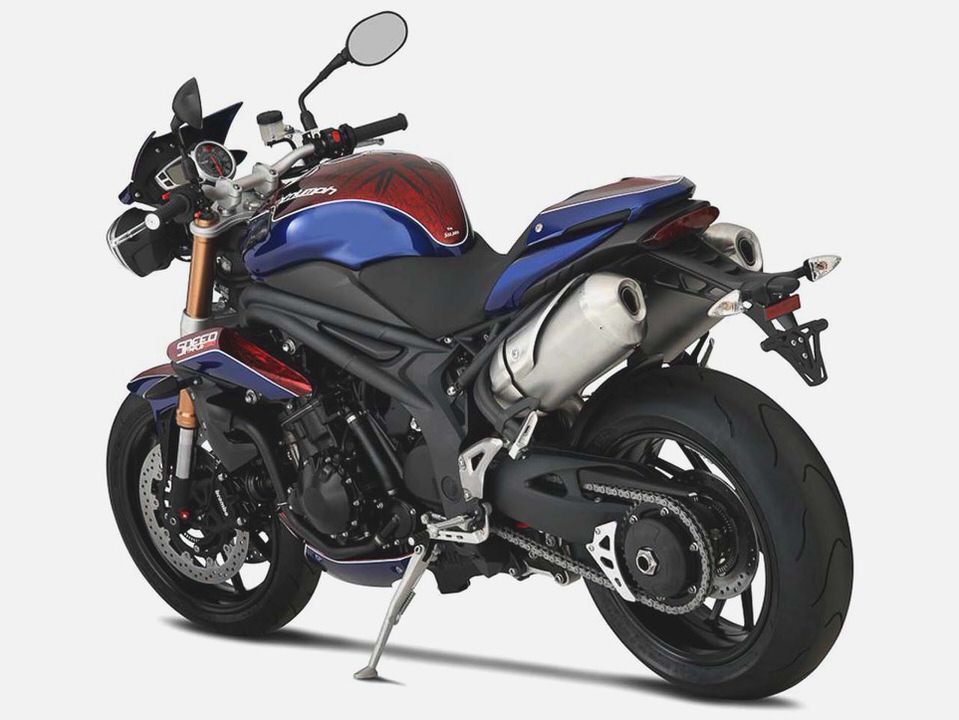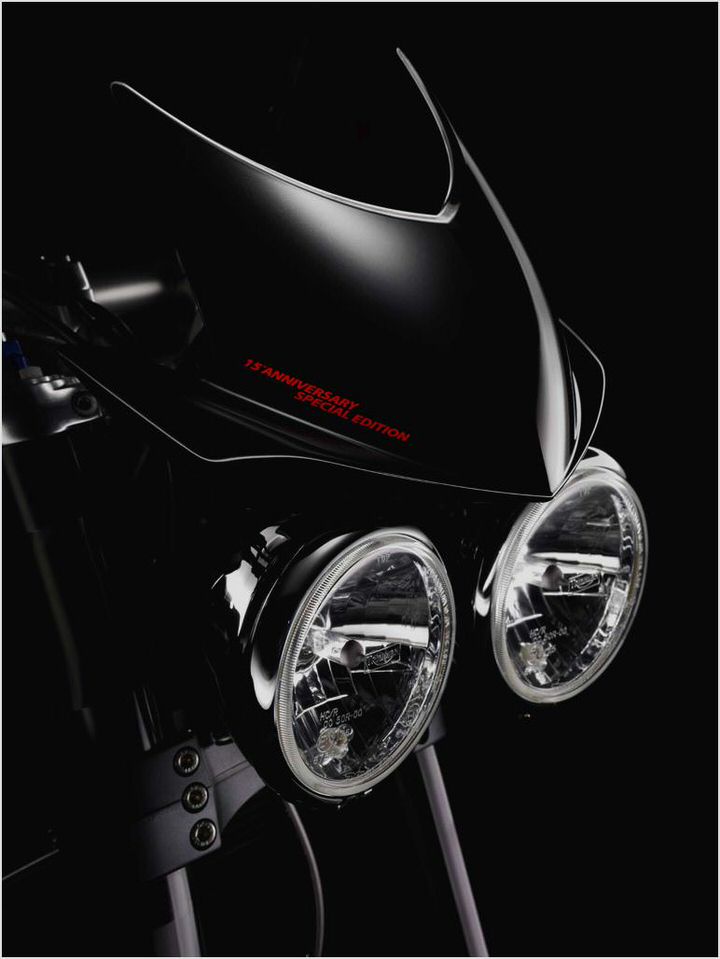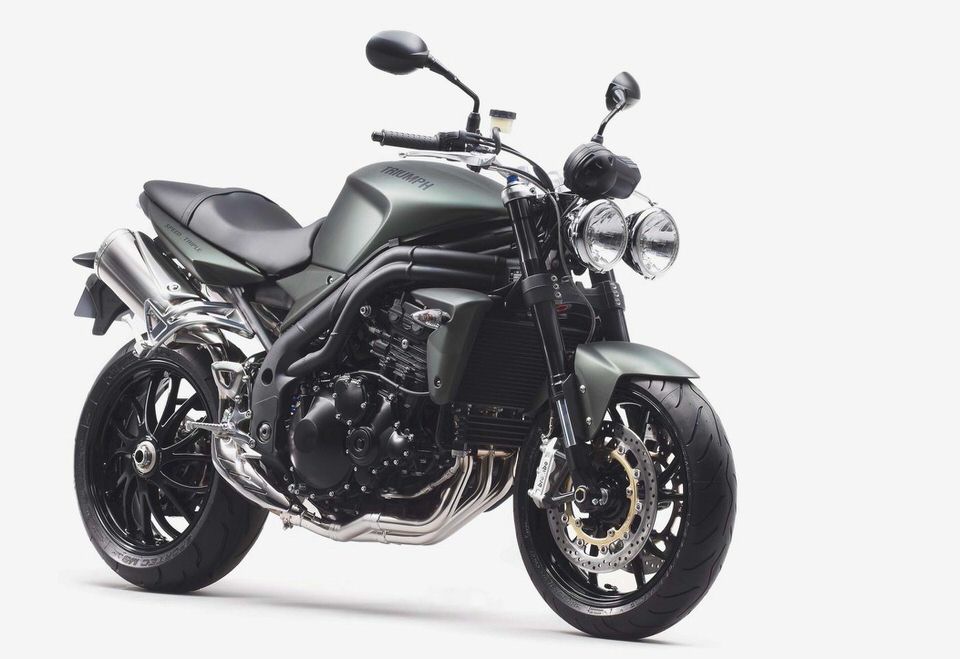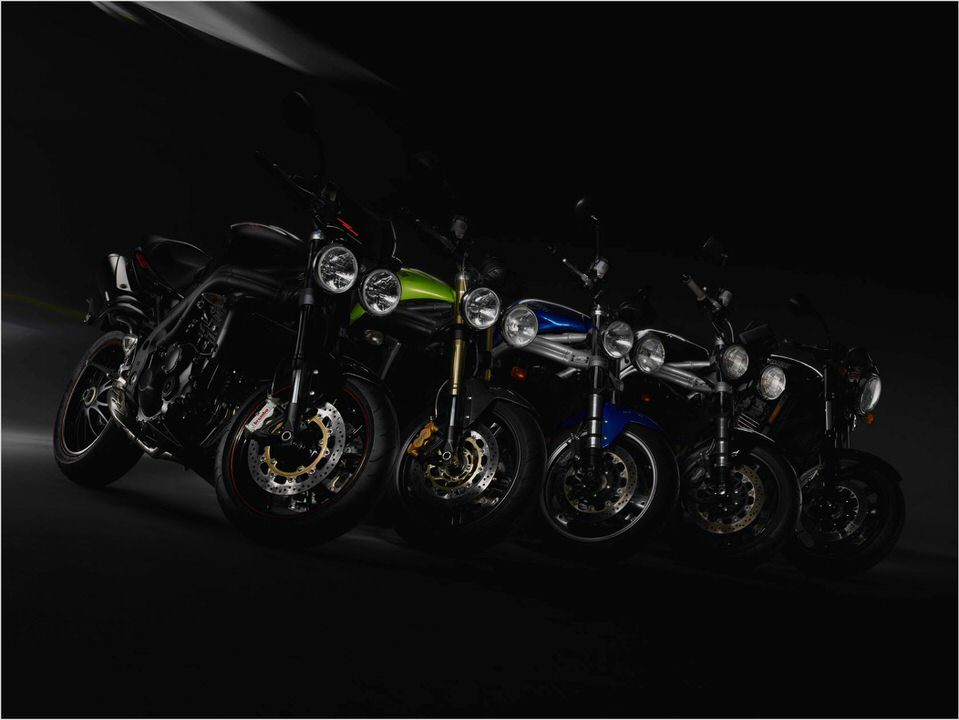 Triumph Bonneville SE – webBikeWorld
2013 Triumph Rocket III Comparison Review – Motorcycle USA
Triumph TT600 Speed Four Motorcycle Service Manual
1995-96 Triumph Speed Triple – Vintage Motorcycles Online
2008 Triumph Rocket III Touring