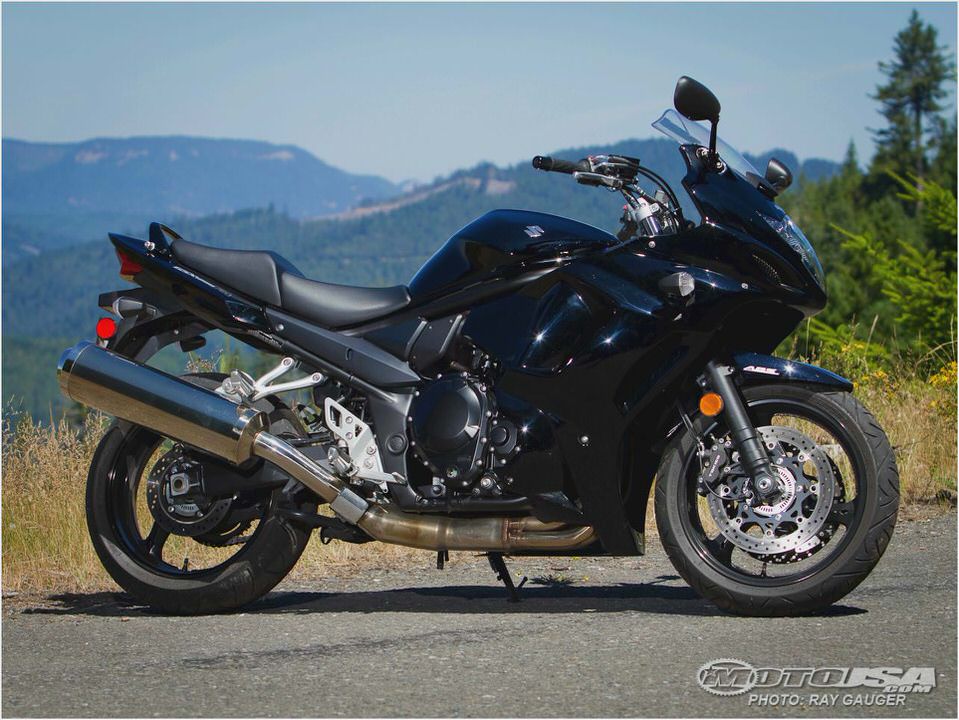 Specifications:
Introduction
Introducing the 2008 Suzuki Bandit 1250S. Combining heavyweight power with distinctive styling and the quality of an all-new, technologically-advanced liquid-cooled engine and an advanced digital fuel injection system, the Bandit 1250 receives its combination of power, style, and technology from a team of dedicated Suzuki engineers, working together to produce a street machine of unmatched quality.
History
Suzuki had the awesome idea of taking the GSX-R1100 engine, enlarge it, tune it a little bit, and obtain the basis of a sport-tourer. The result was released in January 1996 and it was called Suzuki Bandit 1200. The new addition was much alike the 600 cc version but it new how to individualize itself in the Bandit Series.
Some differences include a fuel gauge, higher specification suspension and larger diameter front brake discs. Another presence on the 1200 Bandit was the hydraulic clutch.
In its first year of production, it was sold Maroon, Green, and Black painted.
A model version called GSF1200SA was introduced for the 1997, the A indicating that the model had electrical ABS brakes front and rear. The SA version was not available in all countries and wasn't a huge success. It identified itself by having a sticker saying ABS on the side cover and, obviously, different brakes.
The front discs had quite different design and the rear brake was mounted above the wheel axle.
Colors available for the normal version of that same model year were Maroon, Black, and Blue.
1998 didn't bring any changes, so the only thing remaining for Suzuki to do was to change colors. It did and the Suzuki Bandit 1200 could be bought Maroon, Black, Green and Silver painted.
For 1999 colors were Maroon, Black, Green, and additionally brown on the S model.
Things didn't change for 2000, so the manufacturer did what it did the years before: changed colors. In 2000 you could buy a 1200 Bandit painted Maroon, Blue, Black, Titanium and Greed/Gold on the "S" model.
In 2001, the Suzuki Bandit 1200 entered as a completely redesigned model featuring a new frame and an upgraded engine, delivering now more torque than before and having a more efficient cooling. The fairing on the S model was all new, as well as the headlight, giving a modern look to this great machine. The front fork was also new and the front brakes got six calipers each side, instead of the earlier four.
2004 added a 2-way catalytic converter to the exhaust system, and minor modifications to the exhaust metalwork.
2006 brought a complete revamp, given by the redesigned fuel tank, side panels, a height adjustable seat and a longer swinging arm. The faired "S" versions also have a reshaped fairing and mirrors to match with it. Also, that year, ABS brakes entered as standard.
Fallowing the evolution of its little 650 cc brother, the big Bandit 1250 had in 2007 a water-cooled motor specially designed for it. This one met emission regulations, unlike the 1157 cc air-cooled motor.
Competition
Yamaha's ultimate street brawler brings 998 cc of fuel-injected previous generation R1 power to the fray, in a light and strong aluminum frame. With its sculpted fuel tank and one-piece handlebar, it moves its rider forward for aggressive naked-bike excitement, similar to the one found on the 1250 Bandit. Also featuring adjustable suspension, the FZ1 can be dialed in for a wide range of uses, everything from urban assault to sport touring, and this makes it perfectly suitable for the fight with the Bandit.
Kawasaki updated the ante in the naked bike arena with the entrance of the Z1000. Beyond its muscular torque delivery and radical styling, the Z1000 dishes out a visceral riding experience. This purpose-built Kawasaki is equally at home in the garages of both practical motorcyclists simply seeking a smile-producing weekend ride and owners desiring a bike that doesn't fit the norm.
This excellent motorcycle also fights the Suzuki but it must face the Yamaha first.
Exterior
One very important feature at a naked bike is how the engine makes its entry through the way it looks. Suzuki took care to beautifully design for the trained eye the mighty 1250 cc engine which positions itself between rough appearance and stylish look. Kind of strange, I know, but this is how the whole motorcycle appeared from the very same beginning, as it was big and packed with muscle while still featuring a half fairing.
Today, the Suzuki Bandit 1250S presents itself as the threatening looking machine which also features a sleek half fairing, with built in line-beam headlights, an effective windscreen and fairing mounted mirrors.
Test Drive
For 2008, Suzuki charms its customers with a solid, dependable, economical street ride which promises to take them anywhere in style and comfort, as the bike is ideal for touring and regular commuting.
The Bandit 1250 presents itself with a superior liquid-cooled 1250 cc engine, fed by Suzuki's dual throttle valve high-tech fuel-injection system. Combined with an awesome handling it makes the motorcycle a pleasure to ride both for highway cruising and every day riding about town.
The amounts of power and torque of the mighty engine are capable of being delivered with a meatier punch, combined with the seamless fuel injection it gives the rider a real sense of smooth, extraordinary capability, which positions it on top of every list it fits. There is a huge increase in thrust, an instant, and very useful and strong low-down delivery, meaning that the bike goes like no other right from the beginning. Also, with peak torque sitting at 3,500rpm, this is a quite uniquely tuned motorcycle.
Throttle response is linear and doesn't present any lurches and flat spots so it is very smooth, even right from idle. EFI makes the motor extremely tractable as you can idle down to 2000rpm in sixth and power away with no snorting at all.
On the previous Bandit I often found myself reaching for another gear that wasn't there. Since 2007, Suzuki made that imaginary gear reality and I was happy to cruise on the highway as 60mph come up at a very relaxed 3500rpm.
Being fitted with a six speed transmission, the 1250 Bandit feels more capable and comfortable, making the rider feel more in control, and it actually is.
What I most appreciate at the 2008 Bandit 1250 is the fact that it is a very comfortable motorcycle to ride while it still retains the aggressive look and power at your fingertips.
The new fairing makes does its job properly so wind protection is good on any kinds of road, inside or outside tow. Taller riders can attach an aftermarket windscreen but that wasn't my case as I fit nicely on the Bandit.
Riding position was perfect to me and this is what allowed the Bandit's windscreen to protect me as it did. I appreciate the comfortable saddle and how the handlebars and footpegs are arranged in order to obtain the best feel in complete comfort.
The brake and clutch levers are both five-position adjustable and the hydraulic clutch completes the smoothness of the gearbox and throttle response. The brakes are also efficient and provide great confidence to the rider.
I was completely amazed by the Bandit's performance, reliability and comfort although I do admit I expected all these right from the start. So if the bike managed to take my expectations one step forward, I suppose you've got a pretty good idea of what it is all about.
Price
With an MSRP of $8,299, the Suzuki Bandit 1250 is a bargain compared with what the market has to offer. Suzuki kept in mind that their success is partly due to low price tags attached to their efficient machines so this one made no exception. It completes its purpose and successfully covers the sport-touring ground at Suzuki's.
Conclusion
Bandit Series are all about sporty and still comfortable rides which are ready to do everything from commuting to sport-touring. This is why the Bandit 1250 was created and it establishes itself as an icon of the big Bandidos. With the 2008 model year, we have the opportunity to through our eyes in the future and catch a small feel of what Suzuki has to offer and I bet you know the rest.
SPECIFICATIONS
Engine and Transmission
Chassis and Dimensions
Suzuki Celebrates 90 Years – AutoWeb News
Suzuki Mehran Faree's Weblog
Suzuki Katana 600 vs Suzuki GSXR 600?
1976 Suzuki GT 380 Troubleshooting, Repair, Maintenance & Tune Ups – Fixya
011 – 1984 Suzuki GR650 Ellaspede