2008 Vespa GTS 250 Review
Bashing away at an MCUSA keyboard for more than half a decade, Madson lends his scribbling input on everything from bike reviews to industry features and motorcycle racing reports.
The Vespa GTS 250 delivers scooter style with more performance than expected from your typical small-displacement scoot.
Scooters rock.
I made this immediate judgment after slipstreamimg past a mullet in his monster truck on the freeway, cutting over just in time for my exit. Never mind that my daring maneuver took place at a modest 70 mph, or that the truck's owner could have stomped on the pedal and had me choking down diesel fumes from the exhaust – which happened to be at my eye-level. No, not this time.
Before my rival could turn down Kid Rock's "Bawitdaba" the little red Vespa GTS 250 was out of reach on the off-ramp. Chalk one up to the Piaggio Kid.
Vespa means wasp in Italian, and the GTS 250 packs one of the biggest stings in the iconic scooter lineup. The GTS 250 replaced its GTS 200 predecessor as the most powerful 'wasp' on the road (a new 2009 GTS300 has since eclipsed the 250.) The 250 delivers more palatable open-road performance for scooter lovers, opening the riding options to anything with blacktop.
Credit the versatility of the big Vespa to its 4-valve 244cc Quasar Single. Quasar sounds like Star Trek to us, but it stands for QUArter liter Smooth Augmented Range – Quarter-liter being the operative word. See, the great thing about the Vespa GTS 250 is what it's not, a 50-150cc scooter.
We like the little guys too, but their applications are more specialized – a nice way of saying limited. The GTS 250 mill splits the difference between the fuel-efficient 125/150cc class and large-displacement 400-650cc maxi-scooters.
We took the Vespa GTS 250 on many more roads than your typical scooter ventures.
In real-world performance, the fuel-injected Quasar is capable of a variety of tasks with its claimed 22hp and 14.9 lb-ft of torque. The peppy throttle won't intimidate newbies, yet seasoned riders will appreciate the acceleration and overtaking abilities. It's no Hayabusa, but the GTS zips off a green light and motors ahead of four-wheeled traffic no problemo.
Quite capable of freeway speeds, we rolled the GTS 250 out on the superslab on regular occasion. Interstate treks filled with cell-phone-chatting soccer moms and 18-wheeled big rigs enhanced our feeling of vulnerability, inherent on all two-wheelers but exaggerated on a scooter. And the large (for a scooter) 12-inch wheels don't eliminate total unease on the freeway – especially if you're trying to survive a wild commute in a major So-Cal-esque interstate system.
That said, our initial apprehension faded as more and more freeway jaunts made the 70-mph cruises routine.
Those large wheels do work well on regular roads. Teamed with 120/70 front and 130/70 rear tires, the GTS stirs confidence while cornering, to the point of us taking the Vespa on some of our favorite sportbike backroads – albeit at a lesser pace. With a 55-inch wheelbase the scooter steering geometry is far from sporting, but twisting the throttle out to the stop the little red road warrior held its own.
And while it may have looked out of place during our Southern Oregon forest play rides, we felt at home buzzing through corners with some European metro verve.
Toss the scooter around some of your favorite twisties? The GTS250 was game for the challenge.
The single-side trailing arm and single shock up front confirm Vespa's claim of minimal front end dive. But don't seek out any harsh bumpy roads at high speed, as you'll feel the jars – even with the ultra-cush 31.1-inch-high seat.
The Vespa's dual-disc braking is effective, with positive lever feel. The rear 200mm disc feels stronger, bringing the rear-biased (61%) 339.5-lb tank-empty weight to a halt – although the back tire easily breaks loose with hard application (an optional ABS version is available.) Grabbing a handful of both levers stops things in an efficient manner, but we were glad to never test the full effect at some of the higher speeds we achieved on the Vespa speedo – topping out on one downhill pitch at an indicated 80mph.
Stop-and-go street traffic is where the GTS shines, a rider not bothered by the usual gear shifts and clutch pulls. While it sports a larger scooter engine, the GTS is still relatively small. Riding it in urban settings, or what passes for them in our Southern Oregon HQ, we loved sneaking around parking lots and alleyways for those improvised scooter parking spaces.
And every time we were stacked up behind a red light, the urge to do some California-esque lane splitting was almost overwhelming.
Fit and finish on the Vespa is good, including an informative instrument cluster. We most appreciated the digital fuel gauge.
Storage on the GTS is decent, with one glaring exception – there's no space for a full-face helmet. Our mad Tetris skills were utterly useless attempting to squeeze one under the seat. PR fine print claims underseat storage can hold "two Vespa half helmets," so riders have to purchase the optional top case.
Still, there is room for a modest amount of gear and the underseat space is supplemented by a convenient glove compartment up front.
The instrument cluster is attractive, with an analog speedo next to digital tach, fuel and temperature gauges. Riding position is relaxing, the soft seat accommodating long rides as well as the usual quick trips. The floorboards did cramp our size-12 feet, but passenger footpegs are a nice addition, as is the convenient metal rack to bungee gear.
If you are carrying extra lbs out back, the rear suspension is preload adjustable.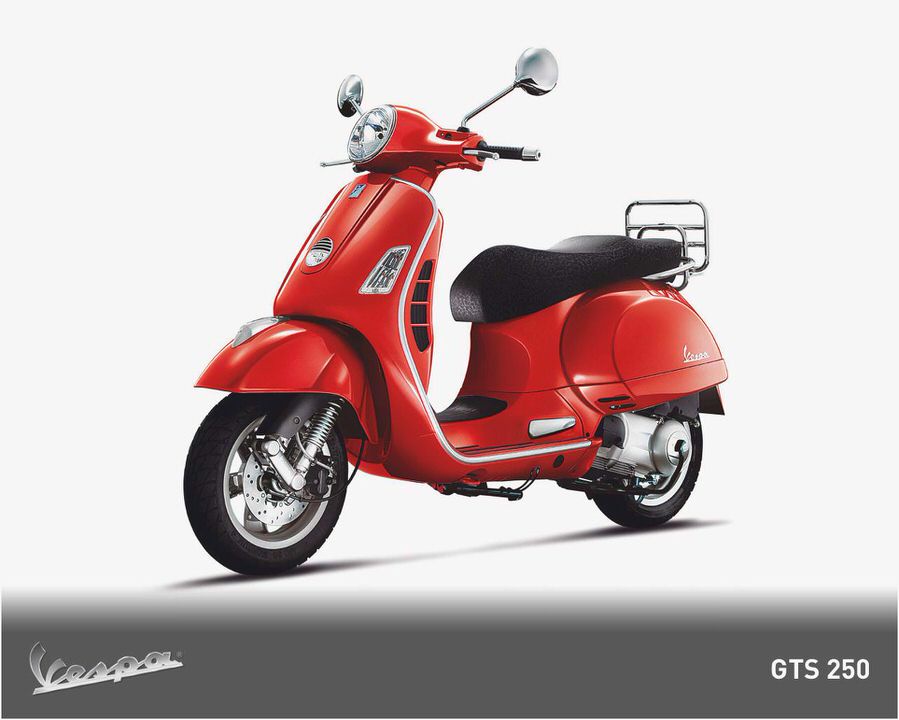 While the standard centerstand is easy to use, we cursed every time we were forced to use it for menial tasks – like closing the garage door, or jumping off to snatch something from the underseat storage. A conventional side/kick stand would be welcomed.
In the style department, some in our office snickered at the molded-leather-like seat, which will perfectly match some purses out there. Okay, maybe it's a bit much, but how can anyone hate the looks of a Vespa scooter? Honestly, it's like saying an old Volkswagen Beetle is ugly – the iconic styling fly above conventional critique.
And Vespa is iconic, the non-riding public recognizing the Vespa name as synonymous with scooter.
And, of course, everyone also knows scooters get incredible gas mileage. The 2008 summer of $4 gas made fuel efficiency the hot button issue, with scooters more fashionable than ever. And although the price of fuel has plummeted this fall, who knows what to expect next summer!
Our GTS 250 observed a respectable 59.8 MPG. Better than any four-wheeled offerings, but run-of-the-mill in the scooter realm. Still, figuring against a 24 MPG "average" car, the Vespa gets 10 cents per mile savings in fuel costs at $4 gas.
Plus, there's something to be said about the psychological benefit of shelling out less than 10 bucks to fill up the 2.4-gallon tank.
The Vespa GTS 250's versatility is a big selling point, as a freeway-capable mount in neccessary for most US urban and sub-urban commuters.
Vespa touts the fuel efficiency of its scooters as an economic and environmental benefit, which it dubs Vespanomics. We'll examine Vespanomics further in an upcoming article, but even if we could save the planet and $50 a month in gas money, the pricey GTS 250's $5999 MSRP is a definite drag. For the same cash a rider could purchase a more powerful maxi-scooter (many with comparable MPG), or even a Ninja 250R with $2500 to spare!
Another drawback to the GTS is fixing it can be expensive. Just ask any Vespa owner who's had their little beauty tipped over. At issue is the sheet metal frame, which contributes to the classic Vespa look but also bears the brunt of a tip over.
The result is an auto-body repair, not a cheaper, easy-to-replace plastic panel swap.
Plusses and minuses aside, bike ownership isn't about cold, rational decisions. There's always the grin factor to consider, and something else that can't always be justified, yet is understood – personal taste.
Making that admission, we flat out loved our little Vespa scooter. It was our summer crush. Our budget-shredding commuter. Our weekend joyride. The speedy red freeway racer that reminded us scooters really do rock.
And they do!
Vespa GTS 300 Super Scooter Review How To Save Money And Do It Yourself!
Vespa GTS 300 Super First Ride Review- Vespa Scooter Reviews
VespaS150
Test Vespa PX 125 2011
MY VESPA SCOOTER CRASH, PLASTIC SURGERY + RECOVERY How To Save Money…