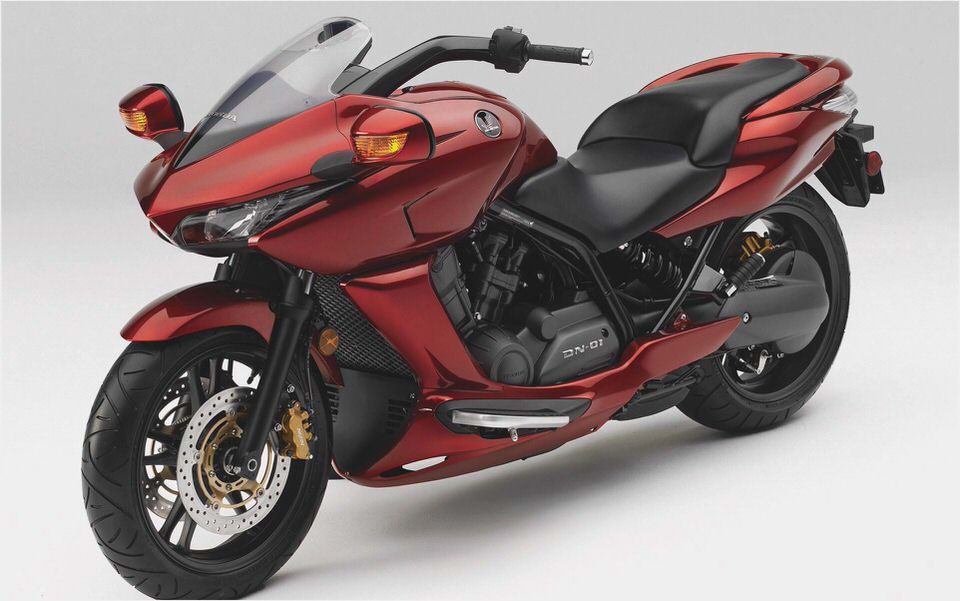 2009 Honda DN01 Review
Honda makes reference to some of its own historical, ground-breaking machines when it discusses the new DN-01 model in its press materials. Icons like the original CB750, the CBX and even the Goldwing are mentioned. Clearly, the company sees this new so-called cross-over model as something to spearhead a new direction in motorcycling.
At the heart of the concept is an automatic transmission developed for and borrowed from the Honda Fourtrax Foreman Rubicon ATVa hydro-mechanical system called HFT that provides two fully automatic ranges along with a manually operated six-speed system for sporty riding. This new technology is showcased in a cruiser-type motorcycle, undoubtedly because that's where an automatic transmission is most appropriate; also because the higher price is better tolerated in that league.
Powered by a new 680cc, 52-degree V-twin engine that is liquid cooled and fueled by Honda_s proprietary PGM-FI system, the DN-01 has a shaft final drive to eliminate all the maintenance and mess typically associated with chains. European sources disclose a maximum power output of 60-horsepower at 7500 rpm, and a torque peak of 47 pound-feet at 6,000 rpm.
The HFT transmission is a dual swash plate device, where the engine-side swash plate (something like a badly buckled wheel) acts upon a series of hydraulic cylinders, transferring pressure to the output swash plate. By controlling the angle of the swash plates, Honda can vary the speed relationship between the input and the output.
Weighing 595 pounds with all fluids and a full tank of fuel, the DN-01 is lighter than most cruisers and heavier than comparable sportbikes, but easily out-accelerates traffic at stoplights. Its chassis geometries are also somewhere between those of cruisers and sportbikes, endowing the bike with a respectable compromise between straight-line stability and responsive steering.
Large 11.6-inch front brake rotors are gripped by two three-piston calipers at the front wheel, while a 10-9-inch rear disc with a dual-piston caliper handles braking at the back. Because the DN-01 is equipped with Honda's combined brake system, application of the rear brake also activates the center piston on the left-side front brake caliper to balance the motorcycle. When you tug the front brake lever, the remaining five front-brake pistons activate for maximum effect.
ABS is standard.
The DN-01 is extraordinarily easy to ride. With little of the overwhelming mass of bigger cruisers, it can be maneuvered confidently at low speeds. At higher speeds it has a flat and compliant ride, yet with precise and predictable responses to steering inputs.
Like most cruisers, the limited ground clearance afforded by the forward-mounted floorboards limits cornering speeds. Yet the DN-01 feels nimble enough to exceed those speeds with confidence were it not for the clattering floorboard feelers.
When emphatic acceleration is called for, the sport automatic setting at the left-side handlebar which picks engine speeds up beyond where they are at the normal setting. For unwinding a canyon road, the manual setting is even better, allowing a rider to select a lower gear for a strong drive off corners. It also provides more engine braking when entering corners.
The hydro-mechanical transmission is a willing partner in any circumstances. It's quiet, smooth, and adequately responsive, with a built-in centrifugal/hydraulic clutch engagement action for flawless departures. So long as you don't whack the throttle open from rest, you can avoid all of the juddering one sometimes experiences on CVT-equipped scooters.
Unlike conventional CVT mechanisms, the DN-01_s HFT starts in neutral, and the machine can be revved freely at rest. A rocker switch at the rider_s right hand is pressed to engage drive when you are ready to move off. The bike reverts to neutral when switched off, able to will coast freely on grades unless the handy parking brake is applied.
Since this is a Honda, the build quality is flawless, with an impressive degree of mechanical integration. Nonetheless, the use of a continuously variable transmission system can_t help but lend a scooter-like accessibility. Anyone can ride the DN-01, and while that's an advantage for beginners and car refugees, it might deter experts and enthusiasts.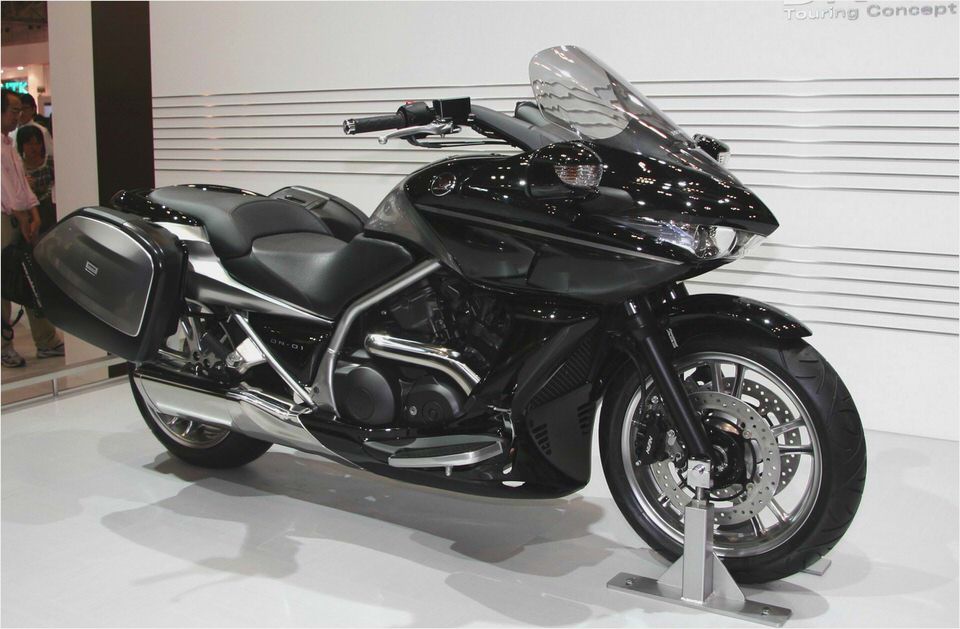 But it's probably the price that poses the biggest obstacle to widespread acceptance. At $14,599 the DN-01 isn't a screaming deal. On the other hand, it is also not super-pricey in comparison with some cruisers, particularly when you look at the list of technological features.
The automatic transmission, the combined brakes, ABS, and Honda's transparent programmed fuel injection are worthy considerations.
But they are not unique to the two-wheeler market. If it_s just an automatic motorcycle you want, Aprilia has the Mana 850, at $9,899. There are powerful scooters with CVT drivelines that cost less if easy commuting is all you're after.
Fuel injection is now a common feature, and even ABS can be found elsewhere on various models.
Nonetheless, the Honda DN-01 is exclusive in a number of ways. That modern styling is the first real innovation of cruiser design we've seen. The sleek Honda build quality is always desirable, and the charm of the V-twin engine is not to ne under-estimated.
Plus, with an unvarying consumption of 44-mpg throughout its stay with us, the bike shouldn't cost much to run.
But is it the bike of the future? Hard to tell in this uncertain economic climate, when vehicle purchases have pretty much stalled. We'll have to wait for an upturn in our fortunes.
Only then will we really see how many people need Honda's idea of a cruiser crossover.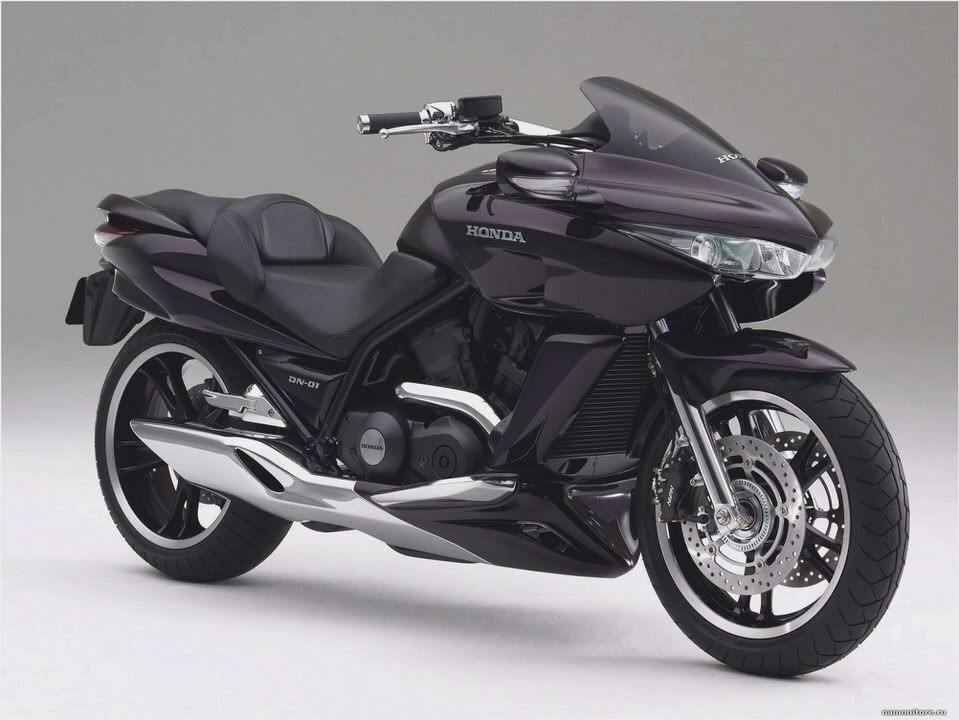 National Cycle Switchblade Deflector for Honda with Optional Mounting…
Rider comparo: Honda NC700X vs. Kawasaki Versys vs. Suzuki V-Strom 650…
Honda DN-01 Review – Introduction – Initial impressions
Riding the MotoGP Motorcycles – Feature Review – Motorcyclist Online
Honda Unveils Micro-sized Electric Vehicle "Micro Commuter Prototype"…