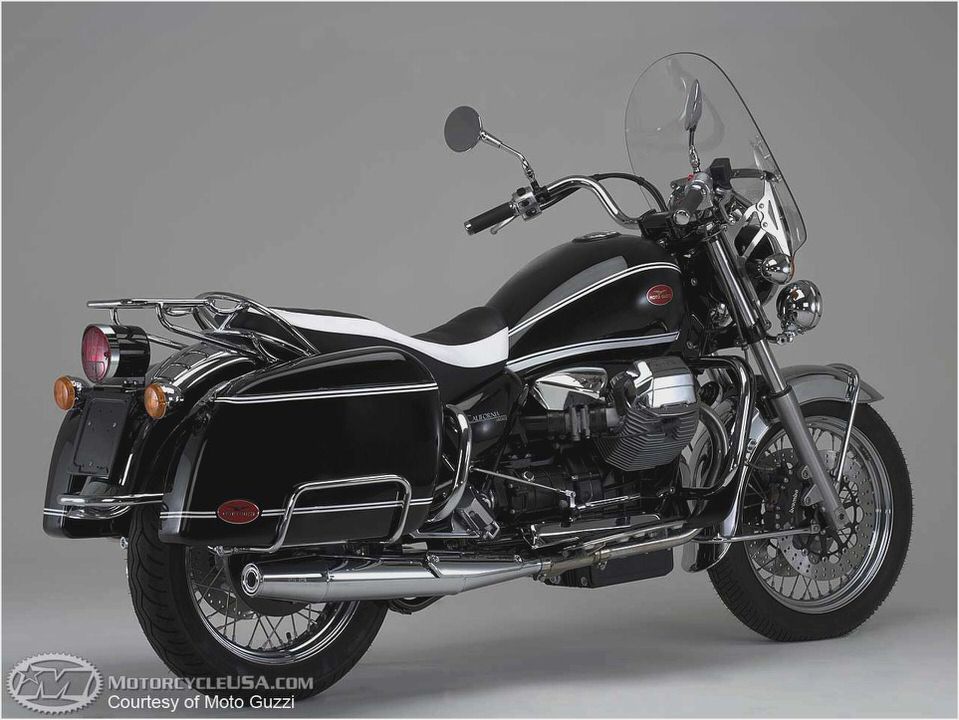 2009 Moto Guzzi California Vintage Review
4 September, 2009 3
It's easy to write about cars when you've driven hundreds of different kinds of cars. You always have something to compare your car with. For example:
The new BMW 335i accelerates with as much force as the last-generation M3.
In the 12 years since I've gotten my driver's license, I have gotten behind the wheel of over 300 different vehicles. I'm not going for some kind of a record, but it's just a personal choice to get behind the wheel of something new any time the opportunity presents itself.
But what do you do when you've only ridden one motorcycle? Let me explain: I got my motorcycle license about 3 weeks ago, and upon being handed the keys to the old-looking but brand new, $14,995 Moto Guzzi California Vintage, I was nervous. Fortunately, excitement outweighed anxiety, and after a brief lap around the block to verify the 'Guzzi's 580 lbs wasn't too much for a first-timer to handle at low speeds, I was off.
And I may not have a memory full of comparisons, but here goes.
A bit of a history lesson: In the early 1970's, Moto Guzzi's V7 Special was the preferred transportation of the California Highway Patrol. The V7's legendary 90-degree V-twin engine displaced 757cc's of low-end grunt just perfect for a patrolman muscling his way through traffic, and the low center of gravity and compact frame made easy work of tight maneuvers compared to its American competitors, namely Harley Davidson. But we're talking history here, and this is the 21 st century.
So let's find out how Moto Guzzi brought the V7 Special into the modern age.
While the overall look remains true to the original design, and the key styling points are all there, underneath the chrome, everything is new. The V7's 757cc engine has been upgraded to a 1064cc unit with a 5-speed transmission, longitudinally mounted and driving the rear wheel via shaft.
The beautifully ornate twin makes 72 hp at 6400 rpm, but what's most impressive is the torque produced between 2500 and 3500 RPM, which makes the rider feel like drag-racing every red light without having to wring the life out of the engine. Engine vibration drops off considerably at around 3000 RPM, which is just about 70 mph in top gear. Magnetti Marelli fuel injection, Marzocchi suspension, and Brembo linked brakes all bring the California Vintage to the modern age seamlessly, and without compromising the throwback design.
Let me make one thing clear, that I may have skipped over. This bike is gorgeous . It's what happens when, for lack of a better term, the Italians do Harley. Remember the Pininfarina "Rondiné" Corvette?
Or the Scaglietti Corvettes? What about the Ghia's, DeTomaso's, and Iso Grifo's? Well, this is the 2-wheeled equivalent of those rolling works of art.
The Italians have a feel for design, detail, and fluidity that is unmatched elsewhere in the world, and it shows in the California Vintage, because, in my opinion, they did Harley better than Harley does Harley. More on that later.
Just a few minutes on the California Vintage, and I could tell that this is a bike that is ready for just about anything the rider can throw at it. The black and white leather seat is a work of art, positioned high and wide and setting the rider up for a vertical (ahem, Cop-like?) seating position, with legs hugging the tank and feet resting on the shock-absorbing floorboards.
The low-slung, chrome handlebars reach back towards the rider, stopping exactly where my hands would want to fall anyway, leaving my arms to simply rest on the hand grips without having to reach. A two-hour road trip to Santa Barbara up the Pacific Coast Highway with the girlfriend revealed that the back seat is just as comfortable as the front, though an optional backrest would be welcome. The hard saddlebags are enormous.
I was able to use the California Vintage instead of a car 90% of the time because of how great the saddlebags are. I fit groceries, 2-liter bottles, bags of ice, clothing for 2 people for 3 days, my riding jacket, 17" Macbook Pro's video cameras, and all kinds of other stuff that would normally require a car. The California Vintage clearly isn't just a bike that one would buy as a novelty showpiece; it wants to be ridden, frequently and with cargo.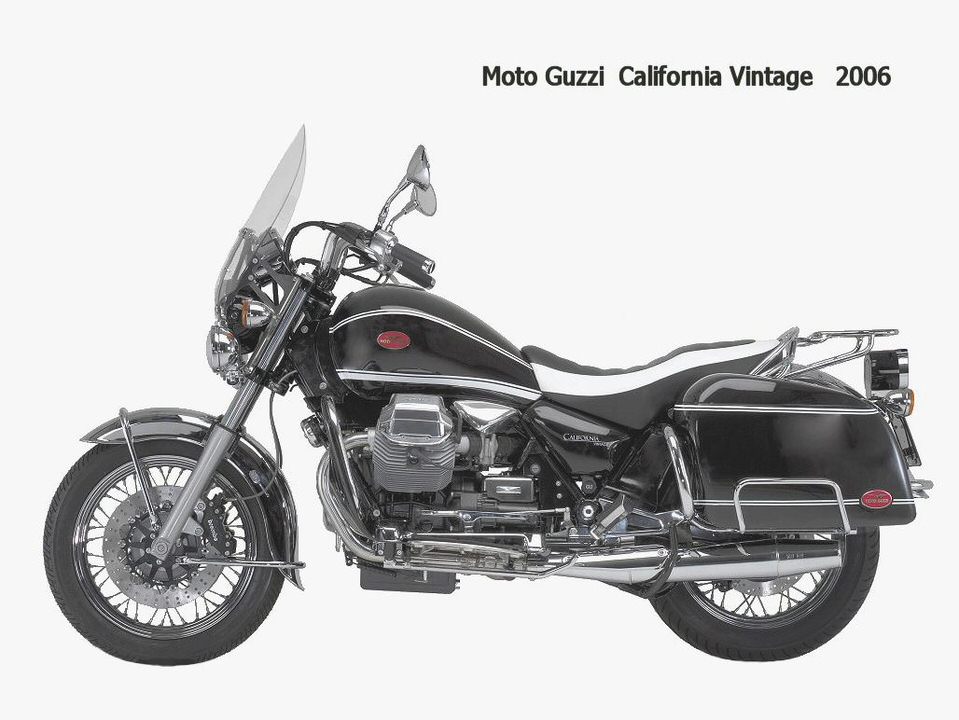 It wants to be your go-to bike.
The most surprising feature, and perhaps the most appreciated, is how well the bike handles. Sure, hairpin turns require a slow entry speed and frequently a downshift to first gear, but through long sweepers, canyon roads, highway bends, and 90% of SoCal's road system, the California Vintage really shines. I found myself passing the big touring bikes, and able to keep up with bikes that should, theoretically, be out of the 'Guzzi's league in terms of performance.
As a non-expert, I will attribute the 'Guzzi's much better than expected handling to the low center of gravity, compact frame, low-end grunt through the corner, and narrower, vintage-style tires. Whatever the scientific reason, the result is a touring bike that is easier for a beginner to ride.
Moto Guzzi is taking aim straight at Harley Davidson's Heritage Softail with the California Vintage. Of course there are plenty of people out there who will only buy a Harley, and that's fine. And like the 'Guzzi, the Heritage Softail is an old-looking model that has been updated with new engine options and counter balancers for their rigid-mounted V-twins, to reduce vibrations.
Sitting on the Heritage Softail feels like sitting in the bike, whereas on the 'Guzzi you're sitting on the bike. However, Harleys come with lots of optional accessories, chrome this, leather that, painted what-have-you's, whereas the Moto Guzzi only comes one way, and at one price. A similarly-equipped Heritage Softtail retails for, give or take, $22,000.
The California Vintage undercuts that price by a healthy margin at just $14,999. Include the Guzzi's "Italian bred with American history" flavor, and you've got a value that's unbeatable.
On the other hand it's Italian, so owning one might be a bit of an adventure. I know quite a few owners of Italian bikes, and parts can be difficult to find and expensive. During my 2-week loan, two bolts one on an exhaust heat shield and another on the left floorboard, rattled themselves loose and disappeared, and the resulting rattle at idle was less than pleasant.
If what you want is to be a part of the Harley Davidson crowd, then the 'Guzzi simply will not do, it's made in the wrong country and has the wrong name on the gas tank. But if you want a fantastic everyday bike, capable of commuting to work, road trips, shopping, and arriving in style with some questioning (and even more approving) looks from guys on Harley's, the California Vintage may be the perfect bike for you.
For me, it's a great start to an ever-growing list of bikes from which to draw future comparisons. I would suggest any rider in search of a great value go try one for themselves.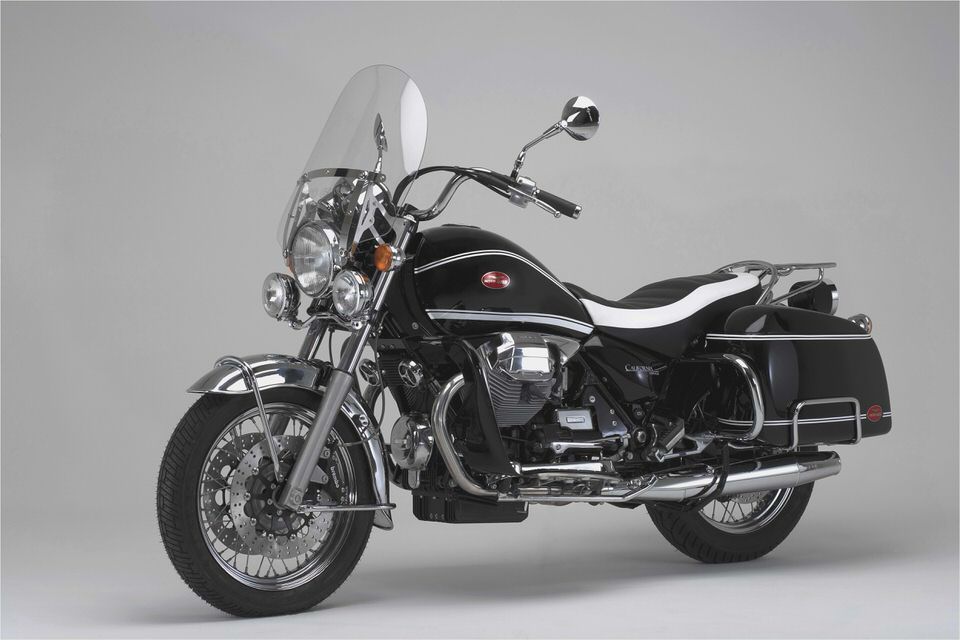 Piaggio India Already Sells Range Of Aprilia Moto Guzzi Bikes
Moto Guzzi 1951 – 30 years anniversary book – NEW! R (08/31/2008)…
1973 Moto Guzzi V7 Sport – Classic Italian Motorcycles – Motorcycle Classics
Moto Guzzi V7 Racer – Walk Around & SOUND DIY Reviews!
Guzzi v 700: