motobike's info
2009 Piaggio MP3 500
Piaggio MP3 range make theirselves a new class scooter. The MP3 500 came to US market in 2008 after MP3 250 and400. Although many owners of the Piaggio MP3 reported perfectly acceptable power with the previous model but  some have been waiting for the larger engine versions-the Piaggio MP3 500.
2009 Piaggio MP3 500′s engine is a liquid-cooled Piaggio MASTER i.e 492.7cc engine 4-stroke 4-valve. With power of 29.4 kW at 7,250 rpm (40 bhp) and torque of 42.23 Nm at 5,550 rpm, it can run until 143 kmph. Meanwhile electronic injection system and starter with Electric (freewheel) with torque converter equiped this engine.
MP3 500 brings an electro-hydraulic tilt-locking system means there is no need to put the vehicle on its stand so parking is easy.  Simply flick the lean-locking button and apply the parking brake. The system will operate at any angle, so you don't need to find a level parking area.
You don't have to put your feet down at traffic lights, or worrying about maintaining your balance if you're 'vertically challenged' due to the tilt-locking system.
The MP3 500 offers high end technologies, versatility, and practicality besides its powerful engine. The MP3 500 bring versatility with a large range of accessories, a 42-litre top box, adjustable windshield, hand guards, navigational system, leg cover, bike cover, soft tail bag for luggage and electronic alarm.
2009 Piaggio MP3 500 with Red and Demon Black colors are priced at $8,899.
The three wheel revolution progresses even further with the MP3 500. With aggressive styling and performance, the Piaggio MP3 500 is the three-wheeler for people who want to stand out. 'Safe fun' is no longer an oxymoron. Riding has never been this easy, enjoyable and secure.
Two front wheels and a revolutionary parallelogram front suspension together with the new double ignition Master 500ie engine give the MP3 500 very racy performance while remaining exceptionally safe.
The MP3 500's innovative looks are striking. The front end of the MP3 500 has a decisive shape that expresses strength and character and hints at the incredible performance of the all-new 492cc single cylinder engine. The front two wheels are marked by a steel tube bumper with metal mesh inserts that give the vehicle a rugged look.
The front design protects the rider and the mechanicals while putting the unique front suspension technology on display. Other touches are the sleek 'naked' metal handlebar and black ten-spoke wheel rims. The five-lamp headlight unit is not only striking to look at but highly effective as well; the two biggest lamps are equipped with off-road-style shockproof covers. The front fairing and front shield fairing offer remarkable aerodynamic protection.
There is a wide, comfortable footrest panel behind the front shield fairing.
The tail design is stark and minimalist, a mix of plastics and tubes that picks up on the styling of the front with a very useful rear rack, while the wide, comfortable seat ensures total comfort for both rider and passenger thanks to its ergonomic design and negligible height difference between the two parts of the seat.
A thrilling ride
But there's more than design to the personality of the MP3 500. The latest product from the Piaggio brand boasts top engine performance, ideally backed up by revolutionary running gear to provide astonishing ride quality.
The Piaggio MP3 500 streaks away from traffic lights and takes all kinds of terrain in its stride, handling twisty mountain roads and long rides in all safety whatever the weather conditions thanks to its two front wheels commanded by an extraordinary parallelogram front suspension. This revolutionary technical set-up ensures impeccable road holding in all riding conditions, with stability and braking power that no conventional scooter can provide.
Technology
The steel tube frame conceals the powerful, reliable new Master 500 i.e. double ignition engine, a four-valve, four-stroke unit with electronic injection and liquid cooling. The capacity of the new Master engine has been upped to 492cc to obtain maximum power of 40 hp at 7,250 rpm and maximum torque of over 42 Nm at 5,500 rpm. The introduction of the twin spark system has also made it possible to optimize combustion inside the cylinder, with a reduction in noise and gas emissions.
The result is a smooth, high-performance engine, very torquey at low and medium range rpm, that takes the Piaggio MP3 500 to a top speed of nearly 90 mph while fully respecting U.S. emissions standards thanks to the advanced closed loop injection circuit with a Lambda sensor and three-way catalytic converter in the exhaust pipe.
The engine's power is skillfully managed by the sophisticated running gear. The innovative parallelogram front suspension's tilt mechanism is composed of four cast aluminum arms, with four hinges fixed to the central tube and two guide tubes on either side of the parallelogram, connected to the arms via suspension pins and ball bearings. This means that the Piaggio MP3 500 is as easy to ride as a traditional scooter, while its incredible stability, especially when cornering and braking, comes from its two front wheels.
Standard equipment includes an electro-hydraulic front suspension locking system that keeps the MP3 500 upright without a central stand. This makes it extremely easy to park anywhere. What's more, there's no need to put your feet on the ground to keep your balance when stopped at a traffic light.
Optimal rear end stability is guaranteed by a 14" rear wheel with a generous 140/70 tire, while three 240mm disk brakes with dual-piston calipers ensure fast, efficient braking.
With its strong personality, aggressive design and cutting-edge technology, this three-wheeler is ready to ride into uncharted territory.
Piaggio MP3 500 Specifications
Engine Type 4-stroke 4-valve liquid-cooled Piaggio MASTER i.e.
Displacement 492.7cc
Bore/Stroke 94 x 71mm
Max Power at Shaft 29.4 kW at 7,250 rpm (40 bhp)
Max Torque 42.23 Nm at 5,550 rpm
Distribution Single overhead camshaft (SOHC) with four valves
Clutch Centrifugal
Cooling System Liquid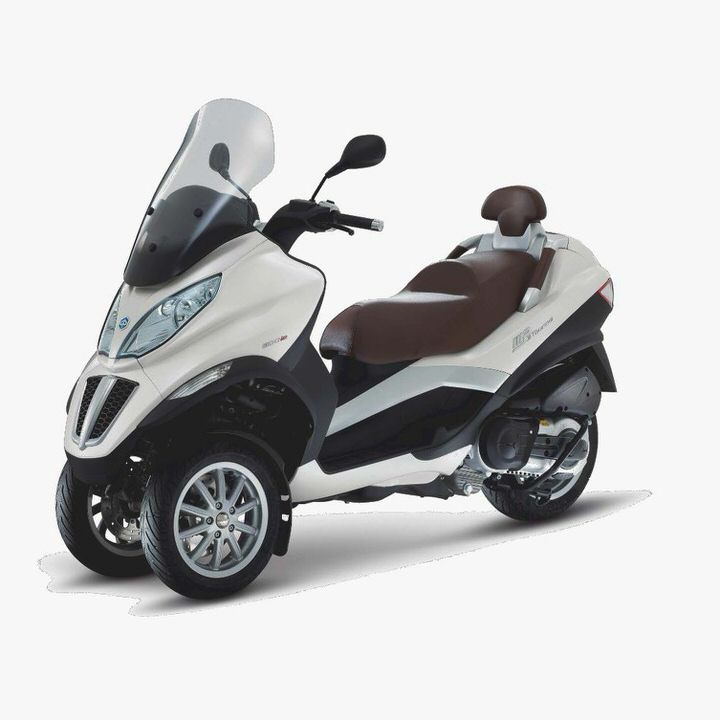 Ignition Electronic inductive discharge and integrated variable timing
Gearbox "Twist and Go" Automatic Transmission (CVT) with dry centrifugal type transmission with damping plugs
Fuel Supply Electronic injection system
Starter Electric (freewheel) with torque converter
Max speed 89 mph (143 Km/h)
Lubrication Wet sump
Chassis Double cradle trellis made of high strength steel tubes
Front Suspension Parallelogram composed of four aluminium arms supporting two steering tubes, cantilevered suspension. Travel: 85 mm. Electro-hydraulic suspension locking system.
Rear Suspension Oscillating engine fixed to the frame with a swingarm and two dual effect hydraulic shock absorbers with four-position spring preload. Travel: 110 mm
Front Brake Stainless steel double disk, Ø 240 mm, two-piston caliper
Rear Brake Stainless steel disk, Ø 280 mm, floating two-piston caliper
Front Wheel Rim Die-cast aluminum alloy, 12″ x 3.00
Rear Wheel Rim Die-cast aluminum alloy, 14″ x 4.50
Front Tires 120/70-12″
Rear Tire 140/70-14″
Length 85 in. (2,160mm)
Width 30.5 in. (775mm)
Seat Height 30.9 in. (785mm)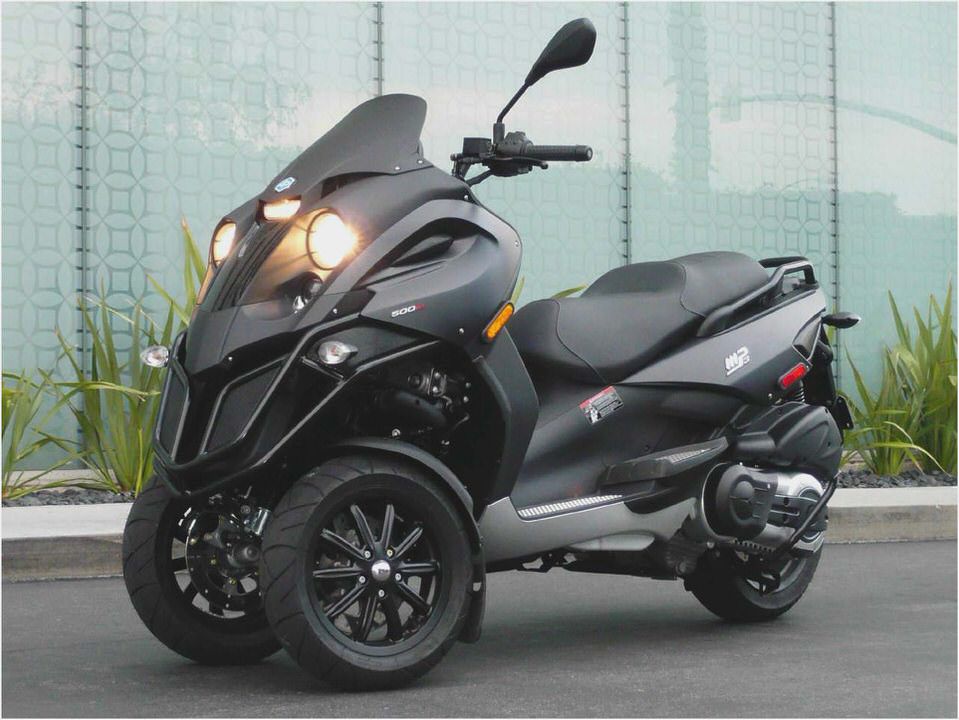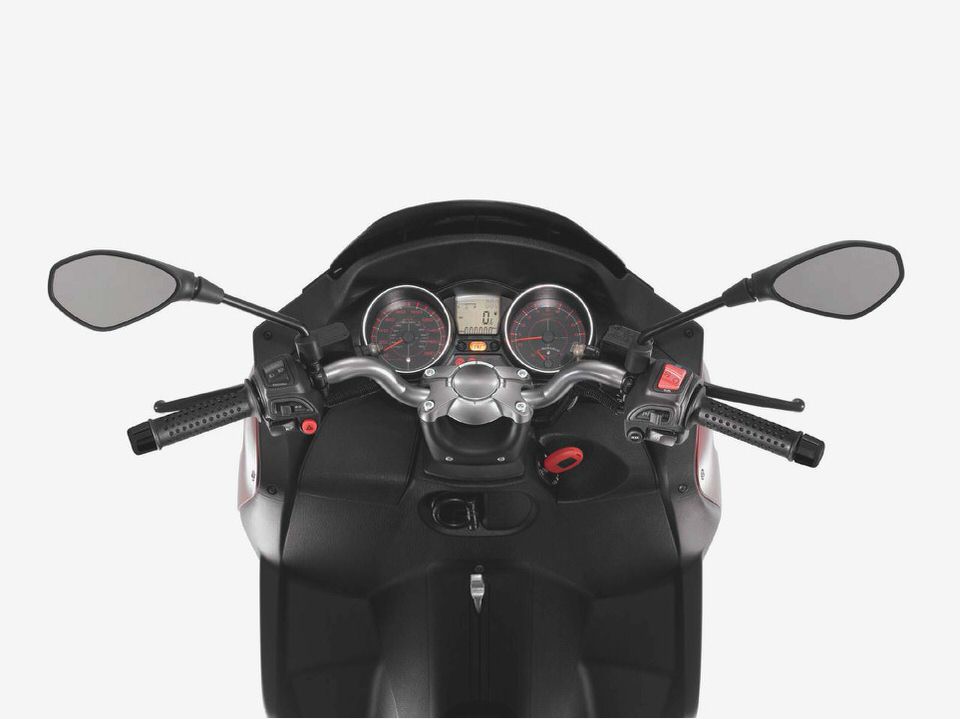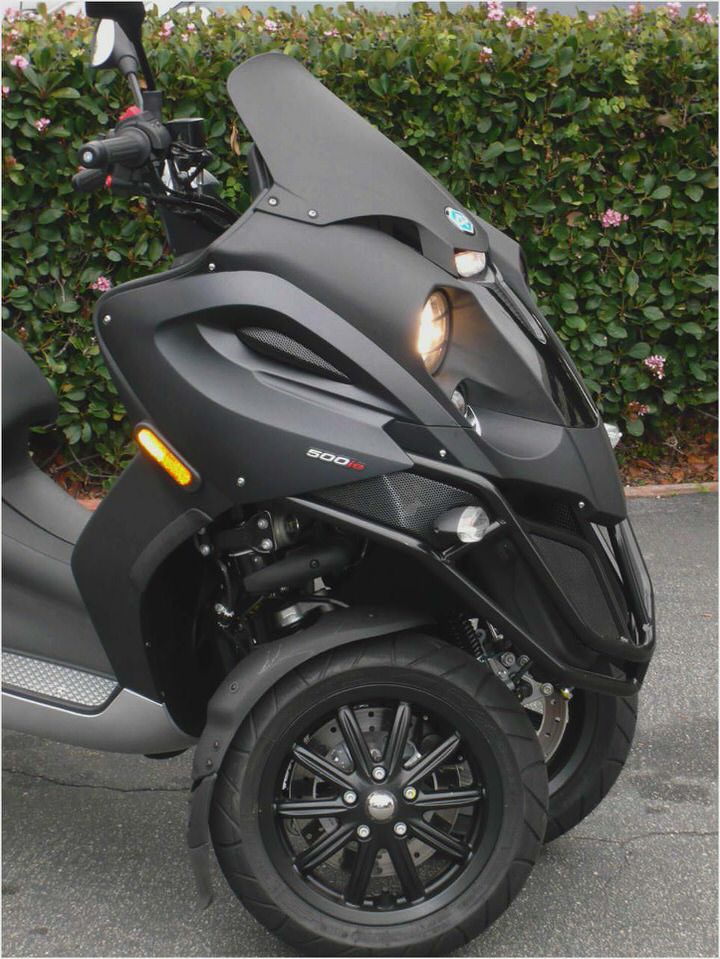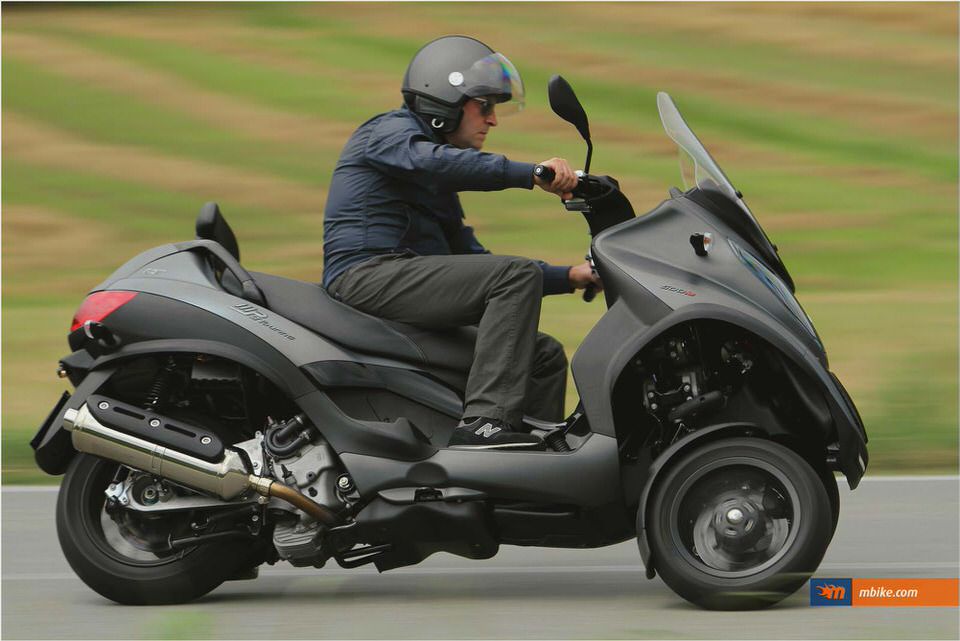 2013 Piaggio Typhoon 125 News and Reviews 2013 2014 Motorcycle Review and News
2008 Piaggio MP3 250 Scooter Review
Piaggio Scooter Sales, Repairs, and Discussions ScooterChimp – Part 2
Piaggio MP3 City, BV 300 & Typhoon to U.S. – Motorcycle USA
WIDE MAGAZINE