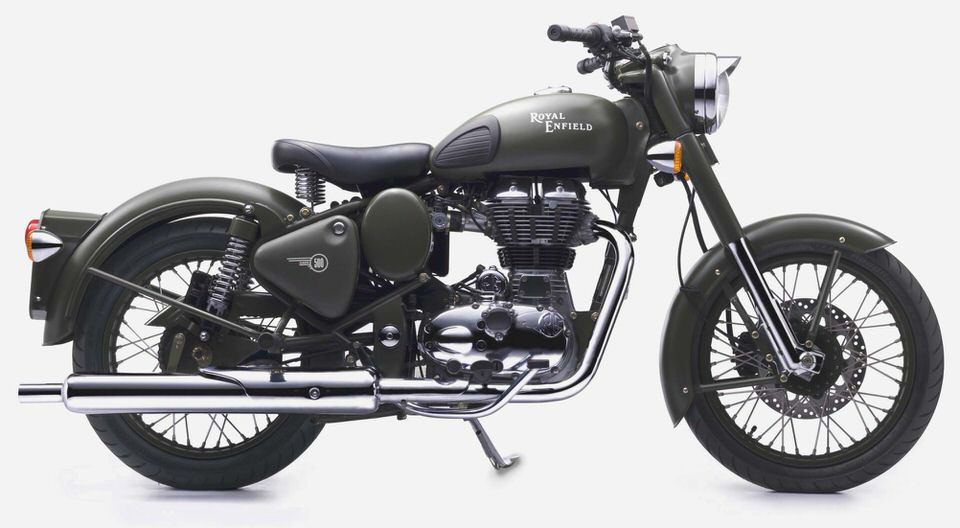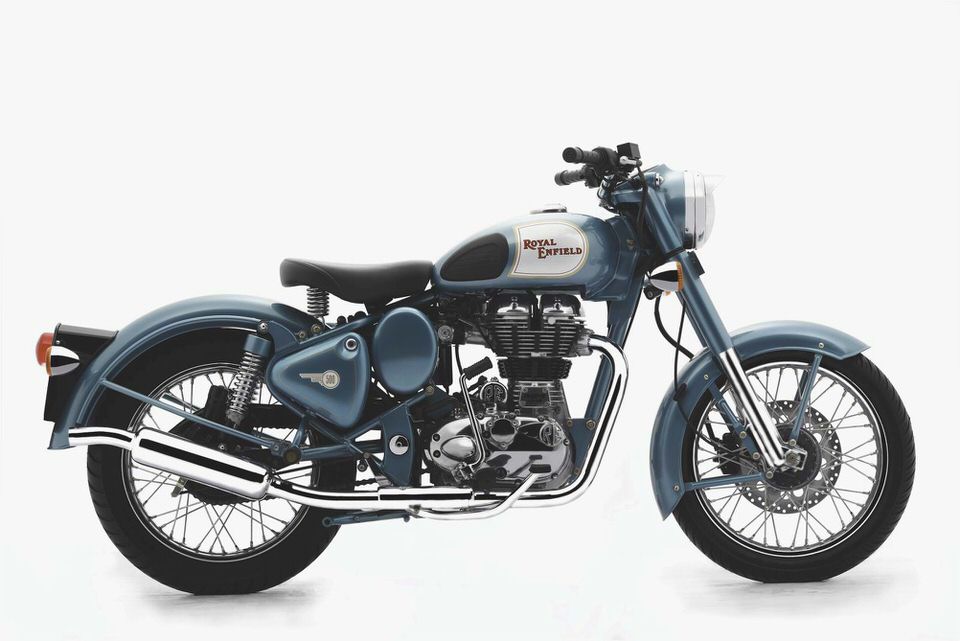 Special Feature: 2009 Royal Enfield G5 Classic Re-creating the past and looking to the future.
Have you ever wanted to play 1950s Man? It's a fun game where you get to smoke "healthy" unfiltered cigarettes, swill whiskey for "medicinal" purposes and eat barely cooked red meat with absolute impunity.
Sounds fun, eh? Well, dammit, it gets even better… You get to add oil to your motorcycle frequently, have dim (or no) lights on random occasion, as well as make many daily adjustments and checks so that you have the greatest chance to continue riding to where you are going. When you arrive, you apply your largely ineffectual brakes early so you can stop in time.
Actually, except for the smoking part, I am pretty much on board with the whole program. Just this month, I rode my '54 Velocette MSS every day for 12 days straight, everywhere I needed to go. I substituted beer as my post-ride chug of choice but did eat the steak.
More than once. And if somebody figures out how to make a bacon-wrapped ciggie, I am in with that, too…
So, yeah, I rode the Velo a lot. Which meant I also worked on it a lot. There were no mechanical failures, but to ensure that kind of happiness continued, I went over the bike frequently.
Clutch and primary drive adjustment, sparkplug check, a peek at valve clearances, etc. I even had to repair a flat (can't blame the bike for that one). It doesn't hurt that I've spent the last five years repairing, re-machining and replacing almost every part of the engine and many other important mechanical pieces (some more than twice…).
Don't ask about the dollars or the man-hours. And definitely don't ask about the expletives.
Anyway, it can be done with an old nail, provided you are insane and stretch the dollar by buying cheap beer, then stretch your patience by drinking it.
There is another way.
Enter the 2009 Royal Enfield Bullet G5 Classic EFI. This is the sister bike to the all-new Bullet C5 Classic I got to ride in India ("Dynasty," CW, March). Although the styling of the '55-inspired G5 we have here is "newer" than the C5′s circa-'51 vibe, the all-new design—including unit-construction engine—is the same underneath.
And parking this black-and-chrome G5 next to the Velo shows just how retro the Enfield is, even with its relatively unobtrusive updates such as a disc front brake, turnsignals and an electronic fuel-injection/ignition-management system. It's largely 1955 in spirit and quietly 2009 in execution.
And it works. I mean, like a real motorcycle, not a novel, alloy-and-iron glimpse into the past. The engine started, on the button, every time.
If I felt like it, I could use the kickstarter (not included on the C5). Either way, it just lit right up. Shift quality from the five-speed gearbox was good, the 280mm front disc brake worked well (if not quite like our favorite radial-mount Brembos), and the bike just thumped along pleasantly.
Just after delivery, we did, however, have our concerns. A staffer started commuting on the Enfield in preparation for using it at the Quail Motorcycle Gathering last May in Monterey (Roundup, CW, September), and there were some ominous oil drips. But the leak just stopped. I suspect the sump was overfilled, because after it had burped out the breather a bit, the Enfield seemed to have found its level and all was good. It didn't leak another drop.
That would never happen on my Velo. Then, later, we heard from Enfield importer Classic Motorworks (www.enfieldmotorcycles.com ) that some early production units of the G5 were recalled for a gearbox issue, wherein the third-gear bush galls to the shaft and stops turning. This is serious business, so Enfield addressed it by recalling G5s to replace the faulty shaft and bushing.
We never had a problem with our testbike, and Enfield wasn't sure it was even one of the affected machines, but one likes to be sure of these things. And if you think the big manufacturers don't have troubles like this, check out "Recall Roster" in Service every month.
So, prior to shipping the bike to an outside-of-California dealer (Enfield plans to have its bikes California-legal by 2010 but for now they are 49-staters), I rode the G5 all over the place. And having bared to you who I am in terms of playing 1950s Man, certainly you understand that I am inclined to be receptive to the riding qualities of this motorbike. I can groove with a radar-measured 79-mph top speed, a 10.0-second 0-60 time and a 17.65-second run in the quarter-mile.
I am into the rhythm of 19 rear-wheel horsepower and 25 foot-pounds of torque. With this type of motorcycle, the quality of how the engine runs is more important than these numbers, and there is a distinct pleasure in the tight beat of a big Single with a lot of flywheel.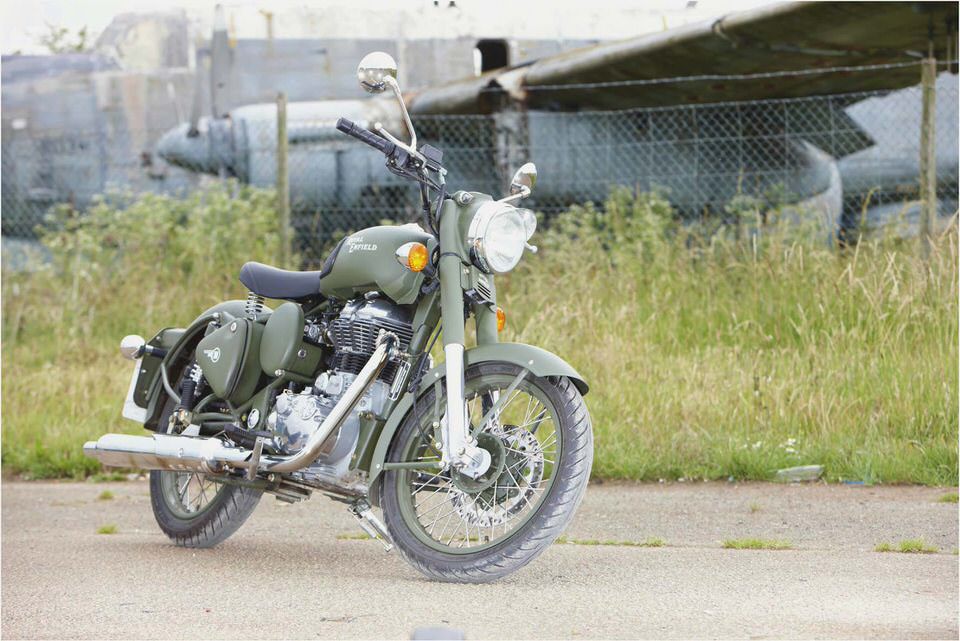 Throw a leg over the long, flat saddle, fire up that big lung and ease out the clutch to find excellent low-speed tractability. My first ride was the execution of an impromptu low-speed handling course around the parking lot for 10 minutes, having been immediately seduced by the Enfield's consistent running and light-steering, nimble chassis.
Out on the road, life is best if speeds are kept under 70 mph because there is no balance shaft in this 84.0 x 90.0mm alloy mill, and that's a lot of stroke whacking up and down at speed. So when the revs got near the 5250-rpm limiter, my personal interface and harmonic with the Enfield made my eyeballs and ankles fizz a bit. You can ride it at high speeds, but it simply isn't as enjoyable.
So don't get strafed on the freeway unless you have to in order to get to the back-country lanes this bike was meant to explore. Winding roads at 60 mph are bliss.
Back home, much to my chagrin, most of my neighbors didn't know this bike wasn't an actual contemporary to my Velocette. Most of them didn't know it wasn't my Velocette…
Downsides? Okay, so the paint and chrome still need some work but, for the money, you have to dig the hand-done pinstripes, and the general cosmetic presentation is nice if a little rough around the edges when you get up close and personal. The sidecovers, for example, are a pain in the ass to get on and off.
The plus side is there is an excellent toolkit that even includes tire irons.
Speaking of price, MSRP starts at $5995, but ours is the Deluxe model— with chrome adorning the fuel tank, fenders, airbox and rear brake pedal—for $6095. Enfield highlights in red type on its website the fact that the bikes come with a two-year, unlimited-mileage warranty.
Because of my nature, I looked for something to work on. But there was nothing. No belt to adjust on the generator drive. No points to check.
The rear drum brake has a wear indicator, so I didn't even have to inspect the linings. With that Keihin EFI, idle mixture takes care of itself, too. The valves even have hydraulic tappets, and those never need attention, either.
So, if you don't mind, I'm going to lay a leg on the kickstarter and head down to the butcher to pick up a steak.
Royal Enfield Classic 350 India, Variant, Price, Review, Details
MODIFIED ROYAL ENFIELD BULLET ELECTRA 350 TWINSPARK UCE 2010 How To…
MD Double-Take: 2012 Royal Enfield Classic C5 …
My new Royal Enfield Classic 500 EFi !! – Page 87 – BCMTouring
Royal Enfield India Motorcycle History – Ultimate MotorCycling