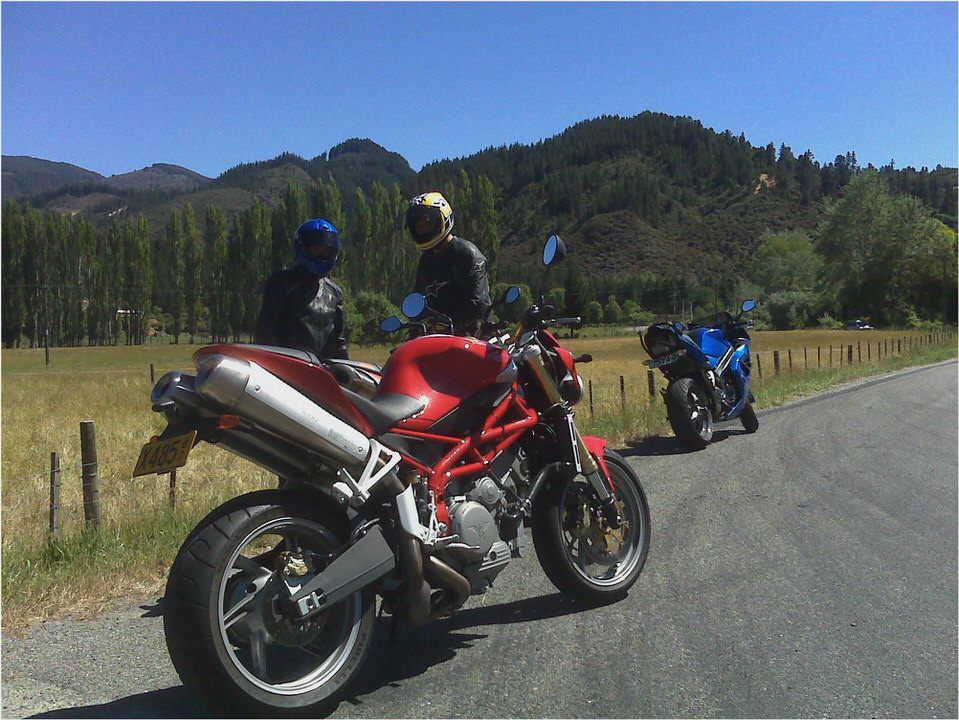 Specifications:
Introduction
With the new Corsaro 1200 Veloce, Moto Morini wants to make sure that experienced riders will declare themselves more than satisfied by this naked's performance both on the road and on the track. So they fit it with their most compact, technologically advanced Bialbero CorsaCorta 1187 cc twin cylinder engine showing an 87-degree V-shape of the cylinders.
Inside the engine, which features an innovative solution of the integral casing, is a forged piston measuring 107 mm, the largest ever built for a motorcycle in this category. That's certainly something to brag about for Moto Morini, but so is the fuel injection system with Magneti Marelli integrated injection ignition system. But in the end, it all comes down to the engine's 140 hp at 8,500 rpm and 123 Nm at 6,500 rpm.
Once the impressive performance figures (for a V-twin) were achieved, Moto Morini engineers put their innovative minds to work in order to value the engine's capabilities in the best possible way. So they come up with a multiple-plate clutch in oil bath with antiskipping system and radial master-cylinder to couple the engine with the six-speed, quick-ratio transmission.
The Termignoni exhaust with two underseat silencers, db killer, 3-way catalytic converter and oxygen sensor ensures that the 2010 Moto Morini Corsaro 1200 Veloce meets Euro 3 emissions standards. Once on the track, riders can remove the db killer and make proper use of the control unit with racing mapping in order to enhance the sound and performance of this impressive piece of Italian engineering.
Built around a high-strength and stiff steel tube trellis frame by Verlicchi and featuring high-quality suspension (Marzocchi up front and Ohlins at the rear), the Veloce should turn out to be a very sweet handler, especially if we also take in consideration the fact that it is as compact as it could be. It doesn't look like an uncomfortable ride either, so the rider should be capable to remain in control at all times. This reminds us that the thing should also stop somehow and the front 320 mm discs with radial master-cylinder and four-piston calipers together with the rear 220 disc and a two-piston caliper sound like the proper equipment to get this job done effectively.
Overall, the 2010 Moto Morini Corsaro 1200 Veloce weighs 432.1 lbs (196 kg) dry, which means you'll have to be familiar with quick acceleration and fast stops before considering buying it. But first you have to live in Europe because that's where this bike is currently available.
History
Moto Morini introduced the Corsaro 1200 for the first time in 2006 as a 123bhp, 148mph, big-bore performance naked. They currently have three such models available, the simple Corsaro 1200, the Avio and the Veloce. The name Corsaro is reminiscent of a very successful period in this maker's history, the 1960s, when a 125 cc such model was successfully produced.
It is during those days when Moto Morini first called one of their bikes Corsaro Veloce as this last was faster than the standard model.
Competition
Nowadays, the Triumph Speed Triple is the closest thing you'll find to the Corsaro 1200 Veloce. And as you most likely already know, the British bike disposes of 130bhp at 9,250 rpm and can reach speeds in excess of 150 mph. it is all about the 1050cc, liquid-cooled, DOHC, inline-triple, which is also mated to a six-speed transmission. This bike's 416 lbs wet weight also recommends it as being built for pure naked performance, while its compact chassis and stylish appearance could just make a difference.
Exterior
But if we take a better look at the Moto Morini Corsaro 1200 Veloce, it is easy to notice how similar it actually is to its competitor. You get streetfighter headlights and a very small fairing, 17-inch wheels and everything unveiled in between: the Italian V-twin engine and the blacked-out trellis steel tube frame.
Although a naked motorcycle, the Veloce does feature beautiful lines on the few bodywork parts that characterize machines in this class the fuel tank and the sharp tail. This last piece is taller than any passenger would prefer and that is because of the two underseat silencers, which do give a racy note.
The rider seat is positioned at 32.6 inches (830 mm) from the ground and the handlebars are at quick reach, the sporty riding position being mainly given by the position of the footpegs.
Moto Morini claims the tough decision about this bike isn't about buying it or not, but which of the three color schemes to choose – Red/black frame, Black/black frame, White/black frame.
Price
The Italians haven't yet mentioned the starting MSRP for this barely announced motorcycle, but if they manage to keep it just under $11K, the Veloce could have serious chances against the Triumph Speed Triple.
Conclusion
Many would refer to naked motorcycles as being stripped down superbikes, but Moto Morini has no such model to through the fairing off of, so the 2010 Corsaro 1200 Veloce is definitely what they'll bring on during each and every weekend at the track.
SPECIFICATIONS
Engine and Transmission
Engine: Moto Morini Bialbero CorsaCorta twin 87 V longitudinal 4 Strokes 4 Valves per cylinder
Timing system: Double overhead camshaft
Bore x stroke: 107 x 66 mm
Displacement: 1187 cc
Compression ratio: 11.8 0.3
Power: 103 Kw 140 Hp @ 8500 rpm
Torque: 123 Nm 12.5 Kgm @ 6500 rpm
Fuel system: Magneti Marelli indirect electronic injection with 54 mm throttle body
Ignition: I.A.W electronic
Lubrication: Forced with trochoidal pump
Gearbox: 6 ratio with constant mesh spur gears
Exhaust: Sport Termignoni with double silencer, db killer, 3-way catalytic converter and oxygen sensor + racing mapping
Polluting emissions: Euro 3
Chassis and Dimensions
Frame: Verlicchi high-strength steel tube trellis frame
Wheelbase: 1440 mm
Headstock rake: 24.5
Rake: 103 mm
Front suspension: Marzocchi upside down with 50 mm stems, hydraulically adjustable in extension, compression and spring pre-charge on each stem. Ergal rod, floating bushing and stretched counter-spring
Front wheel travel: 129 mm
Swing arm: Casted Aluminum alloy
Rear suspension: Ohlins single shock absorber with separate tank featuring spring length, preload, rebound and compression damping multiple adjustment
Rear wheel travel: 130mm
Front brake: Brembo 320 mm twin disc with 4 pistons brake calipers and radial master-cylinder
Rear brake: Brembo (master cylinder and calipers) 220 mm mono disc with 2-piston caliper
Front tire: Pirelli Diablo 120/70 ZR 17
Rear tire: Pirelli Diablo 180/55 ZR 17
Rims: Marchesini in light alloy, 6 spokes
Total length: 2070 mm
Max width: 810 mm (excluding rear-view mirrors)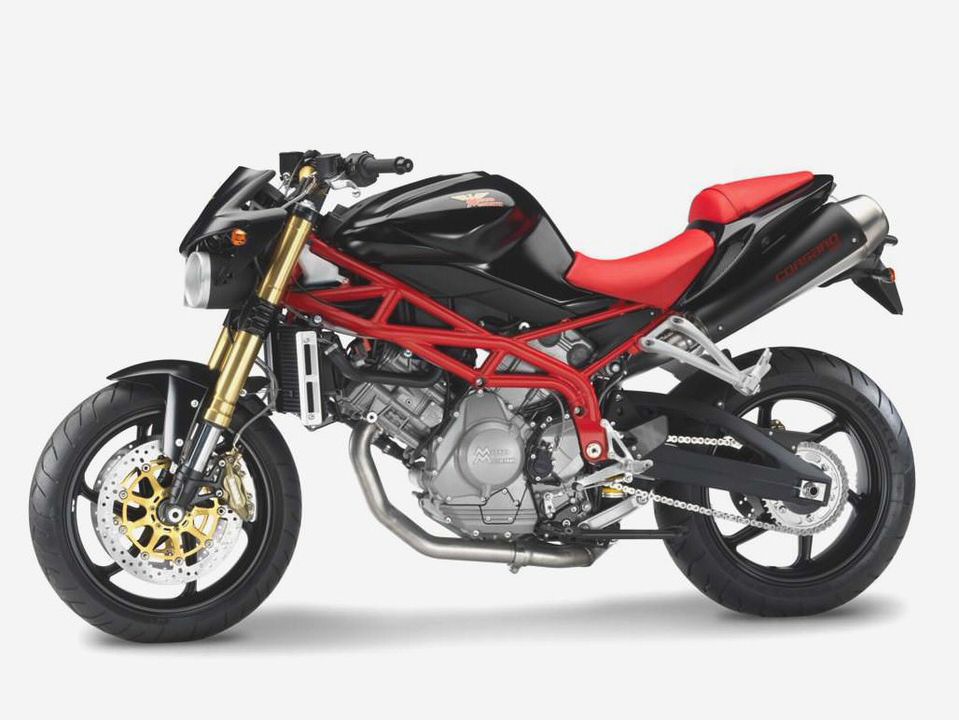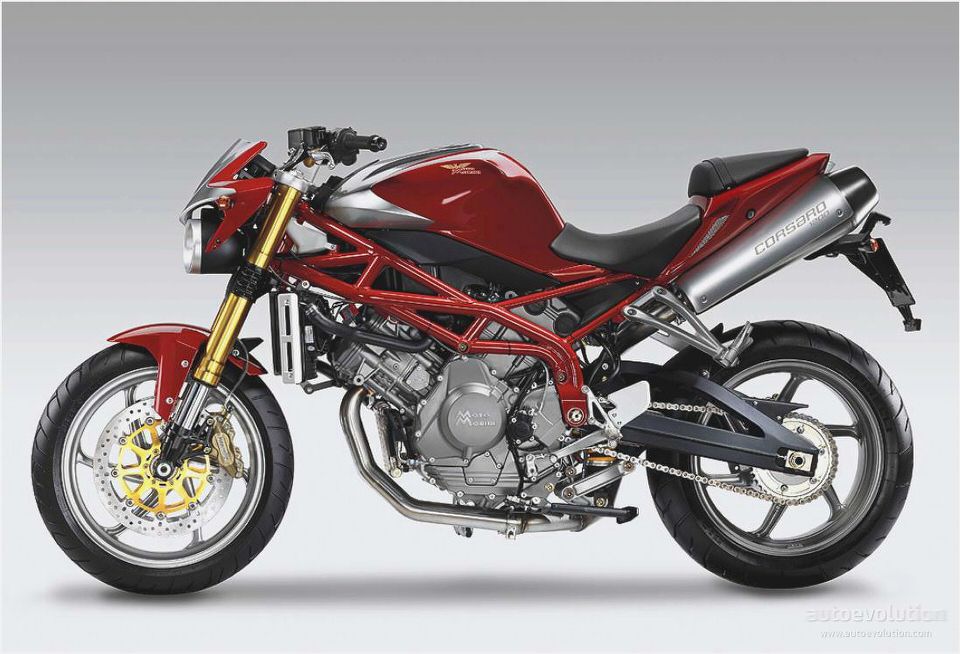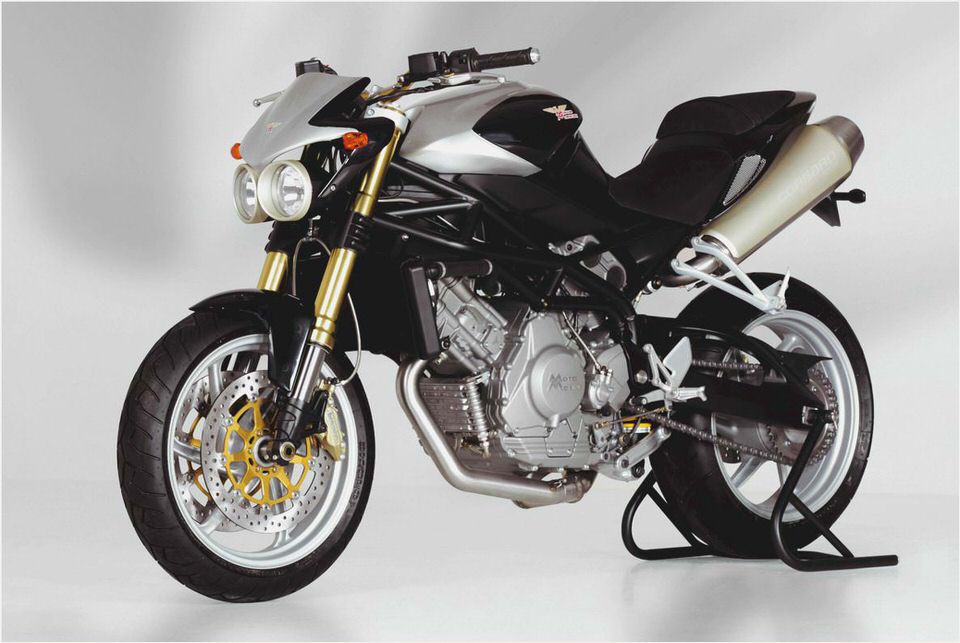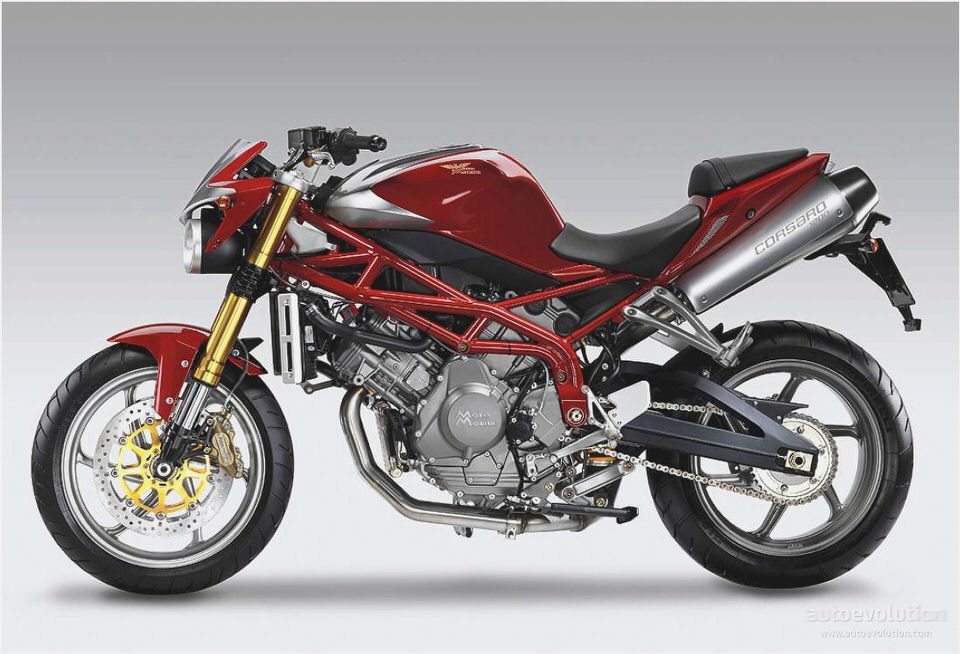 Moto Morini Mototype
Review: 500's are just fun – V35, V50, V65, V75, and the myriad of small…
Moto Morini Gets into 2013 with Price Cut for Granpasso & Scrambler – Bikes4Sale
Vardenchi Launching Moto Morini Motorcycles in India in February
2008 Moto Morini Corsaro Avio motorcycle review @ Top Speed