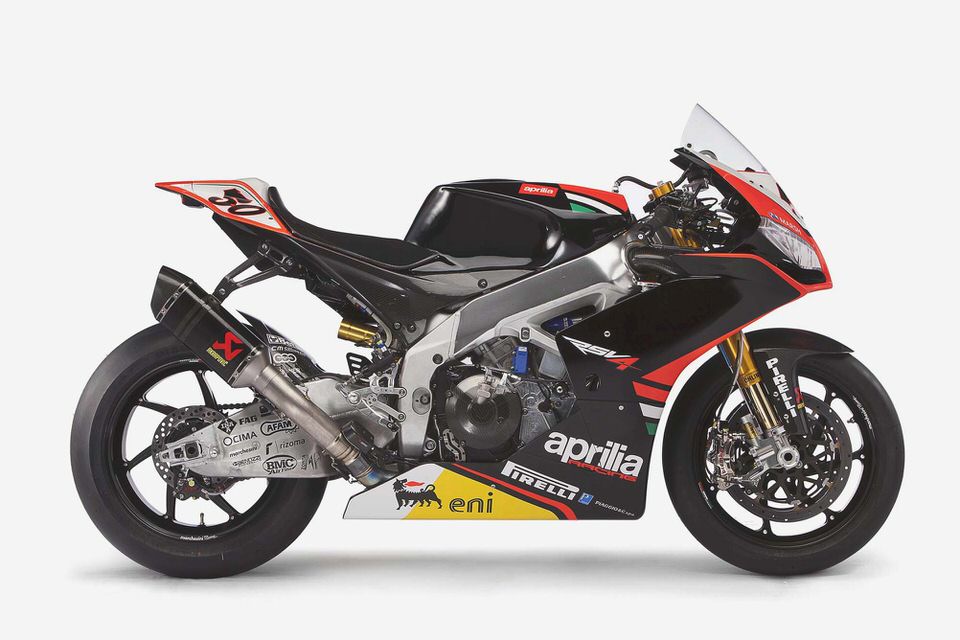 2010 Aprilia RSV4 Factory Review – A Racer Opinion
I was very excited to finally hop on an RSV4 Factory two years after its launch here in the USA. I must say… it was worth the wait. My general impression of the V4 Factory is one of quality.
No matter where you look, there is very little to nitpick on Aprilia's new V4. You could liken the RSV4 Factory to a "R" model Ducati – high spec Ohlins suspension, forged Marchesini wheels, chassis adjustability and a strong performance and racetrack focus.
This is clearly a bike which was well thought out to every last detail and a bike created with a mission – to dominate the Superbike competition.
Standout Attributes
The most unique attribute on the RSV4 in a sea of competition is it's V4 engine. And it surely is a diamond in the rough as the RSV4 is the only modern production-based Superbike with a V4 engine configuration. I'll expand on it's engine soon enough, on to the other standout qualities.
Another unique aspect of the RSV4 Factory (not included on the base model RSV4R) is the chassis adjustability built into it. This includes the steering head, engine within the frame and swing arm pivot position. This is especially beneficial for racetrack use where tweaking and customizing setup is extremely important.
Aprilia enables you to change the center of gravity (by raising or lowering the engine), change steering geometry, (including rake trail) as well as allowing the swing arm angle to be modified for optimum traction.
Where this comes into play most is the track, where using different diameter tires may change the handling of the bike. Someone may want the bike to perform exactly the same with different tires. Fortunately it is very easy to change ride height in the rear beneath the shock, as well as many other typical suspension settings.
Very few bikes (dare I say none) come with the range of adjustment available on the RSV4 Factory out of the box. This is a motorcycle created for racers, trackday enthusiasts and the most performance-oriented riders.
*Note: For all these options, the manual comes with recommended street and track settings. They are pretty well close to ideal for most people too I might add.
Suspension
Fitted with Ohlins suspension components front and rear, the V4 Factory is tight and precise, giving you the confidence to use the bike and its tires to the limits of traction. The action of the front forks is extremely smooth and controllable via its adjustments (preload, compression, rebound) which is made especially important by the power of the Brembo monobloc brakes. More on that later.
The front and rear suspension offer a great range of adjustment, and every adjustment makes an effective change, allowing the rider to control how he or she wants the suspense to behave under action.
CAVEAT: The stock suspension is great for someone 200 lbs or less (155 in my case), and has a relatively wide working range of adjustment for a stock motorcycle. However, if you are a heavier person you may end up needing more stout/stiff springs front and rear to get the bike to work exactly as you need, more importantly if you are riding hard or hitting the track.
That being said, out of the box, the RSV4 Factory has one of the best base setups you will find anywhere in the world. A simple change in spring rate front and/or rear is all most people would need to do in order to squeeze 100% of their ability out of this motorcycle confidently.
*Note: The front forks come in a slightly stiffer rate (10.5) than the rear shock (9.5) on the RSv4 Factory. Someone under 175lbs may find the front forks slightly too stiff, having to let out almost all the preload to load the front-end in the appropriate range.
Brakes
Another strong point, the spec Brembo brakes on the RSV4 Factory will not leave you wanting for more. Almost identical to other high end braking systems (such as those used on Ducati superbikes), there is a reason Brembo is the top choice for performance motorcycles and almost every premier race team on the planet – They are the best in the business.
The brakes on the RSV4 Factory deliver a strong bite and more power at the lever than most people will be accustomed to. This means you'll be stopping in a hurry with a squeeze of two fingers – something your brain may take a few miles to adjust to.
Although to be clear, the braking power is not "grabby" as some other braking setups can be. These brakes are very powerful but also very controllable and progressive at the same time. The harder you use them the more they work, giving excellent feedback as to what the front tire is doing while stopping in a hurry.
Engine
The best part of this bike is the engine. Starting with an incredible off-beat exhaust note that bellows from the single pipe exiting just behind the rider's right leg, the beautiful engineering feat of this 180bhp V4 motor fits into a frame the size of a 250cc MotoGP bike.
And it gets better… The irregular firing order (1,3,2,4) of the 65 degree V4 produces the most usable power ever connected to a right wrist. (As a side note, it is this reasoning Yamaha have followed to create their V4-mimicking inline 4 with a crossplane crankshaft which they currently employ in their production YZF-R1 as well as their MotoGP YZF-M1.)
Quite different from an inline 4 aside from the number of cylinders, the V4 builds power in a very controllable manner up to its peak power around 13,000RPM, and has a torque curve which is extremely flat.
What does this mean to you? It means getting on the throttle earlier, knowing exactly where that rear traction is, and allowing you to approach the edge of traction or even go a touch past it, squirming the rear tire under acceleration in a satisfying fashion all without the fear of spinning up a tire quickly and unexpectedly (which is common with normal inline 4 engines).
The power delivery could be likened to a V-twin with a bit softer torque while also having the revving ability of a conventional inline 4. Power pulses that tell you where traction is and the ability to rev up to 14,000 – quite literally the best of both worlds.
Now some may point out that the RSV4 makes less power than the latest offerings from the competition (BMW 1000RR Kawasaki ZX10R)! Oh my!
First let me say, properly geared the RSV4 will stay with almost any bike under most conditions. And when nothing but fast is the name of the game, it almost always comes down to the rider. I suppose if you're a drag racer or someone racing a national SuperStock class with no engine modifications allowed, maybe a different motorcycle with a few more horsepower is the one for you.
But when it comes to the overall package, including handling, there is no match for the Aprilia.
Chassis
I'm happy to say the chassis of the Aprilia is as much a gem as the engine. The story goes that Aprilia took one of their legendary 250cc MotoGP chassis and developed the all-new V4 engine within it. The result is a frame as narrow as a two cylinder motorcycle's and a feeling that this thing really is race ready. It just wants to go where you tell it to.
I've actually had several people comment on the RSV4, startled by its small size when they see it for the first time.
And not only does the chassis of the RSV4 inspire confidence with its agility, compactness and obedient nature, it's adjustability takes its superiority through the roof. If for some reason you don't like one of the best handling bikes ever created just the way it is, you can tweak it to your hearts desire through top notch suspension and chassis adjustments.
Unfortunately Aprilia is not a name commonly uttered in motorcycling circles in the USA. Apparently we don't put much weight into world championship success here… because when it comes to racing, Aprilia is second to none in the motorcycling world. Decades of experience in MotoGP and World Superbike (where the RSV4 won a world championship in only it's second year of production, and is currently leading the 2012 championship) mean Aprilia knows how to create a bike with world class handing.
Transmission
An area I was curious to discover as previous Aprilias I've ridden had suspect gearboxes which were a little clunky, I walked away pleasantly surprised with the transmission on the RSV4 Factory. Aprilia has hit the nail on the head with it's new gearbox. It feels incredibly solid and is easy to click up and down through gears (hello slipper clutch) and has a very solid mechanical feel while maintaining some of that "buttery" transmission feel reminiscent of a GSX-R.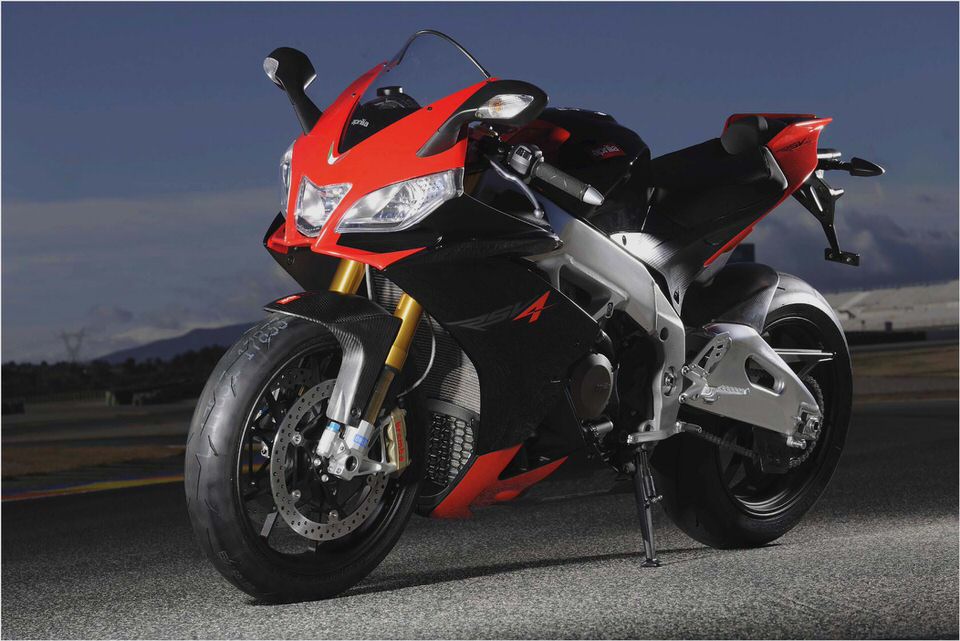 I'd say the transmission feel is a mix between the smoothness and ease of use of a Suzuki GSX-R and the mechanical and solid-shifting feel of a Honda CBR1000RR. Forgiving, yet communicative.
One comment however, the transmission is not as smooth nor as eager when clutchlessly up shifting, for whatever reason. This is the only time I missed a shift or had a false neutral between gears. This may be the specific bike and how it was broken in (10K miles as of this review).
Ergonomics
The ergonomics on the RSV4 may be one of it's only shortcomings – most notably for taller riders. Myself being 5′ 11″ I can barely fit comfortably in a tuck behind the front fairing on top of the tank at higher speeds. There is some buffeting and it is not quite as calm in regards to wind as some others.
A double bubble windscreen may be required for someone like myself to be comfortable at high speeds.
Also, no stock adjustability in the foot pegs or bars is a missed cue, especially with other superbikes like the KTM RC8 which come with extreme adjustability out of the box (seat height, foot pegs, bar position). Aprilia, take note…
Styling Finish
Now styling is always an opinion of course, but I would find it hard to identify a soul who thought the Aprilia RSV4 Factory as ugly… Quite far from that, many consider it to be the best looking Superbike on the market to day. Although with the new Ducati 1199 Panigale now released, it may be a two horse race, but it's a close one at that.
Also, it is no coincidence that some refer to Aprilia as an "Italian Honda." The styling and finish on the RSV4 Factory is second to none and the bike oozes quality. From the fasteners on the fairings engraved "Aprilia Racing," the magnesium rear wheel spacers and engine case covers, the elegant two-tone paint scheme, stunning forged aluminum wheels and much more, the Italians at Piaggio sure know how to make a produce a motorcycle.
Track Performance
You will be hard pressed to find a stock bike better suited to racetrack use than the RSV4 Factory. Other than buying a race prepped bike such as KTM's RC8R (with no street kit included) or building your own prepped bike with custom suspension and more, the RSV4 Factory is the most able production Superbike I have experienced to date.
Adjustable and top notch suspension, real chassis adjustment for the scrutinizing rider, tight handling and a powerful yet controllable power delivery make the RSV4 Factory a bike to behold for performance enthusiasts.
Street Manners
So how civilized is it? Surprisingly so. Aside from the high running temperatures (especially at a stop or in traffic) which are common to all modern superbikes, the RSV4 has decent street manners.
Three power maps allow you Rain, Sport, and Track selections for different levels of throttle response (most notable on partial throttle, especially in lower gears). The RSV4 does not chug or do anything suspect when cruising at low to mid speed. This a composed beauty.
*Note: Gearing must be changed from stock to run as Aprilia intended. In order to test better in emissions and noise, Aprilia over geared the bike for USA deliveries. The bike is essentially geared for a theoretical 200+ MPH, which it will not do in any circumstance. Aprilia has stated within the RSV4′s manual to change the gearing the bike was delivered with.
They recommend moving the rear sprocket from a 40 to a 42, and many people also change the front sprocket from a 16 to a 15 tooth.
New Rider
Because I have not mentioned it, I wanted to address the question, " Is is this a good first motorcycle? " No way on God's green earth, no . The RSV4 (let alone the more expensive Factory) is not a beginners motorcycle, and I highly recommend starting on a smaller cc bike before stepping up to a 1000cc sportbike which can spit you off at any time if you do not now what you are doing. I'll leave it at that.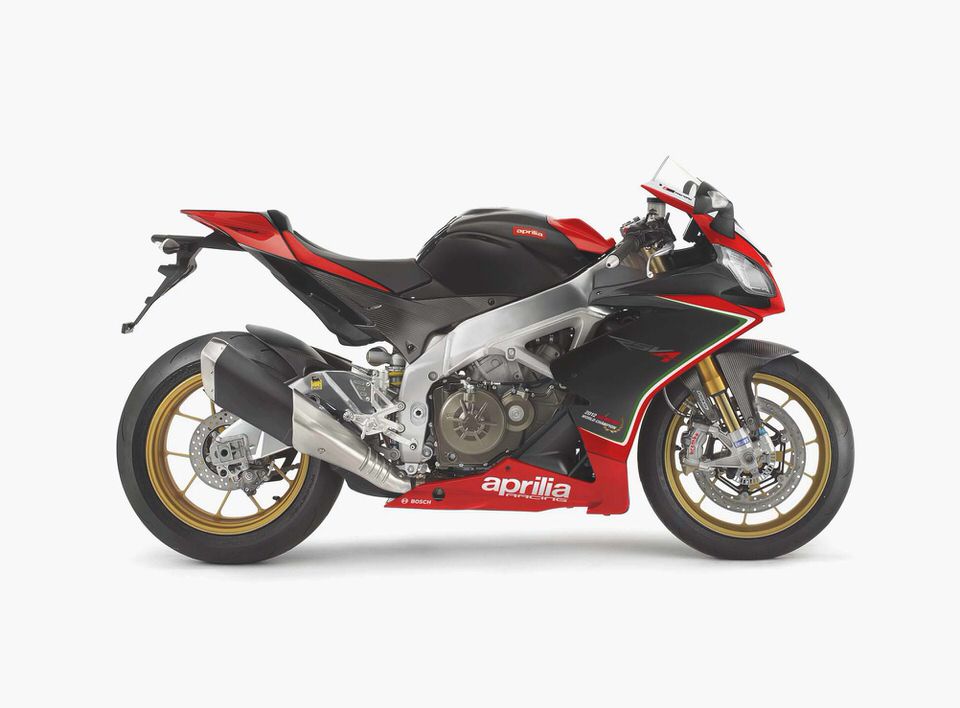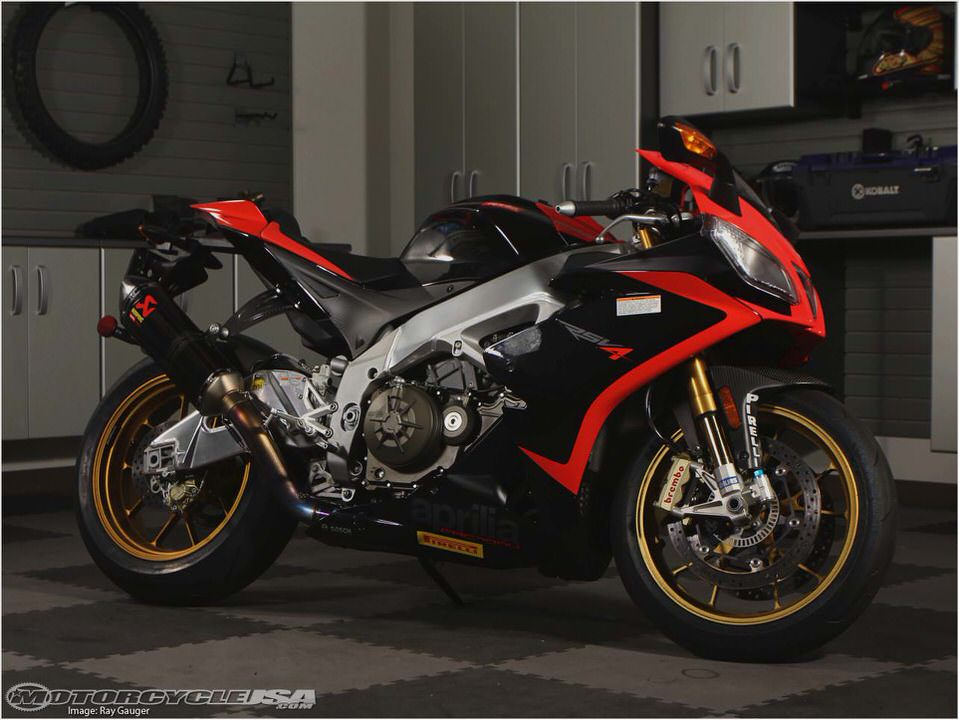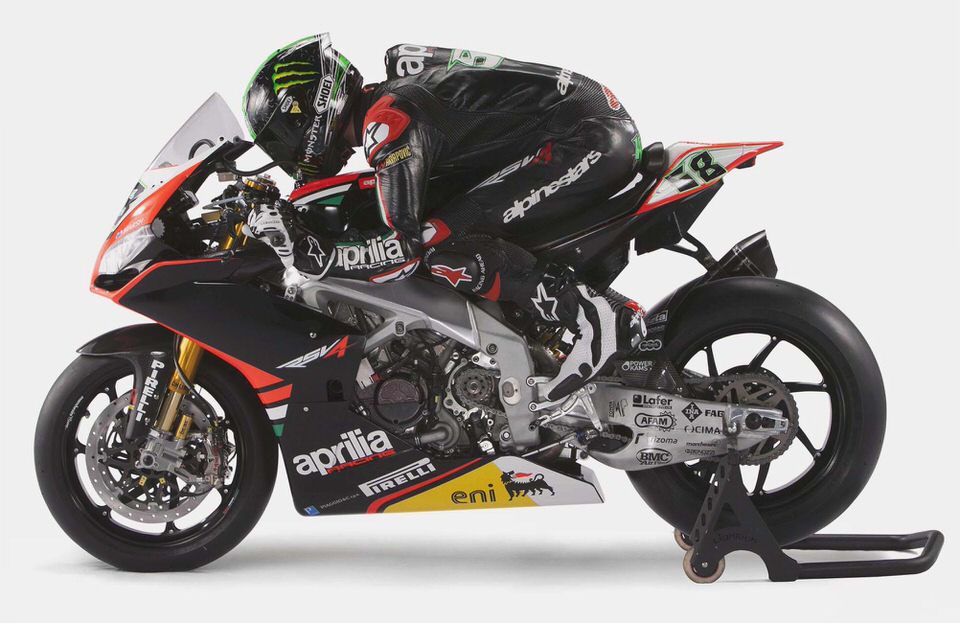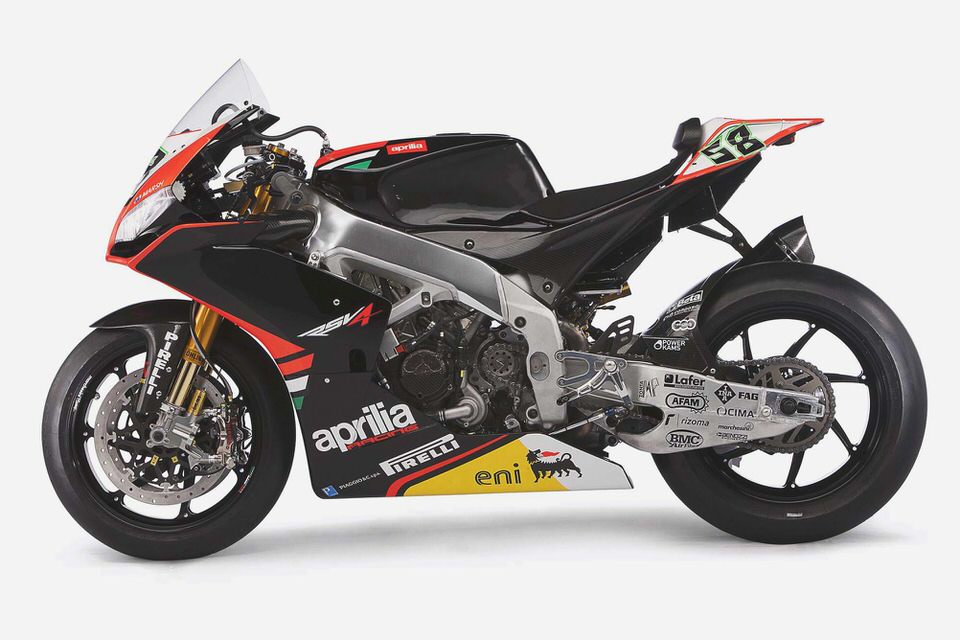 2010 Aprilia RS 50 motorcycle review @ Top Speed
2011 Aprilia Tuono V4R – Motorcycle news, reviews & riding tips – bikesales.com…
2003 Aprilia RSV Mille Super Streetbike
2011 Aprilia RSV4 R – Used 2011 RSV 4 R APRC at Motorcyclist Magazine
2010 Aprilia Mana 850 / GT ABS motorcycle review @ Top Speed