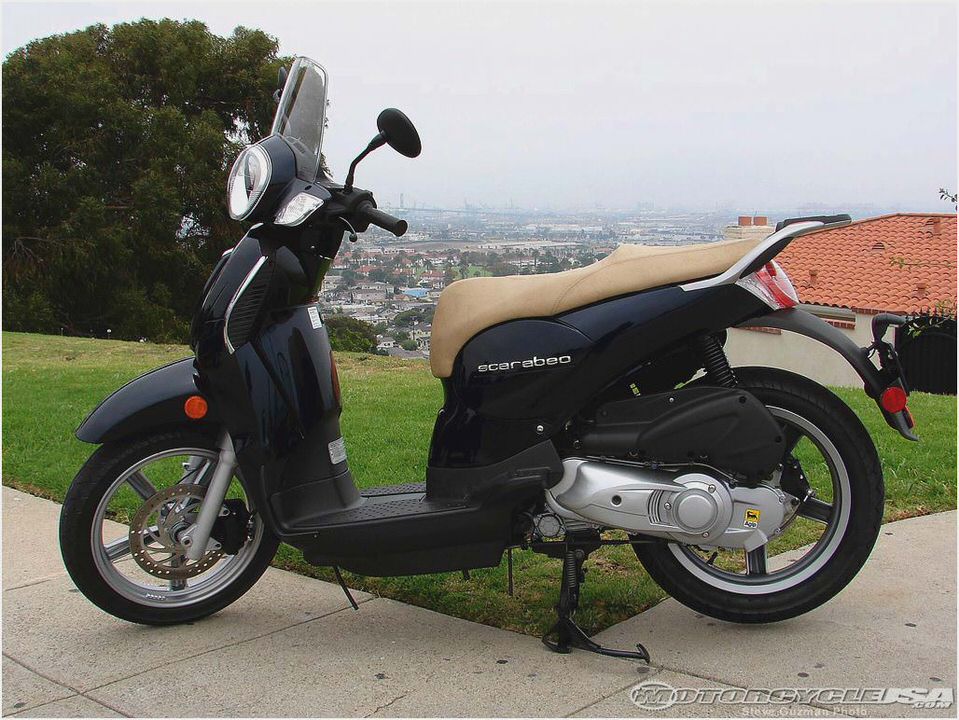 2010 Scarabeo 200
2010 Aprilia Scarabeo 200
Intro
Aprilia has been been in business since just after WW II, when it first started selling bicycles out of its factory in Noale, Italy. During the late 1960s, the company shifted its focus to producing 50cc mopeds, followed by the Scarabeo motocross bike of 1970. By the end of the decade, Aprilia had established a reputation as a leading maker of motocross bikes.
During the 1980s and 1990s, Aprilia expanded its reach into the Grand Prix and rally racing arenas, and their efforts were met with success outside of the world of motocross. Their fame in the racing world increased demand for their products, and allowed them to offer enduro bikes, superbikes, and scooters. In 2004, Piaggio became Aprilia's parent company, making the far-reaching producer the world's fourth largest motorcycle manufacturer.
In 2010, with its 267th Victory, Aprilia surpassed fellow former post-war bicycle maker MV Agusta, to become the most winning cycle racing company in the world.
Aprilia's Giuseppe Ricciuti-designed 2010 Scarabeo scooters feature timeless lines, somewhat reminiscent of parent company Piaggio's mid-century offerings, but simultaneously altogether modern. The trend-setting Aprilia Scarabeo has a stylish and functional windscreen, LED tail lights, headset mounted indicators, and sporty 16 inch wheels, all of which sets the series apart from the competition.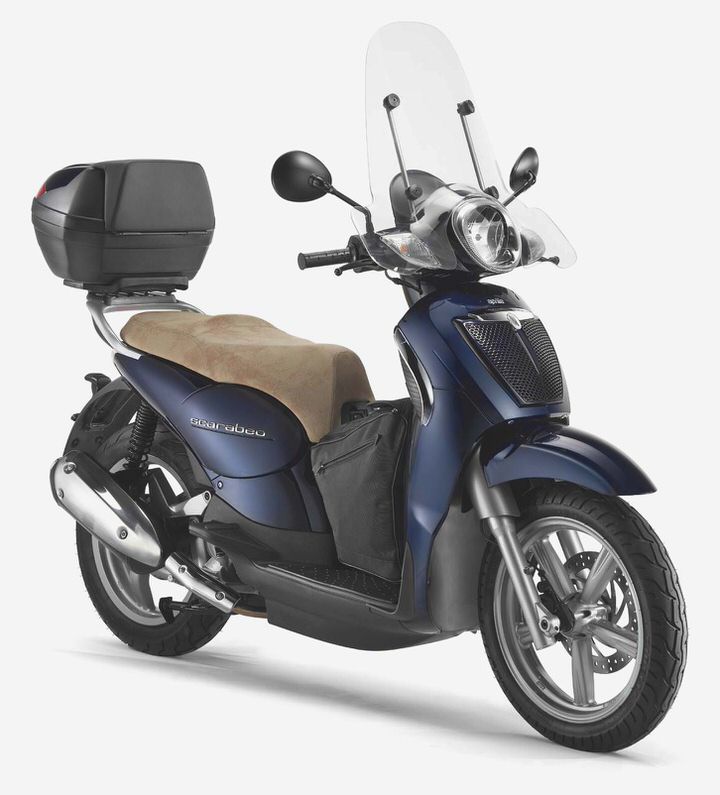 The 2010 Aprilia Scarabeo scooters all boast a high-strength, tubular steel frame, which makes them extremely maneuverable and stable. The suspension adds to the confident handling, and features a hydraulic fork and adjustable hydraulic monoshock. The 16 inch wheels are outfitted with tubeless tires, and this combination is perfect for city driving, while helping to eliminate blowouts.
The Aprilia Scarabeo's front and rear brakes are linked by a system that manages braking force for shorter stops and greater safety, and unlike previous models, both the front and rear feature disc brakes. Three different engine options are available for the Scarabeo: the economical yet zippy 96.2cc, the more powerful 19 horsepower 180.8cc, and the high-performance, touring-oriented 460cc.
While the 2010 Aprilia Scarabeo series does offer a grocery hook, lockable legshield storage for documentation and small valuables, and room under the seat for a helmet, those who are interested in using the Scarabeo to haul more sizable items may want to invest in a storage box, which will easily mount to the rear rack.
The Aprilia Scarabeo series is a great choice for those who want iconic, European styling in a fuel-efficient but sporty scooter that offers comfortable seating for two. The 100 and 200 models are well-suited for city driving, but experienced riders who are interested in taking longer trips may want to opt for the more powerful 500 model, whose larger engine and higher-capacity fuel tank makes it better suited for the task.
Aprilia launches high-spec Dorsoduro – Aprilia Dorsoduro Bike Reviews…
FOTO APRILIA ATLANTIC 500 SPRINT:
2011 Aprilia SportCity 125 – Used 2011 SportCity 125 at Motorcyclist Magazine
Aprilia Leonardo SR 500 Concept
APRILIA ATLANTIC 250 TEST: