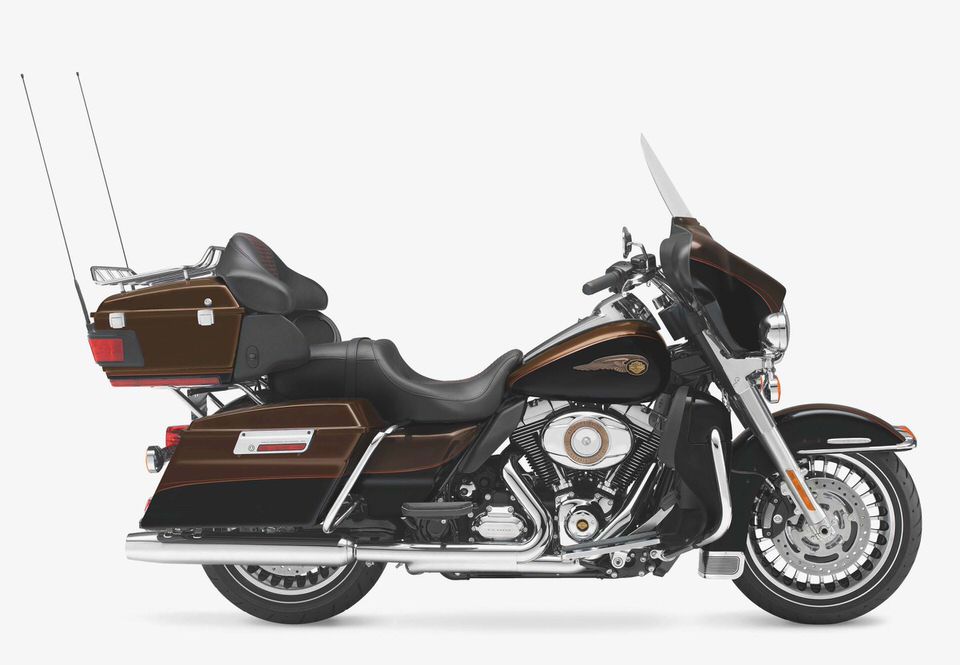 Specifications:
PRESS RELEASE
HARLEY-DAVIDSON® ULTRA LIMITED™ IS THE NEW KING OF THE ROAD
High-Performance Twin Cam 103™ Power and Special Touring Features and Styling
The 2010 Harley-Davidson Electra Glide® Ultra Limited is a new premium touring motorcycle that offers enhanced performance and features, plus distinctive styling upgrades, that make it the new king of the Grand American Touring experience.
A step up from the popular Harley-Davidson Ultra Classic® Electra Glide, the Ultra Limited model features items that have previously only been offered as accessories on regular-production Harley-Davidson Touring models. The package starts with a Twin Cam 103™ engine that delivers 10 percent more torque than the Twin Cam 96™ engine offered in other Touring models, for a significant upgrade in performance.
Brembo triple-disc brakes with ABS, heated hand grips, the Harley-Davidson Smart Security System, a Premium Tour-Pak® luggage rack, Premium saddle bag and Tour-Pak liners, and a 12-volt/15 amp Tour-Pak power supply are all standard features on the Ultra Limited.
A special two-tone paint scheme will be available only for the Ultra Limited model, which also features its own 28-spoke cast aluminum wheels with contrasting chrome accents, new titanium-tone instrument faces and distinctive Ultra Limited badges in five locations. Priced at $24,699, the Ultra Limited offers Touring customers added value by including popular options as convenient, factory-installed original equipment.
The Ultra Limited model is designed to carry its rider and passenger beyond the horizon with unrivaled comfort and confidence. All of the features that have made the Ultra Classic the most-popular touring motorcycle on the American road are retained on the Ultra Limited, including electronic cruise control, the 80-watt Advanced Audio System by Harman/Kardon, CB radio/intercom, vented fairing lowers and adjustable wind deflectors. The classic Harley-Davidson "batwing" fairing and fairing lowers provide outstanding wind-and-weather protection, while locking, hard GTX nylon saddlebags and an adjustable King Tour-Pak component offer generous luggage capacity.
A Foundation of Touring Excellence
The Ultra Limited motorcycle is built on the innovative Touring platform chassis introduced by Harley-Davidson in 2009, based on a single-spar, rigid backbone frame designed to withstand the demands of long-haul touring riders and today's more-powerful engines.
The 28-spoke cast aluminum wheels were designed using finite element analysis for maximal stiffness with minimal weight. Dunlop® D407 Multi-Tread tires designed specifically for the Harley-Davidson Touring chassis feature a harder center tread compound and softer shoulder compound to enhance handling and extend rear-tire tread life.
Air-adjustable rear shocks accommodate variable passenger and luggage loads. Chassis geometry and suspension calibration work with the dynamics of the frame to deliver a combination of comfort and handling from a touring motorcycle that's equally at ease rolling down the Interstate or winding through a mountain pass.
More Touring Torque
The added performance of the Twin Cam 103 powertrain is an upgrade to the Ultra Limited that will be appreciated by any touring rider. With 102 ft. lbs. of peak torque on tap an 10 percent increase over the Twin Cam 96 engine the Twin Cam 103 offers more power for passing, for steep climbs, and for better over-all performance when the Ultra Limited is laden with a passenger and cargo. Harley-Davidson Electronic Sequential Port Fuel Injection (ESPFI) delivers easy starting cold or hot and self-adjusts to changing elevation and atmospheric conditions.
The engine is rubber-mounted in the chassis, and mated to a 6-speed Cruise Drive® transmission with a tall top gear for quiet, economical highway cruising. New for 2010 is a smoother, helical-cut fifth gear. The 2-1-2 exhaust system is designed to minimize heat exposure to the rider and passenger, and the Ultra Limited is equipped with mid-frame air deflectors to further isolate the rider from engine heat.
The Limited Treatment
The Ultra Limited offers features designed to enhance every aspect of long-distance touring.
Anti-Lock Braking System (ABS): ABS is designed to help the rider maintain control during braking events, especially those that happen in less-than-optimal conditions. The components of the Harley-Davidson ABS have been designed and packaged to be virtually invisible, preserving the uncluttered styling of the area around the wheels. Unlike many motorcycle ABS, Harley-Davidson ABS is not a linked system, meaning the rider maintains full, independent control of both front and rear brakes.
Heated Hand Grips: Adjustable through six settings by a knob on the left bar end, these thermostatically controlled grips self-adjust so the grips remain at a constant temperature regardless of changes in ambient temperature.
Smart Security System: The H-D® Smart Security System offers automatic self-arming and hands-free disarming for vehicle electronic security functions. The Hands Free Fob communicates directly on its own unique and individualized frequency with the Hands Free Security Module and Antenna. A flashing status indicator informs the rider that the Smart Security System is armed or disarmed.
Premium Tour-Pak Luggage Rack: This full-sized rack protects both Tour-Pak lid and passenger backrest from scratches. Lightweight steel tubing incorporates high-quality welded joints and is hand-polished and chrome-plated to provide long-lasting beauty.
Premium Saddlebag and Tour-Pak Liners: Updated for 2010 with dual zippers, side pockets for small items, and rubber bottoms that help keep the interior dry and clean, these durable nylon liners make it easier to carry items to and from the motorcycle.
Tour-Pak Power Supply: Charge a cell phone or computer, or power accessories, with this 12-volt/15-amp power point, fitted with a spring-loaded cap to keep the receptor clean.
Contrast Chrome Wheels: This custom version of the 28-spoke cast aluminum Touring wheel features chrome-plated spoke faces which reflect brilliantly in morning sun or midnight neon.
Upgraded Instrument Display: New Titanium-tone instrument faces upgrade the appearance of the Ultra Limited cockpit. White LED backlighting and a large font make them easier to view.
Ultra Limited paint: A special two-tone paint scheme adds a contrasting color to the front fender, the lower fuel tank, the lower saddle bags and the lower Tour-Pak areas. Color combinations include Vivid Black/Black Ice Pearl, Flame Blue Pearl/Vivid Black and Scarlet Red/Vivid Black.
Press Reviews
Powered by a Twin Cam 103 powerplant previously found in CVO models, this air-cooled engine produces 10% more torque than the 96 cubic inch v-twin found on other Harley tourers, and it's mated to a six-speed gearbox. Other features include cruise control, wind deflectors, big bags, heated grips, and available ABS. motorcycles.about
Given our prior admiration for the Electra Glide series, we were excited to see how much more oomph the larger displacement engine had. But to our surprise, it was difficult to notice the added power. Twist the throttle and you'll perceive just a marginal boost in acceleration. Even revving the engine to its 6100 rpm redline proved only a modest increase in propulsion. motorcycle-usa
The Ultra Limited feels like a Buick Roadmaster, and we mean that in a good way. It is an effortless cruiser, with mellow vibes coming from the rubber-mount engine and smooth tunes pouring from the powerful stereo. The EGUL's 103-inch (1690cc) motor is a worthy addition to the Electra Glide platform, as the TC96 would've felt wheezy in the mountains while carrying the bike's considerable weight. motorcycle
With a rigid frame, air-adjustable shocks, Dunlop multi-compound D407 touring tires (17 front, 16 rear,) mounted on 28-spoke, chrome and black cast aluminum wheels and reasonable ground clearance, the Ultra Limited stays planted during aggressive riding. Brembo four-piston calipers squeezing three 320mm disks with ABS complete the confidence-inspiring package. ultimatemotorcycling
No more wagging tail or suspension and frame twist entering corners. This 2010 bike handles a tad better than even the 2009 model did, and much better than any pre-2009 Touring bike from The Motor Company. moto123
It's hard to see where all your money goes with the Electra Glide Ultra Limited. It's a lot of money for a dynamically poor machine, when you compare it to its cheaper competition. At the end of the day you're simply paying for the Harley Davidson badge and all the history and heritage that goes with it. MCN
SPECIFICATIONS
Engine and Transmission
Engine: Air-cooled, Twin Cam 103™ with integrated oil cooler
Valves: Pushrod-operated, overhead valves with hydraulic, self-adjusting lifters; two valves per cylinder
Bore x Stroke: 3.88 in. x 4.38 in. (98.43 mm x 111.25 mm)
Displacement: 103 cu. in. (1690 cc)
Compression Ratio: 9.7:1
Fuel System: Electronic Sequential Port Fuel Injection (ESPFI)
Air Cleaner: Fiberglass, washable
Lubrication System: Pressurized, dry-sump with oil cooler
Primary Drive: Chain, 34/46 ratio
Final Drive: Belt, 32/68 ratio
Clutch: Multi-plate, wet
Transmission: 6-Speed Cruise Drive
Gear Ratios (overall): U.S.
1st 9.593
2nd 6.650
3rd 4.938
4th 4.000
5th 3.407
6th 2.875
Performance
Engine Torque: (per SAE J1349):
North America: 102 ft. lbs. @ 3500 rpm (138.29 Nm @ 3500 rpm)
Lean Angle (per SAE J1168):
Right: 33
Left: 31
Fuel Economy (EPA urban/highway test): 35/54 mpg (6.72/4.36 L/100 km)
Chassis and Dimensions
Frame: Mild steel; tubular frame; two-piece stamped and welded backbone; cast and forged junctions; twin downtubes; bolt-on rear frame with forged fender supports; MIG welded
Swingarm: Mild steel; two-piece drawn and welded section; forged junctions; MIG welded
Front Forks: 41.3 mm telescopic, triple-circuit damping
Rear Shocks: Air-adjustable
Wheels: Contrast Chrome, 28-spoke; Cast Aluminum
Front: 17 in. x 3 in. (431.80 mm x 76.20 mm)
Rear: 16 in. x 5 in. (406.40 mm x 127.0 mm)
Brakes:
Caliper Type: 32 mm, 4-piston fixed front and rear
Rotor Type: Patented, fixed rotors
(diameter x width):
Front (dual): 11.81 in. x .20 in. (299.97 mm x 5.08 mm)
Rear: 11.81 in. x .28 in. (299.97 mm x 7.11 mm)
Anti-Lock Braking: Available
System (option)
Suspension Travel:
Front Wheel: 4.60 in. (116.84 mm)
Rear Wheel: 3 in. (76.20 mm)
Engineered for Sidecar Use: Available
Length: 98.60 in. (2504.44 mm)
Overall Width: 38.0 in. (965.20 mm)
Overall Height: 61.0 in. (1549.40 mm)
Seat Height:
Laden: 27.30 in. (693.42 mm)
Unladen: 30.70 in. (779.78 mm)
Ground Clearance: 5.10 in. (129.54 mm)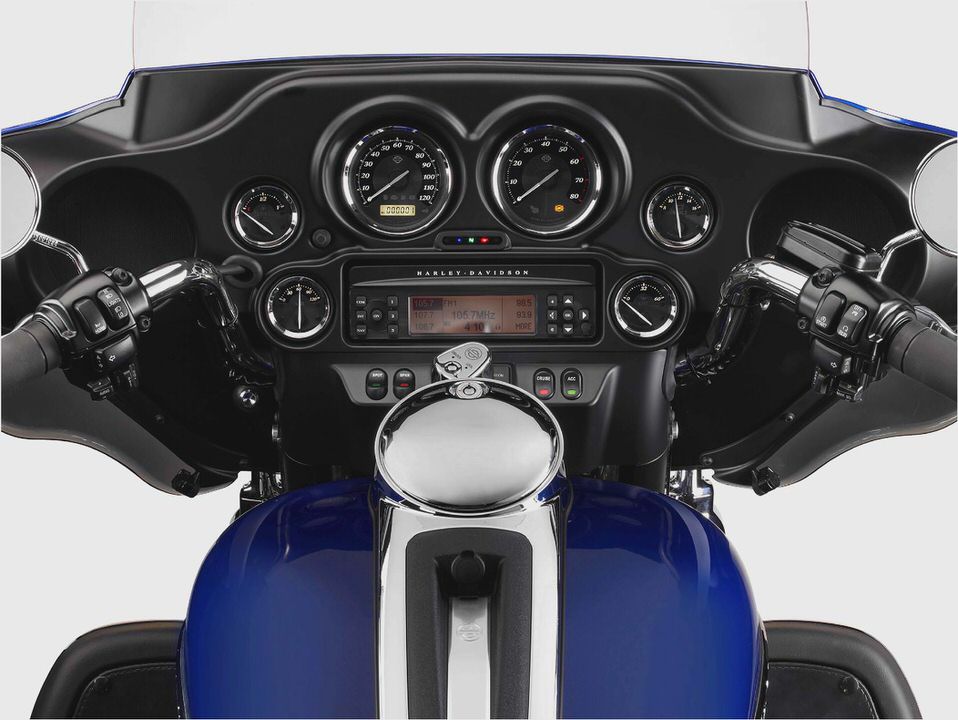 Rake (steering head): 26
Fork Angle: 29.2
Trail: 6.69 in. (169.93 mm)
Wheelbase: 63.50 in. (1612.90 mm)
Tires (Dunlop® Harley-Davidson Series, bias narrow whitewall):
Front D408F: NW 130/80B17 65H
Rear D407: NW 180/65B16 81H
Fuel Capacity: 6 gal. (22.71 L) (warning light at approximately 1 gal.)
Oil Capacity (w/filter): 4 qts. (3.78 L)
Transmission Capacity: 1 qts. (0.95 L)
Primary Chain
Case Capacity: 1.40 qts. (1.32 L)
Weight:
As Shipped: 857 lbs. (388.74 kg)
In Running Order: 901 lbs. (408.69 kg)
Gross Vehicle Weight: 1360 lbs. (616.90 kg)
Rating
Gross Axle Weight
Front: 500 lbs. (226.80 kg)
Rear: 927 lbs. (420.49 kg)
Electric
Battery (per Battery Council International Rating): Sealed, maintenance-free, 12V, 28-amp/hour, 370 cca
Charging: Three-phase, 50-amp system (585W @ 13V, 2000 rpm, 650W max power @ 13V)
Starting: 1.2 kW electric with solenoid shift starter motor engagement
Lights (as per country regulation):
Headlamp (quartz halogen): 55-watt low beam,
Auxiliary Lamp: Two @ 35W each (except where prohibited by law)
Tail/Stop Lights: 8W/28W (5W/21W)
Turn Signal Lights: 28W (21W) self-canceling
Indicator Lamps: High beam, running lights, front fender running lights, directional light bar, low oil pressure, engine diagnostics, cruise control, speakers, accessory, security system, 6-speed, low fuel warning, ABS
Electric Power Outlet: Tour-Pak® 12 volt 15 amp power supply
Color Options
Two-Tones
Scarlet Red/Vivid Black
Vivid Black/Black Ice Pearl
Flame Blue Pearl/Vivid Black
Custom Colors
Merlot Sunglo/Cherry Red Sunglo
White Ice Pearl/Black Ice Pearl
U.S. MSRP
Two-Tones: $24,699
Custom Colors: $24,899
Warranty
Warranty: 24 months (unlimited mileage)
Service Interval: First 1,000 miles (1,600 km), every 5,000 miles (8,000 km) thereafter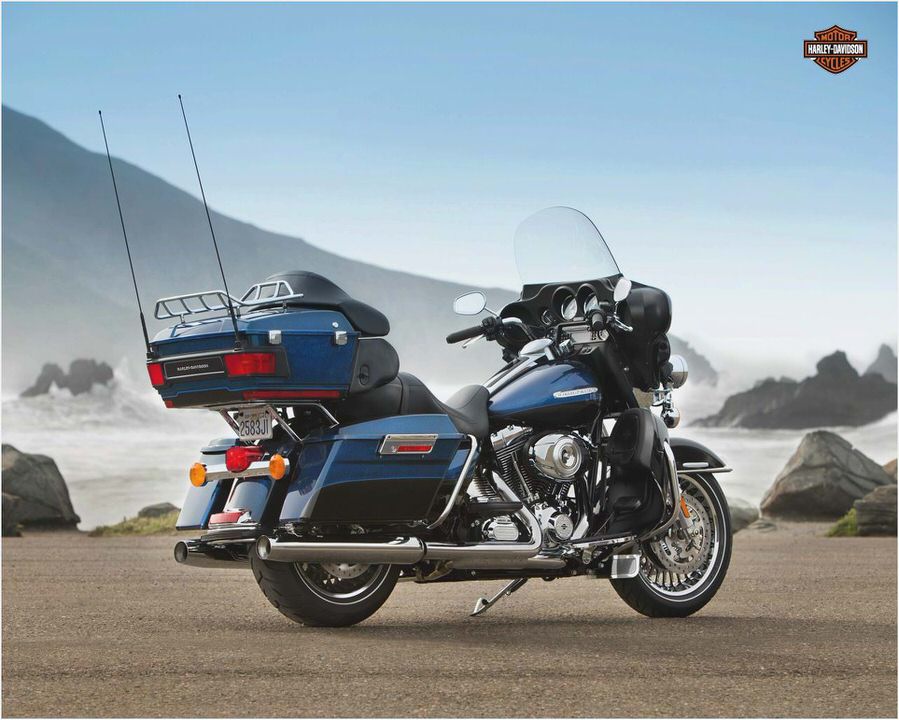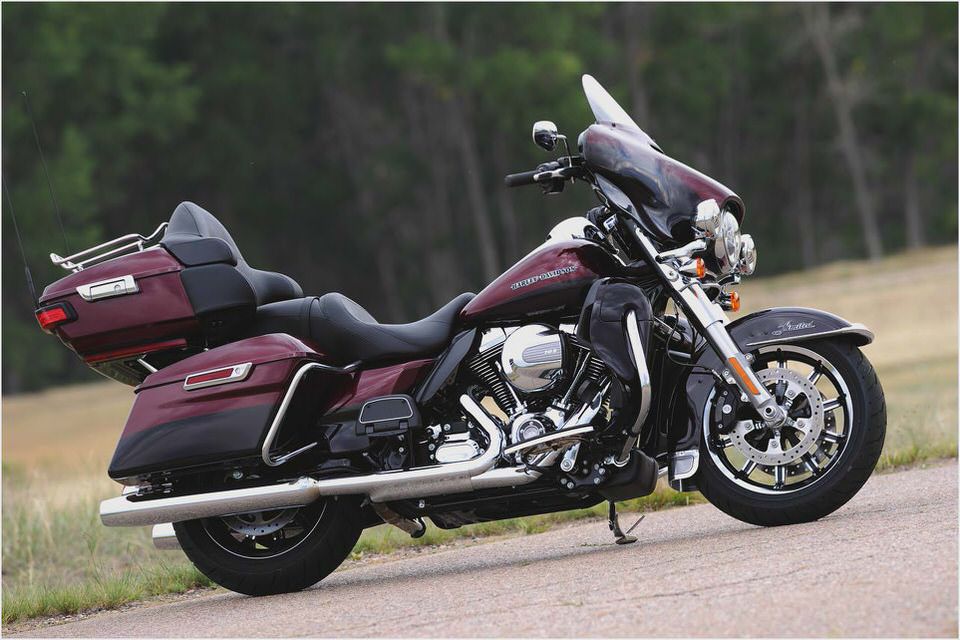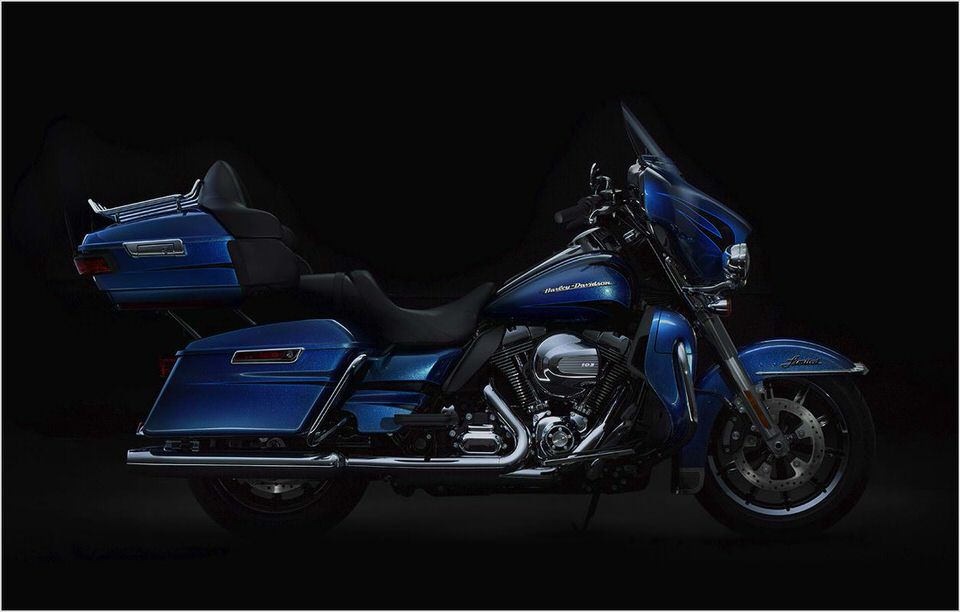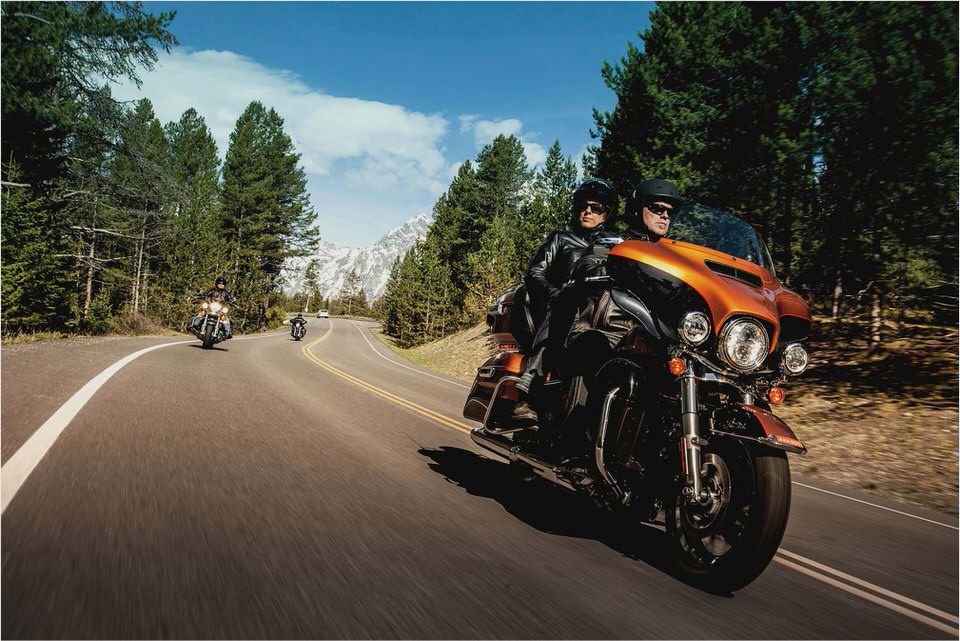 2012 Harley-Davidson FLHX Street Glide Review
2010 Harley-Davidson FLHR Road King Road Test Rider Magazine
2014 Harley-Davidson FXDF Fat Bob Review – RideApart
1982 Harley-Davidson XR1000 Revisited Rider Magazine Motorcycles
GEICO Honda 250 SX Riders Hope for Hometown Advantage in Dallas