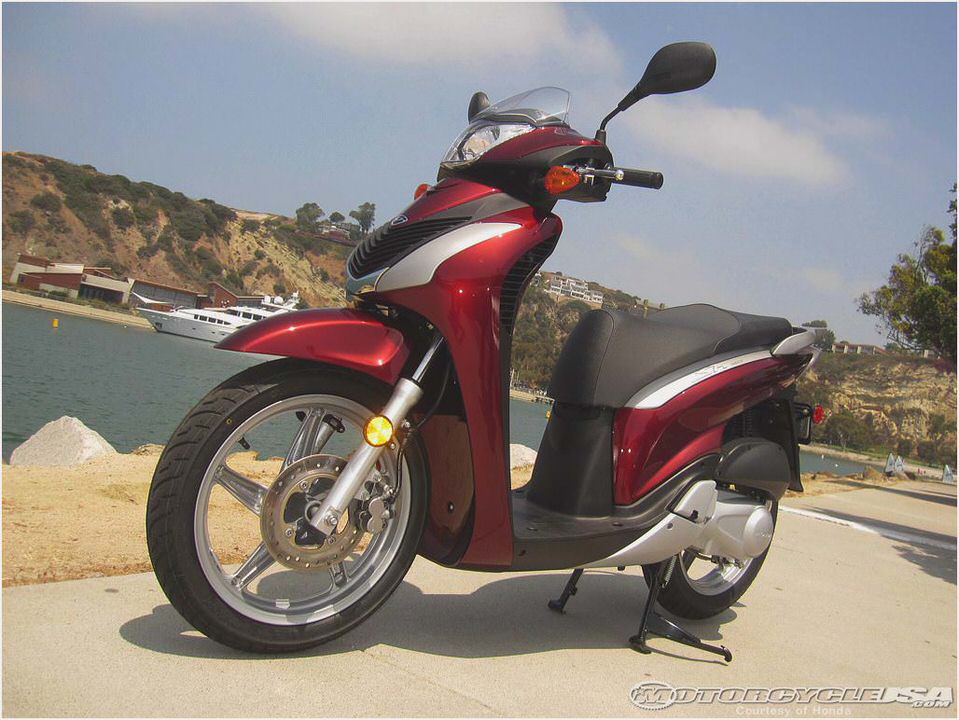 Italy's Best Selling Scooter Comes to the States
Italians invented the scooter genre when they launched the Vespa brand in 1946, but the current genre sales leader in Italy is actually a Japanese model: the Honda SH150i.
The best-selling scooter has finally reached U.S. shores, but at $4,499 it's not exactly a bargain, outpricing the Vespa S 150 by $300– a notable difference, considering Vespas tend to be notoriously pricey. How does the Honda compare to its Italian counterpart, and is it worth the extra dough?
The Goods: The State of the Scooter Art
The $4,499 Honda SH150i may look European, but it's Japanese through and through. A liquid-cooled, electronically fuel-injected 153cc single-cylinder engine rated at 15.5 crank horsepower rests at the rear wheel, and the engine is mated to a Honda V-Matic belt-converter automatic transmission– ie, a continuously variable transmission. Instrumentation includes a water temperature and fuel gauge, an analog speedometer, and even an oil change indicator light. Less generous, though, is the underseat storage compartment, which is barely big enough for a small camera bag .
A 33mm hydraulic fork offers 3.5 inches of travel, while dual rear shocks offer preload adjustability. Stopping duties are performed via a single 220mm disc, two-piston setup up front, and a rear 130mm drum; both wheels measure 16 inches. The stoppers are linked rear-to-front, and yanking on the left lever while pulling an adjacent small metal bar activates a handy parking brake.
The SH150i's fuel tank holds 1.8 gallons (including .5 gallons of reserve), and the scooter has a curb weight of 302 pounds– about 59 pounds heavier than the air-cooled Vespa S 150. Options include a tall windscreen and a top case. The SH150i comes with a transferable one-year, unlimited mileage warranty with extended coverage available through the Honda Protection Plan.
Swing a Leg Over: Typical Honda Quality. Most of the Time
Photo © Basem Wasef
The Honda SH150i has generally high quality fit and finishes, nicely finished trim treatments. and even an attractive satin-finished muffler. but a few details don't quite live up to the bike's impressive overall execution.
The hand grips, for instance, are made of hard plastic; though gloves prevent direct tactile contact, one would nonetheless expect a bike at this price point to have at least rubberized grips. The SH150i only comes with a center stand, making a heave and a ho an essential part of parking; a combination of side stand and center stand (as found on the Yamaha Zuma 125. which happens to be $1,500 cheaper) would have been welcome. And the seat assembly (which sits 30.9 inches high), when released by twisting the ignition key counterclockwise, feels a bit loosey goosey on its front hinge.
These are somewhat disappointing points, especially considering that Honda's reputation for high build quality precedes itself. But let's see how the SH150i rides before passing ultimate judgment.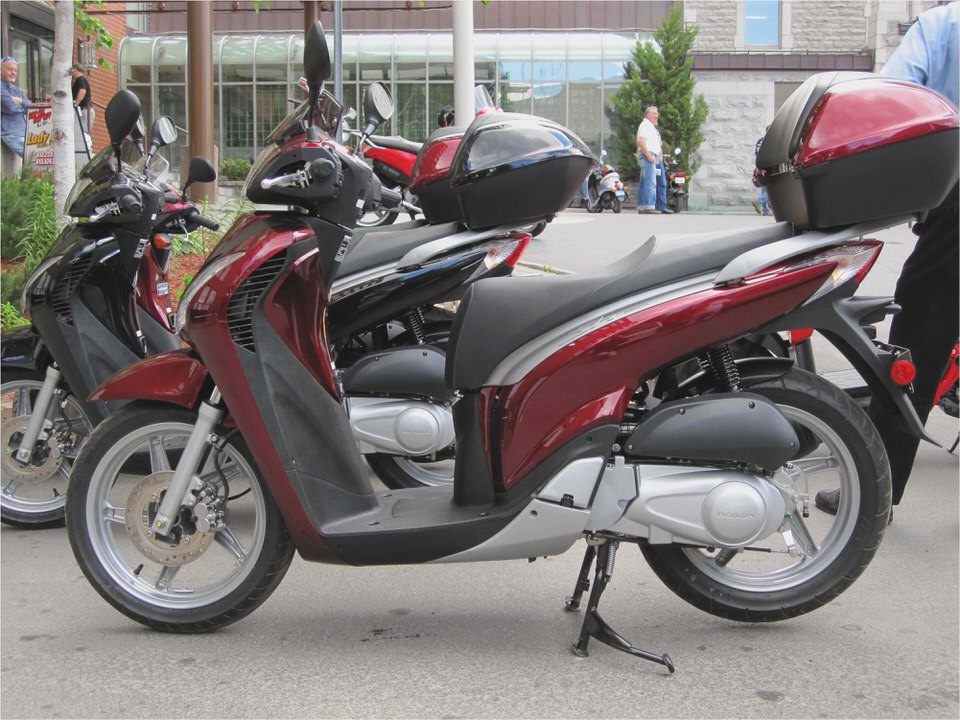 On the Road: What a Difference 16 Inches Make
When it comes to road manners, the Honda SH150i's sixteen inch wheels significantly aid handling and stability, two dynamics usually lacking in scooters. Although the wheel size makes the SH150i incrementally less hyper-responsive at slower speeds, the welcome tradeoff for that low speed maneuverability is higher speed stability and improved bump absorption.
Pin the throttle, and the SH150i accelerates strongly off the line with the customary pause at around 10 mph before revs rise to their 8,500 rpm maximum. Thrust is relatively seamless, and acceleration gets less aggressive at around 40 mph, gradually continuing until the indicated top speed of around 65 mph is reached.
I sometimes hit 70 mph, depending on road incline and body posture, but those few extra miles per hour over the Vespa S 150's claimed top speed of 59 mph make a big difference when it comes to keeping up with highway traffic. Though it's certainly no land rocket, the SH150i is quite a bit more confidence-inspiring at highway speeds than the slightly slower Vespa, which has a twitchier wheel setup. The Honda brakes are mechanically linked rear to front, and when the rear brake is engaged (using the left grip lever), some slack can be felt in the right brake lever.
When it comes to fuel consumption, you don't need restraint to produce stellar mpg numbers: I kept the throttle cranked while negotiating a combination of city and highway roads, and yielded 97.8 miles from 1.372 gallons of fuel– for the non-mathematically inclined, that's 71 miles per gallon.
The Bottom Line: Peace of Mind, the Pricey Way
So while the Honda SH150i doesn't quite bat a thousand, it hits several important marks right on the nose. I'll still admit to a bit of sticker shock at the $4,499 price tag (a $500 premium over the stellar Kawasaki Ninja 250R !), but brand fanatics just might find that the SH150i's price of admission is an acceptable tradeoff for a logo that reads 'Honda.'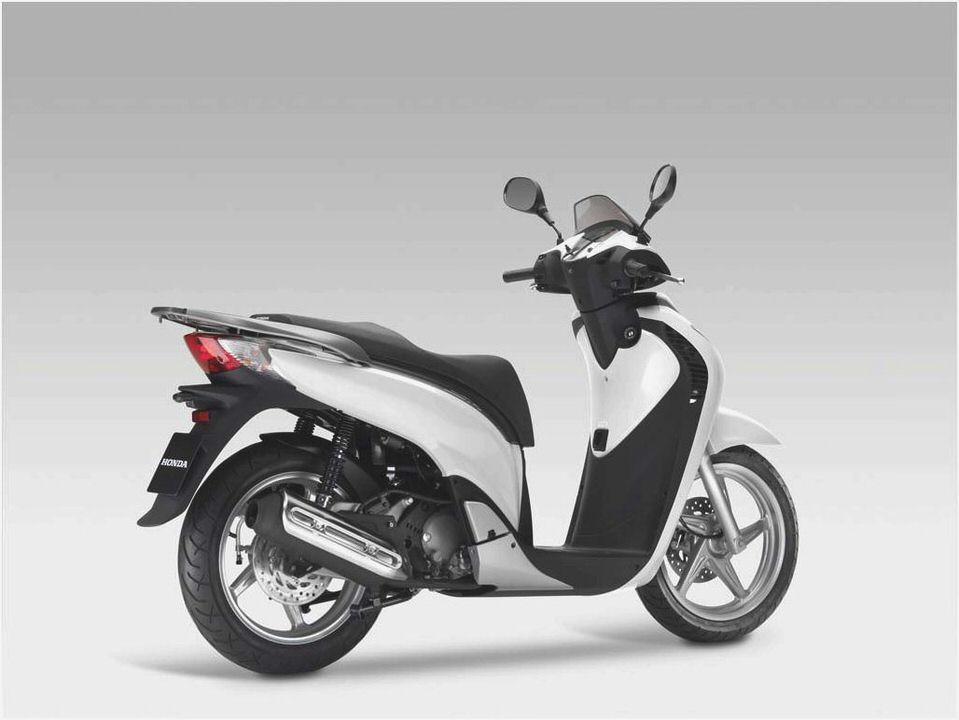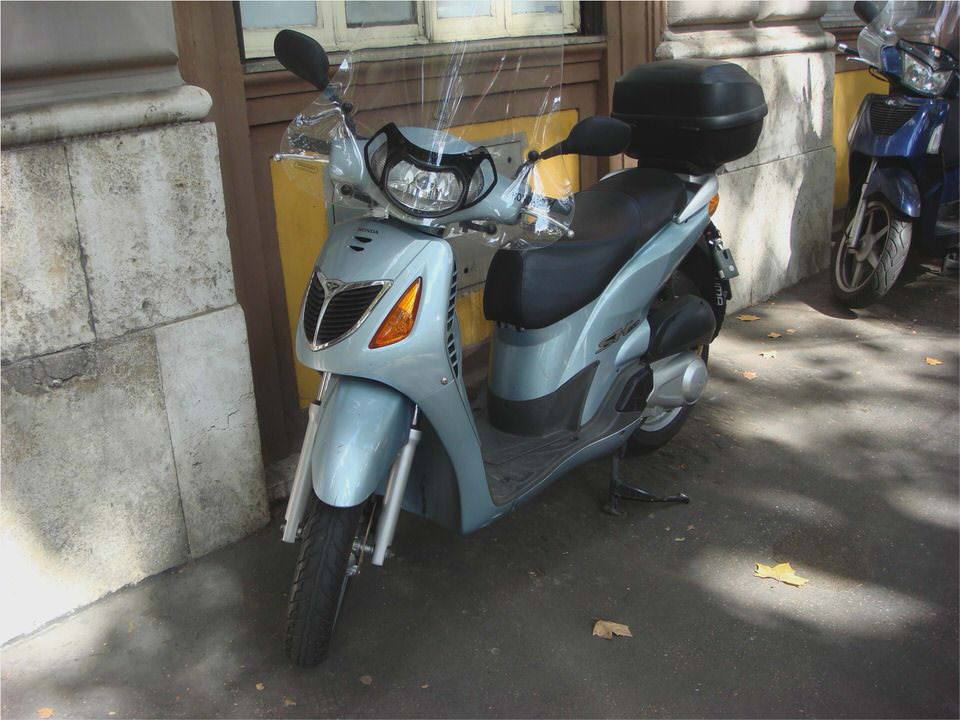 Chris Carini – Portfolio for a CS/CE Student & Web Developer
2013 Honda Shadow Sabre VT1300CS motorcycle review @ Top Speed
Honda unveils revised 2012 model CBR1000RR Fireblade CycleOnline.com.au
Piaggio MP3 Hybrid Scooter Debuts – Motorcycle USA
Honda Hybrid Motorcycle