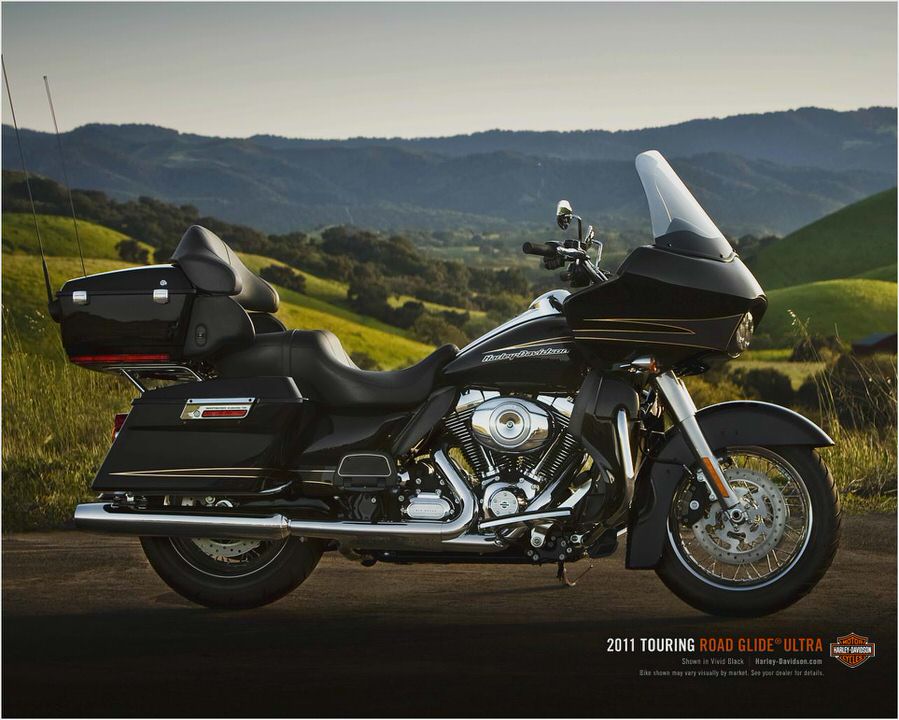 Harley-Davidson Road Glide Ultra Review
The beauty of motorcycling nowadays is there's a genre of motorcycle for every type of riding you could ever dream of. But when it comes to cruising across the open road and soaking up the scenery with premium levels of comfort, you'll be hard pressed to find a better two-wheeled companion than the Harley-Davidson Road Glide Ultra (read more about it in the 2011 Harley Road Glide Ultra First Ride ). The Road Glide Ultra is the newest member in The Motor Company's 2011 cruiser line-up.
It's based off the classically styled Road Glide Custom with added touring equipment for longer hauls. Having wished to discover what this Harley's like to live with day-in and day-out, we spent the last few months racking up miles on it throughout the American Southwest.
One of the Road Glide Ultra's biggest attributes is its versatility. It proved to be a true companion during commuting missions around town during the week not to mention a respectable touring platform in order to escape the concrete jungle on the weekend.
In spite of its fully-fueled 888-pound curb weight and jumbo-jet exterior dimensions, Harley's touring bikes aren't nearly as cumbersome as assumed based on their size. Here in California, where it is legal to split traffic lanes, the big Road Glide Ultra cuts through traffic adequately. Safety wise, its dazzling Cool Blue Pearl paint, bright tri-line fender LED taillights and rumbling exhaust note work in unisongrabbing the attention of folks behind the wheel of their cars, which makes it safer to maneuver through traffic.
( Top ) Tearing up the corners aboard the '11 Harley-Davidson Road Glide Custom. ( Center ) Waheed rode the Road Glide Ultra out to the motocross track to race two-stroke Yamaha dirt bikes at Glen Helen Raceway. ( Below ) Harley-Davidsons Road Glide Ultra garners attention at the fuel pump. We achieved an average of 36.9 mpg, which is pretty good for a bike that weighs 888 lbs.
Although it's portly at stoplights, when in motion it feels as if a few hundred pounds of metal evaporated. Sure it can't slice through traffic with the outrageous speed of a street bike, but considering its size, amenities and high levels of coziness, the Road Glide Ultra is a very friendly bike to run as your daily driver especially when you consider its storage capabilities.
There are a total of three color-matched hard cases that you can use to store gear: one atop the rear fender and two on each side. When properly latched the cases are sealed against rain which ensure your cargo will always be dry. The cases offer plenty of room for helmet, computer, briefcase, gym bag or most anything else that typically needed during the work week commute.
Each of the containers is lockable which will ensure your personals will be safe.
As expected, in touring-trim this Road Glide delivers a fantastic ride. It glides across pavement like a hovercraft. Rough pavement and big potholes indeed disturb the chassis but when you're rolling across relatively smooth freeway pavement it becomes clear that this is a motorcycle that you can ride 16 hours a day.
When ridden really aggressively things can get intimidating but it delivers such a smooth ride during normal riding conditions that we could defiantly live with it. Another notable plus is its ridiculously comfortable seat and general ergonomics/seating position.
Power wise the 103 cubic inch Twin Cam V-Twin engine pumps out adequate power output but we still wish it was stronger. It jumps off the line much quicker than all but a respectable sports car driver, though considering its engine size, Harley still has a ways to go in terms of outright power production.
Don't get us wrong, you can still spin the rear tire away from stop signs and get sideways on loose surfaces and it has enough power to attain triple digit speeds as long as you can find a long enough rode. But when I yank on the twist grip on a big-bore motorcycle I want a stronger power rush and this Harley doesn't deliver.

While the transmission functions perfectlyengaging each and every time the gear shift lever is pressed with a reassuring audible clunk, the clutch doesn't offer any feel and we wish the bike had one more cog in the Six-Speed Cruise Drive transmission in order to reduce engine rpm during top gear high-speed cruising. Even still we recorded a 36.9 mpg average which is excellent considering how fast the engine is spinning and how much air the bike is pushing at high speeds.
During weekend rides its cargo capabilities also pay off on short weekend trips. Having wished to escape the hustle and bustle of Orange County, California life, we rode out to Phoenix, Arizona for a quick weekend getaway. On the way out of town we hit Glen Helen Raceway to race dirt bikes aboard our '11 Yamaha YZ125 two-stroke.
My friend, Nick was generous enough to haul out my bike, helmet and riding boots, while the rest of my riding gear I toted along with me.
The Road Glide Ultra is equipped a topcase with 2.26 cubic-feet of storage which is perfect for storing a helmet or two.
Some of the features that become absolutely invaluable when touring are the gigantic front fairing and windshield. They cocoon the rider from wind and road grime, which substantially reduces fatigue when you arrive at your destination. I'm also impressed with the way the cruise control works. Not only is it simple to use but it is so well calibrated that in a way it almost feels like the bike is in auto pilot mode when engaged.
Our only complaint is that you can't employ it at speeds over 90 mph. Another feature we wouldn't want to live without is the four-speaker stereo system that allows you to listen to the radio, CDs or even plug-in your iPod.
All said and done we've logged over 2000 miles on our test bike since getting our hands on it two months ago. Aside from a flat rear tire, (repaired at no charge under warranty) we've had no mechanical emergencies. Make sure to stay tuned for next week's big comparison where we pit the Road Glide Ultra against the Victory Vision to see which bike comes out on top.
Preloved 1992 harley davidson fxrt (sport glide) for sale
Harley-Davidson Blackline FXS First Look- Motorcycle News- Cycle World
HARLEY-DAVIDSON SUPER GLIDE SPORT
Harley-Davidson 1200 Custom- 2011 H-D 1200 Custom Sportster
Harley-Davidson Softail