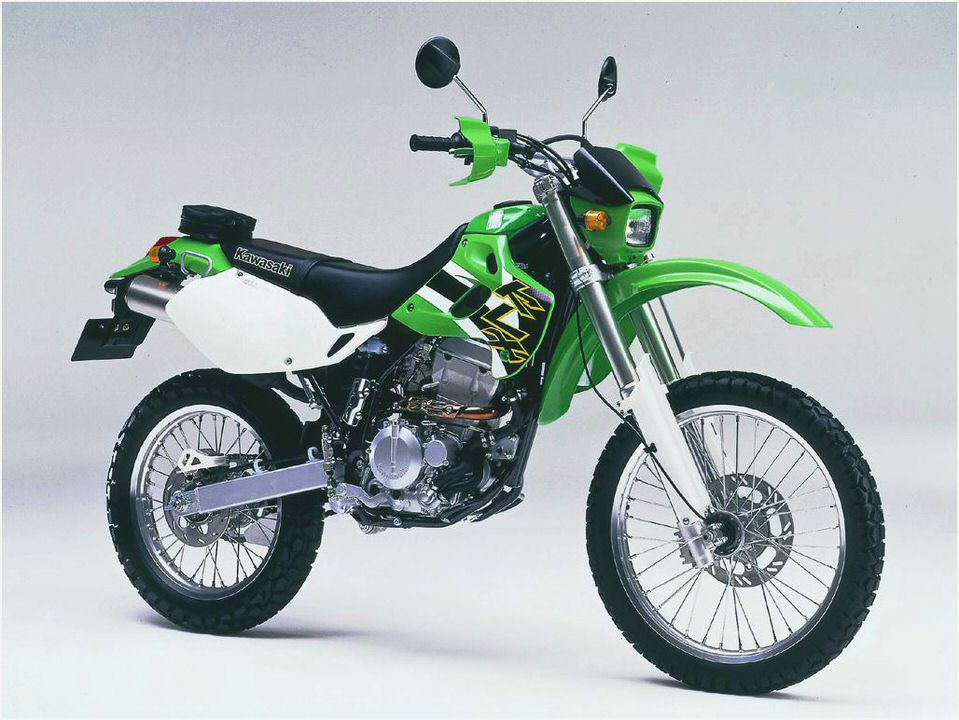 Specifications:
Introduction
The original Kawasaki KLX250S has made a name for itself thanks to the practicability and fun that characterized it. In order for a bike to be practical, it has to be street legal, but the thing with this KLX is that by taking a look at it, you frankly don't know where to situate it best.
The 2010 bike features quite a few chassis refinements or better said changes. To begin with, the 43mm inverted cartridge fork now joins the steel frame at a rake angle of 26.5 degrees and a trail of 4.1 inches. Also, the 16-way compression and damping adjustable unit now offers 10.0 inches of travel instead of 10.2 on the 2009 model year. The bike's overall length was reduced to 86.6 inches from 87.5 inches and, also, the bike is overall 0.2 inches wider (now 32.3 inches).
Shortening length also meant reducing the wheelbase to 56.3 inches from 56.7 inches. The ground clearance has been increased from 11.0 inches to 11.2 inches, which also positions the seat slightly higher, at precisely 35.0 inches from the ground. The curb weight now equals 297.7 pounds, but at least the gas tank capacity is of 2.0 gallons.
Given the fact that the Kawasaki KLX250S was new in 2009, this model year comes to correct a very possible enthusiastic approach towards the given class and equal up the bike's scales.
History
Riders seeking the perfect dual-sport motorcycle are not impressed by big displacements or dimensions. They simply crave for a lightweight bike with decent power which would have to be properly delivered. Ohnice styling won't heart anyone and the riding position must be dream-like.
This is what Kawasaki engineers and designers concluded before taking their clean sheets of papers and designing the bike that would raise dual-sport standards and become a true riding companion for people all over the world.
This wonderful initiative was taken no more than five years ago (better late than never), and the bike first saw the motorcycle saloons and test drives as a 2006 model year.
The motorcycling public received this bike with great enthusiast as it proved capable of enduring harsh riding conditions with the help of its 250cc four-stroke, liquid-cooled, DOHC, four-valve single.
Proof of the fact that Kawasaki people were right when designing it, the KLX250S went way further than its target public and managed to be the right choice for the most advanced enduro and motocross riders.
For 2009, Kawasaki decided it was time to upgrade the bike's main features and give it a nicer look. Ideas became facts and the bike featured an updated braking system, smoother engine, a more comfortable seat, and a new exterior design.
Competition
Suzuki's closest dual-sport motorcycle to the KLX250S is the DR200SE. Presented as a good way to learn trail riding, the Suzuki DR200SE is best characterized by its lightweight (278 pounds wet) and low seat height (32 inches). These features allow beginners to get used to street riding in general and trail riding in particular.
Suzuki's 199cc, four-stroke, SOHC, single cylinder, Twin Dome Combustion Chamber (TDCC) engine is ready to power it up through the rough terrain and in collaboration with the suspension, brakes and tires, it is a true dual-purpose machine.
Yamaha's alternative to dual-purpose quarter-liter motorcycles is the XT250, which isn't heavily refined but still a 2010 model year. No matter the conditions out there, this bike is ready to take the XT name even further with the help of its 249cc air-cooled, SOHC, 4-stroke single. Easily identifiable by its round headlight and distinctive white/black color, the Yamaha is not just another motorcycle on the trails, it's the one sitting right next to the KLX250S.
Exterior
By simply taking a look at the 2010 Kawasaki KLX250S you immediately know this is not your ordinary motorcycle. Dual-sports are known for combining elements from off-road bikes with those of road bikes, but sometimes, just sometimes, manufacturers blow away any expectations and deliver an incredible looking motorcycle. In 2010, when it comes to dual sport bikes, the Kawasaki name will be on everybody's lips.
The Kawasaki KLX250S features a high-mounted front fender, mudguards, a petal disc front brake and it seems ready to hit the trails. It actually is, but where you would expect to see a number plate, surprise: there's a street fighter inspired headlight. Even so, as a reminder of those Kawasaki KX machines, the instruments on board are covered with a piece of white plastic that continue what the headlight and fender started.
Unable to take our eyes off of it, we continue admiring the side panels with the Kawasaki name on each side, complete with new decals. The seat is made out of urethane for a firmer feel, but what really stands out is the straighter handlebar profile.
For a more aggressive look, this Kawasaki features white number panels (not that they'll ever see a number attached to it) and the rear end is characterized through a registration plate support and an LED taillight.
The wheels also look aggressive with the help of their 4mm thicker spokes, and the D-shape swingarm makes it look smoother and less of a jumper.
Color choices for the 2010 model are Lime Green and Ebony.
Press Reviews
The KLR650's little brother has quick throttle response and feather-light steering to help avoid obstacles in your path (helping to keep the desert tortoise population thriving). The whole package makes for a motorcycle capable of almost anything. motorcycle
Everything about the KLX250S is on the gentle side. The suspension is as soft as the mellow power delivery and the riding position is painless. On the trails the shock and fork absorb the rough stuff admirably so advanced riders will be able to easily push the KLX to its limit. motorcycle-usa
Displacing 249cc and with one 72mm piston moving through a 61.2mm bore, the KLX doesn't so much accelerate but more gently gathers speed. On two-lane blacktop this takes a little reprogramming as you get up to road speed, but once there, the KLX will zip along at 65-75mph quite happily. motorcycling. Speedtv
This engine is perfect for a beginner straight from the factory, this is mainly because the E.P.A. has enforced restrictions that limit it's potential. The good thing about the restrictions is the bike is pretty forgiving, also you will be able to get 70+ miles per gallon out of this little monster. bestbeginnermotorcycles
It's not what you'd call comfortable for extended highway stints. And though nobody's going touring on a 250cc single, the revamped chassis is quite stable at speed. It's a perfectly agreeable way to reel in the paved sections of any dual-sport loop, or stand in for some fuel-swilling four-wheeler around town. motorcyclistonline
Price
As you could read, the bike comes with great references, but apart from that, the small KLX's competitors would have to deal with its price as well. A key factor for dual-purpose motorcycles, the MSRP has to be kept down in order to decisively win the battle and start writing heavy pages of history.
In this case we are talking about Kawasaki's talent to offer so many positive features for the advantageous price of $5,299. Do I hear a good bang for the buck?
Conclusion
Bottom line, the 2010 Kawasaki KLX250S is ready to do whatever it takes in order to provide the best riding feel you've ever experienced on the trails with the ability of keeping things interesting on the streets as well.
By offering a well balanced motorcycle which looks good, traverses any kind of terrain in the weekend, and still manages to take you to and from work on Monday, Kawasaki proves it has the power to adapt motorcycles in any possible way.
SPECIFICATIONS
Engine and Transmission
Engine: Four-stroke, Liquid-Cooled, DOHC, four-valve single
Displacement: 249cc
Bore x stroke: 72.0 x 61.2mm
Compression ratio: 11.0:1
Cooling: Liquid
Carburetion: Keihin CVK34
Ignition: Digital CDI
Transmission: Six-speed
Final drive: Chain
Chassis and Dimensions
Frame: Semi-double cradle, high-tensile steel
Rake / trail: 26.5 degrees / 4.1 in.
Front suspension / wheel travel: 43mm Inverted Cartridge Fork with 16-Way Compression Damping Adjustment / 10.0 in.
Rear suspension / wheel travel: UNI-TRAK with Adjustable Preload, 16-Way Compression and Rebound Damping Adjustment / 9.1 in.
Front tire: 80/100×21
Rear tire: 100/100×18
Front brake: 250mm semi-floating petal disc with two-piston hydraulic caliper
Rear brake: 240mm petal disc with single-piston hydraulic caliper
Overall length: 86.6 in.
Overall width: 32.3 in.
Overall height: 47.4 in.
Ground clearance: 11.2 in.
Seat height: 35.0 in.
Curb weight: 297.7 lbs.
Fuel capacity: 2.0 gal.
Wheelbase: 56.3 in.
Features Benefits
Single-cylinder 249cc DOHC Engine
Compact engine design is lightweight and high revving, with a broad torque curve
Good mass centralization for superior handling
Flat-top piston and pentroof combustion chamber deliver an 11:1 compression ratio
Lightweight piston, piston pin and connecting rod enable higher revs for maximum power
Aluminum cylinder features electrofusion coating, which allows a tight piston-cylinder clearance for greater horsepower and increased engine life thanks to superior heat transfer and lubrication retention properties
A gear-driven engine balancer provides smooth power delivery from idle to redline
Provides maximum valve area for optimum flow, to boost low end torque while providing improved high-rpm breathing efficiency for more power
34mm semi-flat slide Keihin CVK carburetor delivers the optimum amount of fuel at all rpm, contributing to improved response and power, as well as good fuel economy
Meets strict CARB regulations, so it's available in California
Liquid Cooling
Dual high-capacity, vertical-flow Denso radiators provide reliable and efficient engine cooling
Radiators feature tightly packed cores and a fin design for excellent heat dispersion
More consistent engine temperatures allow tighter engine clearances for quieter running and sustained power, while promoting longer engine life
Cooling fan is powered by a shallow-footprint electric motor
Electric Starting
Quick and easy push-button starting
Kawasaki Automatic Compression Release (KACR) automatically lifts one of the exhaust valves at cranking rpm, for reduced starting effort
Exhaust system
Secondary air system helps provide clean emissions
USFS-approved spark arrester allows the KLX250S to access designated off-road public riding areas
Six-speed Transmission
Allows engine's full potential to be used
Provides excellent acceleration as well as relaxed highway cruising
Inverted Front Forks
43mm inverted cartridge fork offers excellent rigidity and consistent damping performance; 10.0-inch travel means straight-line stability, great handling and a low seat height
16-way compression damping adjustment allows tuning for differences in rider weight and terrain
UNI-TRAK Rear Suspension
9.1 inches of rear wheel travel for straight-line stability, great handling and a low seat height
Progressive linkage rate provides a smooth ride and excellent bottoming resistance
The gas-charged remote-reservoir shock features 16-way adjustable compression and rebound damping
Diamond Frame
Lightweight, high-tensile steel for amazing rigidity
No down tubes, for lower engine placement and lower center of gravity as well as ample ground clearance
Lightweight, aluminum D-section swingarm is highly rigid and reduces unsprung weight
KX racing-type chain adjusters allow precise adjustment to minimize drivetrain power losses
Enhanced Ergonomics
KLX-spec handlebar for a more relaxed position and effortless control
Footpegs are positioned close to the bike's centerline
KLX-spec seat shape and foam make it easier to change seating position
Bodywork
Aggressive headlight and front fender design
Two-piece radiator shrouds styled like the KX motocrossers
Rear fender is a two-piece unit featuring a sharp tail light design that offers great visibility and further contributes to the KLX's aggressive styling
Narrow Fuel Tank
Narrow tank design gives riders maximum comfort and control without sacrificing capacity
Digital instrumentation
All-digital instrument console gives at-a-glance information, including a digital bar-graph tachometer, digital speedometer, clock, and dual trip meters
Petal disc brakes
Front and rear disc brakes offer impressive stopping performance
Twin-piston caliper grips a 250 mm petal disc up front
240mm rear petal disc for great power, feel and feedback
Wheels/tires
Fat, 4mm spokes for greater off-road durability
Tires with small tread blocks for longer tire life and increased grip on asphalt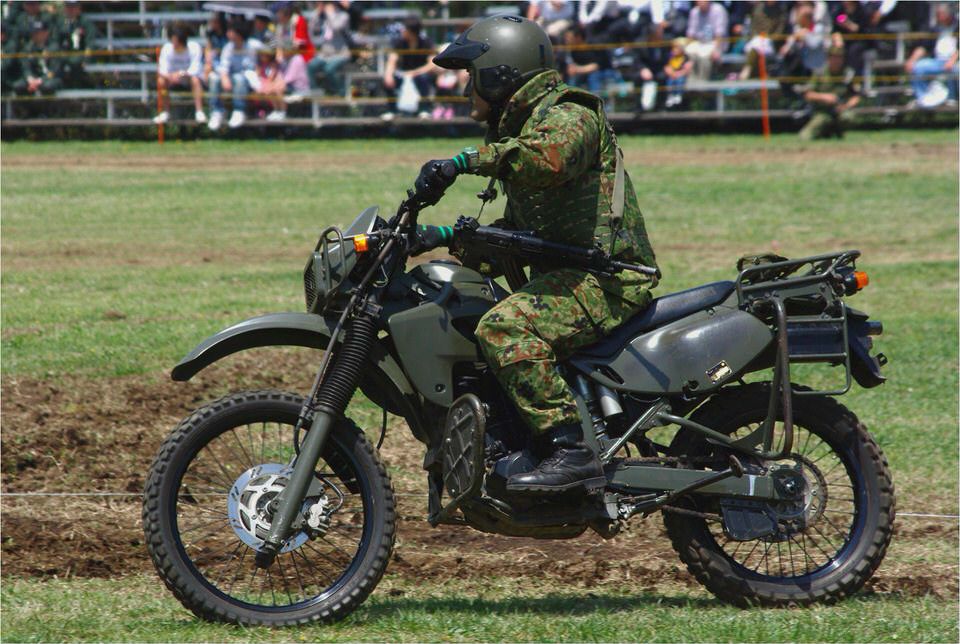 Motorcycle Buyers Guide – Kawasaki KLR250, KL250, KL250 Super Sherpa
1989 Kawasaki GTR 1000 Troubleshooting, Repair, Maintenance & Tune Ups – Fixya
2002 Kawasaki ZX-9R – Road Test & Review – Motorcyclist Online
Kawasaki ER-6n 2012: The Edge of Reason
2012 Kawasaki KLX140L Review – Ultimate MotorCycling