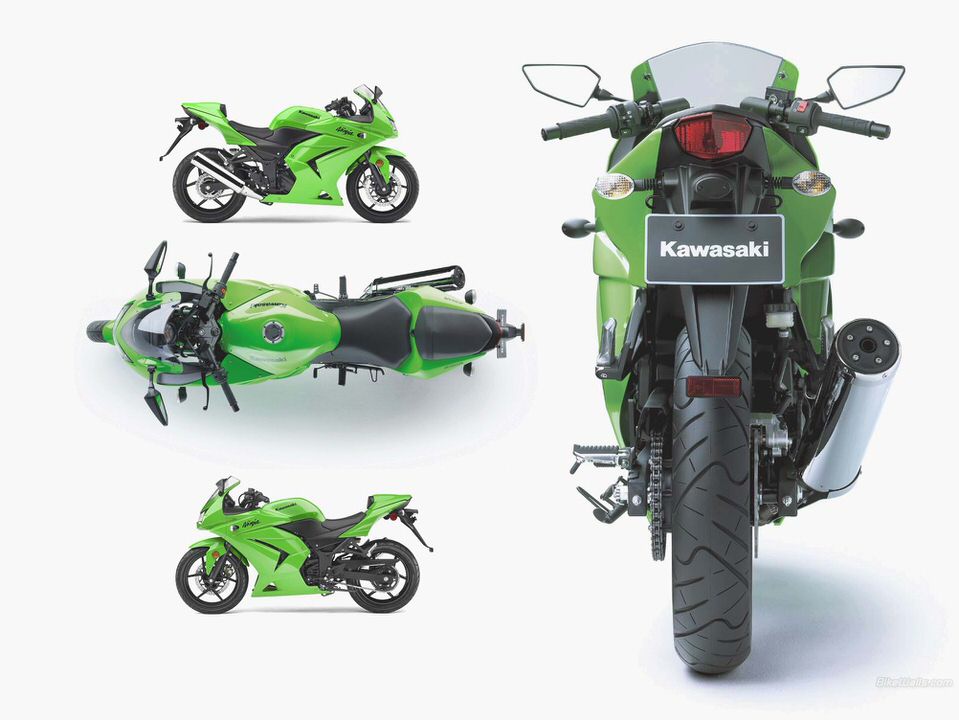 The only Japanese-American 250cc sportbike
Photos by Fonzie
It looks like a hypersport, but its seating position is as comfortable as a standard's. It's named after a line of superfast bikes, but is sedate enough for beginners. Its build quality is high, but its price is about as low as it gets.
But then, does Kawasaki's Ninja 250R even need an introduction? Since receiving a stylistic and functional makeover in 2008, which you can read about here. the Ninja has continued its legacy as a top seller for Team Green.
To those of us who've known this little screamer for a while now, it's not a mystery. Perhaps the only mystery in our minds is why the other Japanese OEMs have been content to let Kawasaki own this segment for the past couple of decades or more, but we'll save that for the sidebar.
Motivated by a smooth-running DOHC 249cc parallel-Twin pushing a peak of 25.4 hp to the rear wheel, this 374-lb machine offers enough power to stay ahead of around-town and suburban traffic, and will top out around an indicated 100 mph or so.
Its twin Keihin constant-velocity carburetors aren't as sophisticated as the fuel-injection on the Euro version. and the twin carbs are jetted lean to pass emissions regs. This results in an engine that needs to be warmed up before it's able to be ridden away, and low-end throttle response is a bit soggy.
"It's definitely on the lean side in the low end and midrange," says Kerry Bryant, who has tuned many Ninja 250s as owner of Area P, a SoCal-based shop that also manufactures exhaust systems. "Changing/adjusting the jetting can make a dramatic improvement in throttle response, even with the OEM exhaust system."
Once warmed up after a few minutes, the machine will accelerate from a standstill with the revs at around 3,000 rpm while slipping the clutch. Carburetor tuning is not a pre-requisite, but to make it run the way it could, it is something we would do.
For optimum performance, Bryant recommends a Dynojet kit. Short of this, improvement could be had by simply adjusting the fuel mixture screws to see how that works first. This tweak can be done by a qualified technician, or competent do-it-yourselfers and can be discussed with a dealer's service department.
"Adjustments depend on elevation, temp and humidity (and of course other mods made to the bike such as aftermarket exhaust, airbox, etc.)," Bryant elaborates for those wanting to fully tune their Ninjas. "For our particular location and conditions, adjusting the fuel mixture screws out 2.5 – 3.0 turns (from bottom out) improves the low-end. Replacing the needles with a different taper and adjustable clips will improve the mid-range. Main jet size normally ends up being #98 (Dynojet [brand] jet kit sizes/numbers and not to be confused with the OEM Keihin sizes/numbers)."
With a jet kit installed, Bryant says, "The primary difference a street rider will notice is throttle response more than anything else. It will now feel like your right hand actually controls and modulates the power input like it should be."
In stock trim, the liquid-cooled mill is reliable and quick. Although the power delivery is soft off the bottom and requires some clutch slipping, it responds with enthusiasm once past 8,000 rpm until 11,500 rpm when power begins tapering off before hitting the 13,000-rpm rev limit. A brisk pace requires gear changes to its six-speed transmission at short intervals.
The powerplant rolls within a steel diamond-style frame, utilizing Kawasaki's Uni-Trak rear suspension with five-position preload, in conjunction with a 37mm telescopic fork canted at a stable yet nimble 26 degrees rake, and 3.2 inches trail.
Slowing it all down are brakes that are reliable and drama-free. A single 290mm front rotor clamped by a twin-piston caliper does most of the work, with the 220mm rear and twin-piston caliper rear there for backup.
The Ninja 250R's aerodynamic bodywork and styling looks remarkably similar to the ZX-6R and ZX-10R, and that is purely not coincidental. There's no "250" emblem on this big little 250, and that's no mistake either.
But before we start talking about the Ninja's sporting capability, let's be clear about its mission. It is an entry-level sportbike, to be sure, but its upright handlebars and low 30.5-inch seat height make it a user-friendly all-rounder, not unlike Kawasaki's larger parallel-Twin Ninjas.
As such, this bike is quite suitable for commuting, and we saw upwards of 50 mpg sipped from its comparatively large 4.8-gallon fuel tank, even while testing redline on a regular basis.
Its fairing and windshield offer suitable protection from wind buffeting, and if we can be utterly biased for a moment, we think commuters also looking for a bit of weekend fun might be more satisfied with this 250 over, say, a comparable displacement scooter.
A trip to the aftermarket for luggage options would also be advisable to add to this bike's utility, or just strapping on a duffel bag to the rear seat could do the trick.
The Ninja 250R is sane fun for the street. We won't pretend to say it's as adrenaline-inducing as a ZX-6R, but it didn't exactly put us to sleep either.
Acceleration is brisk, and gear changes come fast and crisply. If determined, a rider can twist its tail into the indicated red zone. Whether this is good policy or needed is another issue.
As the dyno chart indicates, power progressively drops off past 11,000 rpm, so there's not much point to flogging it.
When the road gets twisty, cornering is predictable. Its suspension, with 4.7-inches front and 5.1-inches rear travel is reasonably compliant for riders up to 220 lbs or so. Much heavier riders, or those intending to trounce down rough roads, may wish for more adjustability.
Riders accustomed to bikes with four times the power will feel underwhelmed on sweepers because this bike doesn't go into warp drive when requested like a literbike can, but newer riders, or those just not looking for a ten-tenths experience ought to enjoy the ride. On tighter roads, the Ninja 250R leaves little to be desired. Assuming the rider has the skills, its lighter weight, quick and neutral steering can give larger and faster bikes a run for their money.
To complete its role as an entry-level sportbike, there's another benefit potentially available. While wearing race leathers during parking lot cornering practice, we discovered that compared to some larger sportbikes, the Ninja's low saddle and confident handling makes scuffing knee pucks somewhat easier
In a Class by Itself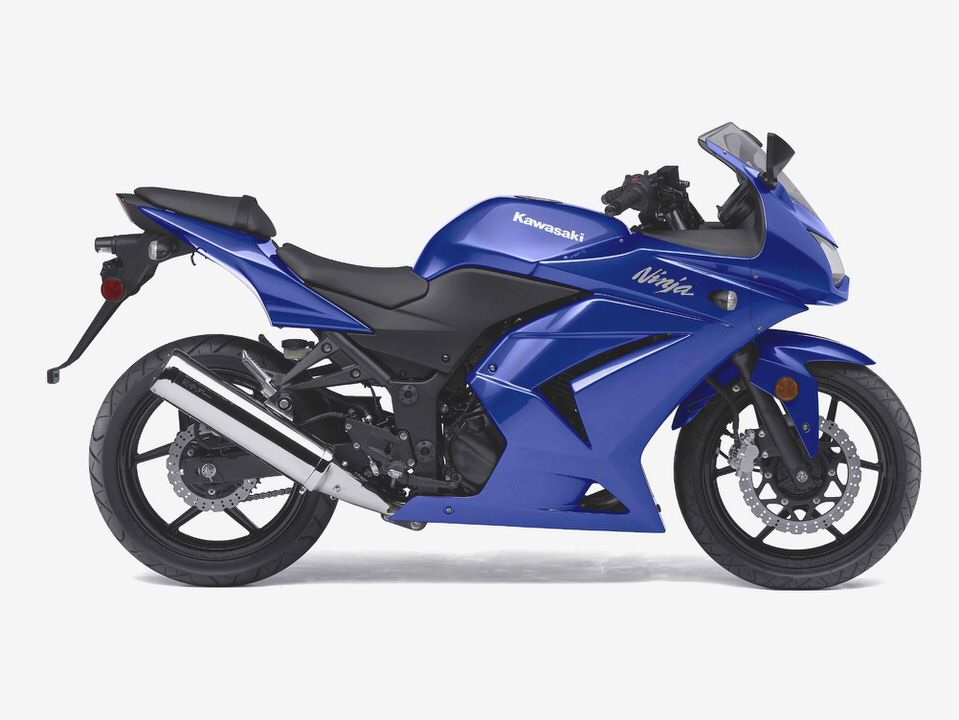 One compelling reason to consider a bike like the Ninja 250R is, if you live in the U.S. you can use all the power this bike has on the street legally. Novel concept, isn't it?
Anyone who's ridden a fast 600 or literbike knows what I'm talking about. Scream it through four gears, and you're doing a buck-fifty in about 12-15 seconds.
Kids, don't try that at home. But if you do, you could get a prize. Yep, your local government will be more than happy to give you a free ride in a police car!
In all seriousness, the big mystery to us is why have all the other Japanese OEMs allowed Kawasaki Motor Corporation to have an almost exclusive market segment all to itself for so long?
Requests for info from Yamaha, Honda and Suzuki, while slightly illuminating, really gave no further clarity on this question for us to report, so we'll just tell you what we think.
Way back in 1988, the introduction of the then-new Ninja 250 was credited with momentarily spiking KMC to the top of the U.S. sales charts – even above mighty Honda. Since then, the Ninja 250R has been established into a perennial best seller.
As a quintessential beginner's bike, we think there might be more room in the wading pool for the other OEMs to jump in with 250 sportbikes of their own. Of course, the over-documented recession looming above the North American market is ample opportunity for plausible deniability at the moment, but this has been going on for decades.
We've already documented in a previous sidebar. we do not think 600cc sportbikes are necessarily good "entry level" bikes, but sales to newbies of large and fast bikes have been the trend here in the good ol' US of A, where bigger is too often touted as better.
Actually, since there's no tiered licensing here, there's less incentive for OEMs to import smaller sportbikes already being sold elsewhere in the world. And it's a ripe opportunity for marketers and dealers to play into Americans' natural sensibility, and up-sell bigger bikes, which of course, earn larger profits.
Please indulge us for a moment here, while we adamantly repeat: We think it's usually safer and better for novices to learn on a competent bike that doesn't have overwhelming power until skills are developed.
Yes, the 250R is slow compared to its bigger brothers, but that's not a bad thing. If you opt for bigger, we respect that, but advise that you also be sure to self-evaluate that you have the inherent talents to grow into it quickly.
-JC
The Ninja 250R runs at high rpm – as high as 8-12,000 rpm or more on the highway – but it's built for it with features like reinforced pistons and direct valve actuation. The powerband is healthy throughout this range, and begins to taper below redline so riders are less tempted to excessively hammer it. This is a deliberately engineered safeguard meant to discourage over-revving, thereby increasing longevity.
A big center-mounted speedometer dominates the functional instrument cluster, and a smaller tachometer on the left matches the right-side fuel gauge. Switchgear is likewise functional, and of typical good Japanese quality.
Kawasaki Ninja 400 India, Variant, Price, Review, Details
1966 Husqvarna 360 Viking Bikes Saint Louis MO – Husqvarna 360 Viking…
2009 Kawasaki ER-6n: MD Ride Review – "Not the Nice Shoes "…
The Biggest & Meanest: 2007 Kawasaki 2000 Vulcan
Kawasaki Ninja ZX-7R brought to you by MadaboutMotorcycles