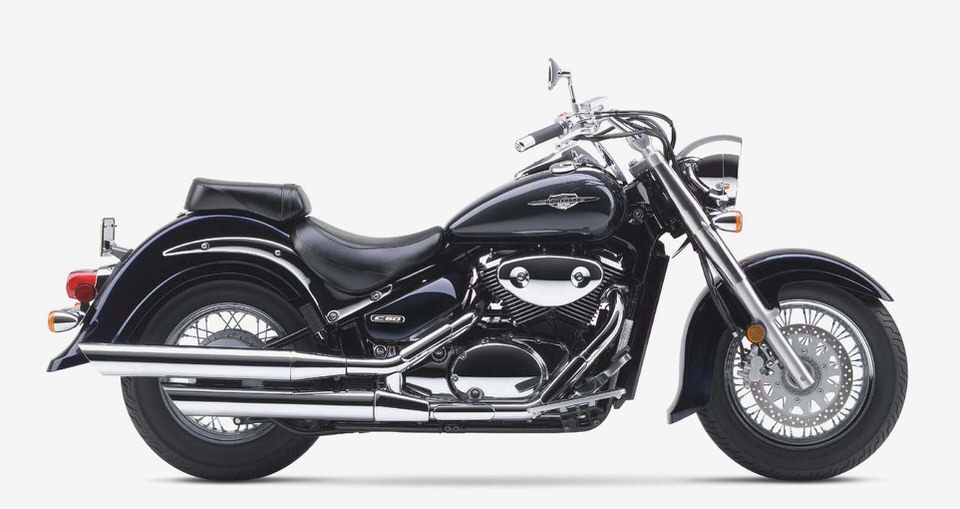 Specifications:
Introduction
53-hp fuel injected V-twin engine
At the base of each model sits the same 805cc, four-stroke, liquid-cooled, OHC, 45-degree V-Twin engine which is now less polluting and a little bit stronger pulling thanks to the new dual spark plugs on each cylinder. The five-speed constant-mesh gearbox and shaft final drive proved very effective and reliable on previous model years, so they will continue being used on this model year and most likely on future ones as well.
And so did the chassis with the same results. This, in front with the cradle-type steel frame, telescopic forks and link-type rear suspension offer comfortable accommodations and a plush ride, but as I was saying, they all look and tend to be sold like different motorcycles.
The Boulevard C50 is the simple model, a veritable classic cruiser with timeless looks and even standard spoked wheels. Suzuki took this model and fully accessorized it and they were out with the Boulevard C50T, while the Special Edition model is simply a two-tone painted C50 with custom wheels.
History
The year 2001 found Suzuki adding a new model to their cruiser lineup, the VL 800 Volusia, a cruiser built in the classic style and powered by a water-cooled, 805cc, SOHC, 8-valves, 45-degree V-Twin engine. Fuel injection hadn't seen its way on such bikes at that time so the Volusia motor was fed through a Mikuni BDSR34 carburetor and it developed 52 hp at 6,000 rpm and 69 Nm at 3,500 rpm.
Performance figures didn't change to soon and in the future years, this model played around the idea of different color schemes and the one of studded seats. This last also brought a Limited Edition model in 2003 which was carried on for the next year and also influenced the developing of the later Boulevard C50 Special Edition model.
2005 was the year of changes for Suzuki. They launched the Boulevard line of cruising motorcycles and the Volusia saw the end of one road and the beginning of another as it was now manufactured and sold as the Boulevard C50. The touring sibling was also there from the start and the big surprise on both of these models was the addition of fuel-injection. Horsepower didn't increase that much (53 hp at 6,000 rpm) while the retuning required by the new fueling system led to 62 Nm at 4,000 rpm.
The Special Edition model distinguished either due to the studded seats and flowing or tribal flame paint job as the years passed by.
Competition
But Suzuki isn't the only one powerful and glorious in the metric cruiser class as Kawasaki has a Vulcan 900 prepared for each one of the C50 models. The Kawasaki Vulcan 900 Classic is probably the best model to be compared with the simple Suzuki Boulevard C50 as it features the same engine type (4-stroke, liquid-cooled, SOHC, four-valve per cylinder, V-twin) only that 98cc bigger in order to compensate for the lack of fuel injection. There is a five-speed gearbox, but belt final drive.
This is also the case of the Kawasaki Vulcan 900 Classic LT and the Suzuki Boulevard C50T, while the Custom Kawi is the corresponsive competing model for the Special Edition Suzuki.
Star motorcycles are in for a piece of the pie with the V Star Classic, Silverado and Custom models. The engine is a docile 649cc, air-cooled, 70-degree V-Twin; SOHC, two valves per cylinder, but the different roles played by the small (for this cruising category) powerplant is what makes a difference. The same thing can be mentioned when it comes to design as Star's bikes feature great fit and finish.
We kept Honda for the end not because their cruisers are weaker or less attractive, but due to the fact that the Shadow line only features a retro and a custom model. This leaves the C90T without a fierce opponent from a very capable Japanese manufacturer, but the Shadow Aero and Shadow Spirit 750 are great alternatives for the C90 and the Special Edition as well. Honda's engine for these two is a 745cc, liquid-cooled, SOHC, three valves per cylinder 52-degree V-Twin and don't expect to get fuel injection.
Usually riders buy with their hearts, but in this case, Suzuki's fuel-injection system has proved very valuable so I don't understand why the rest of the Japanese crowd doesn't evolve in that matter.
Exterior
Suzuki may not have done much to the engine and guess what? The situation isn't any different when it comes to design upgrades either. But, as they say, it's the little things that make it special. For example, the fenders on all Boulevard C50 models have been redesigned. More precisely, these now feature smoother flowing lines and the front unit covers a little less of that 130mm wide front tire.
At the rear, you'll find that the 170mm tire is still mostly covered as on all cruising and touring motorcycles, but at least the new LED taillight provides it with a stylish new look.
In between, the teardrop gas tank is now spoiled with a redesigned speedometer that mounts on it and while we're still here it is a must mentioning something about that potent V-Twin engine that shines brightly underneath the tank. This unit looks like a miniature motor compared to the one on the C109R for example, but that's just Suzuki offering the best of it to all category of riders.
The rider seat is spacious and the chromed exhaust bolts on the right rider side. Other chromed units are the headlight housing, instruments, handlebars and mirrors, while the telescopic forks feature aluminum sliders and polished stainless steel stanchion-tube covers.
Colors available for the 2010 Boulevard C50 are Black and Blue.
The Touring model adds a tall windshield, spacious saddlebags and white wall tires, but we shouldn't forget about the exciting new two-tone colors of the 2010 model year, Black/Red, Blue/White.
Probably the best of Suzuki's C50 series is the Special Edition model. This one distinguishes through a pair of cast aluminum wheels and simple touring accessories, while the paint schemes are the same as on the standard model, Black and Blue.
Press Reviews
The C50T makes a rational cruiser, big and strong enough to deliver what it advertises without excess. It's a motorcycle you can ride long and hard and still explain to your spouse. Motorcyclecruiser
I have to confess this was a model that slipped by me completely, and a little research was needed to bring me up to speed here. I am extremely familiar with Suzuki's Intruder line, and sold plenty of the 700/750/800 range while working in the retail end of the motorcycle industry. Fast, attractive and reliable, used Intruders never sat on the floor long. Mcnews
Price
Offering diversity is THE way to remain competitive on the motorcycle market and Suzuki surely learns this lesson well as they offer not two, but three metric cruisers. But that you already know. The news here consists in the $7,799 MSRP for the C50, $7,999 MSRP for the C50 Special Edition and $9,099 for the C50T.
Conclusion
We couldn't say that Suzuki makes a big step further with their 800cc Boulevards, but they aren't standing still either. They reduced emissions and made some design tweaks here and there, enough to make it sound interesting and, still, they don't brag about this too much. I believe they should because these are some wicked bikes.
SPECIFICATIONS
Engine and Transmission
Chassis and Dimensions
Features Benefits
Key Features
New dual spark plugs on each cylinder for better combustion and lower emissions
An attractive and unique version of the classic C50 featuring cast aluminum wheels and a special two-tone paint scheme
Custom-designed, height adjustable windshield provides classic styling and full wind protection – includes unique chrome garnish with Boulevard emblem (only for the Touring model)
Attractive studded seats, plus matching touring-style backrest with unique pivoting backrest pad for increased passenger comfort (only for the Touring model)
Large capacity, textured leather saddle bags with Boulevard emblems and convenient twist-lock fasteners (only for the Touring model)
Stylish white-wall tires – 130/90-16 front and 170/80-15 rear tire mounted on traditional spoke wheels (only for the Touring model)
Engine Features
Fuel-injected, 50 cubic inch, eight-valve, liquid-cooled, 45 degree V-twin engine tuned for exceptional low rpm power and torque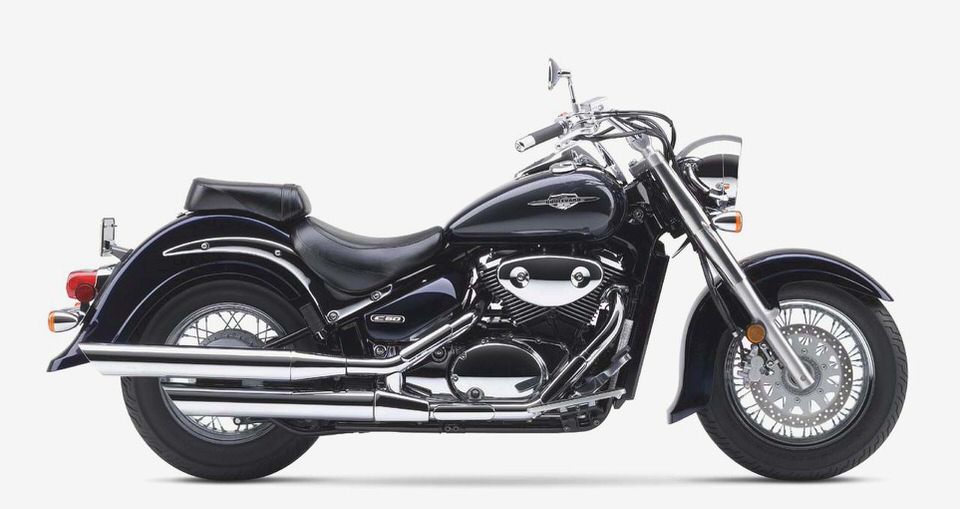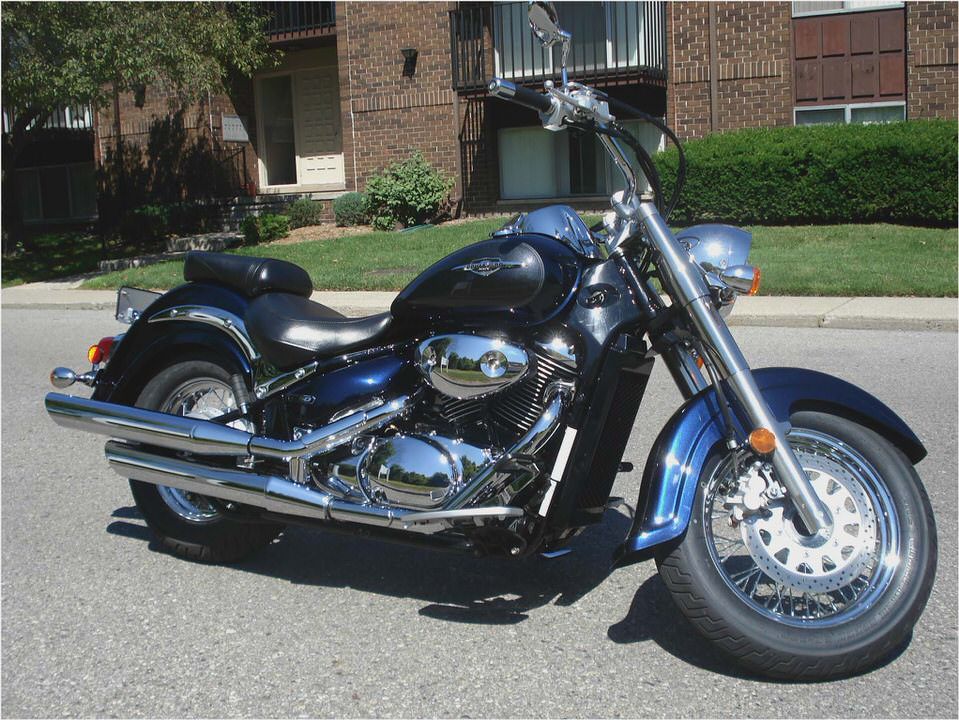 Electronic fuel injection system features the Suzuki Dual Throttle Valve System (SDTV) – maintains optimum air velocity in the intake tract for smooth low-to-mid rpm throttle response and high torque output – includes Auto Fast Idle System (AFIS)
32-bit ECM provides precise control of ignition timing and multi-hole-type injectors ensuring quick startup and excellent driveability under all conditions
Crankshaft designed with 45? offset crank pins to reduce engine vibration without a counterbalancer for a more comfortable ride
Five-speed transmission features a high fifth gear ratio for relaxed highway cruising
Low-maintenance shaft final-drive system is clean-running with low torque reaction
Chromed and staggered dual exhaust designed for a deep rumbling sound and strong torque delivery
Pulsed-secondary air-injection system introduces air into the exhaust ports to ignite unburned hydrocarbons and reduce emissions
Chassis Features
Fuel tank-mounted speedometer with LCD fuel gauge, clock and indicator lights – cables and wiring are carefully routed for a detailed look
Cradle-type steel frame with color-matched side covers, fenders and fuel tank, plus numerous chrome-plated parts
Wide, comfortable seat with low 27.6 inch seat height – passenger seat can be removed for a bobbed rear fender appearance
Wide handlebars and forward-mounted floorboards and foot controls for more comfort around town or on the highway
Telescopic forks with polished aluminum sliders and polished stainless steel stanchion-tube covers
Long 33? rake angle and 65.2 inch wheelbase provide a smooth, comfortable ride
Link-type rear suspension connects to a truss-style swingarm and a single shock absorber with 7-way spring preload adjustment
Powerful multi-reflector headlight housed in an attractive case with stylish headlight rim – headlight switches off during startup to reduce load on battery
Bright, multi-reflector turn signals designed for high visibility and attractive appearance
Standard 4-way emergency flasher and high-beam passing switch
Traditional spoke wheels with chrome-plated rims carry a wide 130/90-16 front tire and 170/80-15 rear tire
Cast aluminum wheels carry a wide 130/90-16 front tire and 170/80-15 rear tire (on the Special Edition model)
Single front disc brake with large 300mm rotor and 180mm rear drum brake for strong braking performance
Updated design of the front and rear fenders as well as the comfortable rider seat.
New lightweight and low maintenance LED tail light
New Speedometer Design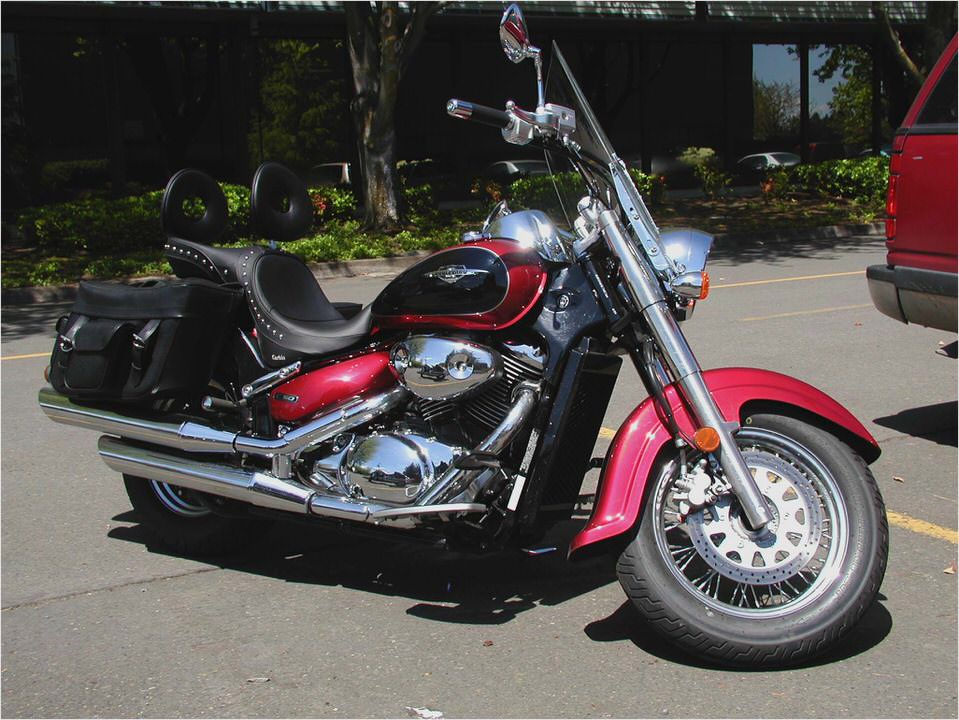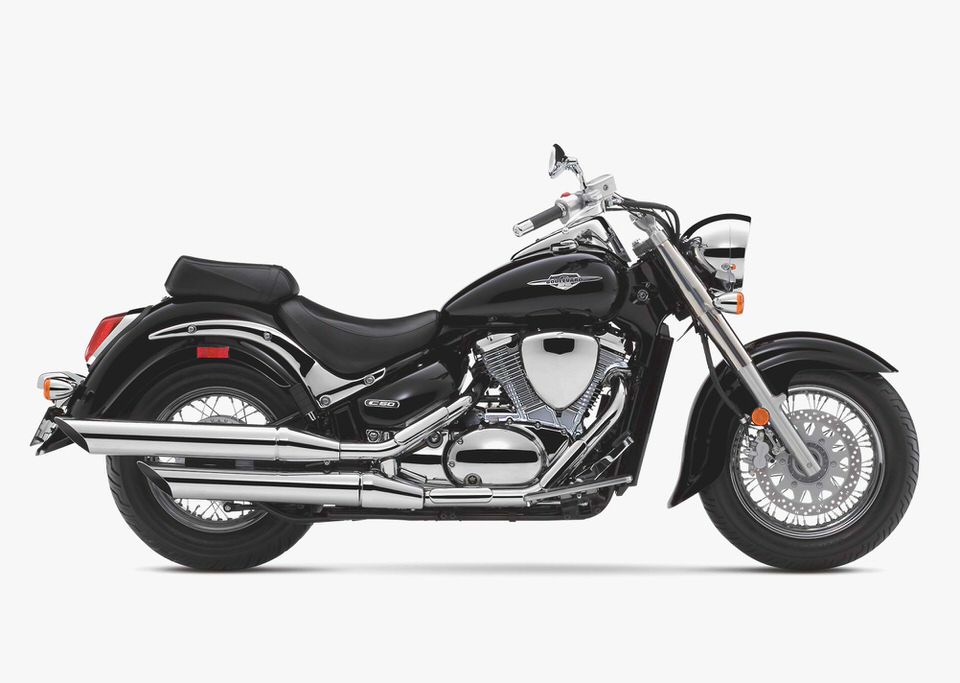 Suzuki B-King for 2007
Gsx-r.eu Suzuki GSX-R site with all the latest racing news, gsx-r history…
Suzuki gs 500 ocasion
Suzuki GSX-R600 India, Variant, Price, Review, Details
Suzuki Motorcycles, Suzuki DR650, Suzuki DR 200