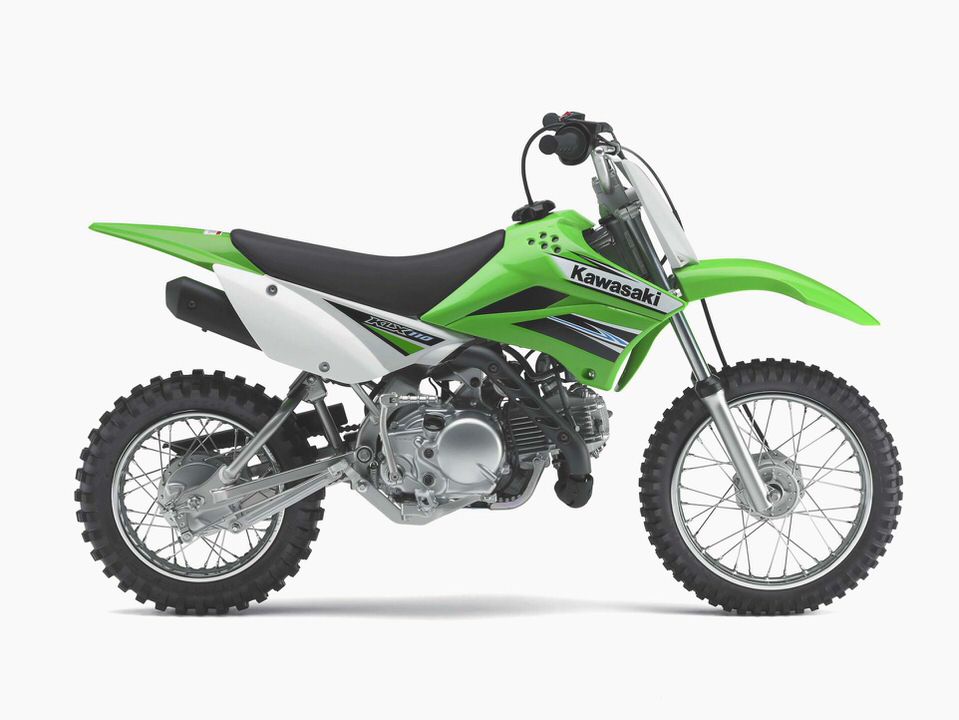 2011 Kawasaki KLX 110
2011 Kawasaki KLX 110
– 2011 Kawasaki KLX 110
2011 Kawasaki KLX 110
The kid-friendly minibike adults love to ride
Certain mini motorcycles have taken on sort of a double life over the years, in that adults appreciate them as much as kids and beginners do. So it is with Kawasaki-s KLX-110, which just might be the most versatile mini bike of all time. And it-s easy to see why: The little KLX is simply a blast to ride, packing the sort of confidence-inspiring and easy-to-access performance that makes kids, beginners and more experienced riders grin within their helmets all day long.
Packed with cool performance and convenience features, the 2011 KLX110 includes push-button electric starting that makes it easy to get going. There-s also a traditional kick-start lever for backup duty, but once riders get used to the magic button they-re likely to forget all about it. The super-dependable 111cc four-stroke engine is surprisingly torquey and easy to use, and incorporates Kawasaki-s latest intake, exhaust and ignition thinking, for smooth running and impressive power.
The semi-automatic gearbox boasts four speeds to access the KLX-s full spread of torque. And Kawasaki-s automatic centrifugal clutch system, which allows easy no-clutch shifting, lets novice riders concentrate on the ride and not the lever.
Optimum wheel and chassis control is a key factor with any beginner/kids bike, and the KLX obliges with quality suspension front and rear. A single shock with 4.3 inches of travel and plenty of bottoming resistance handles things out back, while a beefy, 30mm telescopic fork offering 4.3 inches of wheel travel tames the bumps up front. Tapered roller bearings at the bottom of the steering stem add durability.
With all these features it makes sense that the 2011 KLX110 mimics its KX- cousins styling-wise. And that-s why the design team outfitted the bike in radical, KX-inspired bodywork: gas tank, seat, side panels, shrouds and fenders look as if they-re straight off the race winning KX450F. A comfortable, MX-style seat is part of the deal, along with a handlebar bend that gives a high degree of comfort and control to a wide variety of riders.
Comfort. Control. Surprising yet manageable power. Great looks. Legendary Kawasaki reliability. Push-button starting. And all this in a small, kid- and novice-friendly package.
It-s no wonder adults and veterans love riding little KLX when the kids are tuckered out.
Authentic Kawasaki Accessories to customize the KLX110 can be found at Kawasaki dealers.
Kawasaki KLX 110 model Highlights
Details Features
– Air-cooled, Four-stroke 111cc Engine
– Push-button electric starting makes it easier than ever to get rolling, while a reshaped kickstarter is there for back-up
– Starter button and kill switch are located on the left handlebar for easy access
– KACR (Kawasaki Automatic Compression Release) provides easy starting
– KLX-s lay-down engine design is perfect for engine cooling and a low center of gravity
– An ignition timing inspection hole allows easy maintenance
– Large choke knob on the 18mm carburetor is easy to grab with gloves on
Four-speed Transmission
– Four speeds exploit engine power: While the overall top-gear ratio is nearly the same, that extra gear is combined with a shorter final drive ratio to effectively tighten the gaps between each gear, while also widening the available range of operating speeds
– A rugged and reliable centrifugal clutch teaches entry-level riders to shift without the distraction of having to operate a clutch lever
– A shift drum cam groove and positioning spring, along with a smoother cam surface, result in superb shift feel and positive gear engagement
Safety Features and Parental Controls
– For added safety, the KLX110 will only start in neutral
– The engine off switch is within easy reach on the left handlebar
– A screw-type throttle limiter allows adult supervisors to control kids- speed while they learn
Expanded Performance Envelope
– 30mm telescopic fork with 4.3 inches of travel offers excellent wheel and chassis control
– Tapered roller bearings at the lower steering stem add durability
– Handlebar design fits a wide variety of riders, as does the MX-style seat
– A single rear shock controls the rear wheel through a swingarm with a lower pivot. Optimal spring and damping rates control the rear wheel through 4.3 inches of travel with excellent resistance to bottoming
– 14-inch front and 12-inch rear knobby tires on strong, steel rims provide great off-road traction and durability, and keep seat height low
– Drum-style rear brake offers controllable braking and plenty of feel
Big KX- Style, Built to Last
– The high-tensile KLX steel backbone frame is strong, lightweight and built to take years of abuse
– Four strategically placed heat shields provide protection from the exhaust pipe
– A low, 26.8-inch seat height accommodates a broad range of riders
– Cool KX450F-style fuel tank, seat, shrouds, side panels and fenders look fast even sitting still
– KX-style half-waffle grips provide excellent control and comfort
– A convenient side stand makes life easier
Additional Features
– A U.S. Forest Service-approved spark arrester comes as standard equipment
– The KLX110 meets California -Green Sticker- requirements, for year-round riding fun
Kawasaki KLX 110 model Highlights
Engine
MINI-MOTO MANIA: TWO FUN NEW OFF-ROAD PLAYBIKES FOR YOUNGSTERS AND MINI-MOTO ENTHUSIASTS
Removed from the hustle and bustle of the city, even simple bikes can offer a great deal of fun. Kawasaki recognizes this, and proudly introduces two new playbikes based on the KLX110. Designed for youngsters aged 13 and above, and mini-moto enthusiasts, the new KLX110 and KLX110L can handle rider weights up to 70 kg.
Numerous upgrades make the KLX110/L even more fun to ride. Revised settings for the 112 cc SOHC Single result in a more powerful engine. A new 4-speed transmission means even more gear selection.
Revised rear suspension offers increased bottoming performance, and roomier ergonomics accommodate a wider range of riders.
Compounding the fun, riders now have two models from to choose from. The -standard- KLX110, featuring all the improvements listed above, comes equipped with a centrifugal clutch, enabling clutchless shifting. The KLX110L features a manual clutch enabling sportier riding for those who want to enjoy greater control, and longer-travel suspension that offers superior rough-road performance.
And with the addition of handy new features like electric start and KACR (Kawasaki Automatic Compression Release), access to fun is easier than ever. Revised pedal and lever design further facilitate operation.
Both models are wrapped in sporty factory-style bodywork emulating Kawasaki-s flagship motocrosser, the KX450F.
The KLX110 and KLX110L – Small bikes. Big fun.
Engine
MORE FUN
Revised engine settings, a new transmission, revised suspension and roomier ergonomics make the KLX110/L more fun to ride than ever.
Powerful engine
Air-cooled 112 cc SOHC engine pumps out plenty of responsive low- rpm torque. Revised valve-timing results in an engine more powerful at all rpm-s than its predecessor.
Revised carburettor settings match the revised power characteristics and offer more stable performance when riding on rough roads.
Revised silencer internals offer improved flow and deliver a bold exhaust note while maintaining noise levels.
Reduced piston ring tension offers reduced mechanical friction, also contributing to the increased performance.
MORE CHOICES
Riders now have two models with different characteristics to choose from. The KLX110 features a centrifugal clutch, making it ideal for those looking to enjoy simply playing on two wheels; the KLX110L offers a manual clutch and longer-travel suspension for those looking to enjoy greater control and even more off-road performance.
Clutch: centrifugal or manual
New electric starter offers hassle-free starting. Gear pattern is N-1-2-3-4.
Manual clutch (KLX110L only) offers the rider additional control. Gear pattern is 1-N-2-3-4.
Muffler comes equipped with a spark arrester, meaning the KLX110/L can access designated off-road public riding areas.
Digital DC-CDI ensures quick starts and low maintenance.
Ignition timing inspection hole added to the left side of the engine facilitates maintenance.
Efficiently designed airbox is compact and easy to service.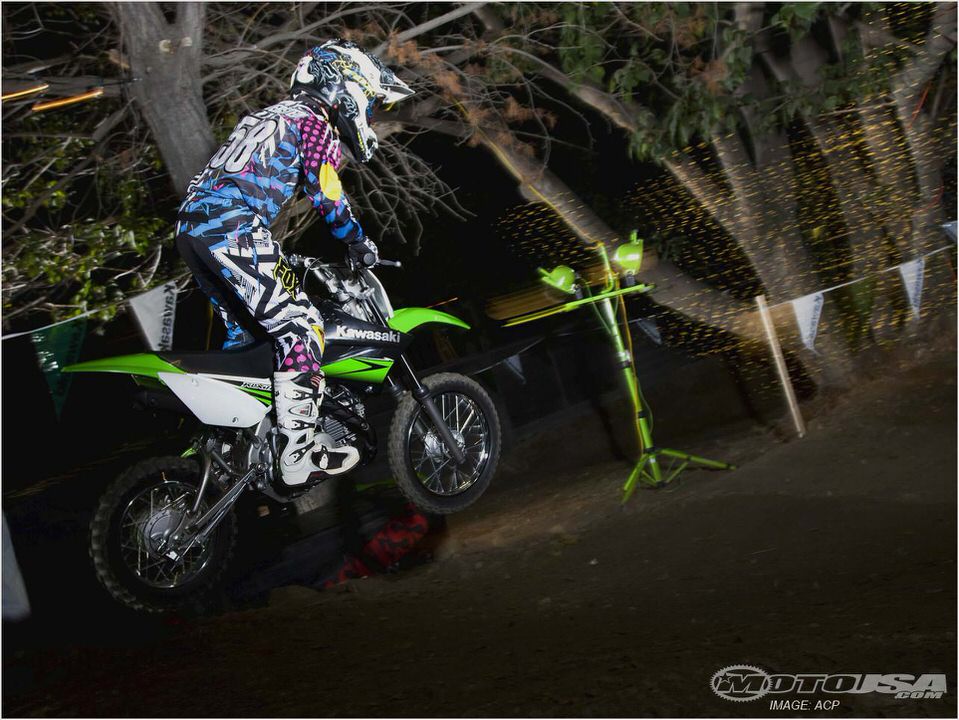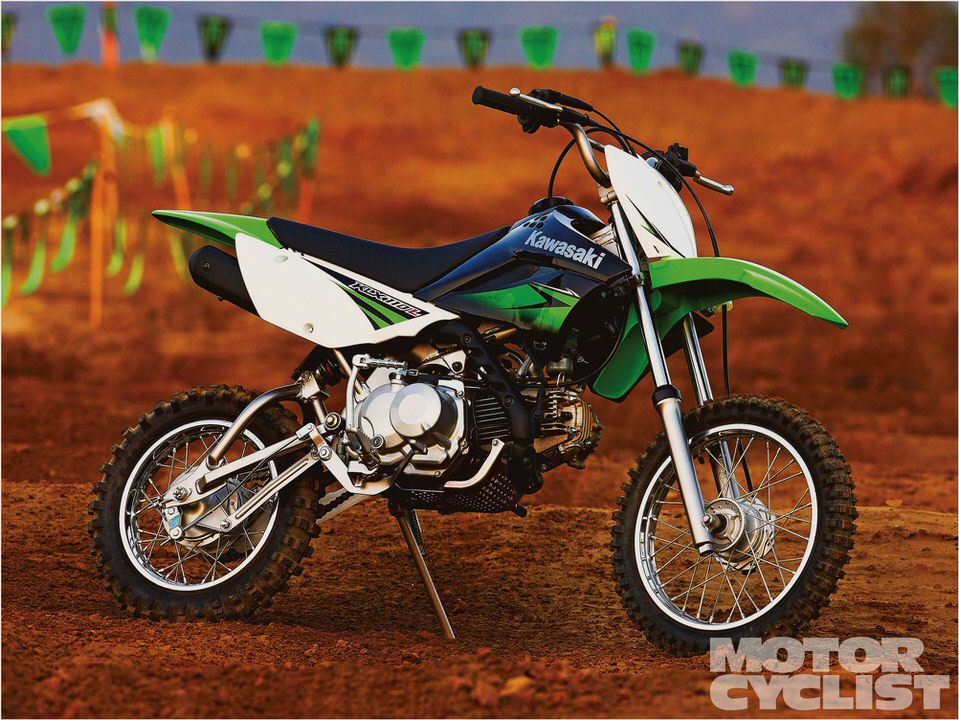 Other
Neutral-only starting (KLX110 only) prevents the bike from being started in gear.
Adjustable throttle allows performance to be limited.
Three separate heat shields are mounted on the exhaust system.
Sprocket-style chain drive roller (KLX110L only) helps smooth engine braking by reducing the effect of driveline lash when the rider gets off the gas quickly and play in the lower side of the chain suddenly tightens. The additional control facilitates corner entry.
Long lower chain guard encloses the bottom and hub-side of the chain, making it difficult for fingers to get trapped.
Easy starting
New electric starter offers hassle-free starting.
KACR (Kawasaki Automatic Compression Release) (using the intake valve) provides easy starting for both the electric starter and kick starter.
Transmission
4-speed transmission
New transmission features 4 gears (increased from 3-speed).
Gear ratios were reviewed accordingly. While the overall ratio in top gear (now 4th gear) is about the same, 1st gear is much taller and the gearbox has a wider range, which contributes to smoother transition, making riding more fun and more aggressive riding possible. Final ratio is now 38/13 (2.923) (Ilustration A)
Redesigned shift drum cam groove and positioning spring and a smoother cam surface result in improved shift feel and positive gear engagement under all riding conditions.
Manual transmission (KLX110L only) enables sportier riding for those wishing to enjoy greater control.
Suspension
Rear suspension
Higher rear shock spring rates, increased damping and new rubber damper material offer increased bottoming performance.
Swingarm pivot lowered to accommodate the longer rear shock units.
Suspension: short or long-stroke
The KLX110 and KLX110L feature different suspension lengths and strokes.
Front: Length 616 mm 677 mm
KLX110 26.8 (680mm)
KLX110L 28.7 (730mm)
The longer suspension of the KLX110L also offers increased handling performance and increased rough-road capability.
ErgonomicsRevised handlebar bend offers greater freedom of movement and accommodates a wider range of riders.
New grip design featuring a raised waffle pattern on half of the surface offers improved grip and comfort.
Increased seat height more easily accommodates taller riders.
Chassis
FACTORY STYLING
Factory styling gives the KLX110 and KLX110L the look of true motocrossers.
Bodywork
New shrouds, tank, number plate, side covers and fenders have a sharp new design modelled after our flagship motocross racer, the KX450F.
Sturdy high-tensile steel backbone frame and high-tensile steel braced swingarm contribute to the excellent handling characteristics of the KLX110 and KLX110L.
Tapered roller bearing (previously a ball bearing) used at the bottom of the steering stem offers increased durability.
Starter and kill switch are both located at the left handle grip, allowing the rider to operate the throttle with one hand while starting or stopping the engine with the other.
EASIER TO USE
With the choice of kick start or the newly added electric start, access to fun is easier than ever. Redesigned pedals facilitate operation and keep them out of the way when not in use.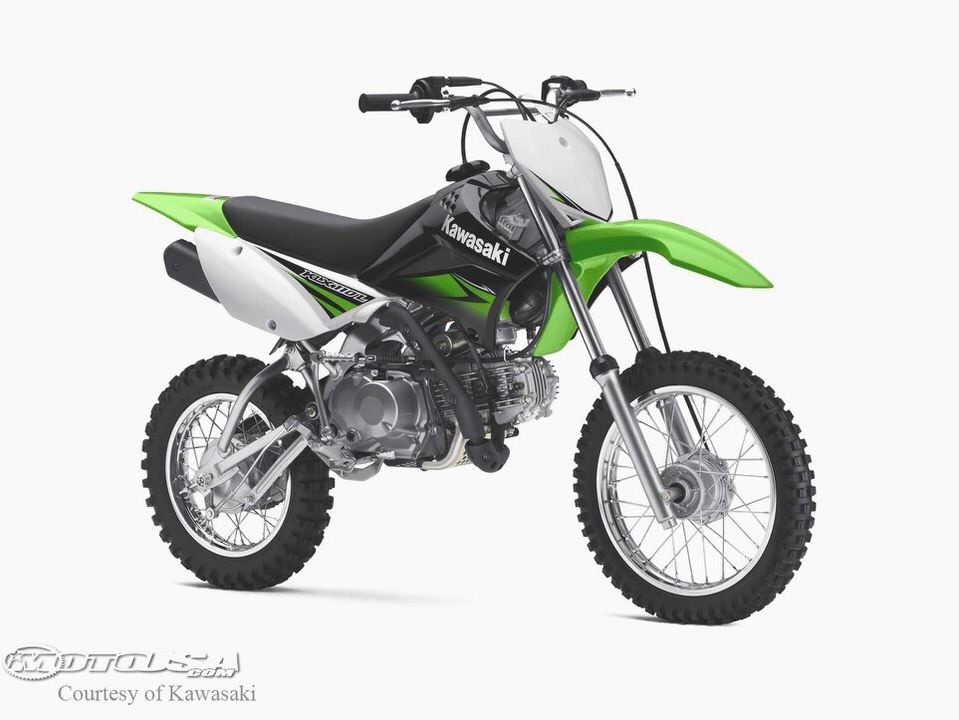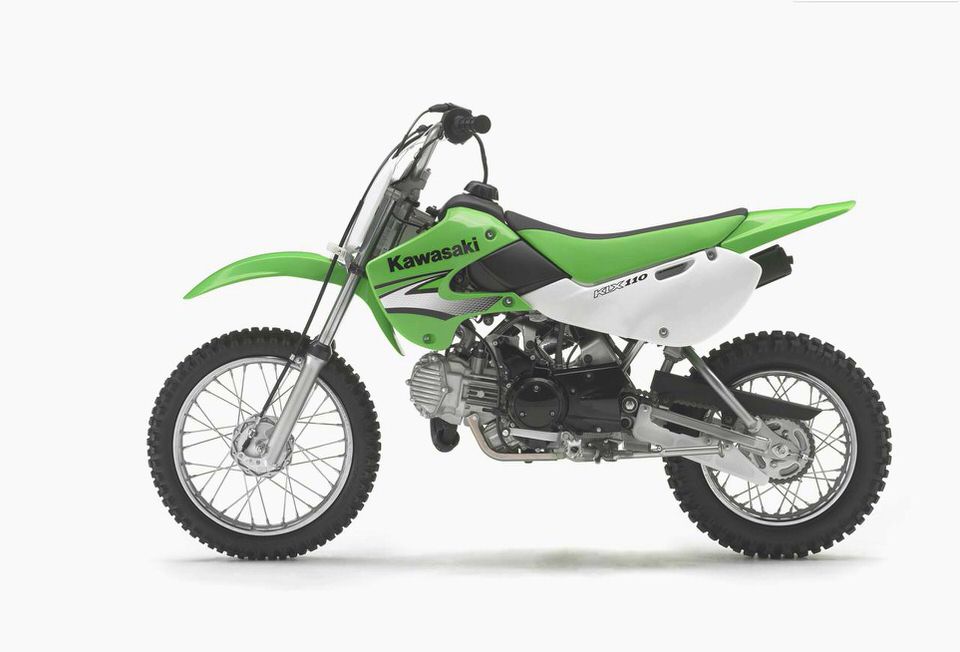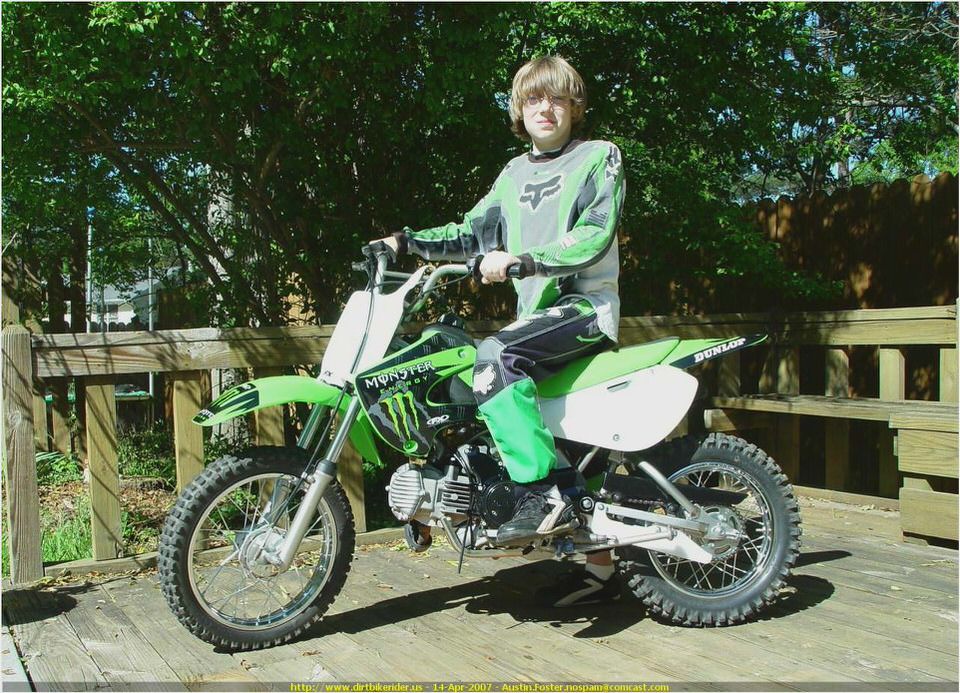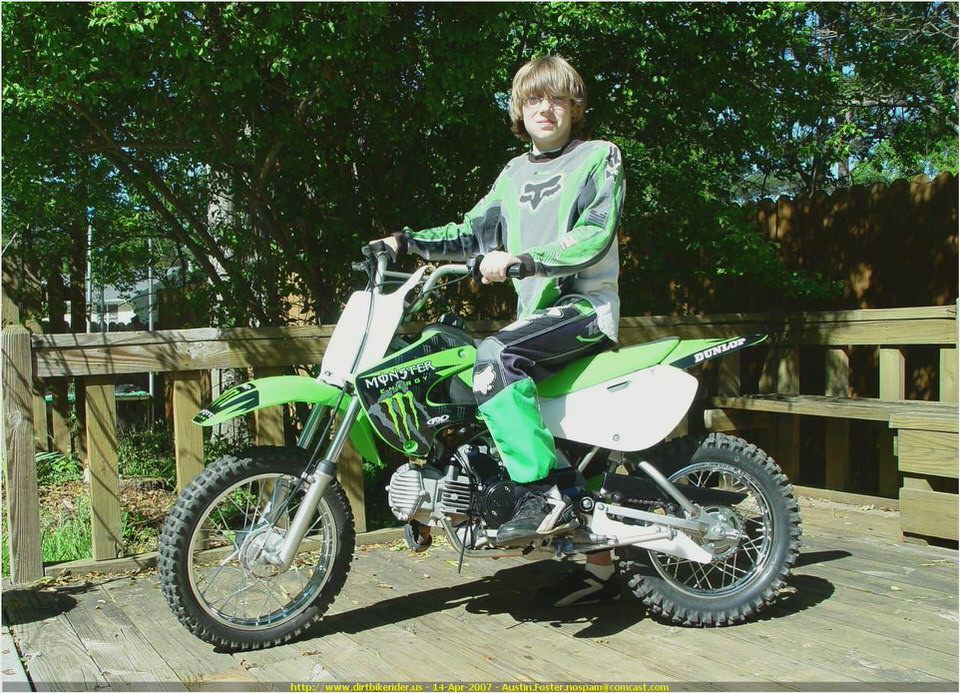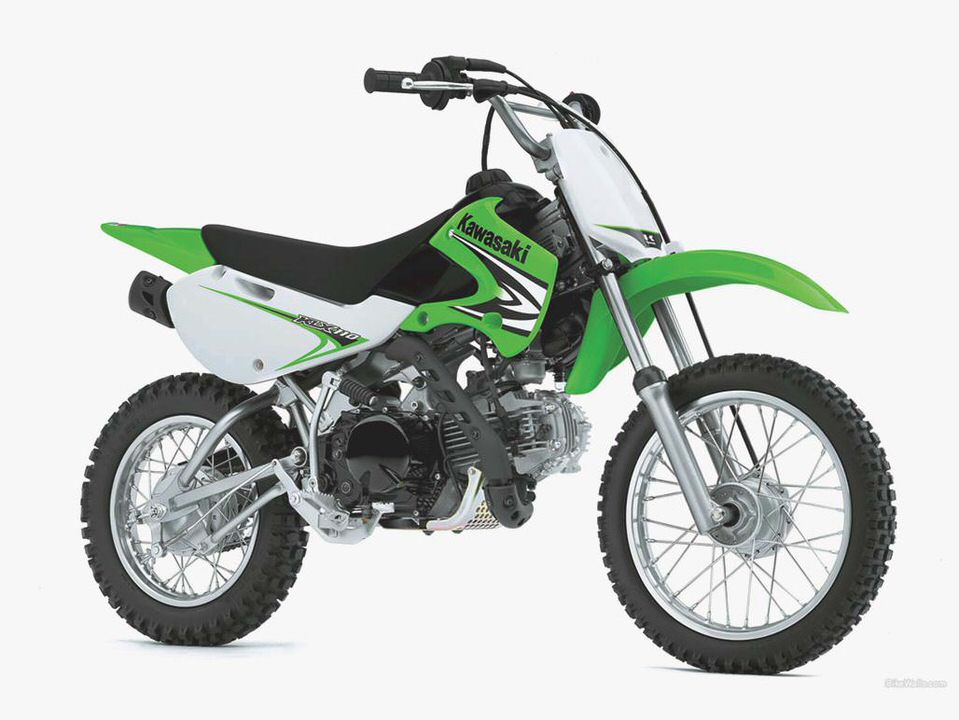 2009 Kawasaki Vulcan Voyager 1700 Review- Vulcan Voyager First Ride
Kawasaki ER-5 – Review – My ER5
2009 Kawasaki Vulcan 900 Cruiser Review – Review of the 2009 Vulcan 900…
Kawasaki Triple Owners Group :: 1969 H1 no spark
Ariel Square Four