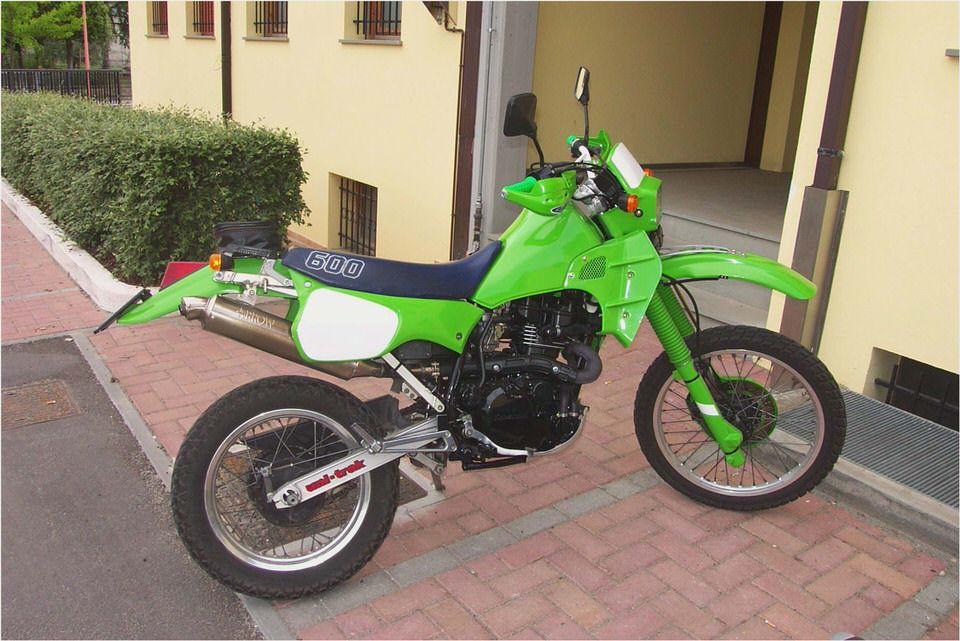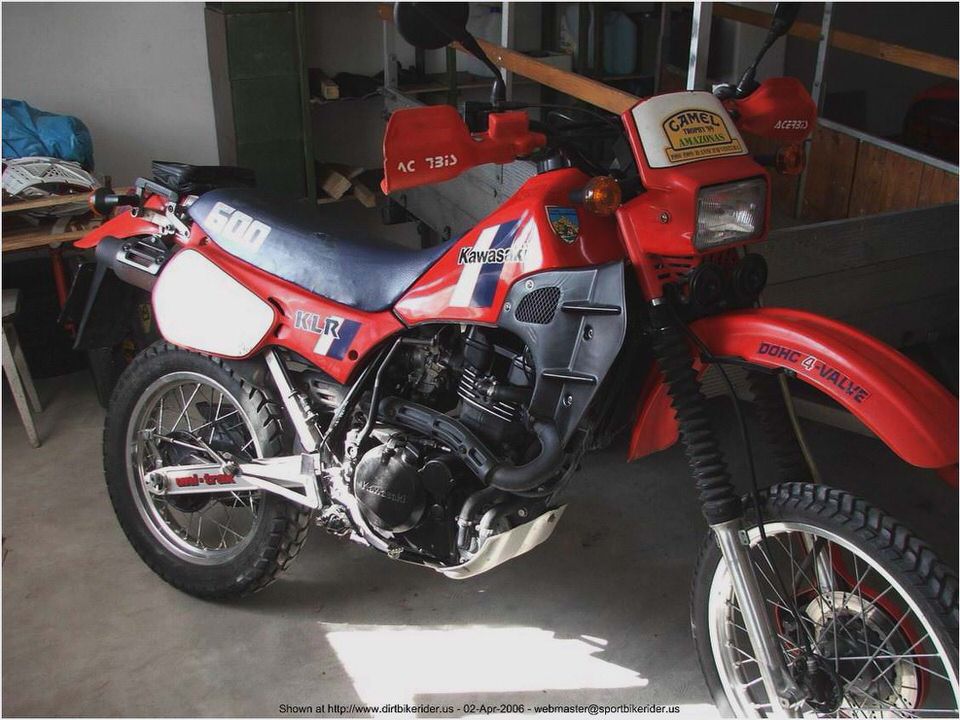 Recent Recalls
General Motors LLC Electrical System:ignition Recall
Forest River, Inc. Wheels Recall
There are 29 comments. Add yours .
bought a 2009 klr 650 new from a dealer. at 4,000 miles, it was burning way too much oil. even though i added/changed oil religiously, it developed increased engine noise. my mechanic took a look — bad news: failed exhaust cam plain bearing, that took the cylinder head, camshaft and exhaust valve buckets with it. the dealer is sympathetic, but based on what i've heard, kawasaki usa is likely to try and screw me. i'll keep you posted.
Was riding my Kawasaki KLR 650 2009 down the freeway at about 55 mph when it cut out power for a moment, and then began running again but sounded louder. It then seized and locked up the back tire and I went skidding down the freeway. Luckily, it was raining so the tire slid easier and I was able to maintain control and eventually with the clutch in it would coast and I got off the side of the highway.
It has 2847.1 miles and the exhaust valve cover has shattered and metal bits are jammed everywhere. From everything I have heard these bikes are supposed to be reliable. this seems pathetic and dangerous. I'm glad I did not have a passenger or we probably would have been tumbling down the freeway.
I am waiting to hear if the dealer or Kawasaki will step up to the plate and fix this, but am doubtful.
can anyone tell me just what exactly the wiring harness and muffler bolt recall for the 08 klr is? i'm a motorcycle mechanic and i would rather do it myself.
I have a 08 and have gotten the turn signals, wiring harness and starter gear replaced under recall. Since the fixes no real issues except she likes her oil @ highway speeds.
Is Kawi ever gonna recall the freakng turn signals? my 08 is still running ok except i cant keep a battery in there over the winter, but who cares…anybody know where i can get some after market turn signals?
Recently purchased 1987 KLR 650 with 4500 miles runs hot replaced rad cap sending unit in jug,flushed rad, new cap and new thermostat water pump has good flow. Anybody have any other ideas. Please let me know
WOW! I have an 09 KLR 650 and came on line trying to get electrical specs because I"m adding a cigarette lighter outlet ( for charging electronics) and find this! I never heard of any recall. It's now june 13 2011. I personally haven't had any problems spoke of hear. not even funny noises.
I have had small sorta surging issue at cruising speed but found this is due to a standard setting on the carb at factory and can be adjusted out. Hope I stay luck I've had all 4 major jap bike thru my yrs (46) and found my kawis and suzukis were the most reliable. Iknew of the doohicky before hand just as most kawi fans do.
There are many up grades that address most common ailments but this is a first 4 me. Crossing fingers but 6000 in ( playful ones too) nada but a broke speedo cable. my fault ( when you change your tires make sure you hold up the speedo bracket on the hub if not it will fold down and the extra bend will snap the inside cable. will fully inspect wiring tho while I put the plug in. also 99 lakota 4 wheeler hard rode and still cranks with a touch of the starter button
2009 KLR 650 17K miles. Has intermittent electrical problem. Engine cuts off or dies with no reason. Some times starts right up, some times after a spell. Heat or bumps in road don`t seem to be involved.
Problem started after frame change, which Kawasaki finally did after much time and discussion. It had a bad weld at rear suspension mount that cracked around to top of frame tube. My mistake taking it back to dealer where I bought it.
Should have known better. When assembling it they put battery in backwards and bent connectors to make it fit. Any ideas on what the problem might be would be greatly appreciated.
I'm currently riding a 08 klr 650 with 14000 km on the clock- I decided to change the engine balancer chain adjuster aka dohicky as it is a relativly cheap fix, just as well I did as the original item was already out of adjustment. I actually owned a 89 klr and did near 90,000km on it -mostly at speed on rough as guts outback dirt roads ,other than reinforcing the dohicky I changed the oil(plain old mineral oil) every 5,000 km serviced it myself.It was the best most reliable bike I'd ever owned hence 13 bikes later I,ve bought another one.If this one gives me probs I'll keep you posted. There are centainly a lot of Klr s out there I'm just wondering what % are having problems
I bought a 2010 KLR650 and commute 100km every day to work. I also rode it from Sydney to the red center of Australia and never had a problem. in less then 8 month I did 14,000km on it and nothing is wrong. rain or shine the thing will start and go. Cranking noise form first to second gear is quite natural for a kawasaki, I had the same experience with the ER6n.
I think that many bad experiences are due to really bad dealer assembly or maintenance.
I have an 08 KLR650 that I got 4 christmas from my wife 2 yrs ago and since its a gift from her, I really want to keep it, but the very first day that I got the bike, I could'nt get it to run, called the dealer to come pick it up.the dealer later told me the carb was bad and they had repleced it(on a brand new bike), well the bike has been really cold blooded ever since, when ever I try to start it, if it has sat 4 more than 2 weeks it would kill the battery before I could get it to run (had to get a battery tender to remedy this issue). I also have a Harley that sits right nxt to it ,and it always starts with no problem.
I have had about 15 diffrent motorcycles to in clude 3 other Kawasaki's, and this one has given me the most problems, I had a ZX6R (01) that sat 4 more than 14Mo. while I was deployed and once I got back, all it needed was a new batt and it ran fine after that, WTF? then 3 wks ago I barely got the KLR running, it did not want 2 start @ first, then it did'nt want to stay on, I ran it 4 about 20mins. then 3 days later I went 2 start it again (since it was runing so bad the last time) and the batt was dead, even though I have it hook 2 the batt tender, I called the dealer and told them what was going on (the bike has ext. warranty). the owner of the dealer was the one that had answer the phone, and righta way he tells me that this was my fault, before he even looked at the bike. (I knew the batt would not be cover under warranty, but the problem with the carb?) any way I sent the bike 2 him and 2 days latter he calls me and tells me that it needs a new batt. (of course) and the carb cleaned, and that this is my fault, so is not cover. I tried to explained to him that I have had problems with this bike since I first got it, and why I think he should look a little further before making that decission,but he basically told me, take it or leave it. I had the bike fix @ a cost of $356. and now after finding out about all of this problems that so many have had with this bike, and the recalls(mine has been recall too) plus my personal experience with my local dealer, I'm not so sure if I'll stay with the bike? one thing is certain, the next time I'm in the market 4 a new bike, I'm going some where else.
My 2008 KLR 650 with 18,000 miles just caught on fire while parked outside my house at 2 in the morning. I took it in last year for the wire harness recall, but obviously, that wasn't enough. $1K later, I'm left with a bike I don't trust anymore. I wish I would have stuck with the DR650.
Suzuki DR650SE sounding better after reading these comments. ( I read twice)
I want a bike to ride and enjoy, not have to work on everyday!!
WOW! you all have me worried now. My wife picked me up a 2009 hold over in Jan 2010 while I was deployed. I have been home a few days and only have 40 miles on it so far. She says there has not been anything in the mail for recalls. What do I need to check to find out if my model has a recall.
I also heard about a dohicky problem and the 08/09 E models are supposed to be good. I need to check to see if I have the E model. Seemed like a good deal and so far I like the feel of the bike. thanks
John
Bought 2009 KLR650 – Had electrical and starting problem first few weeks (in shop where they rewired heated grips and fixed harness recall problem – no electrical issues since). Back to shop multiple times for other minor faults and problems, getting very disillusioned with the bike. Uses lot of oil. At 18000Ks bike blew the motor – claimed low on oil, Kawasaki would not honor warranty, claimed no record of bike being in shop for any problems.
Total rebuild at my expense – Aus$4500. Funny thing was while mine was being rebuilt there was another KLR in the shop with the same problem but only 6000ks – again Kawasaki said tough, too bad, not their problem.
Bike getting very expensive to keep on road. (Need to hit a 'Roo and claim insurance…) Anyway, next, Speedo cable snaped ($75), Headlight blew ($30), Fell of side stand and cracked lower R/H fairing ($188) R/H Mirror ($64) and rear R/H Indicator ($125), – Yes fell the opposite way to the lean. Exhaust manifold nuts (and one stud) fell off, gasket destroyed and replaced, within two weeks nuts worked off again. replaced again (bought extras as spares this time).
Engine kept overheating in slow traffic (found the shop had not connected the fan after last work done – not happy). Engine runs rough and intermitent strange noises. As far as I'm concerned Kawasaki is the bigest heap of animal manure I have ever owned.
I can not recommend this bike to anyone. Kawasaki afer sales customer service/public relations does not exist.
17,000 so far on my '08. Had an industrial accident this year so I haven't rode so far this season…..would have more miles. I found the muffler problem before the recall and put it on the right way.
I read about people having trouble with the wiring harness so I scouted it out and found two areas that were wearing excessively. It was easy to spot the problem areas. Finaly one blinker fell off.
Instead of paying 50 bucks a blinker ( I'm sure they would all eventually fall off ) I took it to Micheal cycles in Carson City Tuesday morning. They called me yesterday (Thursday) and said the bike is ready……They ordered the parts for all three recalls and adressed them. Burns some oil at freeway speeds. I check it when I gas it. Around town I don't need to add any between oil changes.
Great bike. Handles better then expected in the dirt given it's weight. For those who are not the hands on type this bike might not be your best choice.
Reading all of the bad experiences with other riders makes me kinda nervous. I have a 2009 KLR, just turned over 1,800 miles and knock on wood no problems yet. Just got back today from a trip to crater Lake, in Oregon. I will have to admit, averaged 47 to 51 miles per gallon and the bike ran GREAT.
It did use a little oil but still between the lines on the site glass.
My '09 650KLR just died after only 800 miles. Just got it back from the dealer for the 600 mile service? Wiring harness recall? Taking it back for them to check out.
So I got a recall notice for my 08 klr650 and took it to the dealer where I bought the bike and they said they had no idea of a recall… Six months later still nothing. Today i was riding and the damn muffler fell off at 60mph. Any suggestions on what I should do I love this bike but now im really pissed at kawasaki.
This is crap.
I BOUGHT A 2009 KLR650 IN MAY OF 09. AT 300 MILES IT SHUT OFF WHILE RIDING AT 40-50 MPH. IT WAS THREE WEEKS OLD. THE DEALER NOT ONLY CAME BY MY PLACE OF BUSINESS TO PICK IT UP AND FIXED THE BIKE FOR FREE.
APPARENTLY SOME SHIPPING TRASH FROM THE CRATE GOT IN THE CARB. AND PLUGGED THE MAIN JET. THAT IS SERVICE FROM MY PERSPECTIVE. THIS BIKE HAS ALWAYS MADE A KNOCKING SOUND FROM THE ENGINE, BUT I BOUGHT AN EXTENDED WARRANTY, SO I FIGURE IF IT POPS ,SO BE IT.
IT'S A CHEAP BIKE AND IT ACTS LIKE IT. IF YOUR THINKING OF BUYING ONE, BUY THE WARRANTY AND RUN THE CRAP OUT OF IT.KNOWING WHAT I NOW KNOW ABOUT THIS BIKE AND THE PROBLEMS THEY ARE HAVING, I WOULD HAVE NEVER BOUGHT IT. I SHOULD HAVE STAYED WITH HONDA.
GOOD LUCK WITH YOURS.
Bought a new 08 KLR right after they came out. Was very impressed with bike, both handling and styling. Took them a while to admit to the sub-par turn signals, which I didn't mind. All (3) of mines had broken by then. Developed the same 'will not start' problem at 3500 miles.
Took to dealer. Told me problem was caused be wiring harness rubbing against frame. Now check this out. It was the same harness as the recall, but because it was rubbing at a different spot, then the recall indicated.
I'm out of $175 bucks. Thanks Kawasaki.
I have just received a couple of letters informing me of the two recalls. I don't understand why the shop that I purchased the bike from didn't inform me? Pretty slack I reckon. Cheers.
I have an 08 KLR650 that I bought in the middle of 07. I have had it into the dealer for both recalls and had both taken care of. Each time it has been in the Kawasaki dealer they have broke something on it without telling me. The first time was when they dumped it over and bent the handle bars and said nothing until I went to load it up and the left side of the bars were 3-4 inches lower. The second time it went in they dropped something on the spedo cover and cracked it.
They said nothing until I brought it up to them and found out a lot boy washing it dropped a wrench on it. Now comes the problem. The same dealer did the last tune up / oil change roughly 2000 miles ago. The motor started to make a bit of noise so I took it into a different dealer and after a tear down found that the oil pressure retaining pin was missing. This was over a month ago and I am now trying to get it fixed through the original dealer.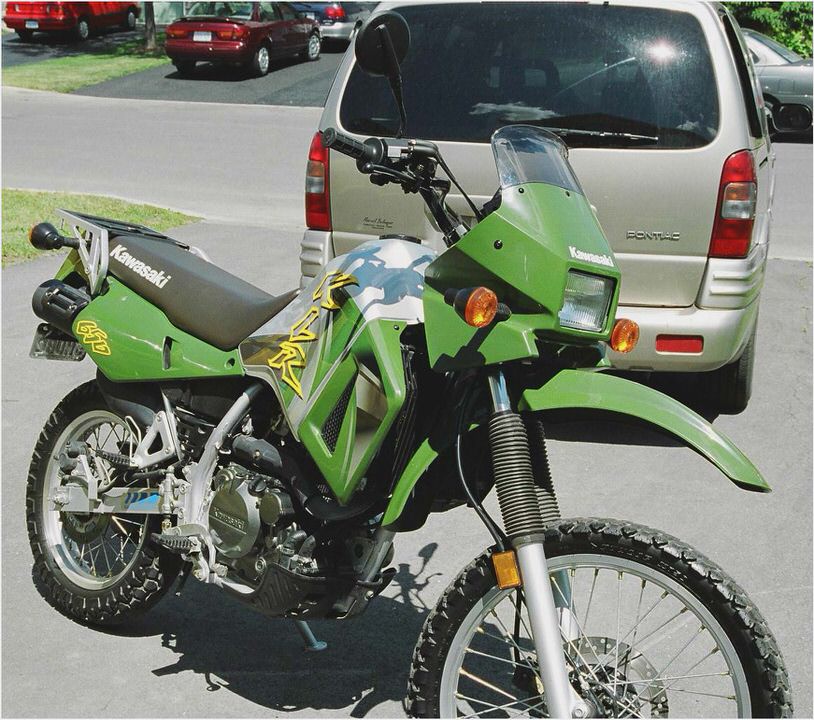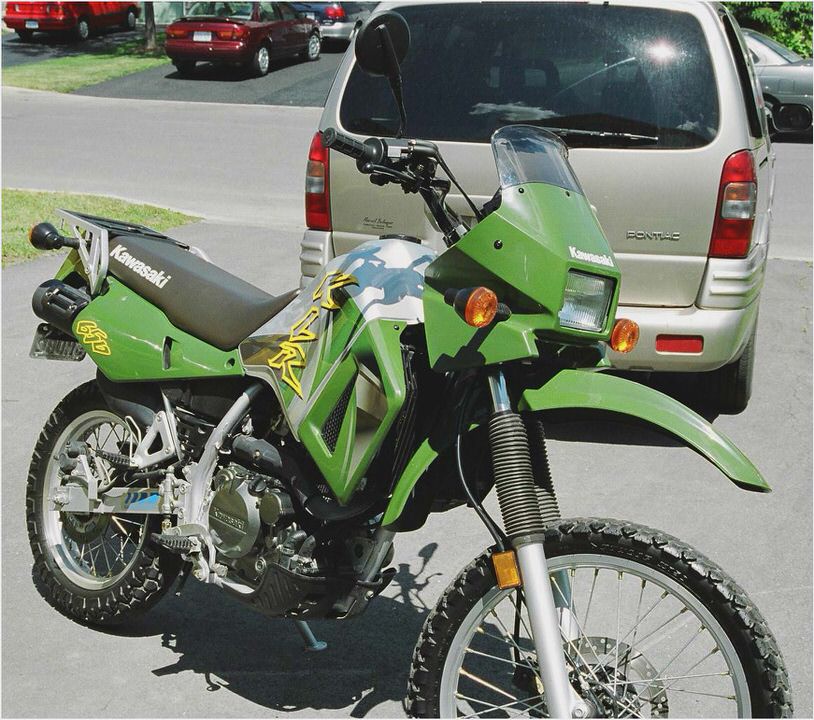 The original dealer is saying that the oil pressure retaining pin would not have done the damage on the top end that it is showing. Anyone have any other type of this problem. I am now reading that there is some type of pressure related problems with the early version of the 08′s. Thanks Dan
I bought 2009 KLR 650 a couple months ago. I've put on 2200 miles and have not had any major problems. I did have the 2 recalls taken care of.
I just noticed the staples that attach the seat cover to the seat are pulling away [ rear of seat. ] I guess I 'll have to remove the seat to re – staple.
The only other thing I've noticed is a loud clunk when shifting between first and second gear. It's one of those intermitant problems. Sometimes smooth and sometimes a clunk.
I told the tech about it at the 600 mile check and he said it just needed more break in time. At 2200 miles it's still doing it. I'd take it back to the dealer but they have gone out of business.
Has anyone else had this problem. Thanks Jeff
I own an 08 KLR 650.
I am pleased with the 'feel' of the bike, but the bike does have a serious oil consumption problem, and mine now at 6000 miles siezed while riding.
I have pulled the valve cover off and the Automatic Decompression unit is shattered, as it came to pieces while running. More damage to be found I'm afraid. This has left a bitter feeling for Kawasaki for me.
My 2008 KLR 650 with 6000 miles just quit on me recently. I replaced the main fuse because it had blown; took it for a test drive and blew it again within 3 blocks. Since then it has been in the shop for the electrical harness recall (almost 4 weeks).
Also after the first 600 miles the muffler bolts fell out and I replaced them then replaced them again with the recall.
The way the electrical harness recall works, is that the bike is first inspected and if needed a kit is put in (one hour shop time). If that doesn't work, the whole harness needs to be replaced (8 hours shop time).
If someone owns a 2008 KLR 650 and you have not received a recall notice, just take it in to a Kawasaki shop and they will take care of the rest.
I have just purchaseda 2009 KLR. Apart from something going wrong, how do I know my bike is subject to a re-call ?
In reguards to the 2008/09 KLR650 recalls, I own a 2007 KLR650 and have had the bike in the shop 7 times since the first month I bought the bike for the engine shuting off and on while riding the bike in the rain. Nothing happens to the other electrical parts of the bike just the engine. The Kawasaki shops think I am crazy cause they say they cant repeat the problem.
They have run water over the engine and throughout without the bike stalling or shorting. I told them it will not shortout unless your traveling around 40-50 mph then it will buck like a mule down to 15mph. What exactly is the problem with the 2008/09 models cause it could also be happening to mine. Anyone have a clue?
Sure could use the help.
Well I bought a 2009 red KLR 650 from Sydney City Motorcycles. No problems there.
Comment. I recieved the letter for 2 recalls one for the electrics and one for the exhaust dated the 9 march 09 on the 15 March at my home in sydney.
The Kawasaki dealer has stated that they did not know fully and were becoming aware of the issues.
The engine runs rough and develops an engine noise at idle that is pulsates through the engine and under load/acceleration and appears to be manifested from the idle noises.
It appears that the oil pump is inconsistent with presure dilivery or the is genuine design matter for the machine. The dealer has said their demo model runs rough too, a matter for them.
If it is a matter of life risk based on potential then surley the dealer who know me would be alerted.
Trade practices are under imense pressure at this time.
I have been associated with Kawasaki as a private rider/operator since 1973.
I have had nine models and 2 of which are or were KLR 650s.
I am stuck with this machine.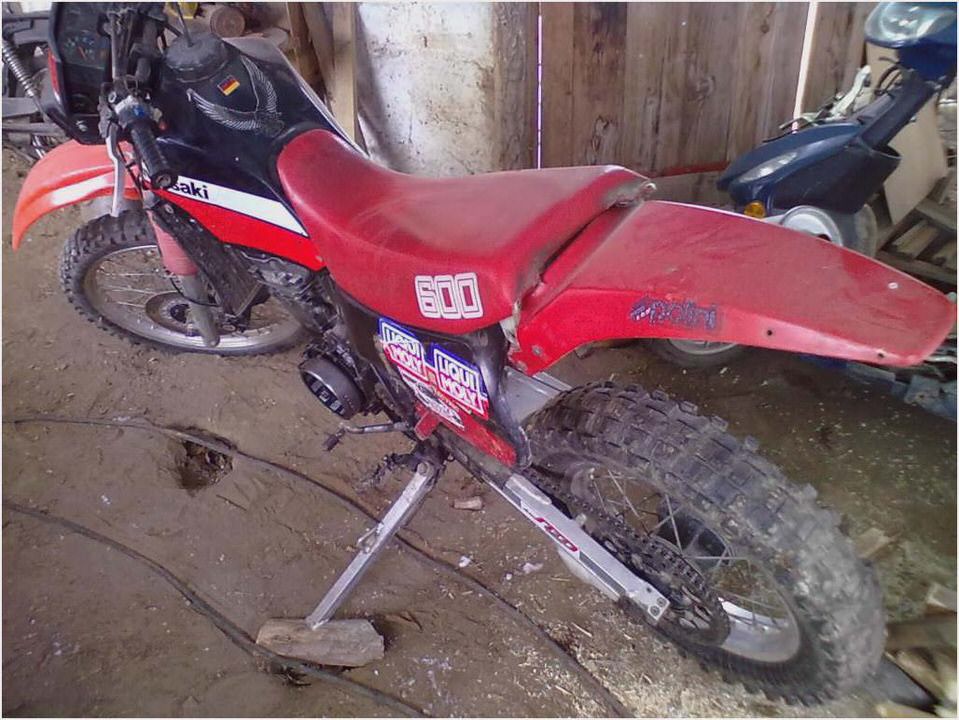 ATV Source – Manufacturers – Kawasaki – 2003 – Bayou 250
Kawasaki Ninja 250r Comparing Bajaj Rouser 200cc and Kawasaki…
Kawasaki ZX10R Ninja 2014 Review – The ZX10R Just Got Better!
Kawasaki ER-6f Road Test How To Make & Do Everything!
2013 Kawasaki Ninja ZX-6R 636 Performance motorcycle review @ Top Speed