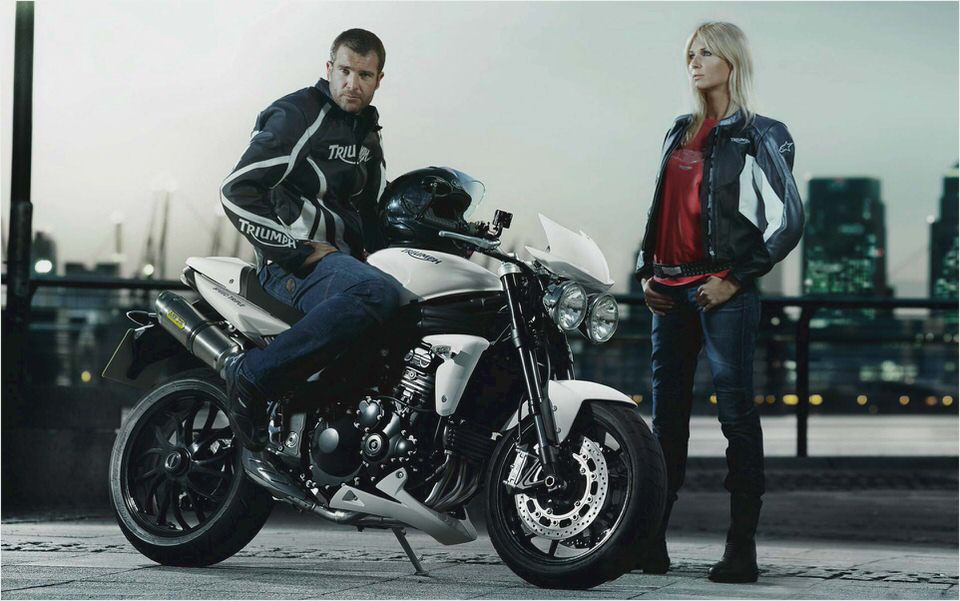 2011 Triumph Speed Triple First Ride
Watch video of the 2011 Triumph Speed Triple in action in our 2011 Triumph Speed Triple Video Review .
We are very familiar with the Triumph Speed Triple. Over the years it has been a fixture in our Streetfighter Shootouts and has been one of the most popular naked bikes of all time. In fact, it is the original OEM Streetfighter if you want to get serious about things.
Well, Triumph just got a little more serious after going for an in-depth redesign of its iconic model for 2011.
Starting with the appearance, the Speed Triple retains its aggressive, stubby stance and muscular persona. The sexy single-sided swingarm is back as are the sweet multi-spoke aluminum alloy wheels. The bodywork has been slicked-up a bit with the addition of side cowling that skirt along the trailing edge of the radiators plus a nicely sculpted tank and minimal bodywork that looks like a supersport tail section on the backside.
The up-swept dual exhaust caps off the look by allowing that swingarm to be exposed. I don't know why any OEM that goes through the effort of building such a component would insist on concealing it anyway. Triumph did right here, no doubt.
You are looking at a trio of more-refined Triumph Speed Triple 1050 motorcycles. The chassis is better, the engine is stronger and it looks like the bad-boy it is. If you cross a rider on one of these in the canyons, you had better beware.
Despite all the improved aesthetics there is one, no two major changes that are sure to polarize opinion among Triumph loyalists: The dual headlamps. Gone are the pair of round bug-eye lamps. They've been replaced by more modern looking twin reflector head laps that are slanted and more bellicose in appearance. Triumph wanted to shake things up and give the Speed triple a new attitude and they did it with this simple modification.
I personally think they look bad-ass, so I'm all for the change. I know folks will bitch about it but this bike is sick and the headlights really round out the package. Get it?
Round out the packagenever mind.
The new Speed Triple 1050 is more than another pretty face. It retains its signature three-cylinder engine and that wicked howl from the twin mufflers. This bike always had a sweet mill but now it's a bit better. A revised airbox and sump plus new EFI mapping a smaller header and high efficiency radiator combine to churn out an extra five horsepower and a claimed 8% increase in torque.
Of course we will need to verify this on our own dyno down the road but for now, Triumph claims that the 2011 Speed Triple 1050 churns out 133 horsepower at 9400 rpm. Torque is supposed to be 82 lb-ft at 7750 rpm. What that means is when it comes time to rip-off some rolling burnouts at bike-night, the Speed Triple will have you covered.
Oh, and you want to impress the chicks with the sick low-speed wheelies yeah, it does those too.
Our seat of the pants analysis of these figures can only confirm that the new bike hauls-butt. On the street the engine is damn near perfect. It has gobs of mid-range power that comes on strong as you row through the gears.
This bike is fast and the symphony from the exhaust makes it even more difficult to resist riding like a jack-ass. One of the biggest
On the street the 2011 Triumph Speed Triple 1050 is one of the most legendary hooligan bikes of all time so you might be surprised to learn that it is very comfortable and easy to over ride long distances. Oh, plus it's really fun too.
limiting factors is that it feels like you're going to get blown off the bike at triple-digit speeds because of the wind blast. Another thing I noticed is that the transmission doesn't seem as clunky as it has in years past. It turns out Triumph made an effort to improve shift feel in both the Speed Triple and Daytona 675R, so kudos on that engineering achievement.
There's more to this hooligan than smoke clouds and stoppies though, the chassis feels much improved. We spent the first day on the curvy and dirty California Highway 243 between Banning and Mountain Center plus the infamous Highway 74 to Palm Desert. That's where the Ten-Fiddy tipped its hat and got us thinking that these changes had really paid dividends. We followed that ride with a day at Chuckwalla Valley Raceway and the proof was undeniable.
We didn't get to mob the canyons like we had hoped, so when it came time to drag pegs at the race track it was the real opportunity to see how much better the new chassis was. Well, it is much better. The Speed Triple no longer feels flighty or unstable at track speeds.
The front end gives decent feedback and stays planted under hard braking and hard charging, a much needed improvement.
Even though the 2011 Triumph Speed triple 1050 engine did not receive significant upgrades it now has a chassis to compliment it. That makes it feel faster right there.
You can look at a few key changes in the design that helped turn the Speed Triple into a respectable trackday weapon. The swingarm is three-quarters of an inch longer, 2.2 pounds lighter and the rear wheel is another 3.3 pounds lighter despite being a half-inch wider. This helps put power to the ground and un-sprung weight is never a bad thing.
Linkage rates are more linear and the rear shock is much more capable at high speeds than last year's unit, so after Triumph's team had the bike dialed in we were ready to sign up for Daytona SportBike and give Jason DiSalvo a run for his money. Hold on. Is this bike legal in DSB?
Moving up to the front end, there's a 43mm Showa fork with rebound and compression damping adjustability now too.
But it's the new frame dimensions and front-biased riding position that are likely what pays the biggest dividends. Trail has been increased from 84mm to 90.9mm and rake made slightly more acute from 23.5 to 22.8 degrees, which stabilizes the front end a while still maintaining a sporty rake. The front wheel is just over 3 pounds lighter as well, complementing the chassis changes.
The engine is 3mm closer to the front wheel and tilted 7-degrees further forward, and the battery is now in front of the fuel tank too. Resulting changes in weight distribution between the 2010 and 2011 models according to Triumph is 48.6/51.4 (front to rear) on the '10 model and 50.9/49.1 on the 2011. Moving all of this weight forward in the layout results in a much lighter handling motorcycle that takes less effort to turn in and flick from side-to-side.
The Arrow Slip-On Mufflers give the Speed Triple a nasty bark and make the back side look even better. The instrument cluster is minimal but full of info. An analog tach is easy to read and the shift lights across the top are still trick.
The LCD screen offers a lot of information as well. The rear seat cowling really finishes off the back, especially when paired with the Arrow exhaust.
On the track this was apparent more so than on the street. It always felt pretty good on the road but once we put it to task under track conditions its shortcoming had been detrimental to it in head-to-head battles. Those weaknesses should be a thing of the past now.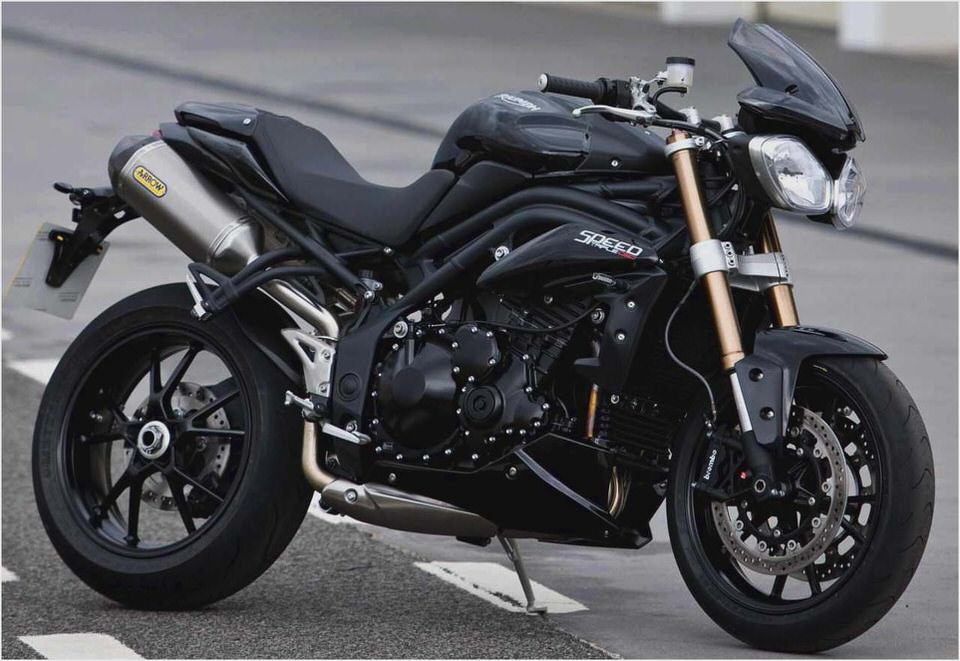 It's serious fun to carve up the super-sport friendly Chuckwalla layout on the 1050. You can charge corners pretty hard and still not upset the chassis which was never a strong point of the previous Triple. The radial-mount Brembo calipers and 320mm discs are a potent combination that could be called overkill if they weren't such a good fit.
Add into the mix a very stable feel at speed, especially when dragging a leg through the ultra-fast Turn 13 bowl and what you have is a fun track bike that doubles as a sweet street bike. Or is that the other way around? Either way the 2011 Speed Triple has some chutzpah again.
Now, is it perfect on the track? Not exactly: The gearing is more suited for the street so you are shifting quite a bit even though the CVR track doesn't have long straightaways. This short gearing is great on the street when you're huckin' wheelies and knifing through traffic. It feels like it's always in the power until you're at the track where there's room to stretch its legs.
The riding position is upright and quite comfortable on the street. I recall thinking that this would be a
Triumph claims that the 2011 Speed Triple 1050 churns out 133 horsepower at 9400 rpm, plus 82 lb-ft at 7750 rpm. All we know is this bike kicks ass and we enjoyed riding it.
great bike to tour on but at the track the wide upright bars don't allow you to move around as much as I would like to and no wind protection means you get fatigued quicker when riding at full throttle for 20 minutes. Then again, this is a street bike so I will quit my complaining now.
Those trackday cavils are part of what make it such a fun street machine. The riding position and bar placement are great after a long day in the seat which, by the way, incorporates a saddle-like design that holds the rider in place and provides a wee-bit of support. The way the rider's arms naturally lay from the upright riding position allows for an elbow-free view in the mirrors and the instrument cluster is placed in a natural position.
The foot pegs are forward and sort of high even though they can drag on the track, so my knees were a bit cramped on the street. A taller rider may want slightly lower pegs. In addition, the gauges, which are nearly identical to the Daytona 675R includes a fuel gauge as well as speedo, tach, trip meter, programmable shift indicator and lap timer.
The optional fly screen would be a nice piece of standard equipment but it appears Triumph knows what it's doing, so who am I to second guess that stuff? The switchgear and levers all feel nice and sturdy and I noticed that the welds on the frame are really clean too. We bitched about that lack of pride in the craftsmanship a few years back.
Whatever lit a fire under Triumph's ass this last year should be mandatory for all OEMs. We've seen significant upgrades to two motorcycles that the company could have very well left alone. Weaknesses were addressed head on and rather than maintain the status quo Triumph upped the ante and gave the iconic Speed Triple a long overdue facelift to go along with that swift quick in the butt.
For 2011 the Triumph Speed Triple is lighter, faster, handles better and is better looking. What more can you ask for in this day and age?
The new-look 2011 Triumph Speed Triple head lamps are no longer round. Instead, they are cat-eye and modern in appearance. We like the way they look even if you don't.
On the street is where the Speed Triple is at its best but thanks to a few improvements the bike is capable on the track too. Radial-mount Brembo monoblock calipers get the job done on both road and track.
All that's left now is to put it head to head with the other half-dozen naked bikes and conduct the ultimate Streetfighter Shootout. I wonder how hard it will be to get a tire supplier to step up and give us a few sets of tires for this one. We promise we won't do many smoky burnouts this time.
Trust us, we swear we'll behave.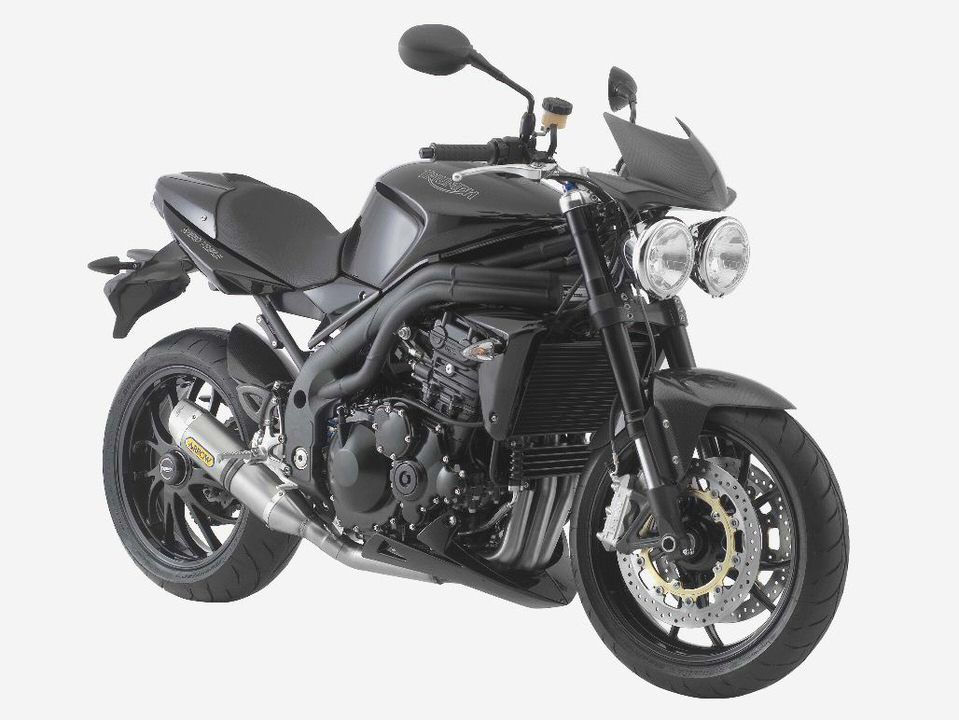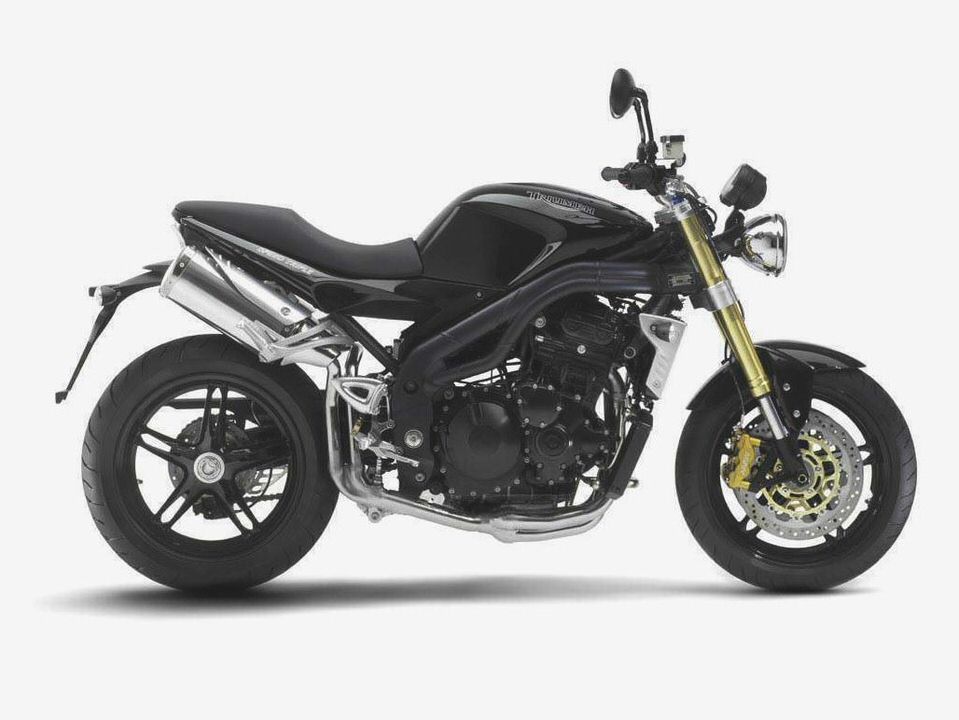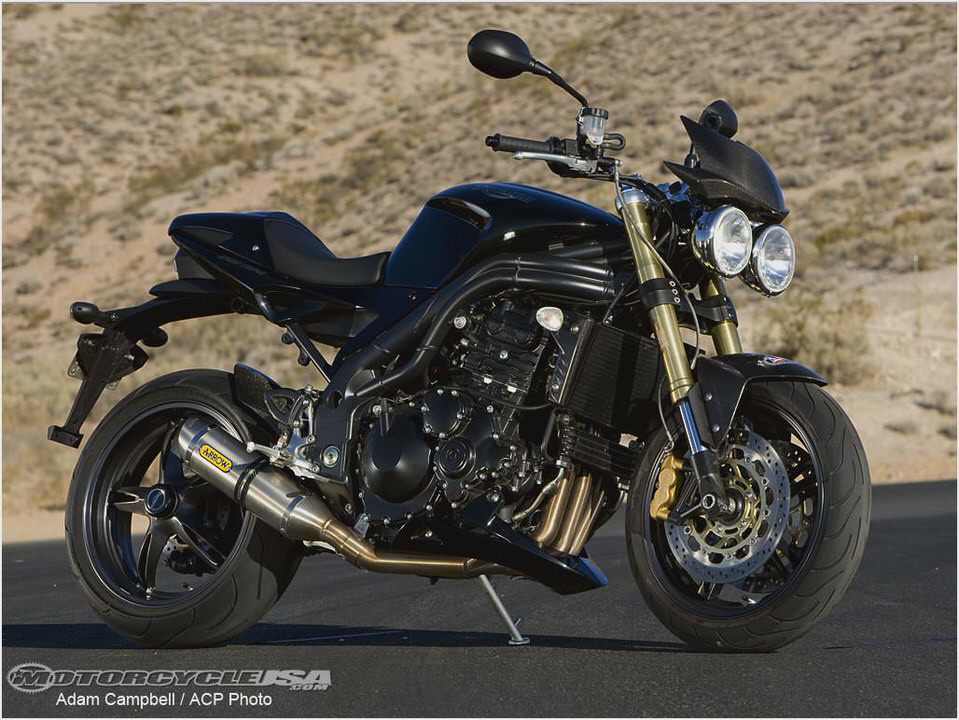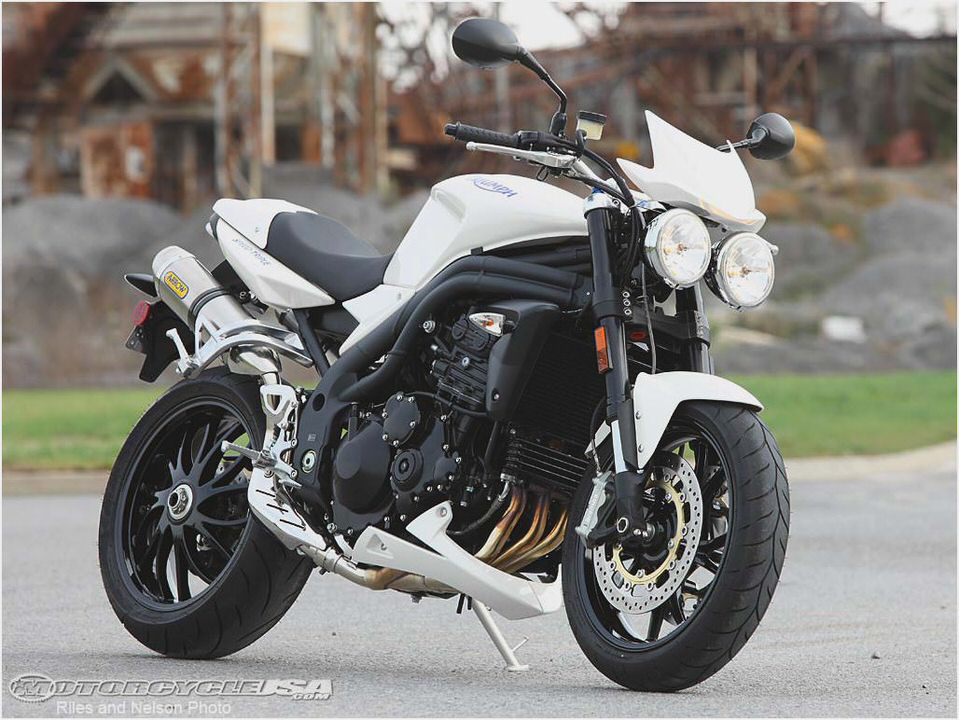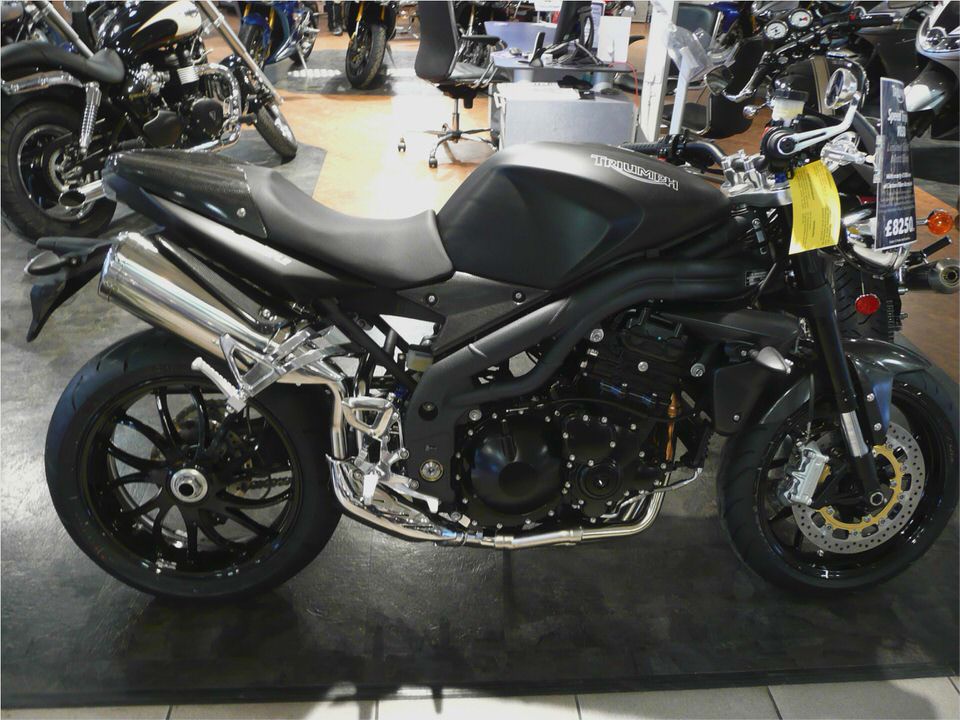 2012 Triumph Daytona 675 Review
2006 Used Triumph Daytona 675 Fun Cars Sale Daytona 675
2011 Triumph Sprint GT – webBikeWorld
Triumph Trophy
2011 Triumph Tiger 800 and 800XC: MD First Ride …