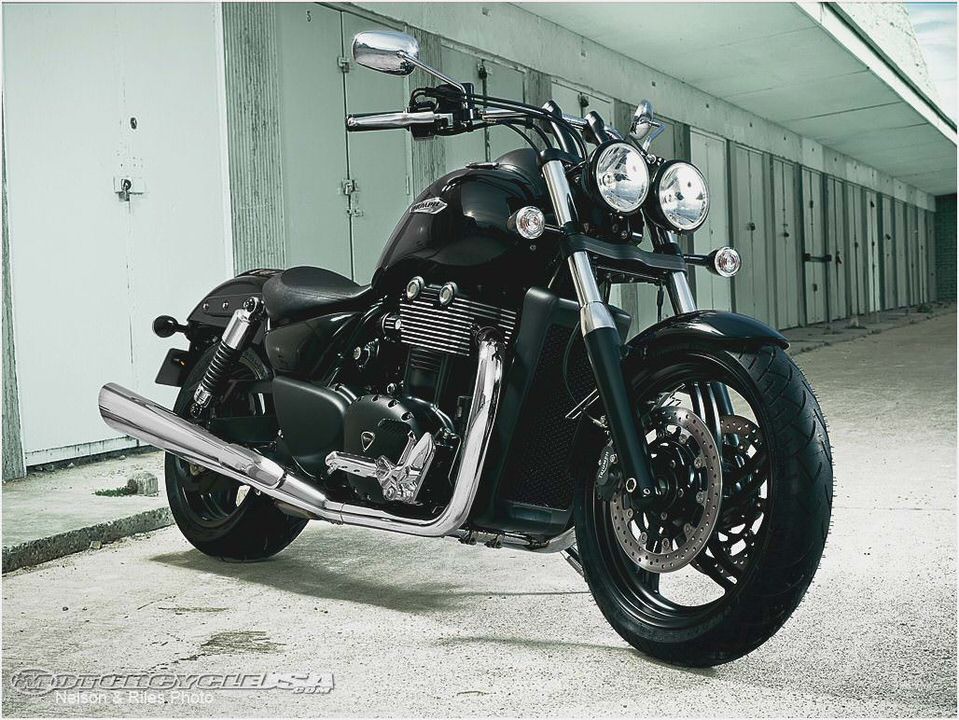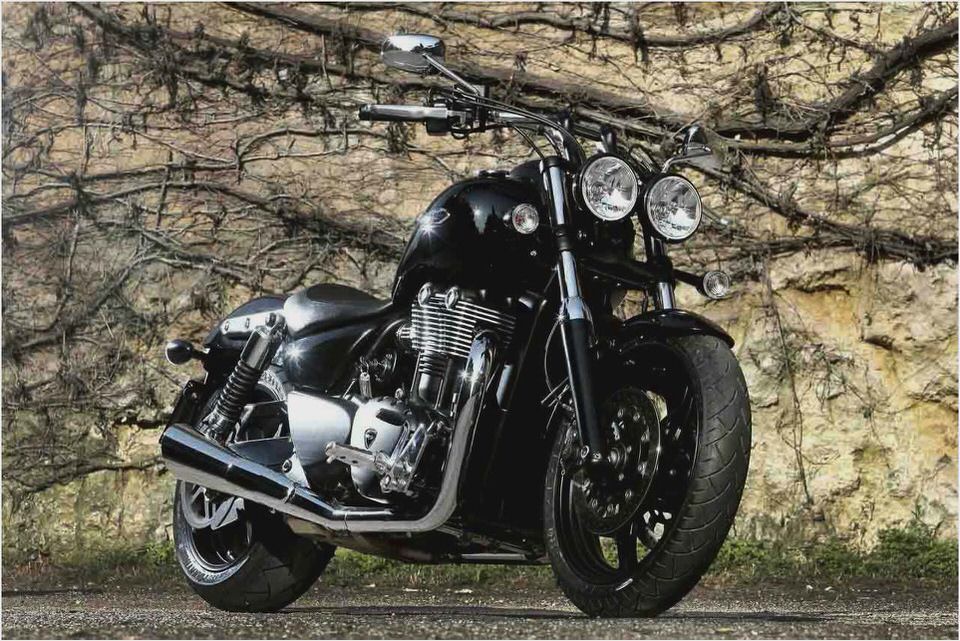 2011 Triumph Thunderbird Storm Review
For Triumph Motorcycles, a Storm on the horizon is a good thing. Maybe for customers, too, because it puts a blacked-out, big-bore kitted Thunderbird on the showroom floor, ready to roll for $13,899.
The 1,700cc kit was available as a dealer installed option for the Thunderbird almost from the outset, but this new Storm combines a moody new look with a useful bump in power. And you can still further customize the bike to your liking with a shop full of factory warranted bolt-ons.
Sunset adds a little gold to the all-black Thunderbird Storm.
We liked the original Thunderbird from its inception. It's a big, brutally handsome critter with a stout motor that makes great noises. The 270-degree crank produces an off-beat lope that has people doing a double-take at the brawny vertical twin, like how does an engine that looks like that, make those stuttering V-twin sounds?
Dual headlights give the Storm a totally different face.
The irregular firing order produces pulses through the bike's controls that are subdued to tolerable levels by the engine's dual counter balancers, but never completely eradicated. We like that too, it makes the machine feel alive in your hands. When you pull away on a light throttle—something the torquey twin freely allows—you can feel the frequency of the pulses quicken as you roll through first gear.
With the 1,700cc kit (which includes new pistons, rings, wristpins, liners and cams) bolted on, the Storm has 12 horsepower and 7 pound-feet of torque more than its tamer Thunderbird sibling, at 97 and 115 respectively. Thus equipped, the bike pulls hard from just 2,000 rpm, volleying machine and rider toward the horizon on a relentless wave of torque.
Look at the power curves and you can see why. Both horsepower and torque curves are nearly flat, and the 1700 engine produces most of its torque in the 2,000 to 3,000 rpm range, then tapers gradually away toward the 5,500 rpm redline. Yes, there is a tachometer included in the instrument display on the tank, slung hammock-style below the big 120 mph speedometer.
The new, taller handlebar risers—finished in black, naturally—are said to change the rider's hand position only slightly, and the controls are otherwise unchanged from those of its chromed companion. The riding position seems better to me than that of the average cruiser, perhaps because it allows me more reach. My arms are too long for many bikes in the category, and the seats typically give you no options.
Other cosmetic changes include the fitting of a black-finish dual headlight assembly, a revised tank badge with new script, a Storm emblem on the clutch cover, and the various black-finish components, including forks, engine parts and covers.
What is immediately apparent if you swap between Triumph's Speedmaster, America and Storm models (as we did on the ride) is the superiority of the Storm's 47mm fork. This broad and husky device carries the front end of the bike with authority, smothering bumps and never feeling inadequate to the task. Triumph's other cruisers, nice as they are, have harsh and jittery front-end suspensions in comparison.
That substantial character carries through on the Storm. It feels more like as heavyweight boxer than a fat guy in a black unitard. It's not light, by any means, at 750 pounds, but everything on the bike is built to scale, and it conducts its mass like a well-sorted pickup truck.
Large, but definitely stable.
It's clearly heavy metal. First gear selects like a railcar coupling clonking into place. Yet the transmission feels strong, and while the selector is deliberate rather than fluid in action, gears shift with a positive sense of engagement.
The brakes, too are operated by a large lever, and take a meaty squeeze for a strong response.
But it all seems entirely in character, and the bike is big rather than ponderous, and its moves are never sloppy or squashy. It is, as I alluded to with the boxer reference, solid but not ungainly. I don't like weight for its own sake in motorcycles, but the Storm rides like a big bike, and not like a flabby bike.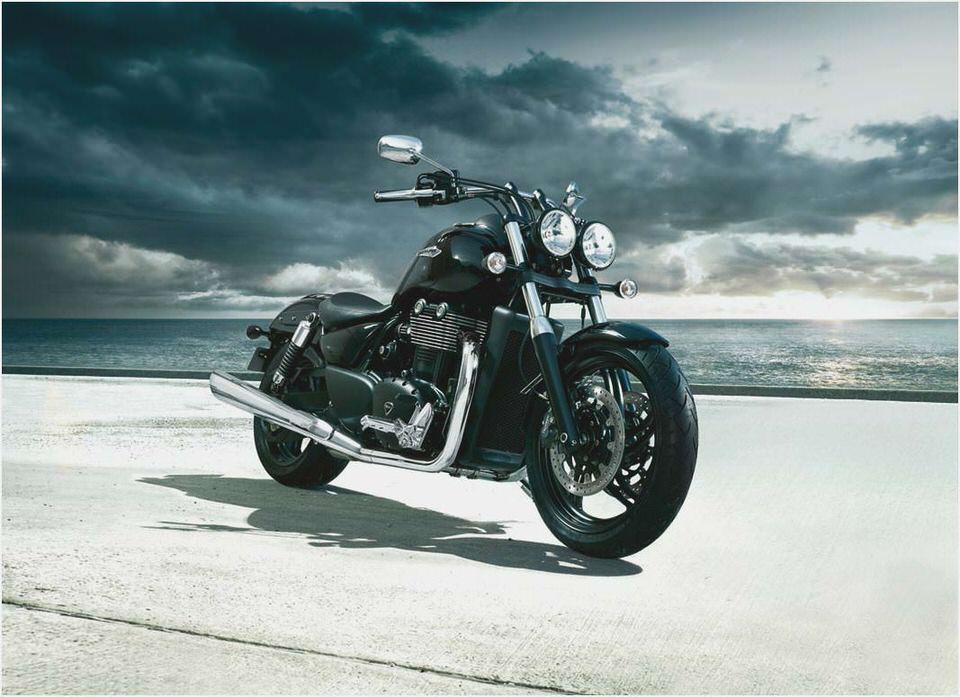 The thing handles quite well, steering accurately, and cornering with more poise than you might expect. Weighing what it does, the Storm is necessarily perched on some high-rate springs, but the ride is pretty comfortable. Bumpy roads reveal that the shock valving is a bit under-damped for brisk riding in bumpy conditions, but I think the overall compromise is pretty good for the likely use patterns these bikes experience.
Typical of the genre, the footpegs are slung fairly far forward, just not so much they're hard to find without looking. And they're not enough in the Lazyboy position to upset a rider's cornering abilities. The pegs will touch down in tight confines, but sweeping bends can be taken at respectable speeds without the sound of metal on asphalt.
All in all, the Storm is a worthy stable-mate to the Thunderbird, taking that bike's virtues and adding a little black menace on the styling front, and a little more performance to match its attitude. With a distinctive sound and character, the Storm is a worthy alternative to the cookie-cutter V-twins.
Beginner Riders
This thing weighs 750 pounds, and although we found it quite stable while performing slow U-turns on narrow National Park roads (until we were broomed by the cops), we'd prefer you practice on something a little lighter.
Intermediate Riders
Not a bad bike to move up to. Easy to ride, with a low, 27.5-inch seat height, the Storm feels like a solid product that will provide many miles of riding pleasure. There's speed to be had if you want it, but the torquey nature of the beast encourages a relaxed riding manner.
The weight needs to be borne in mind for quick maneuvers and emergency stops, but at least the Storm steers well and has two big brake rotors up front, squeezed by beefy 4-piston fixed calipers. And besides, ABS is optional.
Expert Riders
Experts ought to like this bike if they're in the mood for a cruiser. It's just a bit more like a standard in the way it handles, but there's no mistaking the style. Here, though, there's a decent dollop of functionality accompanying the long and low profile.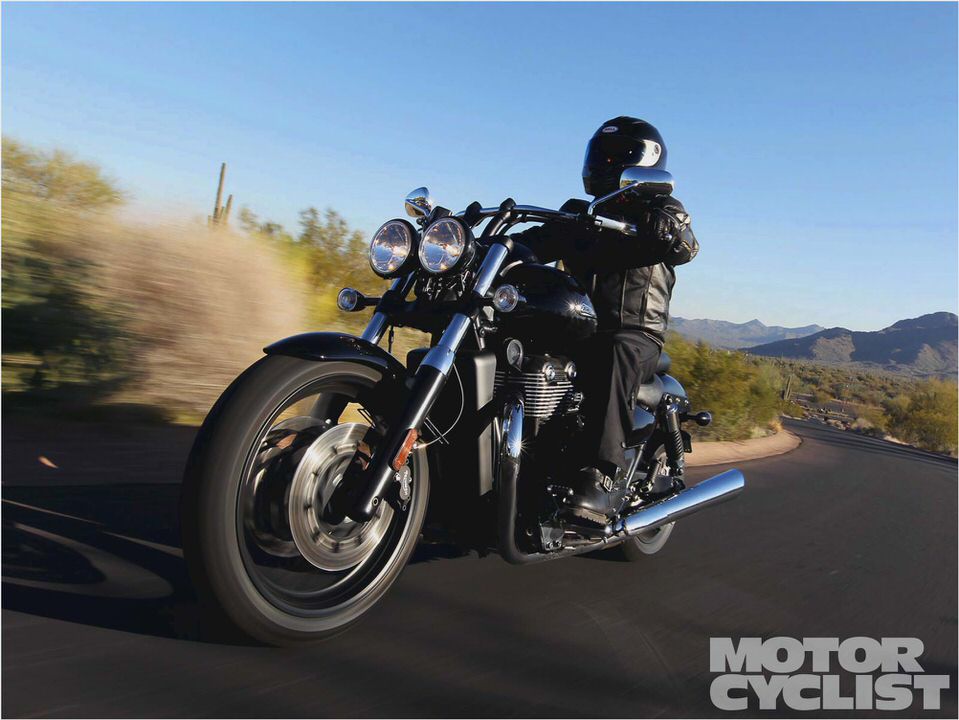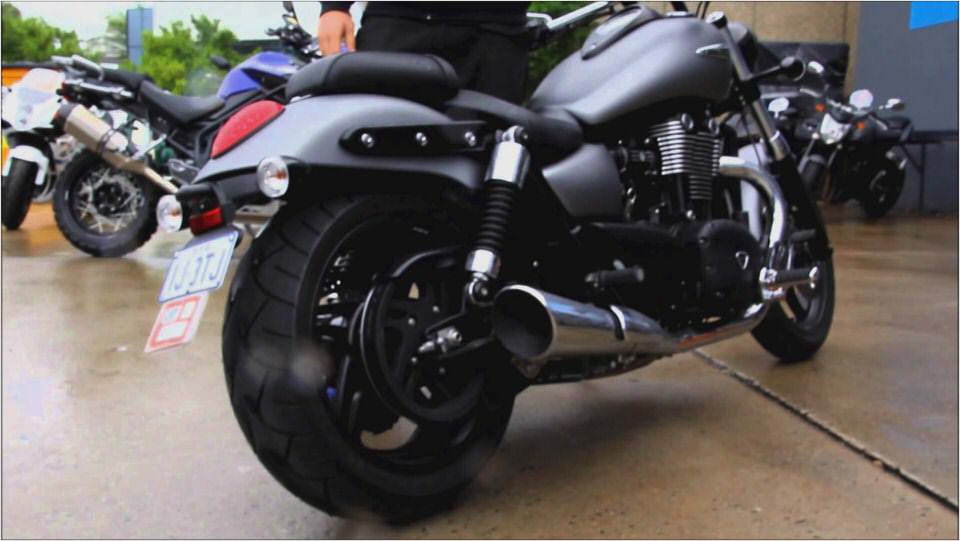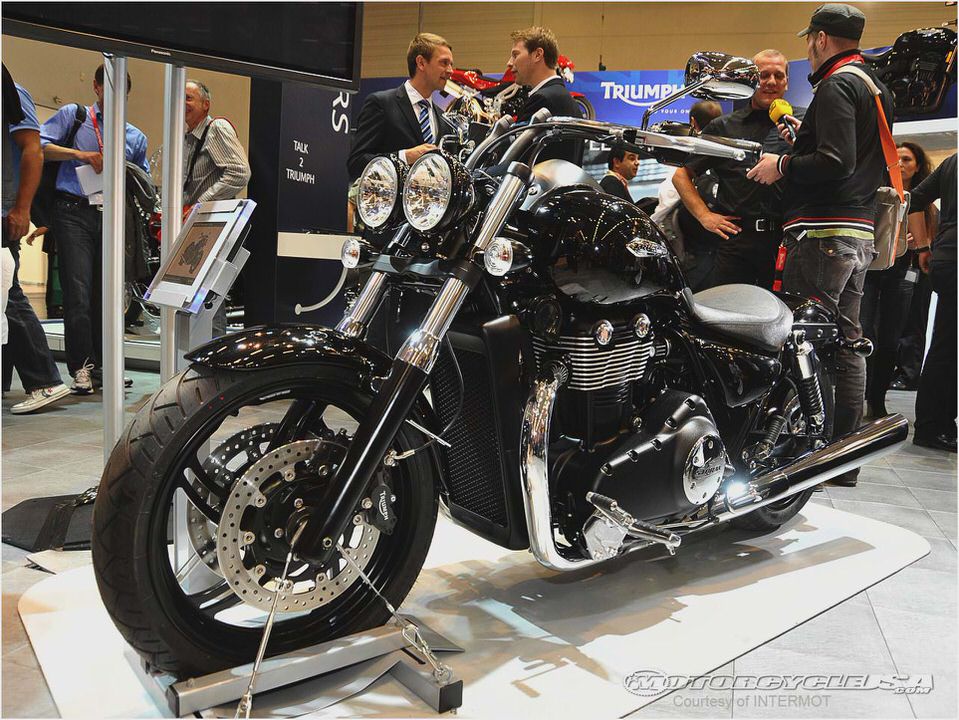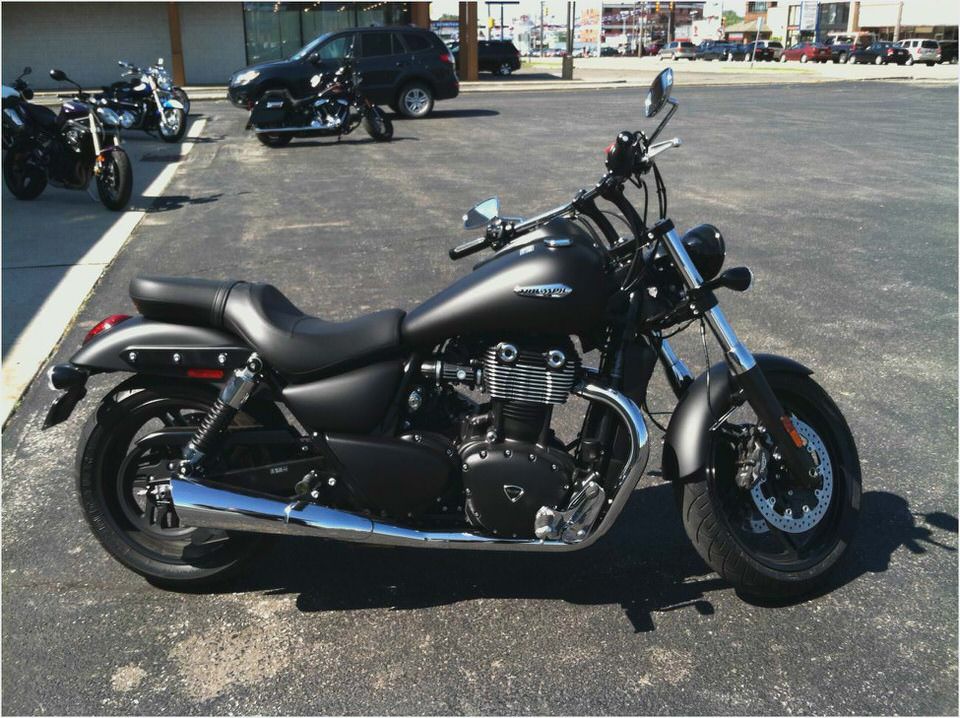 Triumph Speed Triple R Ash On Bikes
2008 Triumph Tiger 1050 motorcycle review @ Top Speed
A year with the Triumph Speed 4
Daytona Urban Master GTX Motorcycle Boots Infinity Motorcycles
2011 Triumph Speed Triple First Ride – Motorcycle USA