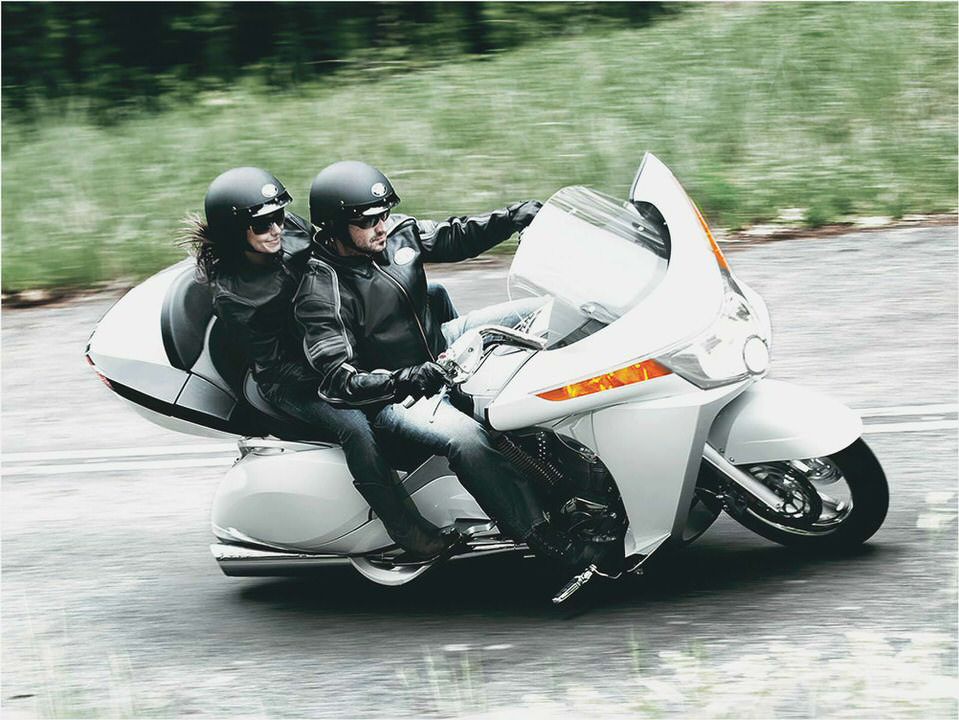 2011 Victory Vision Tour Motorcycle Review
Back in December of 2006, Victory Motor­cycles created a buzz when it launched the all-new Victory Vision. A month later, I saw the bike in person when it was unveiled to the general public at the International Motorcycle Show in New York City. To be honest, I wasn't sure what to make of its love-it-or-hate-it styling, and my first impression was that the Vision's futuristic lines reminded me of Judge Dredd's Lawmaster bike. I did not like it.
That said, I'd like to point out that many of my friends question my style.
Clearly, when this bike was introduced, Victory had its crosshairs set on the luxury touring market. Since Polaris, Victory's parent company, doesn't release sales figures, we can't be sure how much of the BMW K1200 LT, Honda Gold Wing, and Harley Ultra Glide market the Vision has snagged. But I can say that as of 2011 the bike remains in production and has developed a sort of cult following.
For 2011, buyers have three versions to choose from: the stripped-down Vision 8-Ball ($17,999), the Vision Tour ($23,199) featured here, and the tricked-out, factory-custom Arlen Ness Signature Series Vision Tour ($27,999).
It wasn't until last summer that I could actually swing a mighty leg over the Vision Tour for a ride from Grand Junction, Colorado, to Sturgis, South Dakota. Right off the bat, I noticed that this is a large motorcycle. But I'm okay with that since I'm a large man.
Furthermore, while packing the bike, I realized that there isn't as much room as you might think beneath all that plastic. Of the claimed 29 gallons of cargo capacity, most is in a trunk that also can easily swallow two full-face helmets. The side storage compartments look roomy from the outside, but hidden under all that plastic is limited space for my extra gear.
This might be a nonissue for smaller people, like my partners in crime here at the magazine (read Chris and Dain), but I found it a letdown to have such a big bike, yet still have trouble packing my Joe-sized wardrobe, tutus and all. Thank goodness for the trunk. Hampering the process, the saddlebag openings are small compared to the storage room inside, so filling them with large items (read Joe's clothes) is tougher than you'd expect.
When I first sat in the cockpit, I found it comfortable and chock-full of the creature comforts you'd expect in a luxo-tourer, including, but not limited to, a stereo, cruise control, and heated grips and seat. The tubular handlebars have been redesigned for 2011 to provide adequate leverage for slinging the 900-pound behemoth through the twisties while placing my arms in the ideal position for all-day cruising.
From that comfortable saddle, the Vision Tour gives off a totally different vibe than when checking it out from the sidelines. It wasn't until I actually got on the bike and hit the road that I realized why owners love their Visions: this is a fun bike to ride. Looking at it, I would never guess this bike, with its 100″ overall length, and 900-plus pounds of girth would be so capable in the handling of turns and bumps in the road.
The conventional 46mm front fork and air-adjustable, single monotube rear shock do a great job of keeping this bike's tires planted. The 130/70-18″ front and 180/60-16″ rear Dunlops make it feel like it's riding on rails.
And to really help you take advantage of the Vision's nimble handling, Victory's 106/6 Freedom air/oil-cooled, 50-degree V-twin is responsive throughout the engine's rpm range. Victory claims 92 hp and 109 ft-lbs. of torque, which feels about right judging by seat-of-the-pants feel. Victory improved the six-speed overdrive transmission for 2011, giving smoother shifting, and the belt final drive delivers power to the road.
Don't ask how I know, but this powertrain can easily push a fully loaded Vision to triple-digit speeds and maintain that figure all day long. Unlike an ex-co-worker (read Sam Whitehead), when it comes to stopping this massive-looking beast, I had no problems reeling it in thanks to the dual four-piston calipers up front and single two-piston caliper out back that squeeze 300mm rotors. It's worth noting that the front and rear brakes are linked and that, for 2011, ABS comes standard on the Tour and Ness models.
My only real issue with the bike, though, is its bodywork. Those swoopy lines block virtually any cool air that tries to reach me. Basically, the large front fairing and height-adjustable windshield do such a good job of cutting through the wind that the only air blast to hit the rider does so from below. This, of course, means that most of the air that reaches me does so only after passing around the hot engine.
Not cool. Conditions like that are appreciated in cold weather, but it sucked during my ride to the Black Hills during the gawd-awful heat of August. Californians, who enjoy the art of lane splitting, might have another issue with the Vision because its bulbous fairing is so wide that you might involuntarily add some unwanted pinstriping to the cars on either side during a lane-splitting pass.
Overall, the Victory engineering team has designed a great motorcycle. Putting aside that I personally don't care for all that plastic and the futuristic styling, I can't help but conclude that this is a capable motorcycle that's fun to ride. It seems like every Vision owner I've met is ultrapassionate about his bike, almost to the point of being defensive.
That's what I call brand loyalty.
When I think about futuristic designs, it's funny how they usually get extreme reactions from most people, but then those same polarizing designs tend to become old or stale quicker than simple designs. I guess that's the price you pay for being different and having a wow factor. After four years in production, the Vision's styling might be old and in need of a design overhaul.
Another point I should make is that the Vision reminded me of that old aphorism "Don't judge a book by its cover." In other words, like Sly Stallone's character, Judge Dread, I should have taken this bike for a spin before I passed judgment.
And while I'm at it, "Yo, Adrian!" MB
Story as published in the July/August issue of American Iron Motorcycle Bagger .
2008 Victory Vision First Ride Review- Victory Vision Road Test Photos
2011 Victory Motorcycles Preview Hot Bike Motorcycle
2011 Arlen Ness Victory Vision — Motorcycle Magazine
2009 Victory Vegas Jackpot Review – Ultimate MotorCycling
Victory Motorcycles CORE Concept Bike – Motorcycle USA