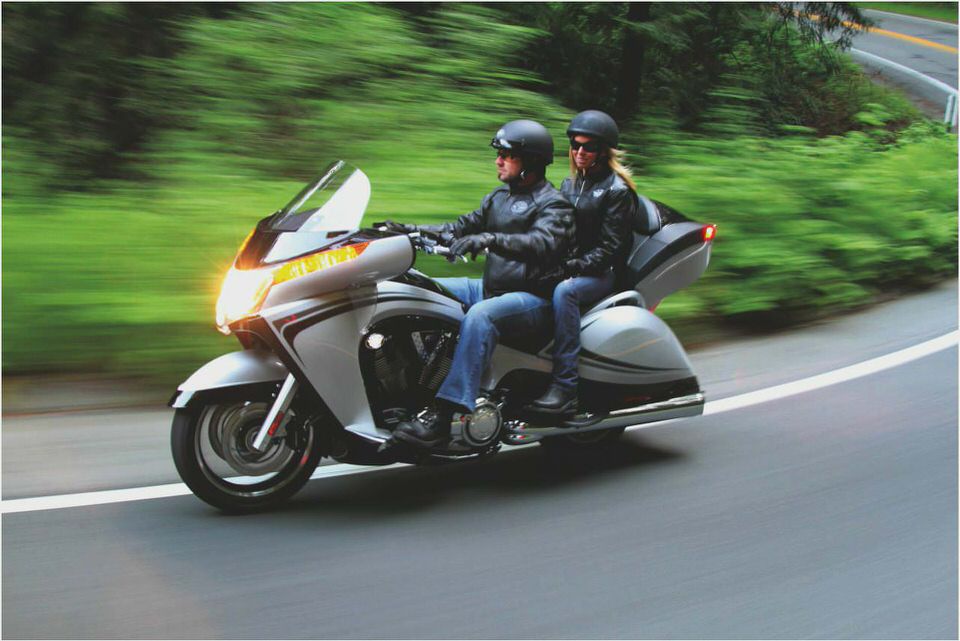 2011 Victory Vision Tour vs Road Glide Ultra
We ride the Victory Vision Tour throughout Southern California for this American V-Twin touring motorcycle comparison. See how it fared in our 2011 Victory Vision Tour Video.
The Victory Vision has drawn an emotional response since its 2008 introduction. And with good reason. Nobody had seen such futuristic styling on an American V-Twin-powered touring bike before.
Victory also had it dialed in properly right out of the gate with its torquey 1731cc engine, precise handling at speed and its ability to provide a comfortable touring platform over long ranges. People were incredulous when we declared it the victor in our 2008 H-D Ultra Classic vs Victory Vision comparison. At the time, most people hadn't had an opportunity yet to sample the merits of the big touring bike, but since then celebrity riders like Arlen Ness and Sonny Barger have given the motorcycle their endorsement.
trell January 15, 2014 05:42 PM
with victory 5yrs warranty you will need it..it takes them 2 to 3 mos. to do anything to vision. Dealers far few between. Most dealers are so full of crap and couldn't fix a wheelbarrow. This all comes from a vision owner who own Harley also.
The vision could be a great bike with more customer support. You can't even get to talk to anyone at the factory.
top.cat2002 -VIC/HD January 31, 2011 12:52 AM
do victory still offer 5 year warranty. if so, that's commitment in yr products do H/D offer 2 years. i would buy another H/D if they warranted it for 5 years but it would bankrupt H/D. where's the power graphs.
Waldo -Good article! Here's some minor corrections. January 29, 2011 04:09 PM
From the article, about the Vision . increased creature comforts with the addition of heated seats and grips straight from the factory. Victory also tweaked a few components like switching to tubular handlebars, did away with the heel/toe shifter for a toe shifter and re-designed the exhaust tips. I have a 2008 Vision Tour Premium that I purchased new. It came from the factory with heated grips, heated seat, and a toe only shifter.
In 2008 only the base models came without heated grips or seat. The heal/toe shifter was a dealer accessory.
Yuck -Ugly ducklings January 26, 2011 07:35 PM
Functional as they may be I think these two bikes could very well tie for the ugliest cruisers out there. One looks like a prop from a sci-fi movie. If I were to get on it and the thing didn't fly I would assume it was broken. And the other looks like a old tractor that got into an accident with a 1970's snowmobile.
Would have to knock on it to make sure the body work wasn't fiberglass. Yikes!
Slim Jones -Vicodin Victory? January 26, 2011 09:52 AM
The Victory looks like that fat-boy on OCC designed it on his 'puter.
topcat2002 -H/D January 25, 2011 03:24 PM
if it wasn't for victory, harleys would not up date its bikes, you no red or blue or black paint jobs lol.
milwaukee mike -HD=GOOD/Victory=UGLY January 25, 2011 01:01 PM
The victoey is fugly, JMHO.
But buy one if you have no self respect, or if you're blind and have no taste..
Half333EVil -jorDe January 25, 2011 11:03 AM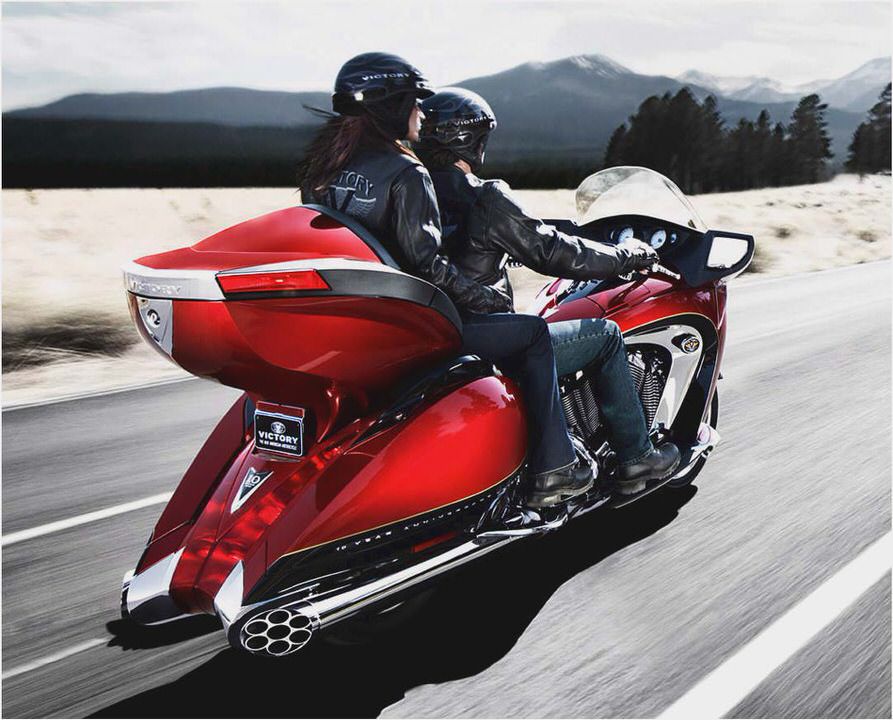 Did you even read the full article. They find the Ultra to be the better bike. A quote from the article you are slamming,
The Ultra's brakes also inspire more confidence, and though the disparity between the two is minute at best, we found the updated Road Glide Ultra to be an incrementally better all-around motorcycle.
Enthusiast -Missing an important element January 25, 2011 08:19 AM
This comparo would be complete only if they included the fabulous John Deer Soft Comfort, which would give a run for their money to both HD and Victory. It would probably outclass them in both speed and handling.
jorDe' -Rider January 24, 2011 10:13 PM
You can tell from the way the article first describes the addition of the rear speakers and lowers of the Harley, they are not going to give an unbiased opinion on the Road Glide.
Even when they make a favorable statement about the Road Glide (The Vision did top our scales, though, weighing in at a portly curb weight of 909 pounds with the Road Glide Ultra no featherweight itself at 875 pounds.), they try to make it sound like it is a negative.
Here they compare the Off the Line power of the two bikes. But despite its (The Road Glide) lack of horsepower in comparison to the Vision, it has a strong initial hit and launched with authority thanks to its crisp throttle response and the jetting of its Electronic Sequential Port Fuel Injection.
In the middle of the article, they said the Vision was not very good at Low Speed maneuvers. The bike feels longer and top heavy at slow speeds, requiring a wider birth in tight maneuvering than the Road Glide Ultra and But the saddlebags on the Harley are much better because the width of Vision's side compartments are a little shallow and more challenging to load.
But at the end they say, in 2009, the bike handles on par with the Vision now at speed, too. It also matches the Vision's comfortable ergos, storage capacity and ride quality
It is Not unbiased. They went in this to find the Vision better, no mater what the findings.
R34 -2011 Victory Vision Tour vs Road Glide Ultra January 24, 2011 02:21 PM
Looks like a car, looks like it should be towing a toy hauler or something, bout as aero dynamic as my kids umbrella. I'm waiting for doors to grace this thing in the future. Want to see someone do a DMV cone test in this thing just for fun.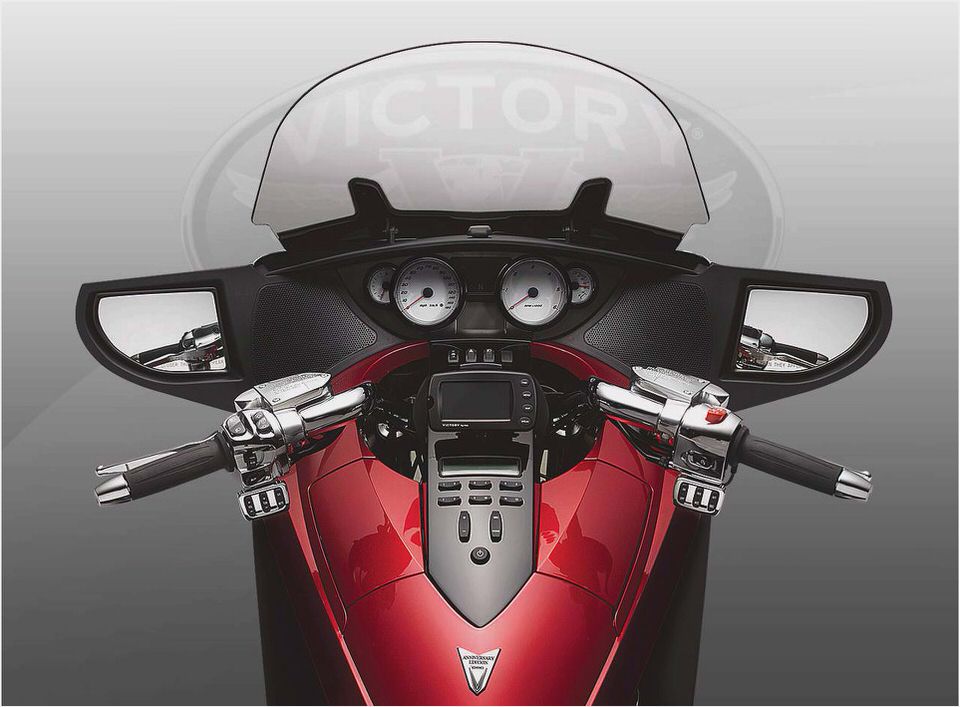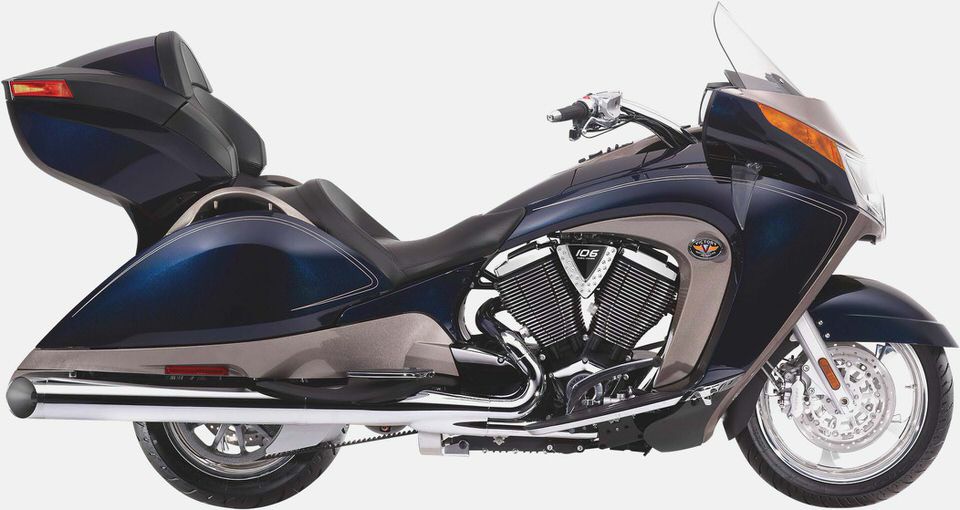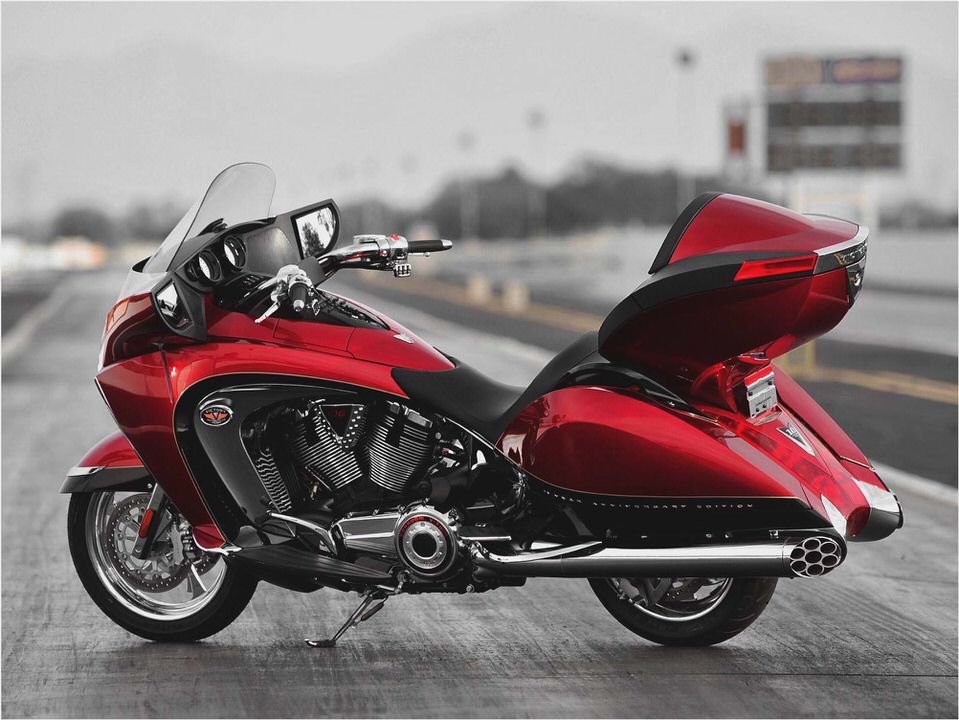 2011 Victory Cross Roads Review –
MD Comparo: 2011 H-D Road Glide Ultra vs. 2011 Victory Cross Country …
Victory Cross Country- Long-Term Wrap-Up
2014 Victory Vision Tour Specs and Review 2013 2014 Motorcycle Review and News
Victory Vegas Jackpot Road Test from Kirk at phoenixbikers.com