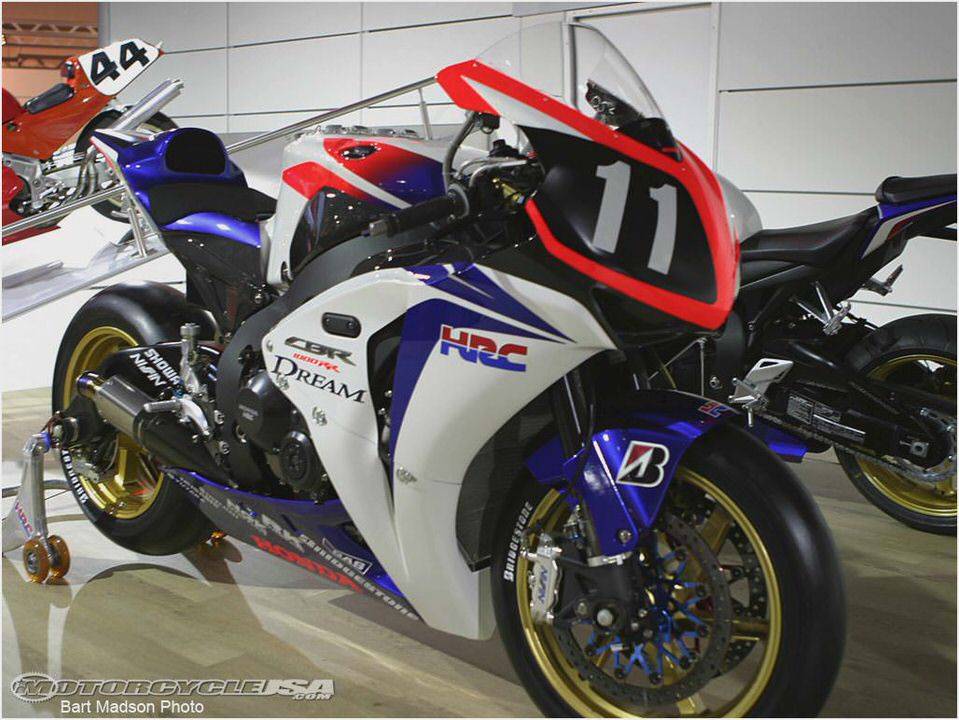 2012 Honda CBR1000RR – First Look Revamped styling, revised suspension, new wheels and feature-rich instrumentation lead the changes to Honda's liter-class racer-replica.
You'll have to look closely, maybe even squint, to appreciate the subtle-yet-significant changes Honda has made to the 2012 CBR1000RR.
Start with the chassis: Like the current Suzuki GSX-R1000 and Kawasaki ZX-10R, Honda's 20th-anniversary-edition liter-class racer-replica is fitted with Showa's 43mm Big Piston fork. This beefy-legged design places its springs at the bottom, in oil, with the damper pistons above them. The alleged result provided by the greater damping volume is "more precise action during the initial stroke and smoother damping action, which the rider perceives as improved handling, enhanced front-end feedback and a more solid feel during hard braking."
Showa also makes the twin-tube, single-damping-circuit "balance-free" shock, which, Honda says, offers more-linear bump progression than the previous damper. Like the fork, it is adjustable for spring preload and compression/rebound damping, the clickers for the latter clearly visible—and hopefully, easily accessible—from the left side of the bike.
Turn your gaze to the cast aluminum wheels. Tire sizes are the same (120/70-17 front, 190/50-17 rear) as used on the previous hoops, though the earlier three-spoke rims have given way to an even-lighter look featuring a dozen wafer-thin Y-shaped spokes.
Patented "layered" bodywork with a more pointed fairing nose and revised shapes and cutouts is said to be more aerodynamic. "Shark's tooth" sidepanels are sharper and more aggressive-looking. A revised chin spoiler reduces lift at high speeds. Claimed curb weight is 441 pounds, 2 lb. more than the 2011 model.
Combined ABS is, once again, optional. No rider-variable power modes or traction/wheelie control, features that are either standard or available as options on most, if not all, of the CBR's European and Japanese competition? Those rider aids are unnecessary, snorts Honda, when you have a "machine designed from the get-go with both a sound concept and strong execution."
While the liquid-cooled, dohc, 16-valve, 999cc inline-Four is itself unchanged, revised fuel-injection settings are intended to give the RR more-linear response, especially at smaller throttle openings. The last CBR1000RR Cycle World tested ("Turn Burn," July, 2008) produced 159.3 horsepower. In comparison, BMW's S1000RR, the class powerhouse, made 179.5 hp ("Electronic Warfare," August, 2011), while Kawasaki's ZX-10R managed 165.5.
The 2012 CBR1000RR is scheduled to arrive in U.S. dealerships in December. MSRP for either the Pearl White/Red/Blue or Black model is $13,800—an increase of $401—with the C-ABS version in Red commanding a $1000 premium.
Wossner Piston Kit – Honda XR650R – 644cc / 100.02mm / 11:1 Compression
#22 Parts Bin–What To Hoard For Your CH250
ORE_Enews_13
Honda Civic Type R Concept a "Racing Car for the Road" TheDetroitBureau.com
Honda PCX and Spacy Scooters Presented by Boon Siew Honda!