2012 Kawasaki Vulcan 1700 Voyager ABS Road Test
The Voyager has ample wind protection, with a tall, non-adjustable windscreen that you must look through rather than over.
Photo Credit: Greg Drevenstedt and Kevin Wing
April 2, 2013
My fiancée loves spontaneous adventure, but she's had it with me proposing last-minute weekend getaways and showing up on a test bike she's never ridden on before. I figured the 2012 Kawasaki Vulcan 1700 Voyager ABS, with its ample wind protection, cushy seating and generous luggage capacity, would be a slam-dunk.
The first pang of disappointment came when I realized that the accessory iPod adaptor ($107.95) that was on our last Voyager test bike (Rider, July 2009) wasn't in the locking fairing pocket. No rear speakers either; they're also optional, to the tune of $308.95. With only FM/AM/WX available, Carrie cranked up her iPod and I streamed music from my iPhone to my Bluetooth headset.
With over 33 gallons of storage capacity, the Voyager is ready for fully loaded two-up touring.
Fully packed and multi-layered, off to Big Bear Lake we went on a cool, sunny Friday, on a back-road route through three national forests. With the vents in the fairing lowers closed and tucked behind the very tall windscreen—I'm 6-foot-2 and I had no choice but to look through the non-adjustable, 17-inch screen—we were shielded from the cold. An hour into the ride, we stopped to stretch our legs.
Carrie and I agreed that the initially plush seats had become less so, lacking the support needed for true long-haul comfort. Also, the passenger area was cramped, trapping Carrie between the wrap-around armrests and offering too little space between her and me, obscuring her view and resulting in more collisions between our helmets than usual.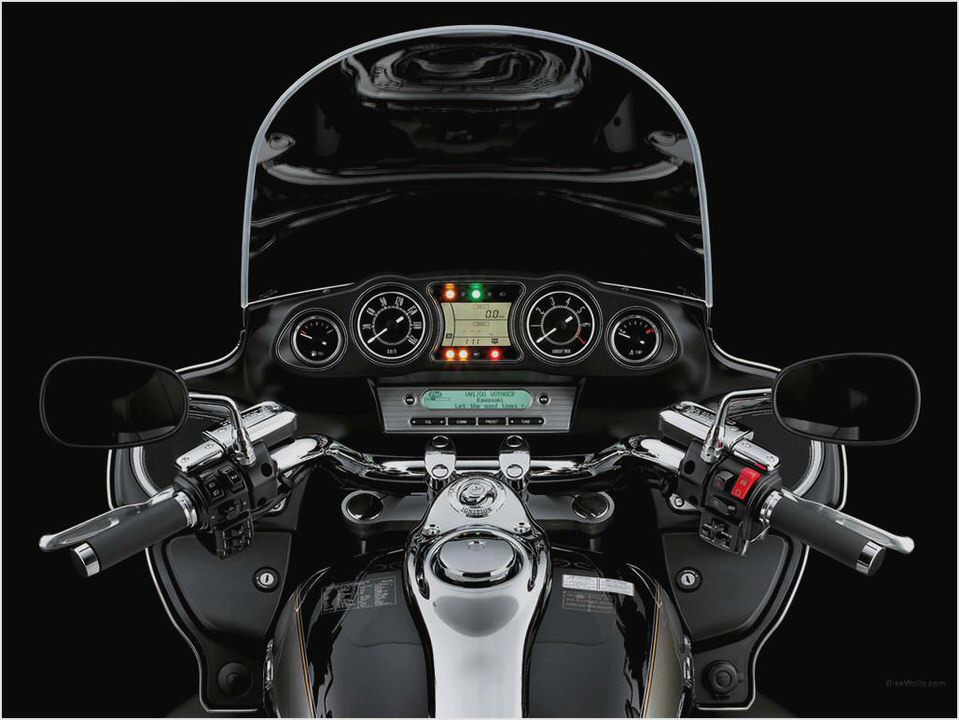 Part of the helmet-banging problem stems from excessive driveline lash that makes low-gear on/off throttle transitions herky-jerky. With the bike weighing a substantial 893 pounds wet, plus a few hundred more pounds for us and our gear, a fully loaded Voyager is well over half-a-ton of mass on two contact patches (load capacity is just 381 pounds). Add in lazy steering geometry, soft suspension, heavy bias-ply tires and limited cornering clearance, and it's a handful in tight corners.
The new-for-2012 Kawasaki Air Management System reduces felt engine heat.
The current 1,700cc V-twin version of the Voyager was introduced in 2009. (The original in-line-six, KZ1300-based Voyager arrived in 1983; it was replaced by the in-line-four Voyager XII in 1986, which was produced with few changes until 2003.) Enhancements have been made each year since, including better engine heat management, updates to the K-ACT anti-lock braking system, redesigned mufflers and reduced transmission noise. Felt engine heat still being a problem, for 2012 the Voyager got the Kawasaki Air Management System (KAMS), which is designed to improve rider and passenger comfort when stopped or at low speeds.
The system uses an auxiliary fan and ducts to route heat from the radiator, rear cylinder and exhaust pipe to the ground, and it works well. Also for 2012, Kawasaki added Navigation Audio Prompt Capability, which plays voice prompts from Garmin zumo 660/665 GPS devices (sold separately) through the Voyager's audio system or accessory Kawasaki headsets.
The Kawasaki Vulcan 1700 Voyager is designed for a particular sort of rider, a uniquely American motorcyclist who loves the open road more than twisties, who feels styling, wind protection, storage capacity (over 33 gallons in all) and a rumbling, torquey V-twin is more important than sheer performance, handling or cornering clearance. For the money, the Voyager ought to have a more fully featured audio system as standard equipment, as well as ambient temperature display and a tire-pressure monitor (like the Concours 14) on the instrument panel. No changes for 2013 other than colors and price.
Price as Tested: $18,999 (ABS; $19,349 for 2013)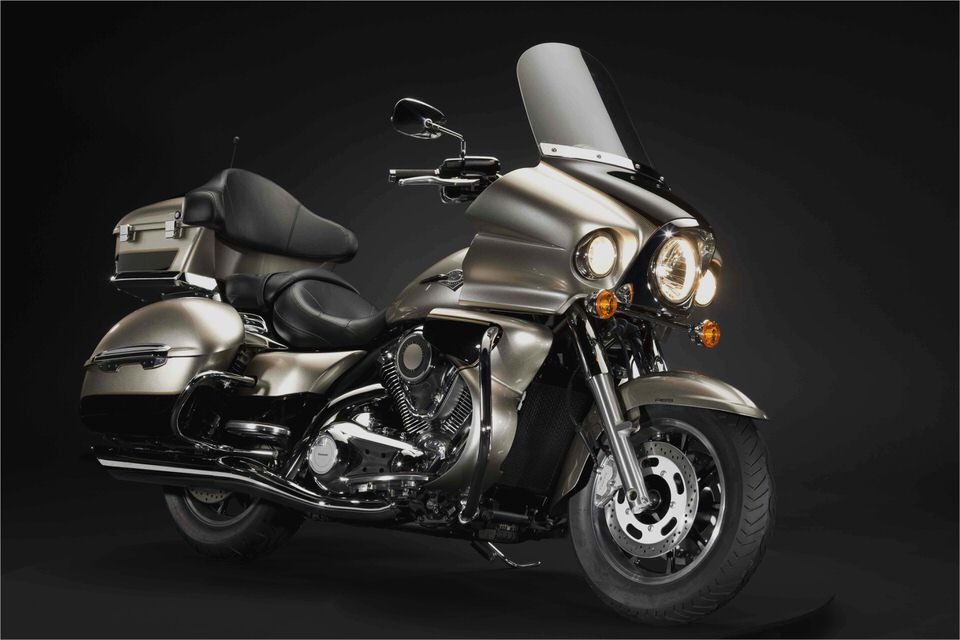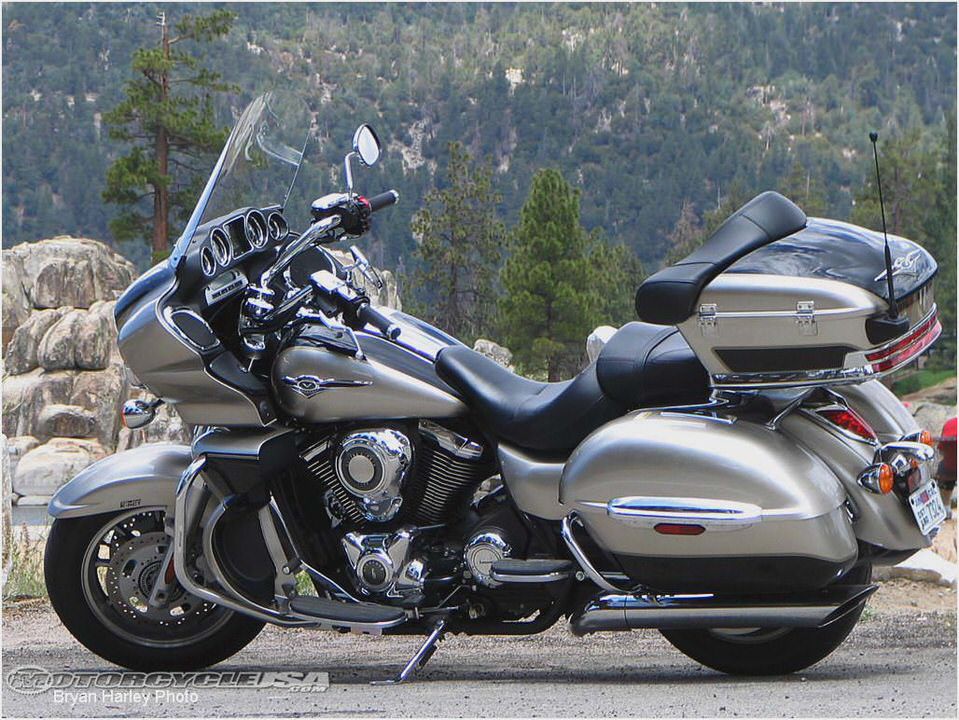 Tested: Kawasaki W800 vs Triumph Bonneville T100 Motorcycle Trader New Zealand
Kawasaki A1 Samurai
2012 Kawasaki Ninja 650 Review
2012 Kawasaki ER-6n Specs Information Picture Speed Motorcycles
Kawasaki Er-5 GhostBikes Blog