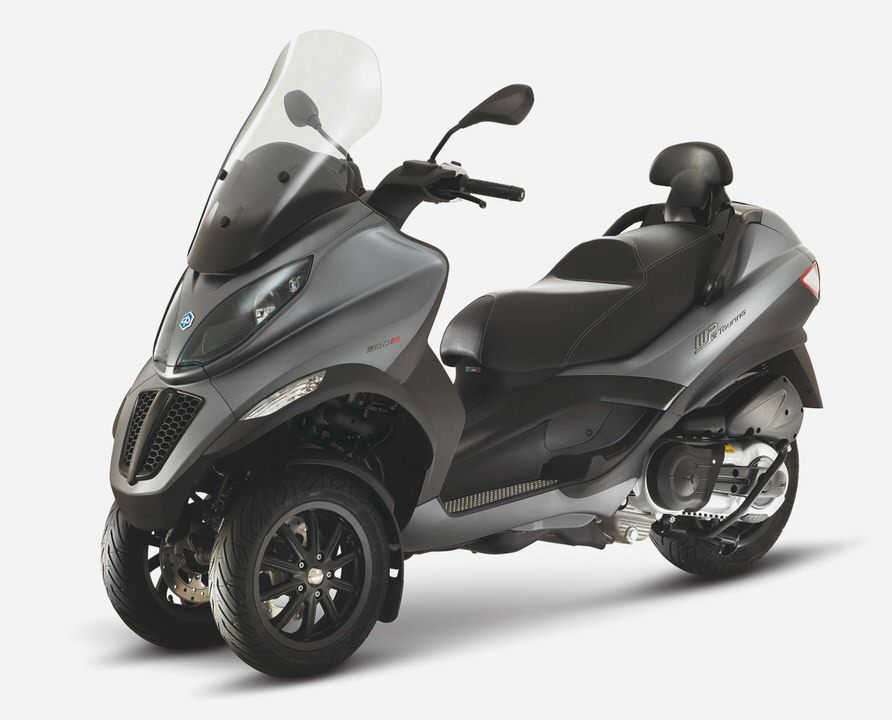 Specifications:
year: 2012 make: Piaggio Model: MP3 price: $8899 Engine: Single-cylinder, MASTER, 4-stroke, 4-valve Transmission: Automatic Horsepower @ RPM: 40 MPG(Cty): 55 MPG(Hwy): 57 Torque @ RPM: 31 @ 5550 Displacement: 492 cc Top Speed: 89 mph
Filed under:
Posted on 01.1.2013 23:34 by Sulthoni
The Piaggio MP3 500 is a pretty unique vehicle mostly due to its three wheel configuration. Apart from its innovative configuration, Piaggio MP3 500 has also the capability to swing or tilt in bends which makes it very stable and is equipped with a pretty capable 500 cc engine.
The MP3 500 is also offered with a rider sensor mounted in the saddle which beeps if you are not wearing the safety seatbelts.
This unique street bike uses an automobile-like double-wishbone aluminum suspension system supporting two independent steering columns. In addition, the suspension travel from the front electro-hydraulic suspension is 3.35 inches. The rear swingarm is sprung with two hydraulic shock absorbers that provide 4.3 inches of wheel travel.
The front wheels measure 12 inch, while the rear one is slightly bigger measuring 14 inch. All three wheels are wrapped in Michelin Pilot Sport SC tires.
Hit the jump for more information on the 2012 Piaggio MP3 500.
continue reading
Press release
With their two front wheels, the Piaggio MP3 has set new standards for dynamic stability, and delivers a revolutionary new riding experience.
A front end with two independent tilting wheels gives cornering stability
beyond that of any other scooter. At speed, the Piaggio MP3 stays stuck to the road and can always deliver maximum performance in total safety.
The benefit of the three-wheel revolution really makes itself felt on wet roads and in other adverse riding conditions.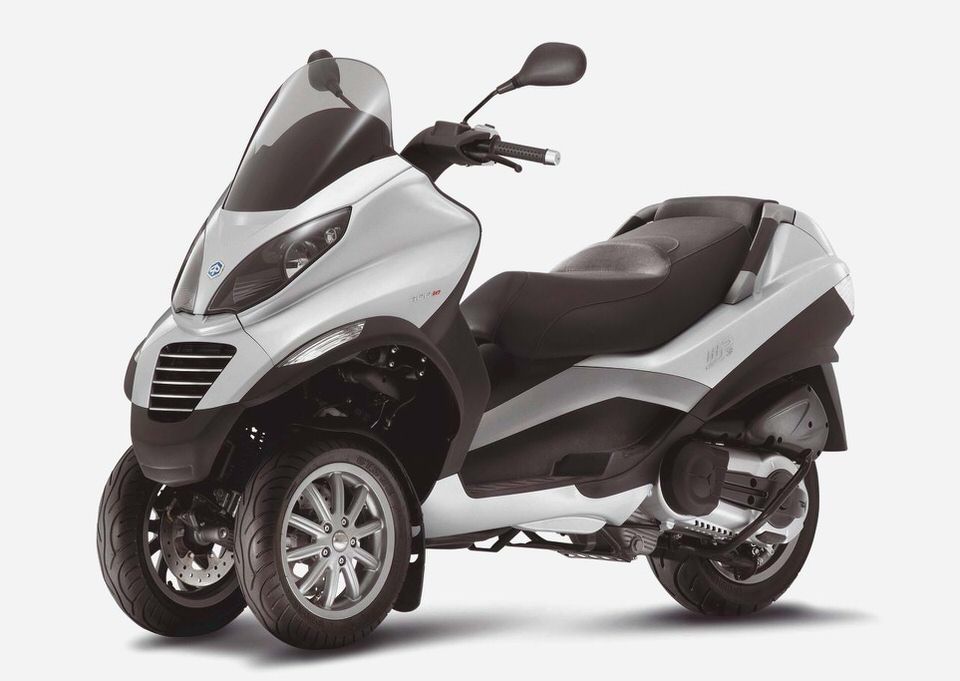 The Piaggio MP3 offers unrivalled safety in town and city centres where it negotiates cobblestones, rough roads, tram lines and manhole covers with a sure-footed stability previously unachievable. The dimensions of a maxi scooter combined with amazing agility make the Piaggio MP3 completely at home in the city centre where it is also safe and easy to park thanks to a tilt lock system that locks the suspension and allows the MP3 to stand upright even without the aid of its stand.
The revolutionary Piaggio MP3 can stop in distances so incredibly short that
no other scooter can hope to compete. Thanks to a triple disc braking system and the exceptional grip afforded by the two front wheels, stopping distances are 20 percent shorter than comparable twowheel scooters.
When the road leaves the town behind, the Piaggio MP3 really shows what it is made of. Excellent road holding, unmatched cornering safety and lean angle (up to 40 degrees) guarantee immense riding satisfaction on country roads.
The Piaggio MP3 500, with aggressive styling and performance, is the three-wheeler for people who want to stand out. Riding has never been this easy, enjoyable, secure and fast. When you take 20% less braking distance required and pair it with a lean angle of 40-degrees, you get a perfect machine for impeccable road holding in all riding conditions.
The MP3 500, delivers show-stopping looks, incredible performance and the X factor that makes it stand out from other anonymous maxi scooters. The machine is particularly in its element on twisty roads, where the razor-sharp handling is complemented by a superb threedisc braking system and the double ignition "Master" engine.
FEATURES
Powerful and economical 498cc, 4 stroke, liquid cooled, 4 valve engine with advanced twin spark ignition, EFI and electric start Easy to use automatic "Twist and Go" CVT transmission Low emission environmentally friendly euro 3 compliant Unique to Piaggio twin front wheel design for unrivalled road holding and braking in all conditions Ease of parking with electro-hydraulic front suspension locking system allows parking on most surfaces without centre stand Anti-theft electronic key coded immobiliser plus body mounted security loop Lockable under seat storage and handy shopping bag hook Advanced 3 disc braking system (one per wheel) provides exceptional braking on all surfaces and road conditions Analogue speedo, tacho and fuel gauge with digital clock, trip computer and temperature indicator Lockable parking brake Rear grab rail and carry space Wide comfortable seat with raised pillion seating position and handy key remote release No wider than standard Maxi scooter 2 year unlimited KLM warranty
Piaggio MP3 300ie Hybrid – Motorcyclist Magazine
Piaggio MP3 500 Review
2007 Piaggio BV 250 – Used 2007 BV 250 at Motorcyclist Magazine
2008 Piaggio MP3 500 Road Test Rider Magazine
2012 Piaggio Beverly Sport Touring 350 Review