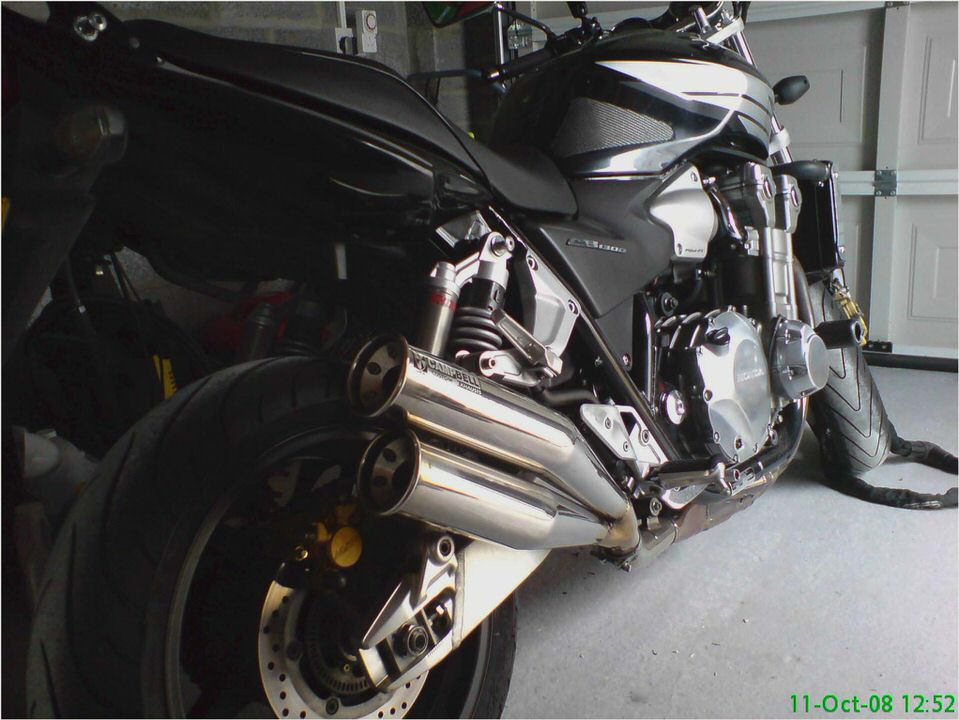 Specifications:
year: 2013 make: Honda Model: Shadow Transmission: 5-speed Displacement: 745 cc
Filed under:
Posted on 04.22.2013 15:54 by Serafim
If you are searching for a classic cruiser that offers a perfect mix of agility, comfort and practicality then you should take a closer look at the 2013 Honda Shadow Spirit 750 VT750C2. Despite its classic lines, the motorcycle is fitted with many modern technologies that help it deliver low fuel consumption and healthy overall performances.
The Honda Shadow Spirit 750 VT750C2 is powered by a 745cc, liquid-cooled, 52-degree V-twin engine which is kept in check by a wide-ratio five-speed transmission. The engine offers a perfect balance between sportiness and efficiency, rewarding you with a fuel consumption of 56 miles per gallon.
As far as comfort is concerned the motorcycle offers a low 25.7-inch seat height which assures a pretty relaxed riding position. Moreover, the saddle is broad and spacious, and its design is comfortable for both the rider and passenger.
Hit the jump for more information on the Honda Shadow Spirit 750 VT750C2.
continue reading
Cruiser Style, Sporty Performance.
The Shadow 750 Spirit's style is classic cruiser. But with a sportier attitude. Featuring a low 25.7-inch seat, beefy V-twin and long, lean lines stretching to its 21-inch front wheel for a vibe that is classic "dragbike." With Honda's reputation for quality, this is a bike you'll enjoy for years of trouble-free riding. And you get it all with one very reasonable price tag.
The Shadow 750 Spirit. The performance is pure Honda, the spirit is pure sport.
Here's a machine that's perfect for cruising city streets as well as exploring back-country roads—the Shadow® Spirit 750 C2. Honda has brought together a big-bike look, distinctive street-rod styling and a muscular V-twin engine—now including the sophistication and metering precision of Programmed Fuel Injection (PGM-FI). And it all comes wrapped up in a surprisingly affordable package.
A Lot of Spirit.
The 750 V-twin in the Shadow Spirit produces surprising torque and get up and go. Thanks to Honda's meticulous engineering.
Get the Low Down.
A low seat height gives you comfort and confidence because it lets many riders put both feet flat on the ground at stops.
Strong, Silent Type.
The Spirit's durable and virtually maintenance-free shaft final drive ensures smooth, dependable power delivery to the asphalt. No hassles, no grease flying everywhere. Just smooth, quiet power transfer.
Don't be Fuelish.
One of the best things about the Shadow Spirit? Its awesome fuel economy. How good? How about a 56 mile per gallon? Now that's Honda smart!
Features
New Ultra Blue Metallic Flame color joins Black. (ABS model available in Black only.) Transferable one-year limited warranty; extended coverage available with a Honda Protection Plan. Touring Accessories: Leather Saddlebags (studded/fringed/plain), Synthetic Leather Saddlebags, Leather Tank Belt (studded/plain), Leather Front Pouch (studded/fringed/ plain), Leather Touring Bag (studded/fringed/plain), Saddlebag Liner Set Chrome Accessories: Light Bar, Spotlight Visors, Backrest with Pad (tall/low), Backrest Trim (tall/low), Rear Carrier, Passenger Grab Rails, Radiator Guard, Allen-Bolt Inserts (5mm/6mm/ 8mm), Driveshaft Cover Billet Accessories: Master-Cylinder Cap (fluted/V design/neo-retro/chrome), Swingarm Pivot Cover Set, License-Plate Frame (fluted/V design/neo-retro) Additional Accessories: Digital Audio System, Cycle Cover V-Twin Engine – Nothing pumps out the torque like a big V-Twin.
The Spirit's power makes it perfect for both around-town cruising, commutes, and casual weekend-long rides. Programmed Fuel Injection (PGM-FI) – Forget about fiddling with a choke—the Shadow's fuel injection system means no-hassle startups on cold mornings or at high altitudes, and optimal performance in any condition.
Five-Speed Transmission – Wide-ratio five-speed transmission lets you cruise the boulevard at a low, unhurried pace, yet lets you hop on the highway without revving the engine through the roof. Three-Valve Dual-Plug Combustion Chamber Spoked Wheels – Spoked wheels give the Shadow Spirit a classic look. 21-Inch Front Wheel – The Sprirt's 21-inch front wheel helps create a narrow, hot rod custom look while providing a light steering feel.
Shorty Front Fender – Minimalist front fender gives the Shadow Spirit a lighter, cleaner, more progressive look. Low Seat Height – The Spirit's super-low 25.7-inch seat height is something you're going to appreciate when you're maneuvering to park or flat-footing it at stop lights. Plus, the low seat also inspires rider confidence.
Comfortable Saddle – Broad, low-slung one-piece seat design is comfortable for both the rider and passenger. Dual-Shock Rear Suspension – Dual shocks just plain look right on a bike like the Spirit. And with the super-low seat height, they really help smooth out the bumps and potholes on your ride. Shaft Final Drive
Detroit Auto Show Preview: Ford's Non-Mustang Mustang-Platformed Interceptor…
2014 Honda Valkyrie — First Official Photos and Specs RideApart
Honda CBR250R India Review, Price and Specifications
How Honda Got Into Other Fields. – HA Honda and Acura Enthusiast Club
2008 Honda CR-V Reviews – Autoblog and New Car Test Drive