2014 Kawasaki Ninja ZX-10R Test Ride Review
2014 Kawasaki Ninja ZX-10R – Click above for high resolution picture gallery
Kawasaki Ninja ZX-10R Review
Bike Tested: 2014 Kawasaki Ninja ZX-10R
Price OTR Mumbai: Rs. 18,17,500/-
The Kawasaki Ninja ZX-10R does not have power, it has space shuttle alike thrust.
Superbike. The term is applied when a motorcycle has a 1000cc plus engine and yields roughly around 200 BHP of raw power. One such motorcycle has finally entered our market, officially.
It is called the Kawasaki Ninja ZX-10R . Kawasaki uses the Ninja ZX-10R for WSBK and sells pretty much the same motorcycle off the shelf to its customers. Meanwhile in India, part two of Kawasaki's strategy has seen the daylight. The Ninja ZX-10R and ZZR-1400 have officially landed in India via the CBU route, which makes Kawasaki, disturbingly the last Japanese manufacturer to enter India with their high performance motorcycles.
Disturbing because, Kawasaki has been in India with Bajaj Auto ever since 2008. However there is a different side to it. This time Kawasaki has gone solo.
Yes, Kawasaki is selling these motorcycles only through their showroom in Wakewadi, Pune and not through pro-biking stores.
The Ninja ZX-10R is the latest entrant into the litre class segment in India
Kawasaki in India has been known for the Ninja 300 and Ninja 650, which are the only products they were selling until now. The motorcycles have achieved cult status in India. The name Ninja is enough to make any one understand that you own a piece of motorcycle that is truly top shelf stuff. The Ninja 300 and Ninja 650 will continue to be sold and serviced through pro-biking though. Worldwide, the Kawasaki Ninja ZX-10R is christened as the best Japanese litre class motorcycle to ride.
We spent quality time with the Kawasaki Ninja ZX-10R to find out how this qualified green champion ticks all the boxes in our uncertain Indian conditions.
Motor Quest: Kawasaki launched the Ninja ZX-10R in 2004, as a replacement for the ZX-9R. The bike has been revised over the years but the latest update was given earlier this year.
Styling – The ZX-10R has been the donor bike for design on almost every other Ninja in Kawasaki's stable. Therefore, the styling is spot on. You cannot call the bike gorgeous or stunning.
It looks striking, purposeful, mammoth and brutal in this candy green colour. Nose down, tail up design always looks sporty. Large twin angular headlights, smartly integrated DRLs in the middle, massive fuel tank, sculpted faired panels and minimalistic rear with integrated turn blinkers into the tail light piece marks a statement, which is baptised as a clean design and not busy or funky like some competitors.
Overall the Ninja ZX-10R looks compact, especially from the rear since the exhaust is short and the entire bulk is in the centre, which depicts the look of a 600 at first sight rather than of a 1000. The mirrors with integrated turn indicators look like ears from a distance and somehow they gel immaculately well with the design. The three spoke wheels found on most Japanese motorcycles are not pleasing to the eye.
Colour use is also kept to a minimum with gold colour forks and rest of the body panels being green and black only. Form and function in a motorcycle together is seldom achieved.
Ergonomics – Nose down, tail up design looks swell. However, when you sit on the bike you realise its effect. You sit in the bike rather than on it.
The clip-ons are placed even lower than that and your back is completely arched. The roomy riding position makes matters slightly more comfortable because of the foot peg position. The foot pegs are an adjustable unit, so make it roomier for comfortable riding or make it even more focused for those track days. Rider seat is very comfortable. Hundred of kms just go unnoticed when it comes to seat comfort.
Brilliantly cushioned and size that should suit most riders. Overall, highly dedicated riding position, you will need a waist of steel to do long distances because it will bend less than tissue and muscle. Let us not forget if you are doing city duties for first few weeks, your forearms will also require strength to move the bike at only parking speeds, not while moving (more on that later.) Mirrors are positioned lower and are extremely easy to adjust.
Pillion seat is surprisingly well crafted and is comfortable for small journeys.
Instrument Cluster and Switch Gear – The all-digital rectangular cluster looks great. White backlit with LEDs for the main screen as well as the tachometer is an excellent idea. The cluster shows a host of information such as lap timer, reading of litre per 100 kms (current and consumed), clock, intake air temperature, engine temperature, two trip meters, gear position indicator and much more.
Fuel warning light instead of the fuel bar is here because of the European laws, so it directly flashes a warning light when 3-4 litres are remaining. Switch gear is top notch with precise clicks. On the right side there is the engine kill switch with start stop switch and the starter button. Left side switch has the power mode selector on the top and traction control below on the same button and there is the high beam and horn.
Pass light function works as lap timer button as well.
Performance and Gearbox – Under the hood sits a 1000cc engine. Oh, wait, sorry. Below the petrol tank sits an in-line four, liquid-cooled, 4-valve, two injectors per cylinder motor producing 200 BHP of unadulterated power at 13,000 RPM and 112 Nm of peak torque at 11,500 RPM which is so sensationally fuelled throughout the entire RPM range that you will feel that you are on a practical motorcycle or a superbike with unruly problems.
Those days are history. Electronics and pre-production results through computers have made life a lot easier. The entire power band is flawless like any other small capacity Ninja we have ridden.
Now we know for sure where this idea comes from.
Thumb start the engine and it comes to life with a low decibel mechanical clunk. Get moving and you realise this motor is insanely tractable. All that capacity, horsepower and close ratio gearbox helps you stray around town in fifth gear. When you want to overtake, twist the throttle five percent which has a very short play and overtaking is done quicker than expected. Get a empty stretch of road and give it everything you can while holding the bike with all your strength.
Acceleration is mind-altering savage. Redlining in first gear enables you to reach 157 km/hr, which is more than enough for Indian roads if you have an empty stretch of road, than keep shifting gears and you will see 250 km/hr painlessly.
However only if you can manage to hold on past 220 km/hr. Why? The reason is the wind which becomes intensely intrusive and spoils your plans to reach 299 km/hr, fortunately that is the limited top speed of this tamed beast.
The ZX-10R has so much power, which reminds me of He-Man. Under 8000 RPM it is Prince Adam with the sword in his hand, after 8000 RPM it converts into the mighty warrior and shouts 'I HAVE THE POWER'. After that (post 8000 RPM), if you mess with the bike, it will do what He-Man does with his enemies.
Catch you by your tail, spin you several times and throw you off. We are not joking here. Post 220 km/hr if you gently move to even crouch on the bike, it will make all genuine efforts to throw you off no matter how arrogant you become to push it harder.
Brutal top end thrust is what we heard all these years about this beast and every bit of it is true. Mid range is good, but it is not as potent and precise as the mid range king, the Honda Fireblade. Redlining this bike after second gear is an errand, but the sound, which it erupts, pleases your aural senses so well that it diverts you from the task of redlining it.
Redlining the Ninja ZX-10R is what you will find really hard to accomplish on our roads, simply because it's just an unforgiving machine, a mercenary with a mission that will not allow you to do so until and unless you make it your partner in chase for speed or become a Ninja yourself. The gearbox is so slick and precise that you end up shifting without the clutch most of the time. This is great when you are riding spiritedly on a track.
The gearbox is aided by many goodies which help the riding experience get even more easy and stressfree such as quick shifter, which helps you to shift up while the throttle is 100% open. Shifts become milli-second faster which helps you achieve faster track and better acceleration times. The gearbox is equipped with a slipper clutch as well, which saves you from the job of blipping the throttle before entering a corner.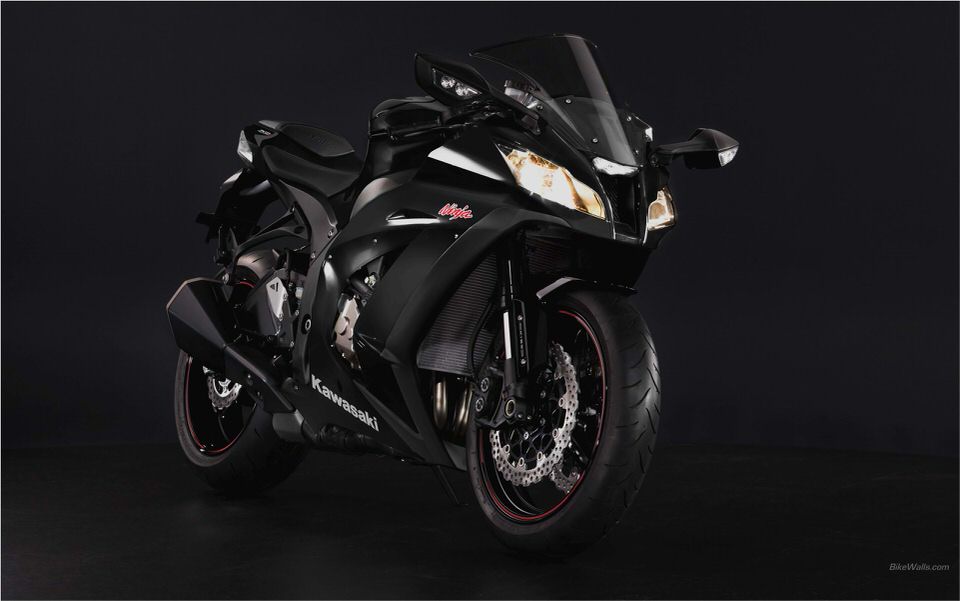 If things still go wrong then there is Kawasaki's superior traction control system called K-TRC. Three modes of intrusion are here as per your mood of riding. Level one is there to detect even the slightest slip and sort it out by sending a burst of torque. Second allows a wee bit of slip and corrects it when it reaches peak. Third allows you a bit of slip and have a bit of fun, but the beauty is, it will not kill you either.
Same thing applies for unprecedented wheelies, in which the K-TRC will deactivate spark plugs and front wheel will come down instantly and according to the K-TRC level mode. Even ABS works in tandem with the K-TRC to avoid locking of a wheel. Turn the traction control off and just try to have fun and when you start having fun, we are sure you will see grim reaper on the same bike beside you to take your soul away. Motorcycles with this kind of power do not need traction control.
Sense of fear is the best traction control system you can find, that too within you.
The Ninja ZX-10R remains firmly glued to the road at supersonic speeds
Riding Dynamics – One of the core reasons why the Ninja ZX-10R scores full marks in every test is because Kawasaki is that kind of kid who never forgets to do his homework. The dynamics, ride, balance and ease of use is what makes the motorcycle worthy of every single praise. Showa big piston forks at the front and horizontally linked monoshock at the rear with Ohlins electronic damper makes this bike ludicrously easy to ride in town at slow speeds.
The ZX-10R is easy to manoeuvre and it just makes us feel we are roaming around the city in a super sport bike rather than a superbike. Keep flicking the ZX-10R between small gaps because it will fit in despite it being an inline four (as it is not wide as a car or like other bikes with even more cylinders). It is that easy.
The dedicated ECU is connected to the rear monoshock and the engine ECU adjusts according to speeds. Hence the ZX-10R is light at slow speeds and weighted properly at high speeds. Making manoeuvres at high speed feels immensely stable, there are no signs of unbalance post 200 km/hr also.
Start taking corners and you realise the bike tells you what you are exactly doing and if you dedicate yourself more, it will try to correct you when you start spending more time with it. Steering geometry is super sharp and turn-in is lightning bolt quick. Loads of feedback from the front and frame stiffens up at the slightest demand and rear tyre evokes you lean harder and go faster. Exit speeds are fast enough, that depends on K-TRC system level as well.
Ride quality is splendid and just when you are about to a go over a rough surface you prepare to brace yourself but in this you just glide without any stress. Yet again, kudos to Kawasaki for offering this kind of practicality.
The only sore point is and will be with every bike of this type is the u-turn radius which is monumentally huge and you have to be very careful, once the weight tips on either side, it is going to kiss the ground for sure. If you hit the gym daily, you may be able to stop it. Brakes are top notch with quality stuff taken from the top shelf.
Radial mounted Tokico callipers holding on to dual discs at the front which is controlled by a radial pump master cylinder at the top for lending superior initial bite and progressive bite after that, experienced at higher speeds and emergencies which Kawasaki says works like clockwork, no doubt about it. Most superbikes we see are equipped with two brake fluid bottles, the ZX-10R only comes with one. People complaining about no initial bite from the rear brake is because trail braking is required less with traction control equipped bikes and let us not forget these bikes are born for the track but end up spending most of their time on the road.
The suspension is an adjustable unit but you have to take out your spanners because there are no huge knobs here like new generation motorcycles and it is still the same old school procedure, at least at the rear. Front is easily adjustable with a hammer type screwdriver. Talking about the front, we witnessed fork dive when braking at high speeds. This is scary and partly because of less compression dialed on the forks.
New generation litre class motorcycles are coming up with electronically adjustable front suspension too. We hope to see this in the next generation Ninja ZX-10R. One of the major reasons why the ZX-10R's drivability in the city is painless is because of the heat management system. Most of the air is directed below the exhaust and goes to the rear.
You feel the warmth but you don't get toasted like on other superbikes.
You can't help but admire this litre class offering from Kawasaki
Verdict – So how does the Kawasaki Ninja ZX-10R stack up? This Ninja seems immaculately engineered for sure, right from drivability to form and function going hand in hand. Most important on everybody's mind is "kitna deti hai?" Well it is around 17 km/l in the city and highway mileage can stretch up to 22.8 km/l, if ridden under 140 km/hr. They say owning a super bike is like living the dream.
Dream when turns into reality doesn't appear as you thought it would but in this case this is how over the years we imagined it would be and that pretty much says it all. The Kawasaki Ninja ZX-10R is a bike which will redefine your attitude towards superbikes. Biking always makes you crave for more and super biking will make you crave for even more speed. This is a motorcycle after all and this is going to make you crave for both, speed and biking.
The question is, have we gone green? Obviously, after all, I wrote this review with a green stubble on my face.
The Kawasaki Ninja ZX-10R is surprisingly a very docile superbike. Those who want a litre class motorcycle, the Ninja ZX-10R is a no brainer and among the best in the litre class space.
Kawasaki W800 – Cycle Torque Magazine
The History of the Kawasaki ZRX eHow
Kawasaki Dealers & Motorbikes, Kawasaki Motorcycles For Sale UK
Kawasaki 2-strokes
ZRX1100/1200 FAQ in ZRX Technical Q&A Forum