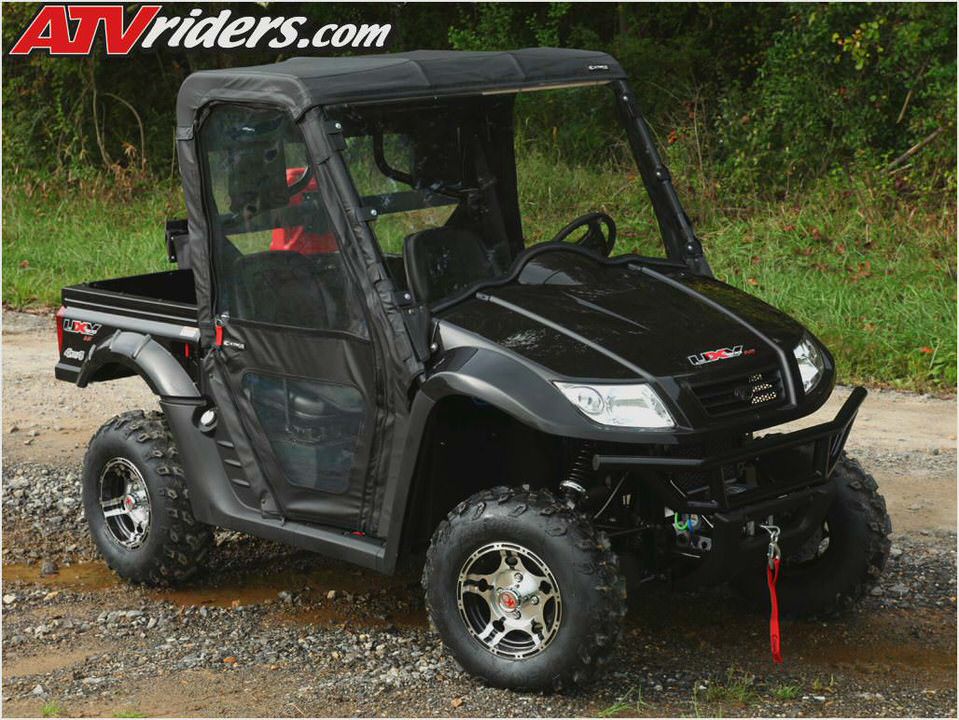 New Model Test – Colorado Climber
There are few better ways to test a vehicle than to set off on a back country adventure. You get to know a machine when you rely on it to reach a destination and we did just that recently with KYMCO's all-new UXV 700i. The terrain we would cross on our ride was no flat Iowa prairie, but instead we would set out to conquer the Gateway Canyon region of rugged, Western Colorado.
What started out as a ride darting between the sagebrush and around dusty corners on the valley floor quickly turned into a rock infested climb to over 10,000 feet. That's just the way we like it!
A New UXV
Kymco introduced the UXV 500 several years ago and it's been a reliable performer on the trail or around the farm. Designed as a "crossover" machine, the UXV chassis is adept at hauling bales or cinder blocks during the week, but it's also ready for adventure when loaded down with hunting gear or a cooler on the weekend.
Since they introduced an all-new 700cc engine in the MXU 700 ATV last year, it was only natural to build a UXV around the new motor this year and that's just what they did. For 2014 there is not just one UXV 700i model though but FIVE, all with a common engine and chassis platform, but equipped with different features that make them unique.
UXV 700i Highlights:
New Body Styling with highly durable bodywork tough rear dump box
Liquid Cooled, 695cc, 4-Stroke SOHC engine with Electronic Fuel Injection
Smooth shifting CVT transmission with H-L-N-R-P and Differential Lock (2WD 4WD)
Tube steel ladder type chassis with Dual Front A-Arms and Independent Rear Suspension
Disc Brakes
Electronic Instrument Cluster with fuel gauge, speedometer, odometer, trip meter, high beam indicator, neutral/reverse, and high temperature light.
Standard 2" Receiver Hitch
Easy access mesh side nets bucket seats
Great under-hood front storage
Center mounted engine for optimum weight balance
C.A.R.B. Certified with USFS-Approved Spark Arrestor
One-Year Limited Factory Warranty
Five Option packages and Special Edition models
New Body Style
Kymco restyled the bodywork on all UXV models except the base model UXV 500. We like the new bodywork styling which gives the UXV a tough, aggressive look similar to some pickups. Headlights are inset into the bodywork and a center mounted opening provides plenty of airflow for the radiator which is tucked just inside the frame tubes.
One of the greatest features is underneath the bodywork, though, and a large storage bin is just under the front hood. It's perfect for tools, tie-downs, hunting gear, or practically anything else you can jam into it. If you've still got extra gear to stow, there is a large storage container under the seat as well. At the rear, a sturdy, steel dump box with durable composite bodywork and inset tail lights complete the pickup style image.
We appreciate how Kymco actually gives you working tail lights which are a good safety feature. Some companies offer the reflective lens but no light while others skip the rear lights and lenses altogether. We also really like Kymco's excellent bodywork which resists scratches while taking plenty of abuse.
The UXV 700i cab area features dual bucket seats with a center mounted engine and shift lever. Shifting is very smooth. On the dash is a locking glove box, an open storage space, the rotary style 2wd/4wd/differential lock engagement switch, and the light switch. In the center of the dash is the digital display with a fuel gauge, speedometer, odometer, trip meter, high beam indicator, neutral/reverse light, and a high temperature warning light.
About the only feature we would like to see on future models is a tilting steering wheel.
Engine and Chassis
Kymco equips the UXV 700i with the largest engine they've ever built for off-road use. The liquid cooled, 695cc 4-stroke power plant is fed by Electronic Fuel Injection and cranks out a very respectable 45 horsepower. It's more than enough power to conquer any trail obstacle or tow a heavy load.
Mated to the engine is a CVT transmission that features Hi, Low, Neutral, and Reverse. Switching between gears is smooth and the CVT "gearing" seems good whether ramping up during acceleration or when backing off the easy-to-control throttle. Kymco has a huge amount of experience with CVT transmissions and it shows.
When 4wd is needed, rotating a knob on the dash gets the front wheels grabbing for traction. When you've really got a sticky problem, a front differential lock is ready to help pull you out. Thanks to material optimization and careful design, the new engine is even lighter than the UXV 500 motor, and it runs smooth and strong.
We like it.
The new UXV 700i rides on a steel tube, ladder type platform, and it shares a chassis with its smaller brother, the UXV 500. We've found the UXV 500 chassis to be extremely durable in the past. To help control the ride, all UXV models come with independent suspension front and rear, along with dual a-arms and adjustable oil filled shocks with coil springs. Suspension travel at each wheel is listed at 7.5 inches.
Steel wheels are found on the base model UXV 700i, but upgrade and special edition models get great looking cast aluminum wheels. We've never had a problem with either the steel or the aluminum Kymco wheels. Disc brakes at all corners bring everything to a quick stop and they provide good feel and great stopping power.
Since the UXV 700i is also a working machine, Kymco gave it a 2" receiver hitch at the rear while at the front it comes prewired for a winch with the mounting plate already installed. You'll fall to your knees and rejoice to the maker for both features when installing a winch.
Colorado Mountain Climber
Our Colorado adventure ride would prove to be a good test of the UXV 700i's chassis and suspension, with the first half of the day spent running down fast trails and around sweeping turns. In this area the suspension was up to the task with no bottoming or unusual handling traits. In fact, the UXV steers quickly – much quicker than many other UTVs giving it a very sporty feel.
It was possible to oversteer at times and the back end would begin to drift out ever so slightly, which can be a blast. However, you want to do so with caution and be ready to correct with a split second reaction. Currently the UXV is not available with power steering and we didn't miss it although future models will likely be equipped with an Electronic Power Steering system.
The fast desert trails carried us ever closer to the mountains ahead and our desert sprint began to take on the look of a climbing expedition. One by one we fell into line and the caravan began carefully picking its way along a winding ledge with nothing between us and an express ride to the nether regions. We needed 4wd for almost every foot of the climb and a twist of a dash mounted knob got our UXV 700i tracking straight up the mountain. The UXV climbs like a mountain goat!
Again, when bouncing over rocks, the suspension worked well, although we did manage to bottom at times when trying to clear the larger boulders. Thankfully, good protection on the underside of the chassis kept everything closest to the trail well protected.
Steep climbs and trails leading to higher elevations have the same effect on most ATV and UTV motors as they do on yours. A shortness of breath and a drop off in power is common. The UXV 700i engine handled the steep, rocky climb to over 10,000 feet like an Olympic class Nordic Skier, however, and didn't seem to care how high we climbed.
It easily made the climb without so much as a stutter and at the top was still able to sprint across a high mountain meadow like a big horn sheep. We noticed no difference in power delivery at the higher elevations which indicates KYMCO engineers did an excellent job of calibrating the fuel injection system. The UXV does have a bad habit of dribbling fuel though. We believe the metal CVT cover radiates heat which is transmitted to the nearby fuel tank.
This begins to vaporize the fuel which escapes the vent opening. It's disconcerting to smell or leak fuel from any vehicle, and a heat shield between the 8.5 gallon tank and the CVT cover would likely eliminate the problem.
Brake Time
Climbing is only half of any mountain adventure. Descending any steep, narrow trail requires a deft hand on the wheel and a good set of brakes. Anything less gives your loved ones cause to worry. Thankfully, the UXV 700i comes equipped with a set of brakes that would make a truck driver proud.
On our descent from the clouds, the brakes never faded, squealed or otherwise complained despite our abuse, semi-regular dragging, and all out locking up the wheels as we sometimes slid our way down loose, rocky sections. The only troubling part was, with the UXV nose now pointed downhill, the front wheels wanted to turn to full lock. Coupled with very quick steering on flat land, that is a sure sign of a very shallow caster angle.
Castor angle is the imaginary line from the center of the lower ball joint through the center of the upper ball joint. Typically, the angle leans back a few degrees (As well as inward for Camber). The further it leans back (creating POSITIVE caster), the better the stability, but steering resistance is increased. Too shallow an angle and the steering can get very twitchy and downright scary when a vehicle's nose pitches down either from heavy braking or descending a very steep grade.
When that happens, the front wheels would rather turn to full lock; which is hardly the best situation on any terrain, much less when descending a mountain goat trail. Think of the shopping cart style death wobble and you'll get the idea. On the UXV, the stock caster angle is very shallow already resulting in light, quick steering, but when descending a slope, it quickly reverses into NEGATIVE caster with the upper ball joint actually leading the lower.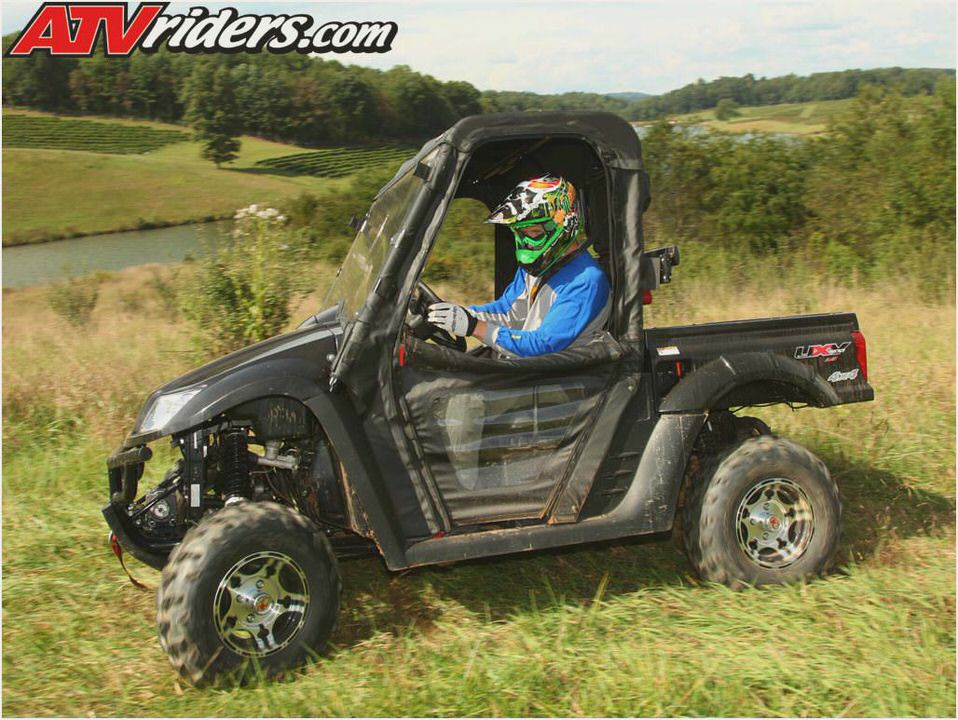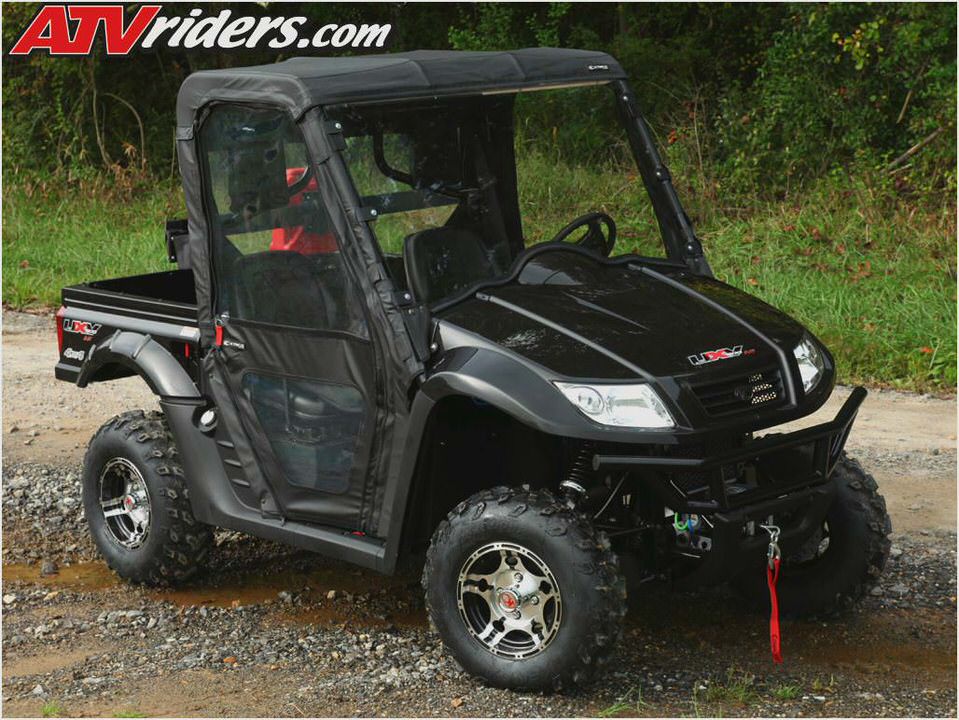 The first time that occurs on a severe mountain slope is a full test of one's cardiac, respiratory, intestine containment system and crisis management skills.
The bright spots with the UXV are the tires and wheels. Despite countless opportunities for destruction, our group managed to bring all the UXVs back from our mountain mayhem adventure with 'nary a bent rim or a tire cut. That's probably a new record for the group of pizza bloated journalists on hand.
We even got to try a UXV with a turf saving, rear differential which opens up Kymco to parks departments, golf courses, ball fields, and even for home owners who would like to protect their lawn but still have a quality UTV to help with everyday tasks. While Kymco continues to improve their products each year, there are a couple areas where a few well designed, cost effective changes could really elevate the product to a whole new level.
A KYMCO Wish List
It's not enough to be good in the Side x Side market these days – you've got to be great, as each year models from all manufacturers become more refined. KYMCO clearly has the durability, power, and reliability to compete and there are a few things they need to refine to bring the UXV to the next level. Luckily, all three can be easily accomplished.
Front end geometry must be improved. A change in caster angle would hugely improve the handling. They do not have enough positive caster angle and the result is very light but imprecise handling.
Since this is a trait repeated across nearly every model in the fleet, it's clear their engineering group needs new direction in this area. A secondary upgrade would be to the shocks which need to provide a smoother ride over choppy terrain. Perhaps an internal valve change would help, but if not, a shock change would be required.
Two changes must also be made for rider comfort. The head rest MUST be moved back. As it is now, the head rest is actually in front of the upper seat back and the result is your head routinely bounces off the rubber pad. It's incredibly annoying and every time it happens, we want to grab the designer by the visor and bounce his helmet off the rubber pad to illustrate the problem. Unless you're shaped like the hunchback Quasimodo, you'll quickly understand what we mean.
The second change is the upper seat belt mount must be relocated or adjustable. It doesn't take long on any ride before the belt begins biting into your neck, and it doesn't matter whether you are the passenger or the driver. Imagine a little dog gnawing on your neck for half the ride and you'll get the idea.
For three years, we've been complaining about these problems and offering an incredibly easy solution and it's time to make changes.
Kymco built their brand by being a major partner to several of the mainstream OEMS and they still build complete models for some other manufacturers. With their own lineup, they carved out a niche by providing quality vehicles at a very competitive and sometimes much reduced price point than the competition. Through the years, though, the price differential has narrowed and all but disappeared while quality, performance and features from all brands have only increased.
That puts Kymco at a crossroads and if the game plan is to compete with similar priced units, they'll have to increase their development pace. All manufacturers know two things very well now: the customers are increasingly savvy, and good isn't good enough anymore.
Something Special
Each year the Kymco ATVs and Side x Sides get better and better, and they continue to impress us with their quality and reliability. The new UXV 700i carries them into territory they've never been before. Knowing their reputation for reliability, it will probably outlive most owners and to add extra value, it even comes with a one year warranty.
There are even a couple Special Edition models such as the Hunting Edition (HE) and the grass friendly TURF model. The HE will be right at home in the woods with a True Timber Conceal camouflage paint scheme, a half windshield, and extra racks and bumper. The TURF model gets different tires and an open rear differential designed for sharper turning and less tearing on sensitive turf.
The differential can still be locked for maximum traction though be engaging four-wheel drive. Whichever model Kymco you pick, it promises to be on the trail for a very long time.
KYMCO UXV 700i Specifications – MSRP:$ 10,099
UXV 700i SP (Moab Special Edition Model) MSRP: $11,599
Red Alloy wheels, Hard top, Hard 1/2 doors, 1/2 Windshield, Light bar with (4) LED lights, Rear cab net, Rear cargo net, Spare tire rack w/spare (26" Tire/LE aluminum wheel), Rear bumper, 2 Tone (Black/Red) Washable seat covers, Dual beverage holder and Standard 2 receiver hitch.
UXV 700i LE MSRP: $11,399
Aluminium Alloy wheels, 3,000lb. Winch, Hard top, Soft enclosure, Full Windshield, Tilting cargo bed and Dual beverage holder and Standard 2 receiver hitch
UXV 700i TURFMSRP: $10,599
Winch mounting plate, Tilting cargo bed and Dual beverage holder and Standard 2 receiver hitch, Turf Tires
UXV 700i HE (Hunter Edition) MSRP: $11,399
True Timber Conceal Camo, Hard top, Hood rack/Brush guard, 1/2 Windshield, Winch mounting plate, Tilting cargo bed and Dual beverage holder and Standard 2 receiver hitch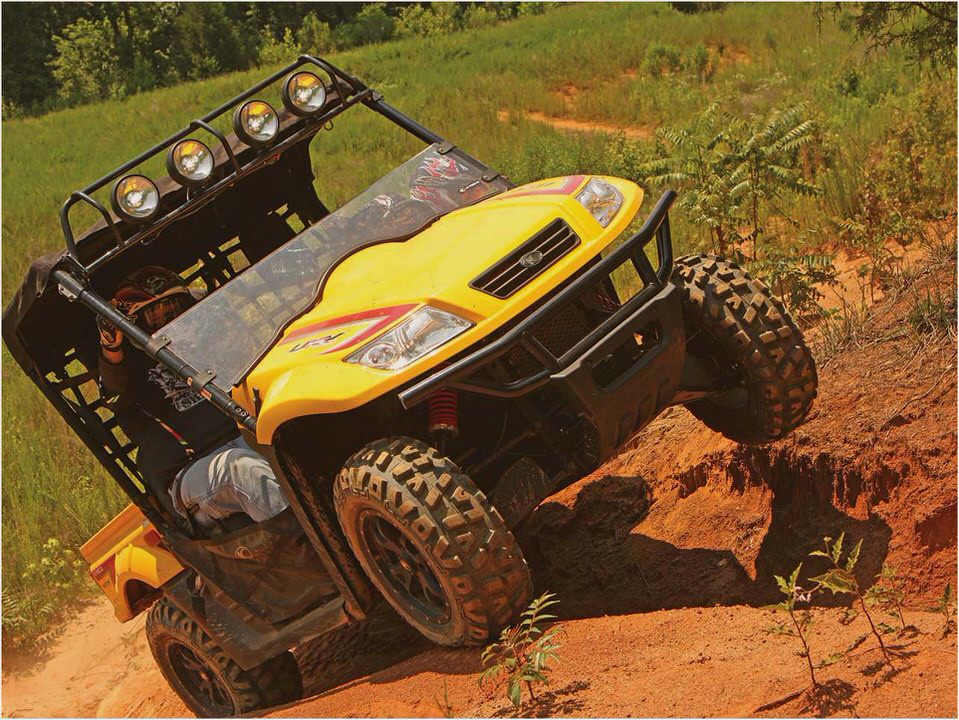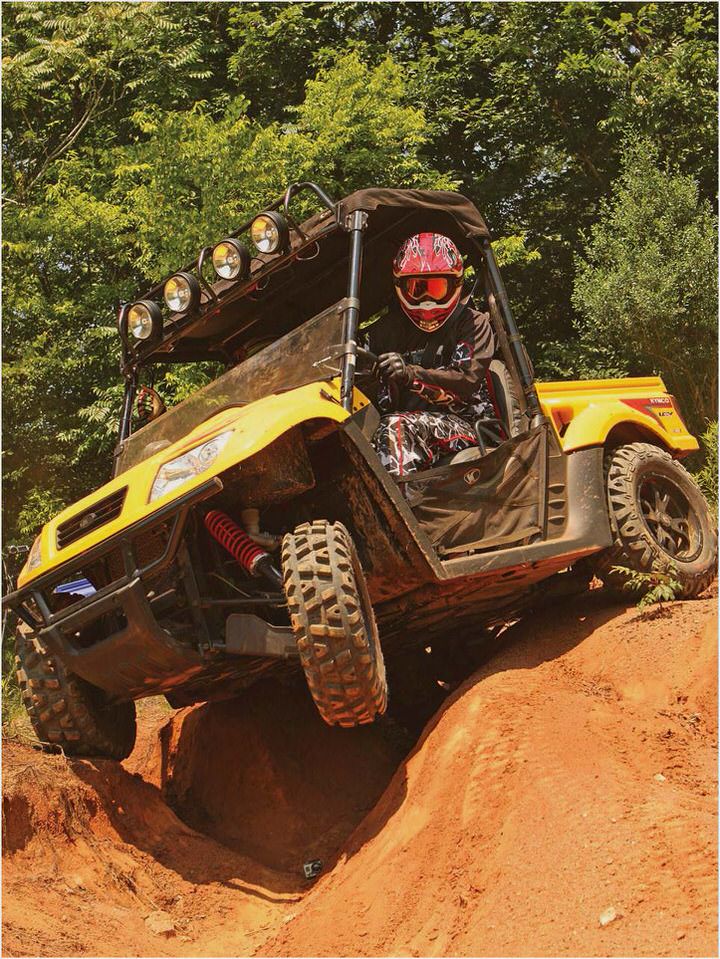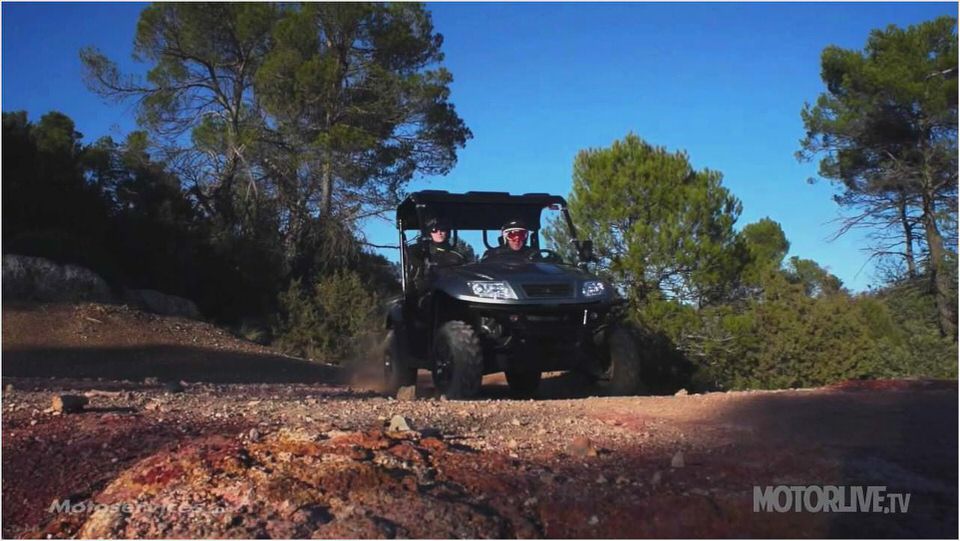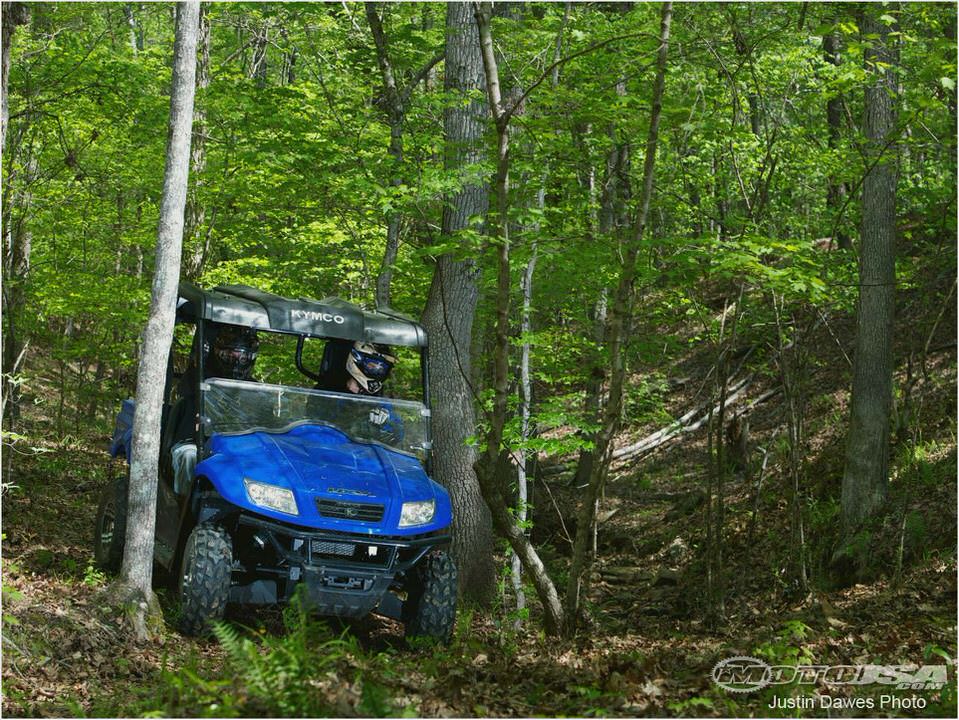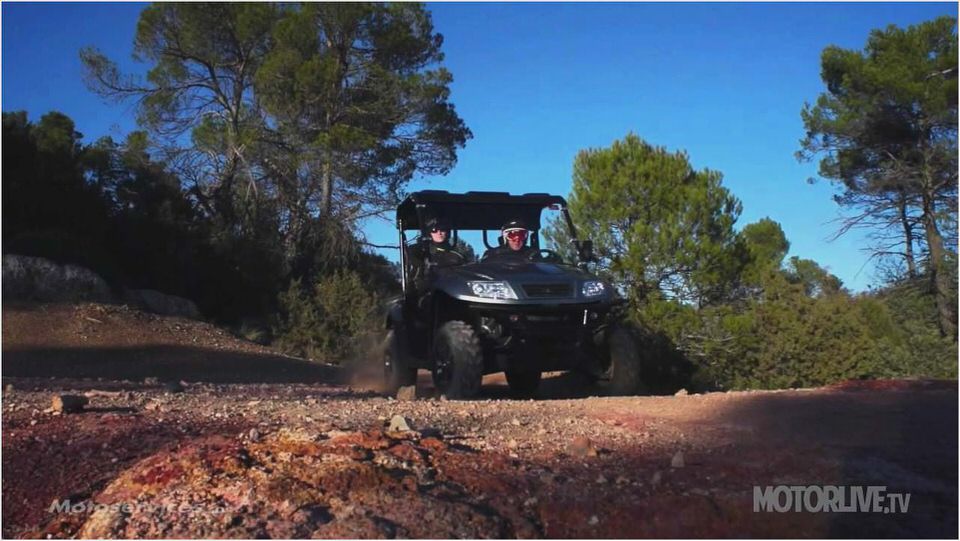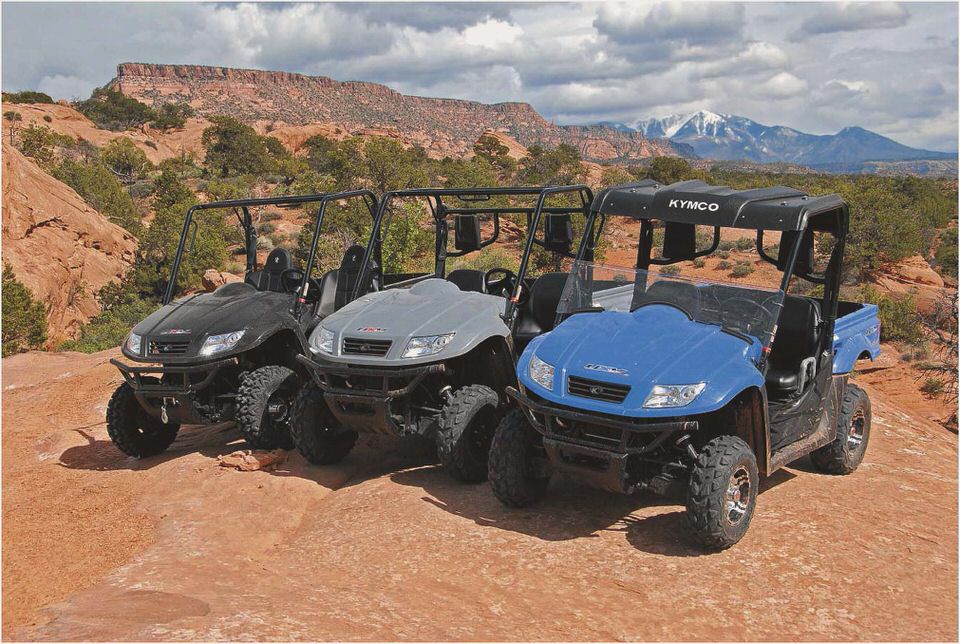 Kymco Super 8 150 Scooter Riding Review- 2010 Kymco Scooters
2013 KYMCO Xciting 500i ABS – New 2013 Xciting 500i ABS at Motorcyclist Magazine
Kymco it:
2011 KYMCO Like 200i – Used 2011 Like 200 i at Motorcyclist Magazine
Kymco Agility 50 & 125 Motor Scooter Guide