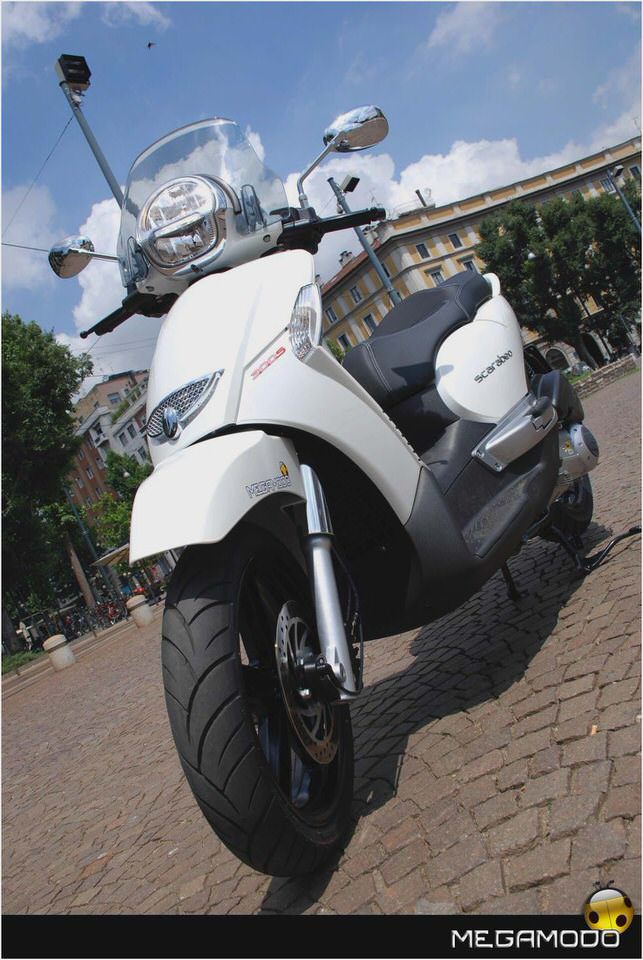 Scootersales.com.au News
Aprilia Scarabeo 300 Special
Direct from Europe introducing the Aprilia Scarabeo 300 Special
Unmistakable style and unparalleled attention to detail have made Scarabeo a genuine icon on two wheels. A unique vehicle, unmatched in elegance and attention to detail. Scarabeo is much more than just a scooter, it is the vehicle that set new standards for riding pleasure and for moving in complete harmony with your surroundings.
With powerful, frugal and clean engines, a perfectly balanced chassis architecture and a motorcycle-like riding position, the Scarabeo is today's only true heir to the spirit of the "light motor cycle" of the past.
Scarabeo 300 Special is the logical addition to complete the Scarabeo range – a distinctly contemporary engine size for a timeless scooter, offering that extra touch of sportiness and performance that today's dynamic user demands. The perfect balance between power, compactness, agility and riding pleasure. The special character of this new model is emphasised by bespoke graphics and a touch of attitude created by the subtle use of black for the rims and a number of other details.
A lower windshield, new chrome highlights and new instrument panel surround contribute further to the sporty feel of this truly special version of the Scarabeo.
With class leading ergonomics and equipment, Scarabeo 300 Special offers a relaxing and safe ride. Plenty of space for both rider and passenger means that even longer journeys can be tackled in total comfort. The low saddle, at just 785 mm from the ground, and the contoured footrest platform, which narrows so as not to obstruct the legs, mean that riders of all statures can easily reach the ground.
Created with an almost obsessive attention to detail, the Scarabeo 300 Special offers outstanding value for money.
The 300 cc engine strikes the perfect balance between performance, lightness and agility. A contemporary engine size for superior torque and acceleration, making this an even more relaxing, quick and safe vehicle to ride.
The four valve single cylinder electronic fuel injection engine represents the cutting edge in its category. Latest generation fuel injection, an ant-vibration countershaft and an automatic transmission that is perfectly matched to the character of the engine make the Scarabeo 300 Special a responsive machine that is extremely comfortable to ride in all situations.
With a powerful and yet easily manageable engine, producing 22.3 hp at 7,500 rpm and a maximum torque of 22 Nm available at just 6,500 rpm, Scarabeo 300 Special delivers outstanding performance, yet the precisely calibrated injection system ensures reduced emissions and fuel consumption figures comparable to a smaller engined vehicle which – coupled with the 10 litre fuel tank – offers the range of a grand tourer.
The primary goal of the chassis engineers at the Noale centre is and has always been to reconcile total comfort with absolute riding pleasure. This incontestable prerequisite dictates their work whether they are designing a motorbike or a scooter. The result of this – in the case of the Scarabeo – is an almost motorcycle-like weight distribution and, as a consequence, class-leading handling and agility.
The double cradle frame is made from high strength steel tubing and has been designed to ensure excellent torsional rigidity and outstanding strength. This stiff and efficient chassis is what gives the Scarabeo 300 Special its impeccable high speed stability.
The telescopic hydraulic front fork ensures superb steering precision and, with its generous wheel travel of 104 mm, has an excellent capacity for absorbing bumps.
The engine-transmission unit also acts as a swingarm and is linked to two dual-action adjustable shock absorbers. The spring preload setting is adjustable to four different positions, for optimum damping in all load and road surface conditions.
Large diameter wheels (16 at the front and 14 at the rear) and tubeless, motorcycle-sized tyres (110/70 at the front and 140/70 at the rear) offer the peace of mind of utterly dependable roadholding.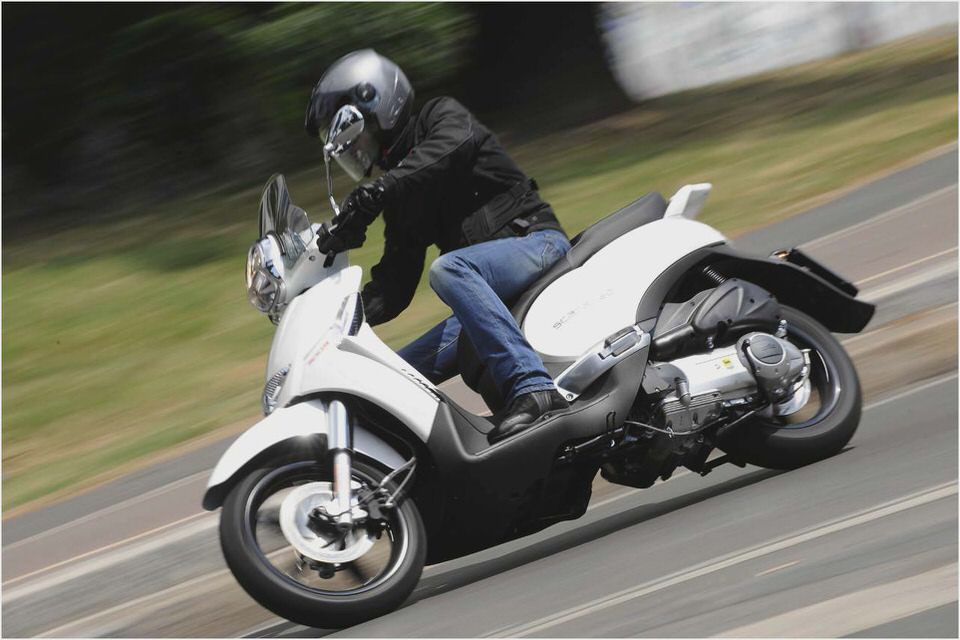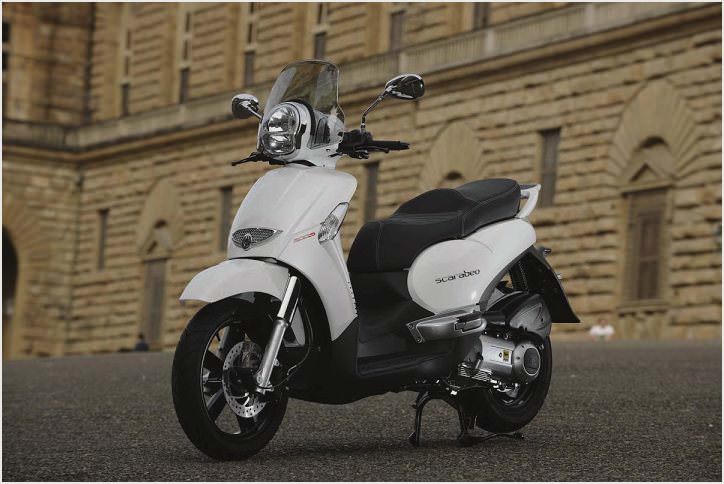 The combined braking system – with the left hand lever braking both wheels simultaneously – ensures powerful, safe and easily modulable braking at all times and in all road conditions. The 260 mm front brake disc is backed up by a 240 mm disc at the rear.
LOADING CAPACITY AND EQUIPMENT
Loading capacity has always been a deciding characteristic in choosing a scooter, and a lack of storage space under the saddle has always been the Achilles heel of high wheeled scooters. This, however, is not true of the Scarabeo 300 Special. In spite of its compact size, low saddle and high wheels, Scarabeo 300 boasts a helmet compartment large enough to hold a full face helmet and other small objects and even a A3 format briefcase, as no part of the compartment is less than 15 cm wide.
There is also a lockable oddments storage compartment behind the leg shield.
To increase the loading capacity even further, the scooter may be equipped with an optional 47 litre top box, which is easily installed on the standard luggage rack.
The comprehensive analogue and digital instruments feature all new graphics and a new surround, while the small display also includes a fuel level gauge.
ACCESSORIES
SCARABEO 300 Special caters for every imaginable mobility need with a wide range of dedicated accessories: a completely adjustable windscreen, the 47 litre 'Street Case' top box, an antitheft system and a tunnel bag are just some of the personal touches available that make the Scarabeo 300 Special an extremely versatile vehicle.
COLOURS
SCARABEO 300 Special is available in the following colours: Glam White, Competition Black and Cruiser Grey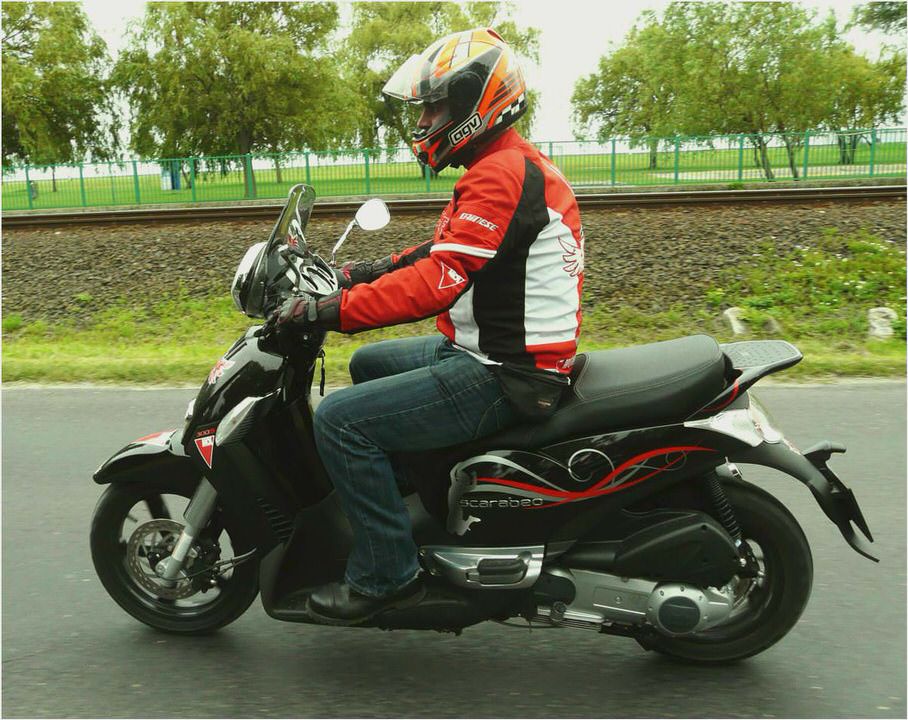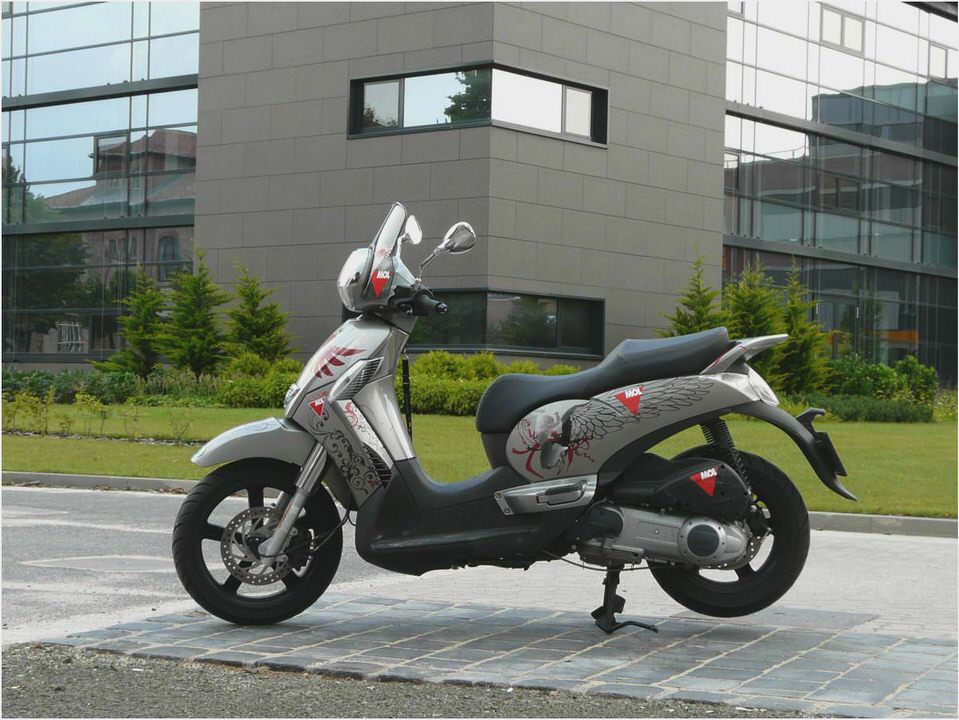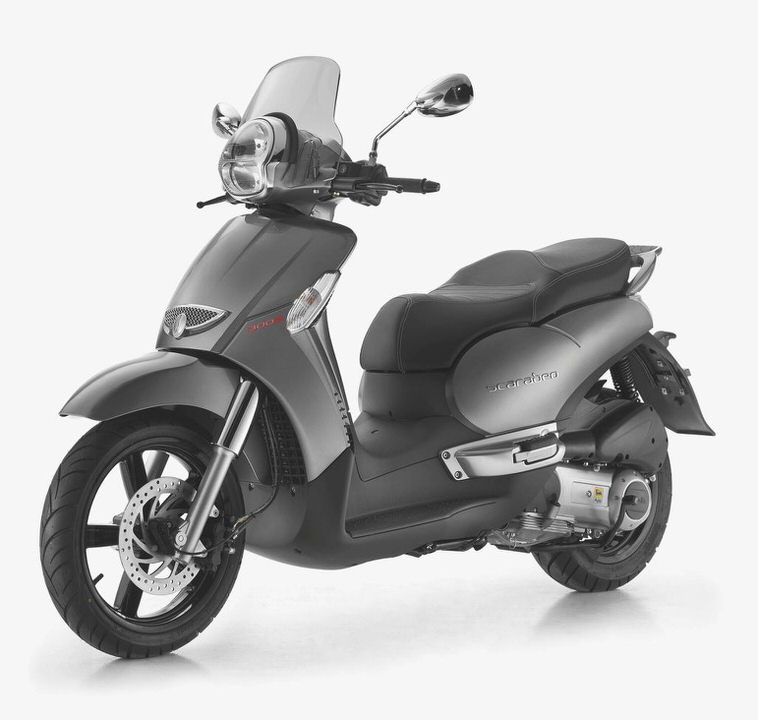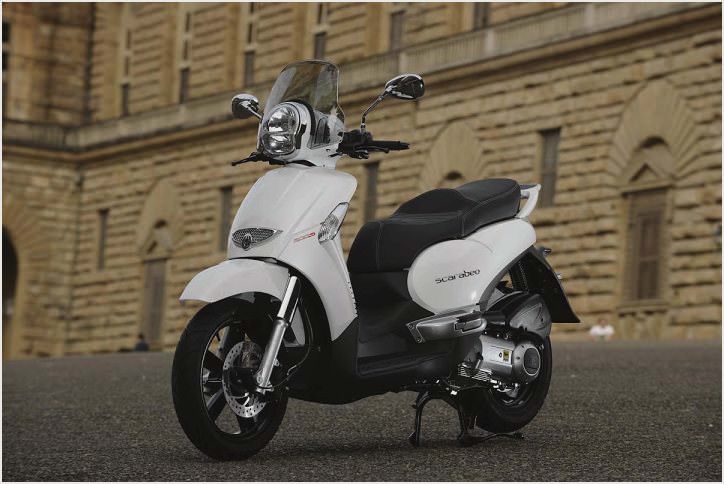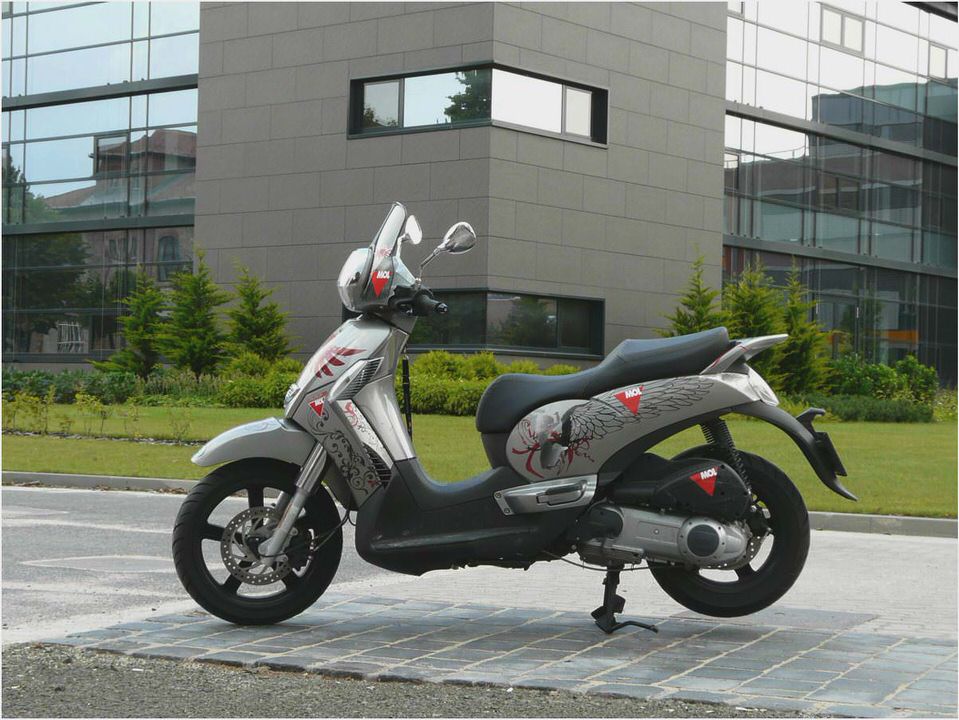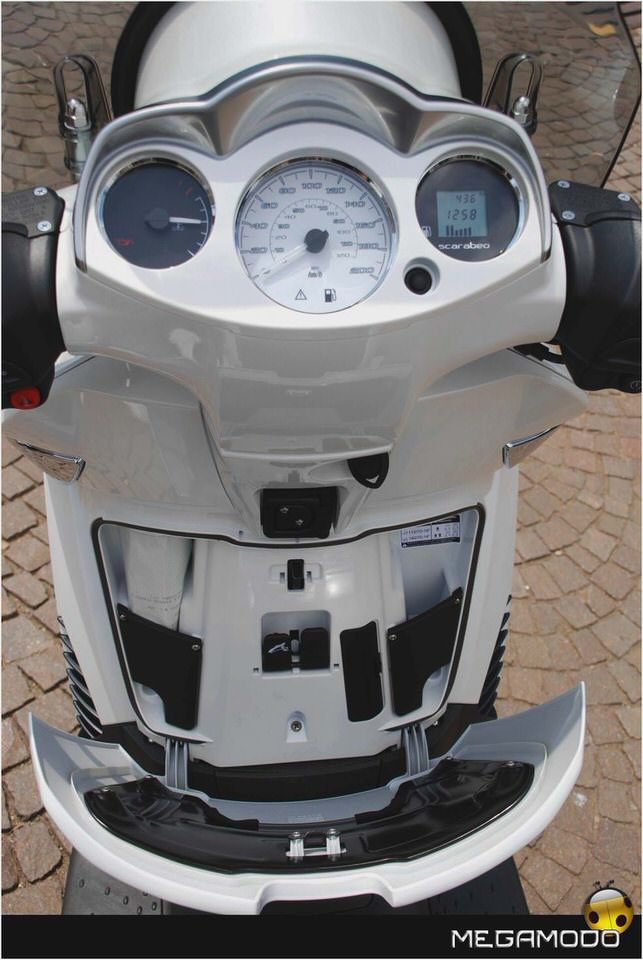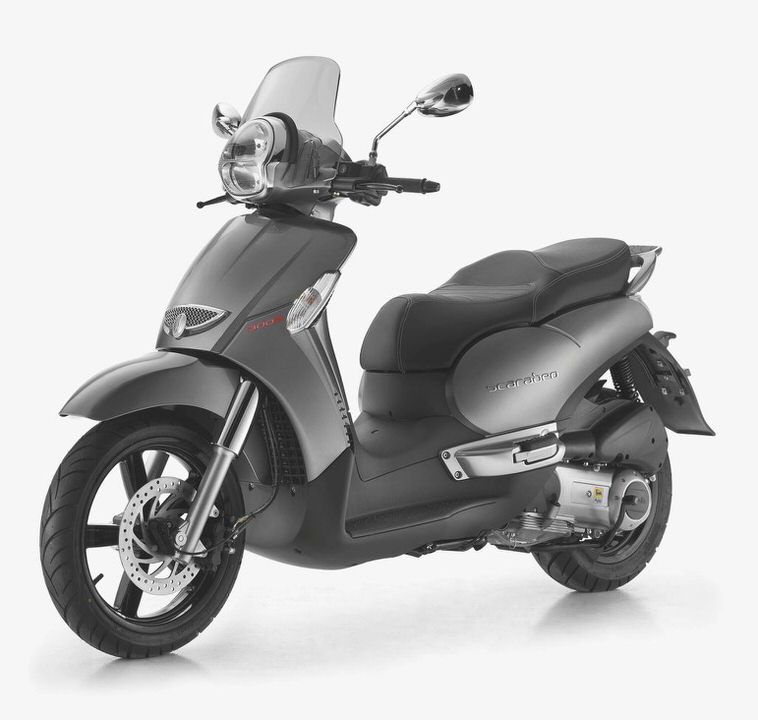 2008 Aprilia Scarabeo 200 Review – Motorcycle USA
2007 Aprilia Scarabeo 50/100 motorcycle review @ Top Speed
Aprilia Tuono R: Moto-ST Star – Single Bike Test
Aprilia SMV 750 Dorsoduro Comes to the US
2006 Aprilia ETV 1000 Caponord