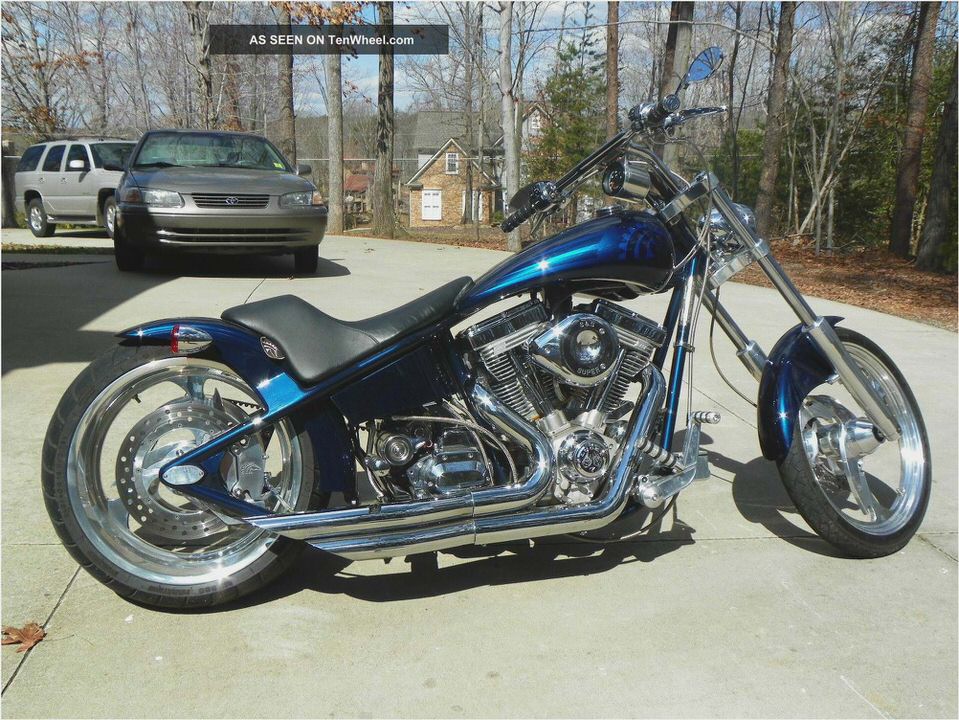 Information American Ironhorse Chopper
West Coast Classics are proud to present a virtually brand new bike in the right color with only some 2,300 original miles and fully chromed with all the extras!
An as showroom new example of this 2005 American Ironhorse (AIH) III in the highly desirable 'Vivid Black color! Obviously never dropped or abused – a true garage Queen if ever there was one! This highly striking example is mechanically and cosmetically as new with only some 2,300 original miles! No longer in production, the American Ironhorse Motorcycle Company bikes out of Fort Worth, Texas are fast becoming some of the most collectible bikes on the Chopper and custom built market.
You will obviously look long and hard to find a lower mileage example available anywhere else!
We've all heard the saying before, If I have to explain it to you, you just wouldn't understand. Nowhere is the case more apparent than with American IronHorse's '05 Tejas. This bike shouts from its being, I'm powerful, I'm beautiful, I'm fat, mean, and nasty, ready to take on all comers.
The Tejas is to a stock Harley-Davidson what a '65 GTO is to a Volkswagen Beetle, full of raw, nasty power.
One look at this bike and it's apparent this sled means business, from its fat-tube rigid frame design, to the powerful 111-inch fully polished SS motor, to the extra-wide 280mm rear tire, this bike not only has the obvious show, its got an awful lot of go to go with it. If you're in the market for an everyday cruiser, you might want to look elsewhere, but if you have a hot rod in your future, you might want to give the Tejas some serious consideration.
Now there's no way around it, this bike is setup on a rigid frame. If you suffer from a bad back or are looking for a bike to pile up major mileage on, be forewarned. If these issues don't concern you, you may be the perfect candidate for the American Ironhorse sometime soon.
The Tejas' attitude starts out with a 38-degree raked neck designed to support a 41mm, 4-degree raked tree arrangement. Suspended from the trees are 3-inch-over fork tubes straddling a 21-inch front wheel (10 styles to choose from) complete with a Metzeler 80/90/21 tire. Out back,the Tejas really gets your attention.
Not to belittle any other part of the bike, but the Metzeler 280/35/18 tire has some serious in-your-face attitude. Mounted on a polished billet wheel measuring 18×10.5 inches, the interplay between the fat tire and short fender is flawless. Terminating around 11:00, the fender is set just high enough off the tire to allow for road debris to pass through without damaging the sheet metal, while still being low enough to give the bike that serious custom look.
Braking on the Tejas is handled with a pair of left-side mounted floating rotors and AIH four-piston calipers. We were surprised at how well the front brake decelerated the bike at both high and low speeds. As good as it is, keep in mind the 21-inch tire has a small contact patch with the pavement.
Translation: Under hard breaking it can break loose and have a tendency skid, making it imperative to use the rear brake in conjunction with the front to take advantage of all the rubber and weight out back.
The heart of the Tejas most certainly lies with the AIH polished and assembled SS 111-inch carbureted engine, complete with SS's electronic compression releases. AIH makes an option available to upgrade to either a 117-inch or 124-inch SS motor with up charges of $1,000 and $2,000 respectively. The bike reportedly put out a very respectable 112.3 lb-ft of torque and a maximum hp of 103.8 on a Dynojet test.
These numbers may seem unimpressive to some, but when you consider the test bike met all current EPA requirements and is legal in all 50 states, that's something to crow about.
Adorning the polished powerplant is a good looking 2-into-1 exhaust system that gives out a good sound for a pipe on a production bike. As sharp as the pipe is visually, this bike screams for a more traditional 2-into-2 setup. Also new this year are a highly stylized air cleaner cover and ignition cover, both sporting the AIH logo.
This year AIH rolled out a right-hand-drive six speed transmission across the line. A few years back this setup was quite unique in the industry, but not any more. AIH, along with other big bike manufacturers, understood how moving the final drive from the left side to the right side could help not only in handling, but increase the lean angle on the left side of the bike. The movement of the transmission on the Tejas goes a long way in helping the bike run down the road in a straight line.
Gone are the slight left lean concerns of previous models, although the traditionally located kickstand still hits the pavement sooner than we would like to see.
Back this year with slight cosmetic changes is the beautiful AIH instrument cluster, sandwiched cleanly between the V-shaped handlebar/riser combination. The cluster provides the rider with all the information needed, including tachometer, speedometer with resettable trip meter, turn signal indicators, neutral indicator, oil pressure light, and high beams.
The remainder of the bike is decked out with a barrage of polished billet and chrome parts, including rubber-banded-style forward controls, stylish rear fender struts, rear fender bracket, front fender mount, and chromed 5-3/4-inch headlight. Other finishing touches include a thickly padded seat that not only looks good with the lines of the motorcycle, but also helps absorb bumps transmitted through the rigid frame, along with Harley-style chrome hand controls and mirrors, set on short stems.
Riding the Tejas is a kick in the pants. From the moment you settle into the seat this bike just feels good. The controls are in a comfortable position, although some taller riders would be better served adding extended foot controls. The bike is well balanced and with some coaxing, it turns well for a motorcycle with a 280 series rear tire. All of us who rode it had the same impression of the handling, it takes some rider input.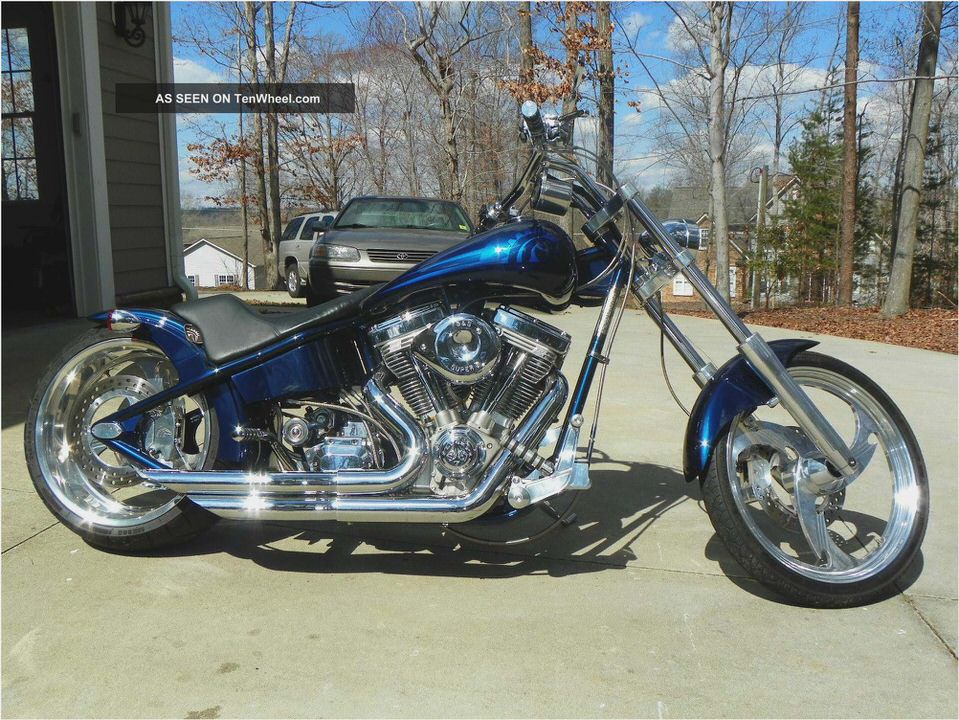 You can't just give this bike a gentle lean to go through turns, you need to let it know who the boss is, plant your feet on the pegs and lean hard. Once you've mastered this, you've got it licked. The guys in Fort Worth have done a masterful job on this bike.
Specifications:
Engine. Air-cooled V-twin
Bore X Stroke. 4-1/8×4-1/8 inches
Displacement. 111 inches
Compression Ratio. 9.5:1
Induction. SS G-series
Oiling System. Dry sump
Primary Drive. Enclosed chain
Frame. Steel perimeter doubledowntube, 2-inchbackbone, MIG weldedFork. 41mm, 3 inch overTriple-Tree. 4 degreeFrontWheel. 21 x 3.5-inch RattlerTire. Metzeler 90/90/21RearWheel. 18×10.5-inch RattlerTire. Metzeler 280/35-18
Price new starting at. $25,950
Used 2006 American Ironhorse Slammer for Sale – Baytown, TX – 4029 EagleRider
AMERICAN IRONHORSE MOTORCYCLE NEON SIGN
American IronHorse 2008 Texas Chopper Thunder Press
American IronHorse Unleashes First Consumer Financing Program with Rates…
2006 Republic of Texas Motorcycle Rally Coverage Hot Bike