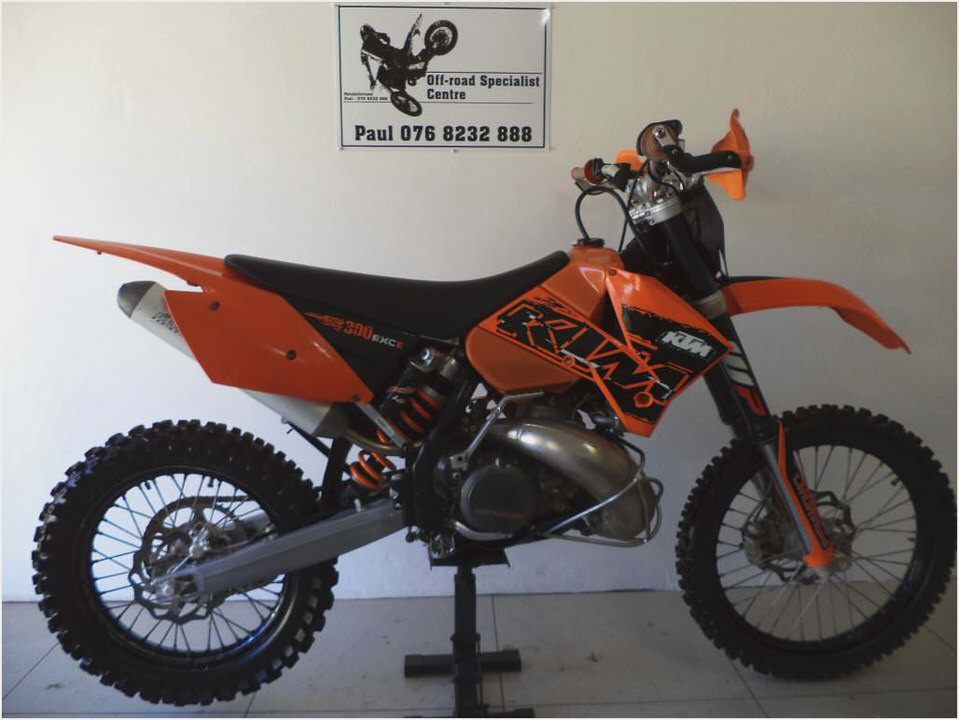 11 Feb 2009 | Dirt Bike Trader magazine farewells its long-term KTM 300 EXC-E
Parting is such sweet sorrow. We've come to the end of our time with our KTM 300 EXC-E long-term test bike, and with a tear in our eye, we have to say goodbye.
I have to admit that I hadn't spoken to anyone from KTM for a while because I didn't want to bring up the topic of our 300 EXC-E. With the 2009 models arriving I knew it was time to hand our 2008 model 300 back, but I just didn't want to face the music. To make it worse, I can't even go for a goodbye ride because I'm grounded by injury.
Oh, the pain of it all.
When we initially spoke to KTM about the possibility of receiving a long-termer, we weren't overly fussed about which bike we got, but there was a real eagerness to get back on a two-stroke. We're all fans of the 300 EXC from way back, and for some reason the Monkeys all at once shared a deep desire to get back onboard a dinger. Not even the prospect of pre-mixing could put us lazy buggers off.
It was, it seems, time to get back to the roots of dirt riding. Not just technologically, but to also back to why we all participate in this sport, which is to have fun. Four-strokes are unbelievably good these days and the sport has never seen so many well-built and blinged-up bikes.
But the arm-wrenching power of a 450 can be bloody scary at times, and when it's followed up by 115kg of metal and spinning rubber, the average rider can tend to treat the throttle like a hand grenade pin – one false move and your mates are pulling Lantana out of your nose like a magician pulls a hanky from his hat. Add to that the high cost of running a modern four-stroke and you've got to wonder why the two-stroke has completely lost its appeal.
The answer is, it hasn't. KTM sold out of 300s again this year. TM and Gas Gas do very good business with their brilliant dingers and Yamaha has said it'll keep selling its YZs until people stop buying them.
Elvis hasn't left the building.
TIMES, THEY ARE A CHANGIN'
There was a time when the idea of the four-stroke being the dominant class was preposterous. But times have changed and we now live in an era where it's possible for a flight attendant to get a pilot pregnant. It's no surprise then that all major championships are now run and won exclusively by thumpers (GNCC and freestyle the big exceptions), and the young motocrosser no longer knows the sweet smell of pre-mix in the morning.
For us though, that smell is a narcotic.
The idea with the 300 was to ride it in stock form. No major mods and only some protective gear attached. We also wanted to contact dealers around Australia to get some good tips on set-up, but after a few calls this became pointless.
Nobody seems to do anything to these bikes.
Even Kiwi Chris Birch rode what was basically a stock 300 in the Romaniacs and Erzberg Rallies. It just needs a bashplate and some fuel and you're away. So, although we did ring dealers searching for some great tips for improving the 300, most of them said they don't do anything.
NO DAMAGE TO REPORT, CAPTAIN
We did 1612km over 46 hours on the EXC-E and we didn't have one second of downtime. The electric start worked every time; we never fouled a plug; the fork never leaked and the engine coughed only once, after I unwittingly put in some dodgy petrol I got from a servo that looked more like a Kebab shop than a reputable fuel outlet. In fact I think you could get a free falafel with every 20lt of petrol.
It's had its fair share of drops and one big crash, but the bars aren't even bent. No levers were broken and absolutely nothing mechanical on this bike has been repaired or replaced. You gotta love that.
But don't go thinking we babied this bike. It got hammered at times. It's been through every imaginable test, from mud to rock shelf and sand to snow.
From 36-degree heat to below freezing at high altitude.
The best investments we made were definitely the bashplate (which you should never leave home without), and the Kenda tyres. I'm not overly fussy when it comes to tyres, but the Budds Creek Sticky front and Carlsbad rear have been brilliant. After about 600km the rear is stuffed, but the front still has life in it.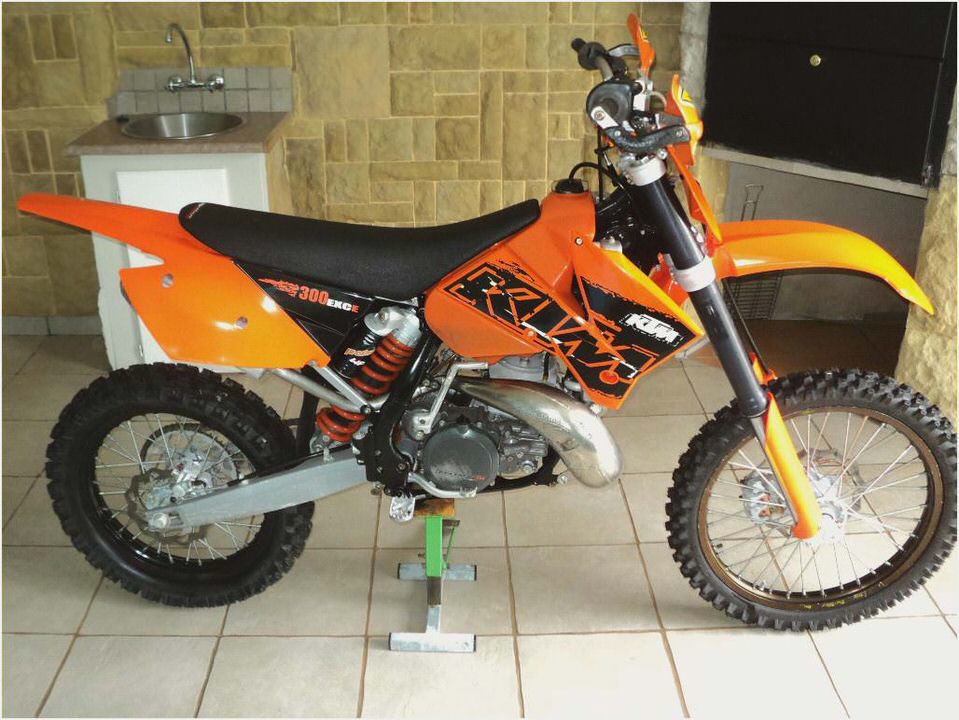 Their grip on any surface is solid and I'd recommend them to anyone who'll listen.
THE LIVIN' IS EASY
So what can we tell you about life with a KTM 300 EXC-E?
Life is good. The riding is fun and the bike is as strong as an ox. It's fast but manageable. It's torquey, but it also has plenty of poke.
It's not as peaky as the 250 EXC, but it has so much more grunt down low that it hunts down 450 thumpers on any hill.
The fork never really loosened up to the point of being plush and if I was to break our rule of no mods, I'd have at least experimented with some different weight fork oil to get some smoothness in the action. In fact the brilliant Marzocchi fork on the Gas Gas EC300 was the one area that separates two of the best bikes on the market at the moment. That aside, the shock was faultless and we never spent more than an hour in total setting up the 300.
The fun factor is what the 300 is all about. It's light and unimposing, but the engine has real spark and you find yourself looking for berms or banks to bang off, or jumps and logs to launch from.
Any time we were exploring a new or difficult track, I'd prefer to do it on the 300 because I knew it could go anywhere and it'd help me get there, without completely sapping my energy, no matter how hard it got.
And so, KTM got hold of me and the 300 EXC-E is gone. Some of the Monkeys even rang to check that I was okay because I had become somewhat attached to the Austrian. That's what bikes do to you though.
Not all, just the good ones. The 300 EXC-E is definitely one of the good ones. We can all see how this bike would be the first choice of so many riders today, and if given some consideration it'd win back a bunch of 450F devotees as well.
We will never return to the two-stroke dominated past, but we shouldn't turn our backs on it. The 300 isn't a relic of yesteryear and is every bit as relevant today as anything else on the market. Consider parking one in your garage. I'll be jealous. n
Words Pix: Damien Ashenhurst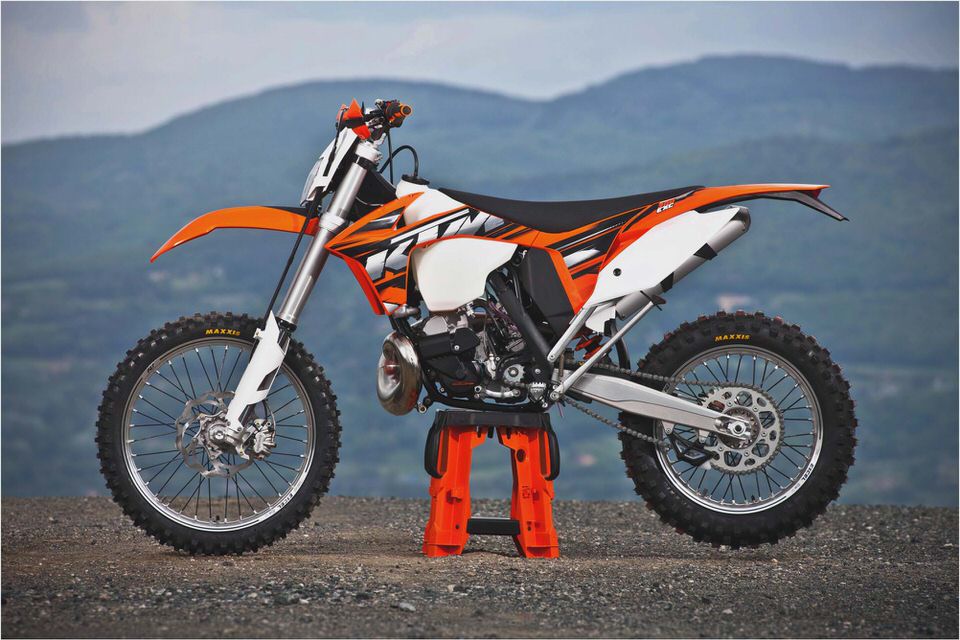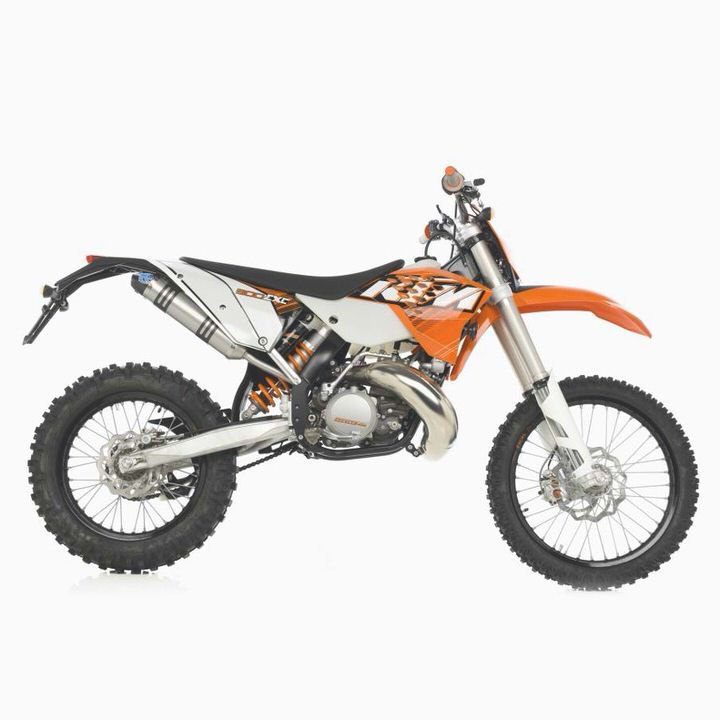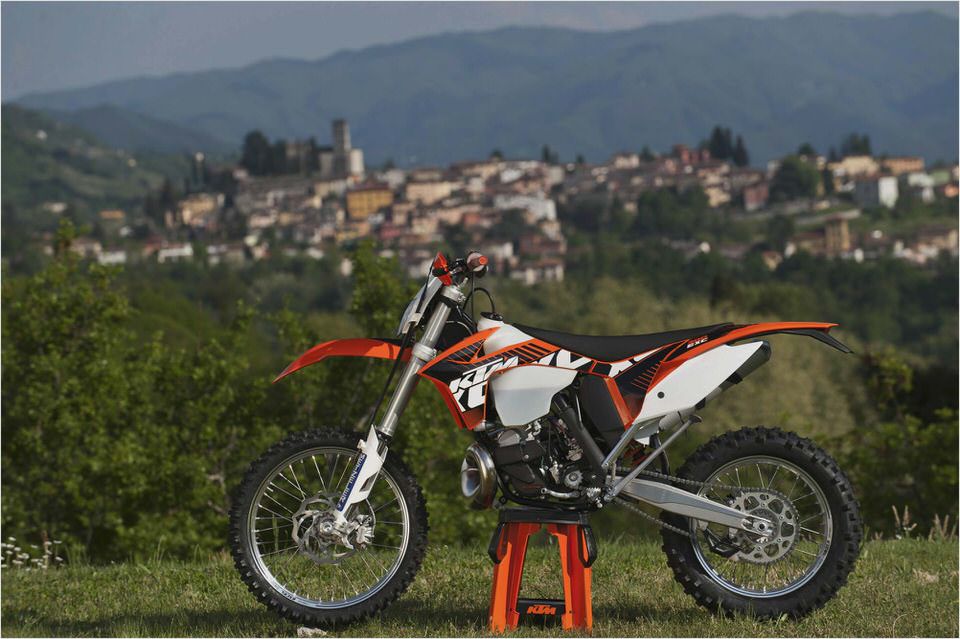 Bikes, Parts, Accessories, Servicing, News on all Ducati, KTM and Husaberg…
2008 KTM 530 EXC-R vs. BMW G650X Challenge – Test Drives – 2008 BMW Enduro…
Dakar Rally 2014: Route Details And How To Follow The Action; Will The…
KTM 350 SX-F
2014 KTM 65 SXS