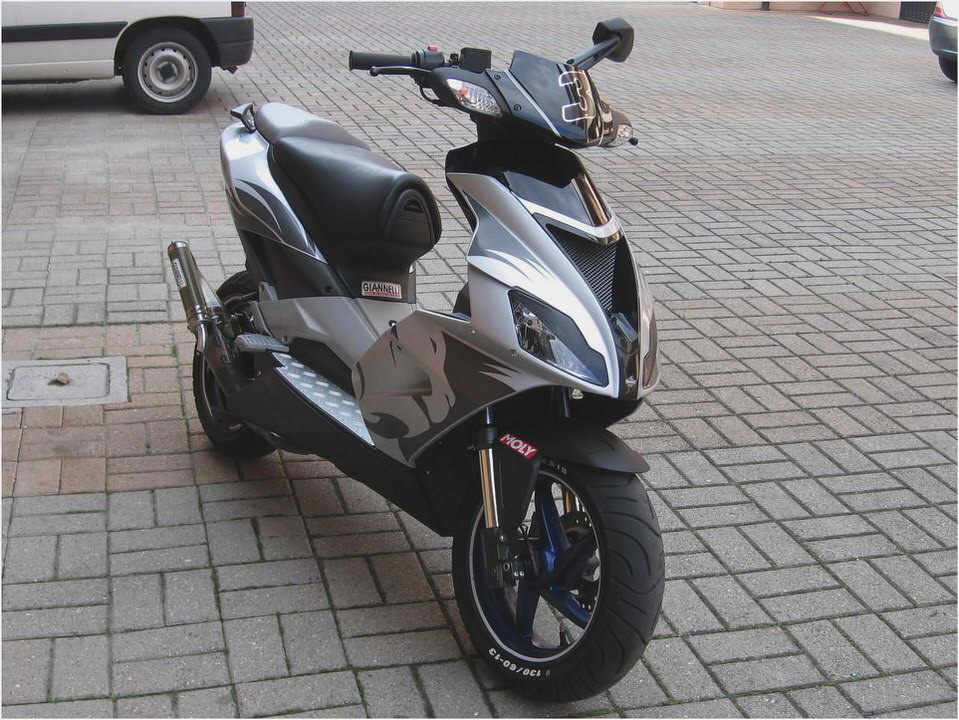 Aprilia SR 50 WWW
Advantages: Fast, easy to ride, economical, easy to maintain, cheap
Disadvantages: None really, a little unreliable maybe
There are two types of SR50 Scooters made onwards of 2005. One version is just the normal SR50, this has a Morini made engine and a carburettor. However, the Ditech model also has a Morini engine, but it doesn't have a carburettor, it uses direct injection.
The exact model that I am reviewing is a 2005 SR50 R. All SR50 models from 2005 onwards are almost identical in look and engine, they had a redesign in 2005 and haven't changed since. The R at the end doesn't mean much, neither does the WWW in some models.
To start off, I got the bike for Ј700 in very good condition. A few problems were:
Rusty Exhaust
Cracked rear left fairing
Starting Problems
The rusty exhaust will happen to all scooters, basically I just clean it all very well then sprayed it over with high temperature paint – like the stuff you use on BBQs.
Cracked rear left fairing – This isn't an issue with the SR50, it is just because the old owner dropped it.
Starting problems – At first I didn't know what was causing these, but it turned out to be the spark plug and battery. The battery wasn't great since it hadn't been used for a while and it was 3 years old. I replaced the battery for Ј20 and the spark plug for Ј5 and it works perfectly.
Now I will go through the key factors of the bike:
Reliability:
As I said at first, when I got it the spark plug and battery weren't in great condition, so it was a pain to get started and until it had warmed up you didn't want to stop throttle or give it full throttle or it would die.
Since then, it has been perfect. When I start it it always starts first time and just warming it up a bit on low revs means that you don't damage it and it will run well on the journey.
I have never had any lights fail or me, or anything really big fail on me.
SR50s are Twist and Go, meaning they are kind of more reliable than a geared bike. You don't have to worry about the clutch and gears breaking and having to maintain them.
Maintenance:
Maintenance on the SR50 is fairly easy. The petrol tank is just under the seat so very easy to fill up with petrol without causing a fuss.
However, the 2-stroke oil tank is not where you would fit. Instead of being next to the petrol tank, you have to take off the front fairing of the bike to access it.
That is where you will find the oil tank and the coolant tank (yes, it is liquid cooled – see your manual for details of water/coolant/anti-freeze needed). To fill these up now is fairly easy though.
The manual has a very nice table shows you what you should be servicing at what time and after what mileage. Follow it as well as you can, if you can't do it then get it serviced by a pro.
Others things you need to look out for and service are:
2-stroke oil
Coolant
Brake Fluid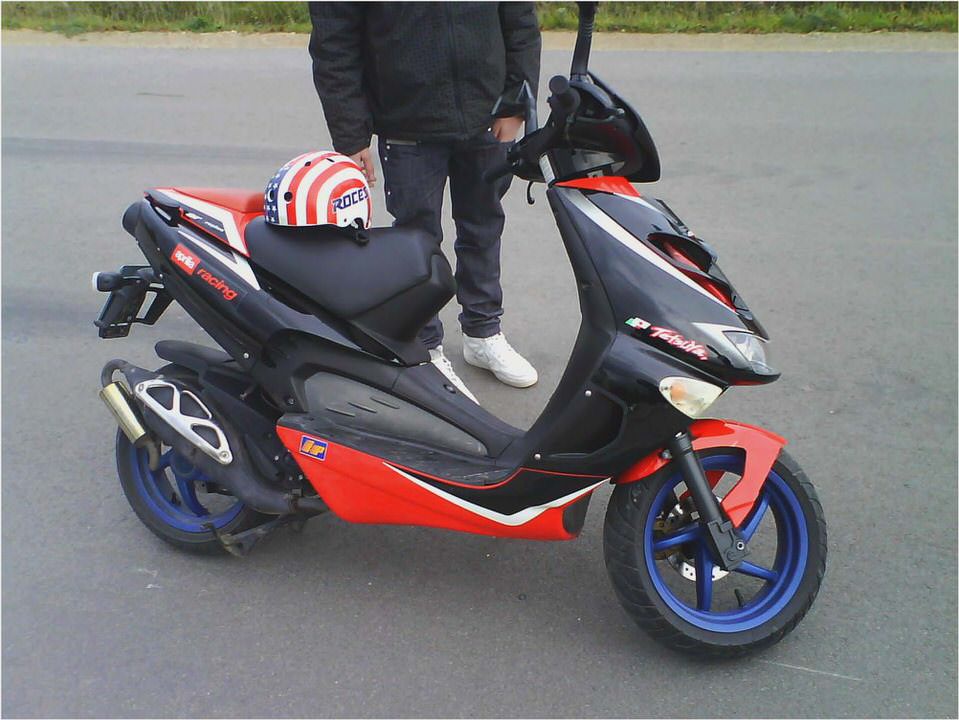 Brakes
Battery Water level (above the electrodes is where it should be, used distilled water to fill it up)
Tire tread
Exhaust rust (not in the manual)
Everything else in the manual
Performance:
Yes, now I have finally gotten on to the performance part. If you buy this in places like the UK it may be restricted. This means you wont really be able to got above 31 or so MPH.
If you get it derestricted then it becomes much faster (do this, it is safer because no one wants people overtaking at 60 when you are doing 30).
With no modifications it is very nippy up fill. On hills, it beats everything. I have gone for runs with people on geared bikes such as the RS50 (and it obviously beats these) but it also beats things like Speedfights and Aerox's on the hills.
On the flat it is very fast. There are faster 50cc bikes, but only really the RS50 can beat it unmodified.
The speedo on my one goes up to 50 MPH, all I know is that it can go over that. I have clocked it going 58 MPH, but that was on a very long straight.
Downhill the speed is a bit higher, as you would expect.
Acceleration up to 20 is very fast, then it slows down but is still pretty fast up until you hit 40. But to get from 40 to 50 MPH it takes a very long time.
Cornering is ok. It isn't great compared to bigger 50cc bikes such as MX50s, RX50s, RS50s and even old bikes like Yamaha Fizzy's. They have bigger wheels and more grip, but in reality the SR50 can turn well enough.
Summary: A great 50cc scooter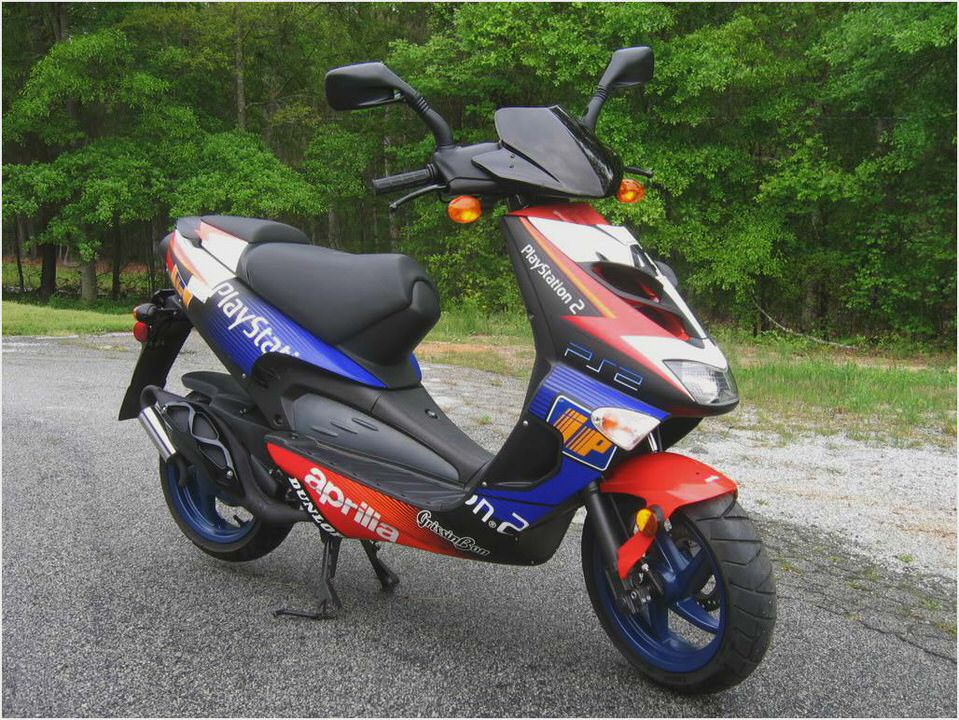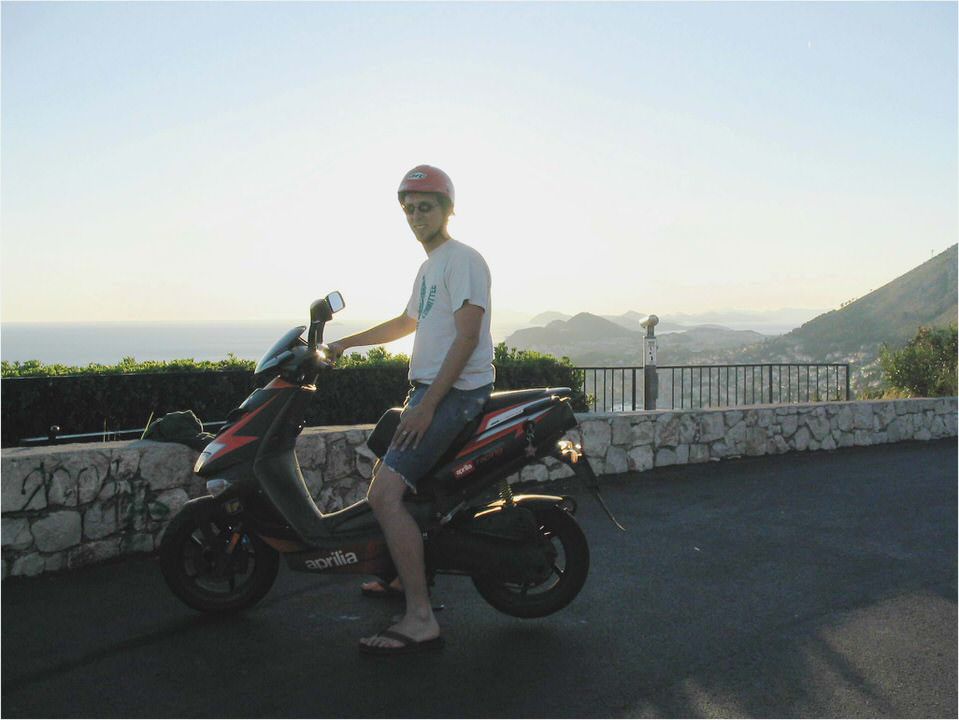 Price Cut for Aprilia Tuono 1000R News
Motorcyclist Magazine-2004 Edwards-rep Aprilia RSV Mille R
Aprilia Scarabeo 50 2T
APRILIA RSV MILLE R TUONO – 2003 MANUAL Pdf Download.
2011 Aprilia Dorsoduro 1200 Review – Ultimate MotorCycling