What Is A Pocket Bike?
Pocket bikes are real miniaturized versions of GP racing motorcycles. They are manufactured in Japan, Europe and China. Italy and other European countries call pocket bikes . mini motos . While Japan and the rest of the world call them: pocket bikes . The names pocket bike and mini moto are interchangeable.
Pocket bikes can come with full-fairing. just like a full scale GP motorcycles. and some come with half-fairing like the GT style race bikes (Fairing is the plastic cover that goes over the frame of the bike). Pocket bikes come in two sizes: mini and midi. There is no official definition of the sizes, but mini sized pocket bikes have approximately a 27inch wheelbase, and the midis have a 30inch wheelbase.
The mini models are approximately 40 inches long, 12 inches wide, and the seat height is about 16 inches off the ground. They weigh approximately 40 – 50 lbs. (19 Kg). The midi size models are approximately 10% bigger than the minis.
90% of people who can fit on a midi pocket bike can comfortably ride a mini one. But larger people prefer to ride a midi. Mini pocket bikes are by far the most popular ones.
To the average on looker, pocket bikes . may look like cute little toys, but they definitely are not toys. They're purpose built racing machines. The experience of riding one is very similar to riding a full-size bike. On the racetrack the slick tires and high speeds mean you can scrape your knee round corners just like on a real bike.
However, the short wheelbase and the lightness of them mean that they turn and change direction much quicker than a full size bike.
Pocket bikes are powered by single cylinder two-stroke pull-start engines. These engines can have different states of tune, producing between 2 and a whooping 15 Horse Power!
Some of the engines in pocket bikes are known as industrial engines, like the ones you find in garden machinery like a weed wacker. And some are full-on purpose built and tested racing engines. Pocket bikes don't have gears; they have a centrifugal clutch, which means all you have to do is twist the throttle and you take off.
Pocket bikes don't have suspension, headlights, electric starters or any other extraneous items on them. Their frames are made out of tubular steel or spar alloy. The brakes on pocket bikes are cable operated disk brakes.
And they have treaded or slick tubeless tires on a 6-inch wheel.
Pocket bike racing is very popular in Europe and Japan. Kids start racing pocket bikes as young as 6 years old. In fact, current world Moto GP champion: Valentino Rossi learnt to ride when he started racing pocket bikes when he was 12 years old.
No wonder he's world champ! Pocket bikes have been around for many years, however it's only recently that it has become popular in the USA, and other westernized countries.
The key feature, that separates this model from others, is it's removable swing arm
The swing arm is the key to identifying this model from the other mini size Pocket Bikes . What's the removable swing arm for? Well you can remove the swing by un-screwing a few bolts – which makes working on the engine and the carburetor a lot faster and easier
Other distinct design features on the swing arm model include the: chain guard on the bottom of the swing arm, the bolt on seat, and the chain guard in the middle of the bike.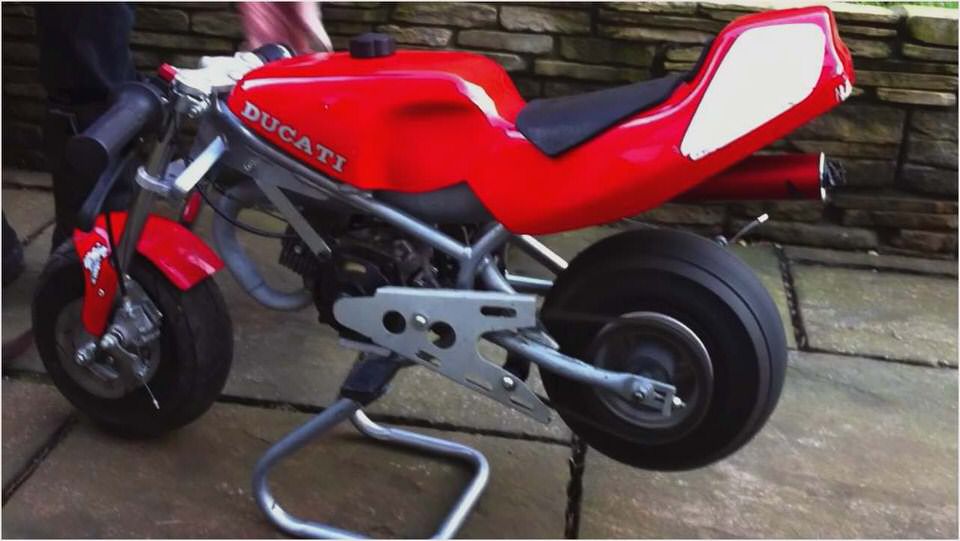 The Tools and Hardware Required
Your pocket bike comes with a toolkit that contains a set of tools which you can use to pull your pocket bike apart with. However you may also want to go down to your local hardware store and buy some higher quality tools (if you don't already own some) to make the job easier.
Here's a list of the tools required to maintain your pocket bike :
A set of Allen Keys
A 17mm, 10mm and 8mm open-ended spanner
A small and large Philips head screwdriver
A flat blade screwdriver
Some plastic containers to keep your nuts and bolts in
You will also need some clear space to work in. A workbench is very helpful and makes the job easier. If you don't have a workbench then some space on your garage floor will be fine.
USMGP – Fastline Moto-Sport
Great deals on Ebay co petrol buggies in Sports Accessories at Bizrate.co.uk
Rider Trog Racing – Gideon Thomas – 67
SCminiGP Youth Rider Invited to MotoGP Rookie Tryouts – Motorcyclist Magazine
2013 Kawasaki ZX-10R ABS Specification, Price and Picture 2014 2015…