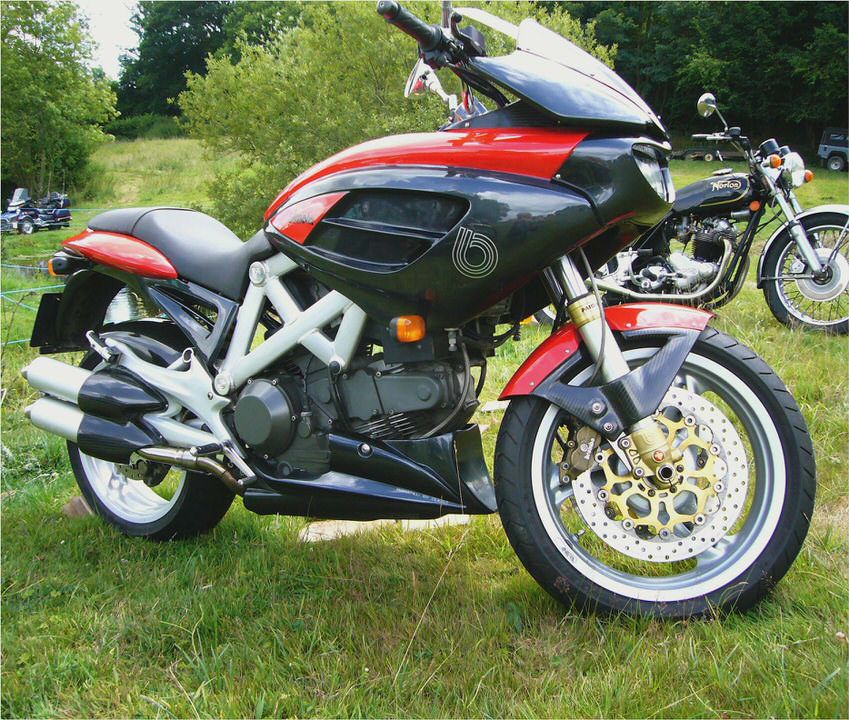 The Mantra represents an attempt to open up new areas for Bimota. as opposed to the traditional niche of super sports bikes. The so called niche was that of the naked bike. The styling which was quite daring and uncompromising. as one would guess from this Rimini based manufacturer. was the work of French designer Sacha Lakic. Mantra means in Sanskrit tool of thought. Upon its presentation everyone thought it was only a project. given its futuristic appearance.
It came as a surprise when it was marketed normally. The mantra was marketed in two series the first in Cologne in 1994 and the second in Milan in 1997. However this change was only with minor cosmetic details such as screen. headlight. handlebars and rear mudguard.
All of which will fit onto earlier bikes if required .
That was the typical reaction to the Bimota Mantra, one of the craziest bikes ever made in Italy, which is quite an achievement. Featuring an engine lifted from Ducati's mid 1990s 900SS model, with Sacha Lakic's weird chassis and bodywork wrapped around it, the Mantra was an exercise in designer chic which somehow never quite got off the ground. Bit like a gold plated Versace sandwich toaster really, interesting idea, but difficult to market.
The surprising thing was how good this four pipe; walnut-dashed weird mobile was to actually ride on the road. It went, braked and handled OK and weighed as little as the average sporty 600. Good fun, but at an initial asking price hovering around Ј13,000 back in 1996, it was no surprise that Bimota struggled to sell many Mantras in the UK.
Bimota riders are used to turning heads, but nothing the Italian firm has previously produced matches the impact of the outrageously styled Mantra. During a day on the roads around Bimota's base in Rimini, motorists stopped to stare, pedestrians stood open-mouthed and one scooter rider chased me through the resort town's traffic for a closer look. And it's not just its controversial styling that makes the Mantra special.
More importantly, this is the first visible result of Bimota's recent policy to broaden its range. Traditional super sports bikes will continue to dominate, but Bimota also aims to move into new sectors of the market, to allow an increase in production. This year's total is scheduled to reach a highest ever 1400 bikes, 300 of them Mantras, with the planned limit of 1500 due to be built next year.
Shaped by Frenchman Sacha Lakic and powered the SOHC, two-valves-per-cylinder V-twin motor from Ducati's 900SS and Monster, the Mantra is intended to be more at home in town and on country roads than on a racetrack. But with an oval-section alloy frame and a collection of classy cycle parts, it has been created to maintain Bimota's reputation for demon handling too.
There's not much doubt that Bimota's first aim, to produce a futuristic roadster with a high-tech image and a strong identity, has been achieved. The bike is unmistakable all the way from its headlamp surround – inspired by an old-style racing Ferrari's grille – to its pair of low-level mufflers on either side. No bike as boldly styled as the Mantra will be every rider's cup of vino rosso, and I'll admit to doubts when it was launched last year.
But the Mantra definitely grows on you – and the opinion of those in Rimini was overwhelmingly positive.
The distinctive feel continues after you've thrown a leg over a stepped dual-seat, which is fairly low, at least for the rider. Up ahead, white-faced clocks are set into a fake wood surround with a neat carbon-fibre cover. Mirrors are pear-shaped and wide apart enough to be useful – possibly another first for Bimota. Fuel is held low, in the front bodywork area at each side, leaving room for a small glove compartment in the dummy tank.
Bimota's trademark milled-from-solid aluminum top yoke is in place, but the clip-on bars are raised four inches above it. They combine with reasonably forward and low set footrests to give a roomy, almost bolt-upright riding position, with your legs pushed out slightly by the bodywork. When Ducati's 904cc air-oil cooled Desmo V-twin engine fires-up, its familiar mechanical rustle blends with a fairly quiet exhaust note from those four mufflers – a set-up designed more for show than go.
The power plant itself is standard, producing a claimed maximum of 86bhp at 7000rpm. Like the Monster, its closest rival, the naked Mantra is well served by the V-twin's relatively modest top-end performance and huge reserves of midrange grunt. In town the bike was a revelation after previous racy Bimota's, with none of the normal wrist-ache.
Steering lock was pretty limited, but the Mantra's lightweight – just 381lb dry – helped low-speed maneuvering. At walking pace the motor felt rather snatchy, making for erratic progress in heavy traffic. But it smoothed out above 3000rpm, and midrange response was predictably brilliant.
Cracking open the twin 38mm Mikunis sent the bike charging instantly forward, its front wheel coming up easily in first gear. On the open road the Mantra's instant urge made for rapid progress and effortless overtaking, without need to cane it to the 9000rpm redline or make too much use of the six-speed gearbox. Riding a Bimota gently has never been so much fun. Revved harder, the V-twin stayed fairly smooth as it rumbled towards a top speed of about 125mph.
Neither the top-end delivery nor the riding position encouraged ton-plus speeds, although a detachable windscreen is available as an optional extra. Unlike many naked bikes, the Mantra felt rock-solid at speed.
This is a Bimota, after all, and that oval-section alloy frame looks massively rigid. But handling was less quick steering than previous Rimini bikes. Presumably that was intention, as the Mantra is aimed at city dwellers and sports touring types who wouldn't normally consider a Bimota. Not that you'd suspect a thing from a glance at the spec sheet.
With 24 degrees of rake, trail of just 92mm and wheelbase of 1370mm, this bike's vital statistics are almost identical to those of the super-sports DB2. Adjusting the length of the Paioli rear shock, though, so those steering geometry figures are only approximate, can alter geometry.
The bike I rode was set up to turn fairly quickly and easily, but required noticeably more effort than the ultra-flickable DB2.The multi-adjustable shock sits diagonally on the right of the bike and is worked directly by the oval-section alloy swing-arm. Front suspension is similar to that used by other Bimota models, with 43mm diameter Paioli forks whose sliders are machined from solid billet.
Both ends were softly sprung, at least by Bimota standards, and superbly controlled, making the bumpy hill roads south of Rimini feel deceptively smooth. Either that, or they'd all been resurfaced since my last visit. If anything the forks were slightly soft for aggressive riding, using up much of their travel under hard braking. In the absence of spring preload adjusters (optional kits are available for both preload and rebound damping), winding on a little extra compression damping helped slightly
.The Mantra certainly stopped as fiercely as any race-replica, too, thanks to its light weight plus a front brake combination of twin 320mm floating discs and four-pot Brembo calipers, backed up by a 230mm rear disc. Its 17-inch wheels wore fat Michelin Macadam's, which gripped well although they're not pure sports tires. Ground clearance was excellent, with just a corner of the belly-pan touching down under extreme provocation.
Despite its relaxed riding position and slightly slower steering, there's no doubt that the Mantra is a seriously quick machine that, if well set-up and ridden hard, could keep up with most sports bikes. It's a true Bimota, even if it doesn't look anything like any of the others. All of which, of course, is pretty much what its creators intended.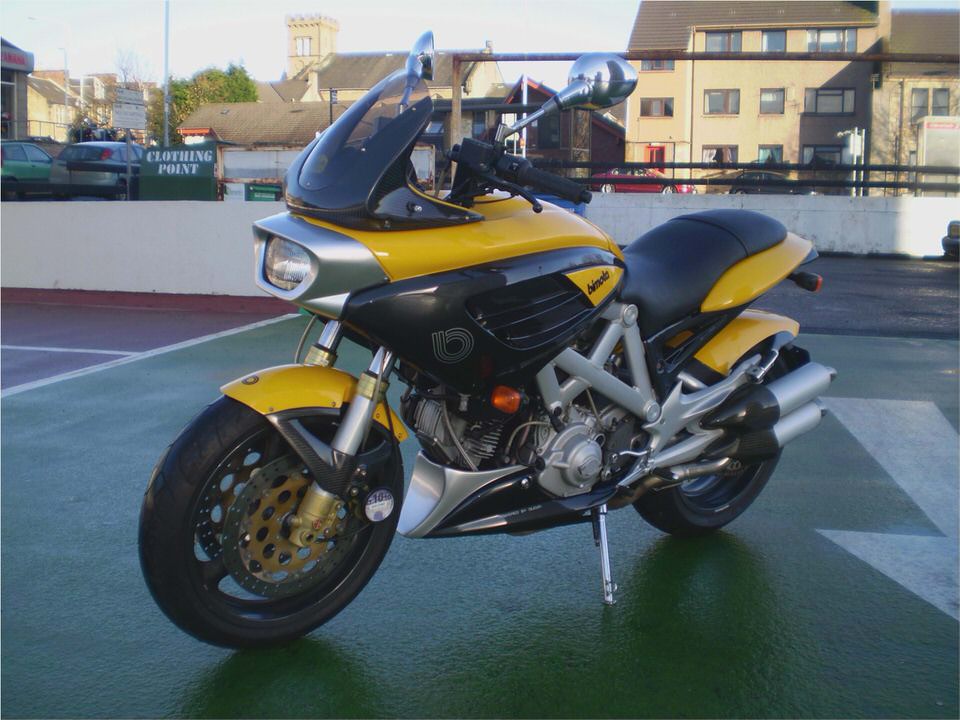 The Mantra achieves Bimota's aim of broadening the marque's appeal, providing great performance and handling in a stunning visual package that some riders will love, others will hate and few will ignore. Naturally it's also expensive, costing considerably more than Ducati's similarly powered M900 Monster. But for riders who've always appreciated Bimota's dedication to high performance and engineering excellence, and prefer a more rounded bike to the normal Rimini diet of racy sportsters, the Mantra could just be the answer.
Review of Ducati engined Bimota's against their Ducati counterparts – by Ian Fallon with thanks.
DB3
Designed by Frenchman Sacha Lakic, the Mantra was one of the most unusually styled motorcycles of the mid to late 90's. Using a standard 904 cc M900 engine with a special four-muffler exhaust system, the output was 85.7 bhp at 7000 rpm. Every other component was different to the M900, and the Mantra was lighter and more compact.
The trellis frame was constructed of oval section tubes, with a cantilever aluminium swing arm ands single Paioli rear shock absorber. This gave a wheelbase of 1370 mm (53.9 inches). Front forks were 43 mm Paioli, these providing rebound adjustments. The wheels were black painted 17 inch Marchesini fitted with 120/70ZR17 TX11 and 180/55ZR17 TX23 tyres.
Though fully floating cast iron 320 mm Brembo front discs were featured on the publicity vehicles, the front brakes were standard 320 mm stainless steel discs with the usual Brembo P4 30/34 calipers. At the rear was a 230 mm disc with a brembo 05 Gold series caliper.
It was Lakic's yellow and black bodywork that was the most controversial from the front mudguard to the belly pan, every part a new styling experiment. The smoked black windscreen was designed to be easily removed and a small baggage compartment at the rear of the fuel tank could house a rainproof suit and gloves. The tank itself was a twin saddle style to give optimum weight distribution. Most of the ancillary components were also specifically designed and built for the Mantra.
This included the chrome mirrors, later used by Moto Guzzi, white-faced instruments and CEV headlight.
In 1996 the Mantra front and rear sections were restyled, and the colours now included a red and black option. Two kits were available to bring earlier models up to the 1997 specification. There were also new handlebars, windshield, headlamp cowl, rear mudguard, uprated Michelin TX15 7 TX25 tyres and it was now fitted with Antera wheels as standard.
As with the DB2 there was a wide range of options available for the Mantra, some of the were, Bimota Alarm, engine up rating kit and a front fork kit. More sophisticated fork action through this kit included Titanium fork tubes, along with pre load and compression damping adjustment. Production of the Mantra commenced in September 1995, the total production being 454 unit until 1998.
The final 50 were constructed in November of that year. The basic Mantra frame and running gear was then used for the DB4 of 1999.
Source bimota-enthusiasts.com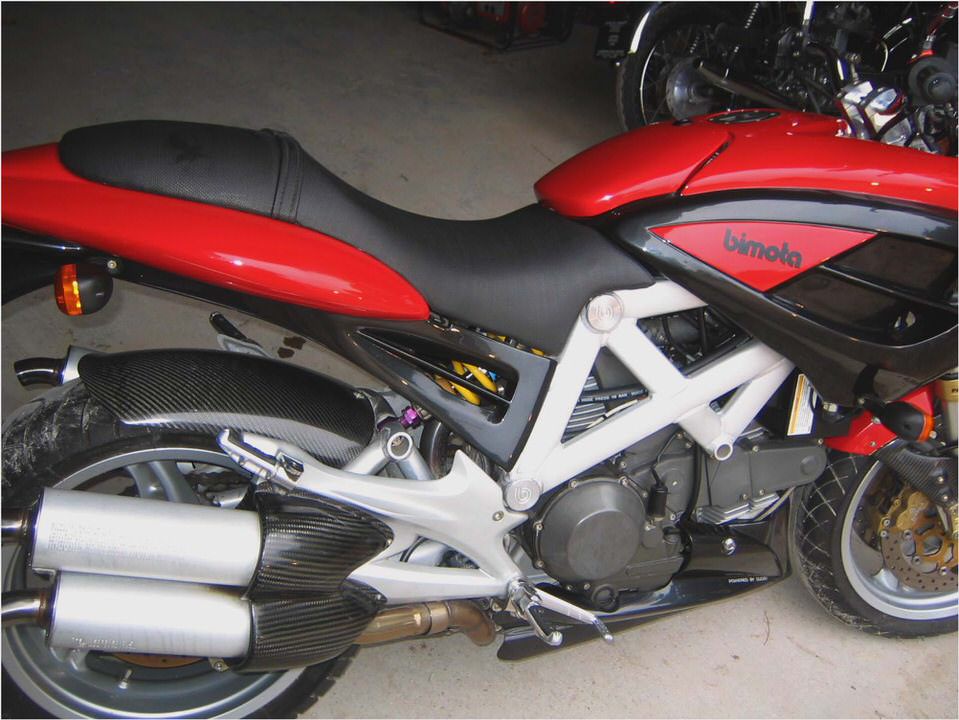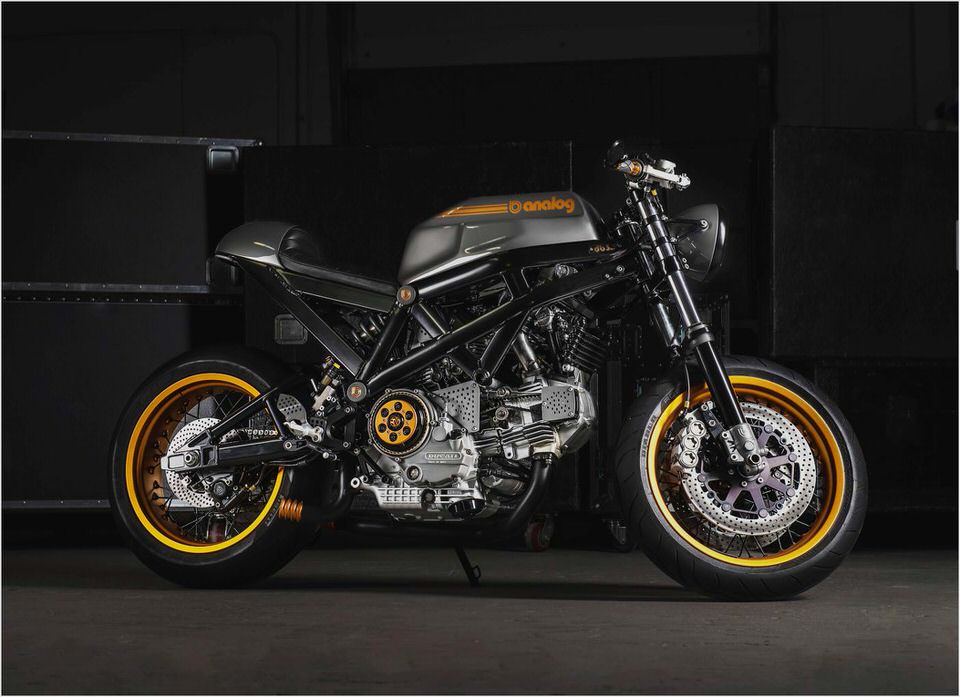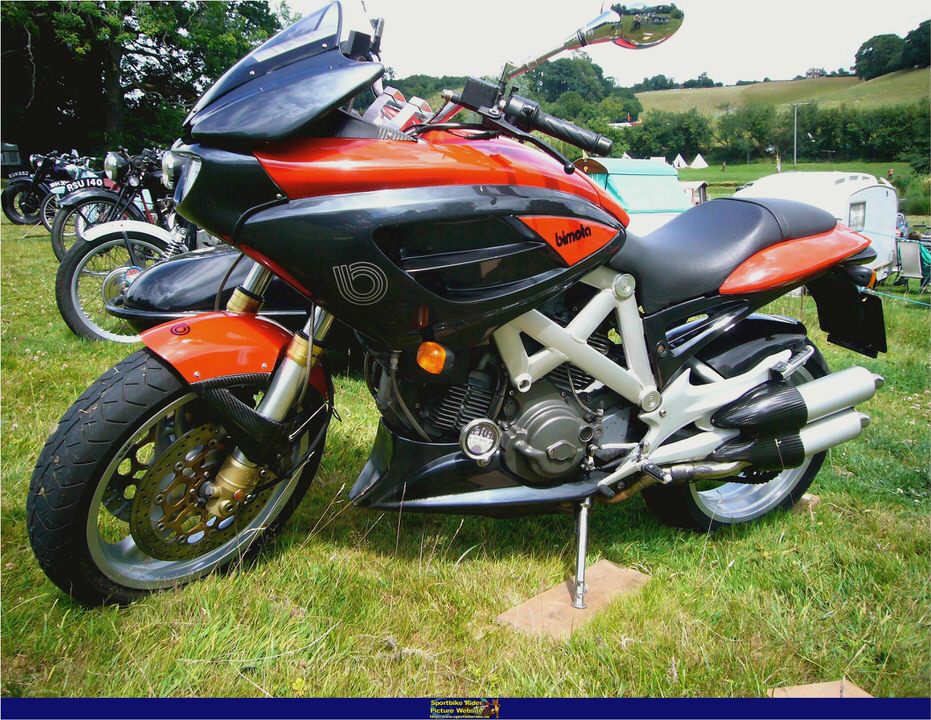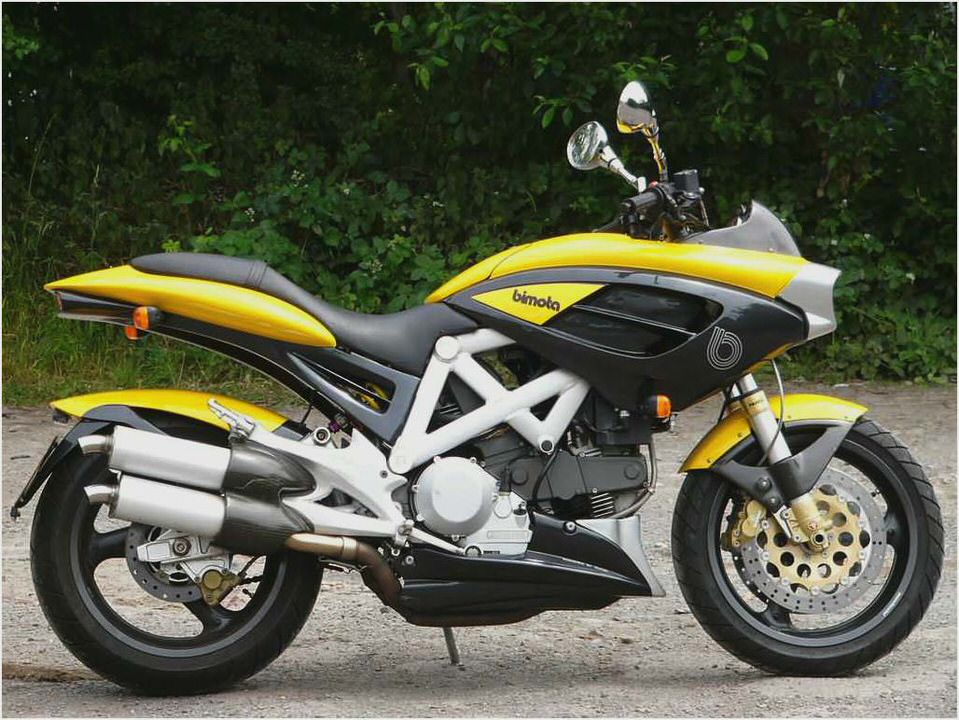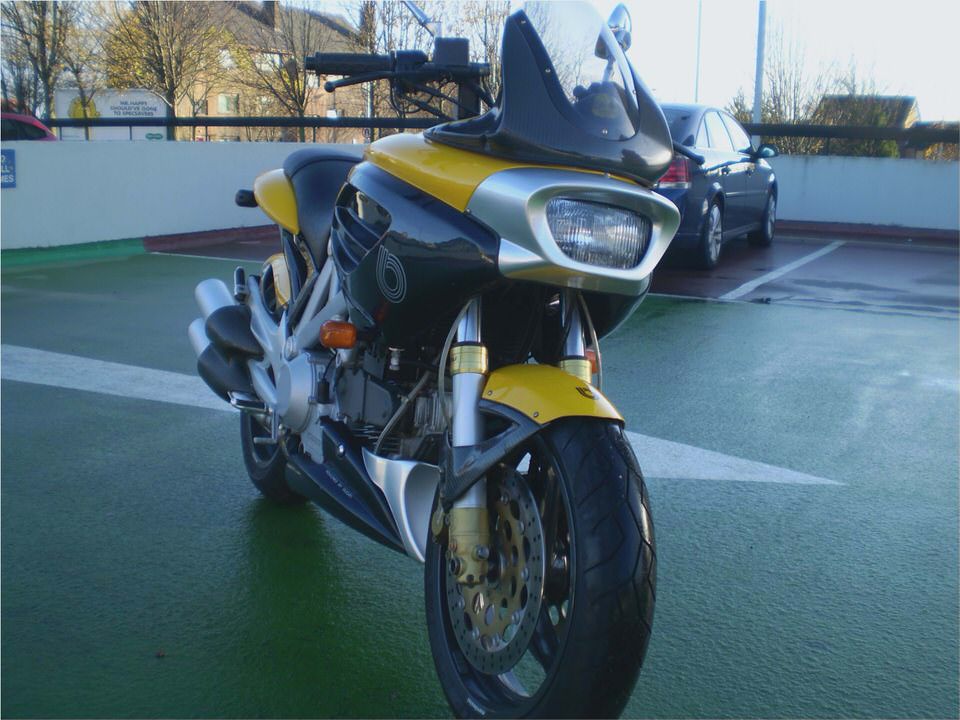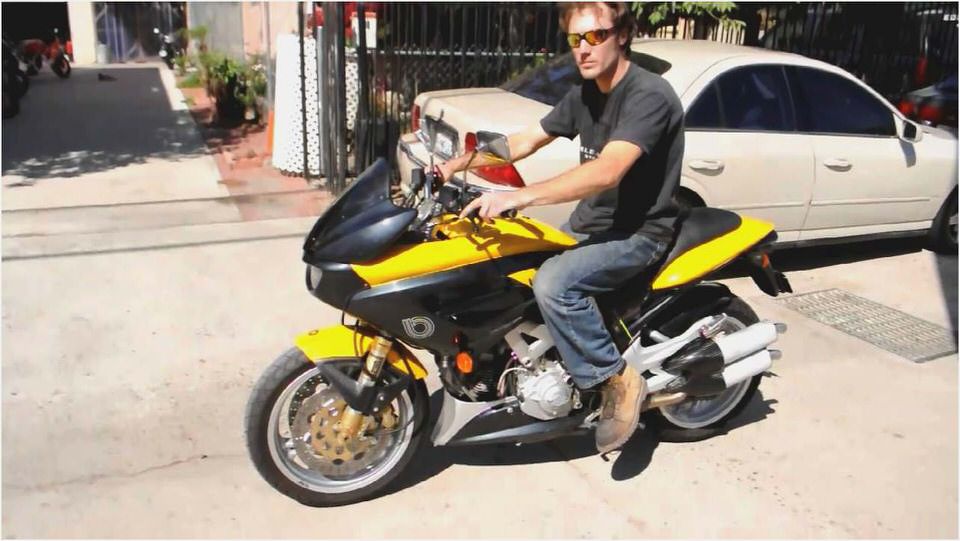 BOX VAN FORD E350 POWERSTROKE Diesel great MOTORCYCLE hauler – NO RUST
Ducati MH900e : 2000 Cartype
Bimota DB5 Cafe racer – Paperblog
2013 Bimota Tesi 3D E Review, Features and Specs Concept and Review 2013-2014
Classic Sport Bikes For Sale We Blog Classic Sport Bike Classifieds…