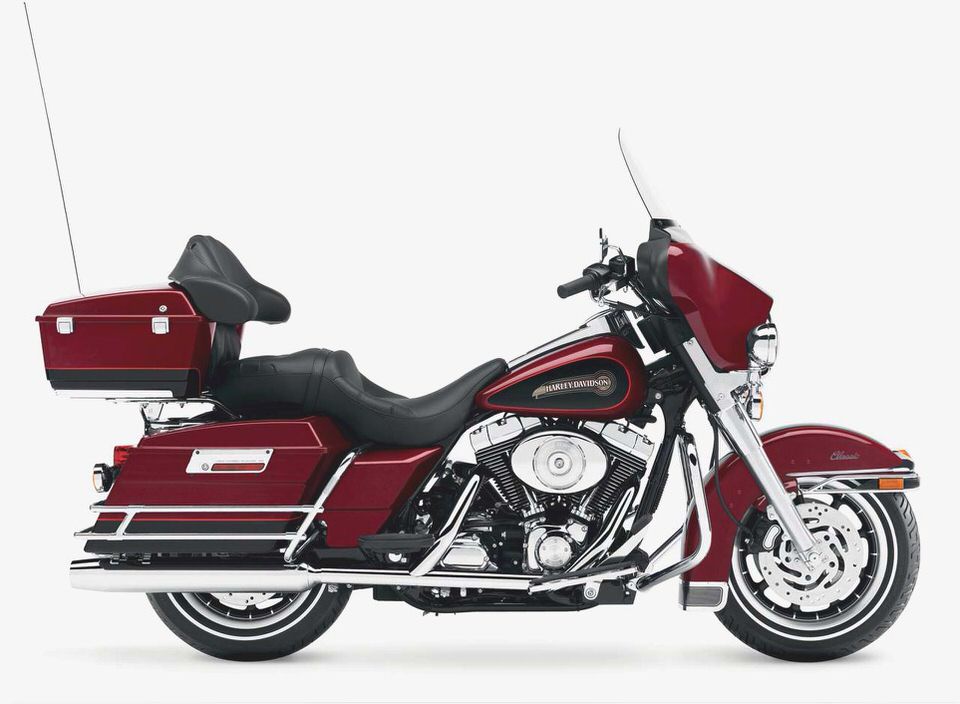 2014 Electra Glide® Ultra Classic® – FLHTCU
ICONIC ENGINE
Project Rushmore
As every rider knows, the engine is at the heart of the experience of riding a motorcycle. The amount of torque and horsepower it delivers over the RPM range is in direct proportion to the feeling it gives you when you roll on the throttle. We know what riders want from a motorcycle engine because we've been building them for 110 years. Project RUSHMORE gave us the opportunity to dial it in just right.
We conducted thousands of road tests with real riders giving us feedback to build the next iteration of the legendary Harley-Davidson ® engine. The consensus was: We want more. More low-end torque, more passing power, more perfection in the tone of the exhaust note, more of the feeling we ride a motorcycle for. So we built the engines that deliver it. We're proud to unveil the next level of Harley-Davidson ® V-Twin engine.
And prove once and for all, the customer is always right.
Pure Harley-Davidson Styling
Feast your eyes on the Twin Cam 103 ™ engine and there's no mistaking its roots. This is authentic Harley-Davidson® style through and through with an attention to detail you won't find from any other motorcycle company. Black powder-coated heads and cylinders are highlighted by machined cooling fin tips and chrome rocker covers.
It's a jewel machined out of metal. Pure. Dripping with power.
From the classic edge of the cooling fins to the clean lines of cases and coversthe Twin Cam 103 ™ engine makes an ironclad statement about holding on to what's right and staying true to what satisfies.
Six-Speed Cruise Drive ® Transmission
You want a ride that rumblesnot begs for mercywhen you lean on it a little. The Six-Speed Cruise Drive ® transmission provides smooth, quiet shifting and reduces engine speed on the highway, so you get a better match between engine turnover and road speed. And the Isolated Drive System makes acceleration flow in a smooth, steady stream from your wrist right down to the pavement.
It's a rare ride when a bike responds like this, and a low growl goes a long way when you're opening up the road ahead.
Twin Cam 103 ™ Engine Heritage
The knowledge of what makes an engine truly move a rider runs deep at The Motor Company, and it was put to good use when we created the Twin Cam 103 ™ engine. We painstakingly perfected every cubic inch, pushing design and technology forwardall without compromising one bit of Harley-Davidson®'s unique styling. Evolved, yet carrying on the legacy of the Flathead, Knucklehead, Panhead, Shovelhead, Evolution ®. Twin Cam 88 ® and Twin Cam 96 ™ engines that came before.
The performance and durability are a direct result of the untold miles logged on the V-Twin since 1909, and the proud heritage that comes from a century's worth of commitment to life on two wheels.
Twin Cam 103 ™ Engine Innovation
Fire up the Twin Cam 103 ™ engine and feel the low-end torque unleashed. Thanks to the lightweight piston design, delivery of the added power is more refined than ever. Then put your foot on the shifter and feel how the engine and Six-Speed Cruise Drive ® transmission were designed to work together. Six speeds.
A strong driveline and strong internal parts. Low routine maintenance. And a low cruising rpm couldn't feel better.
High Output Twin Cam 103 ™ Engine
Asking riders if they'd like more passing power is like asking them "Would you like more beer in the pitcher" when they have reached their final destination at the end of a long, dusty ride. Everybody wants it, and the new High Output Twin Cam 103 ™ engine is 103 cubic inches of Harley-Davidson® V-Twin you can rely on to deliver it. There's a new airbox for increased intake airflow and a new cam that optimizes phase and duration.
The result: better low end torque and faster 60 to 80 mph 5th gear roll-on to get you around that 18-wheeler. In the tradition of the Flathead, Knucklehead, Panhead, Shovelhead, Evolution ®. Twin Cam 88 ® and Twin Cam 96 ® engines that came before it, the new High Output Twin Cam 103 ™ engine is raising the bar for the feeling an engine delivers to the rider.
There's a reason we're called the Harley-Davidson® Motor Company. Once you send some fuel this one, you'll have do doubt what it is.
INFOTAINMENT
Project Rushmore
More sound. Purer sound. Big, full color touch screens. Switches that are located where you intuitively want them to be and can reach without removing your hands from the grips.
Voice activation for your music, phone and GPS. Or as more than one rider asked: "Why can't the infotainment system on my motorcycle blow away the ones the car companies put in their cars?" We couldn't agree more. Check out the new infotainment system Project RUSHMORE brought to the sport of motorcycling. You won't believe your eyes.
Or ears.
New Boom! ™ Box 4.3 Radio
Let's start with the big news: 25% more volume for your tunes. The new Boom! ™ Box 4.3 Radio puts out 25 watts per channel at 1% distortion and features a factory-tuned, optimized equalizer that pumps out more power and can be played louder while maintaining the clarity of your sound. And the new speed tuning system delivers more than just volume changes at different speeds.
It changes the level of bass and treble to dial-in the best sound, whether you're running at stately pace down the strip or going hell for leather down an open stretch of road. And if you want even more you can go with the optional Boom! ™ Box 6.5GT that puts out 25 watts per channel and has integrated satellite radio. How do you like the sound of a Harley ® motorcycle now?
5.25-inch Front and Rear Speakers
The sound delivered front and rear comes from 5.25-inch speakers mounted securely in sealed and tuned enclosed speaker.
Ready For Your Upgrades
The new Boom! ™ Box 6.5GT was built with your personal touches in mind. You can integrate P A satellite radio right into the vehicle radio with no external mounting and control it through the hand controls. Additional satellite services such as weather and traffic can be added and overplayed on the GPS maps.
You can even download map upgrades and additional functions. The only question is, how far do you want to go?
Jukebox with USB Port for iPod/iPhone
The Jukebox opens with one touch of a button and includes a USB connection which accepts your iPhone, iTouch, non-iPod imitators, and SD card and other USB compatible devices. Pop it open, plug in and your device becomes a part of your motorcycle. Ready to be operated by voice command or hand controls.
500% Larger Buttons for Easier Operation
You wear gloves when you ride so our buttons are designed to be operated with gloves on. They're fully 5 times larger than before. Even the little improvements were done in a big way.
Project Rushmore
Here are some of the innovations The Rider Project led to: the new Reflex ™ Anti-lock Braking System (ABS) with Linked Brakes, new dual halogen and LED headlamps and fog lamps, brighter Tour Pak ® lighting, brighter turn signals, brighter brake lights, and a new steering head with stiffer front forks. Locked-up tires are now history even when there's wet pavement. We've made it feel even better to lean your way through a turn. Now you can see better.
And we've made you more conspicuous to the cage-driving public. Because one thing we all agree on is this: Bikes that work better make riders who ride better. Take a ride.
See how good you can be.
Reflex ™ Linked Brakes with Anti-lock Braking System
No doubt about it, there are times riding when you need to haul things down in a hurry. And you don't get to pick those times. Or decide whether or not they occur when you're on a flat, smooth, dry, perfect new stretch of pavement. That's why our touring models feature new Reflex ™ anti-lock braking (ABS) with dynamically, electronically linked brakes. ABS turns a locked up front wheel or a rear wheel skid into a relic from riding's history.
And the front and rear brakes are electronically linked to provide exactly the right amount of brake to each tire no matter what the road condition is. No matter how good you are, this will make you a better rider.
Air-Adjustable Suspension
With air-adjustable suspension that comes standard, you can dial in your ride to accommodate heavier or lighter payloads, battle unexpected road conditions or simply set it to how you like to roll. The lighter the load, the softer you can go by decreasing the air pressure a bit, or increase the air pressure for a more firm ride. A convenient air valve is located between the saddlebag and rear fender for quick adjusting.
It's all about rider and passenger comfort and setting your bike to fit your tastethe easy way.
Brembo ® Brakes
Confidence. Control. High-performance dual disc Brembo ® brakes offer consistent stopping power at all speeds.
The 4-piston front and rear caliper with dual front rotor brake system is state of the art and top of the line. It's just another way The Motor Company puts a high level of detail into their bikes to give you peace of mind throughout your journey.
Dunlop ® Multi-Tread ™ Tires
The 180mm back tire is engineered to do more than fill out the rear fender and put a bigger patch of rubber on the road. Dunlop ® Multi-Tread ™ technology uses harder compounds at the center and softer on the sides for a tire that still knows how to knuckle-down on corners. Perfect for making this bike agile on every curvy stretch of road.
And the way it feels going through an abrupt off-camber turn will put a grin on your face that'll last to the next state line.
Daymaker ™ LED Headlamp and LED Fog Lamps
For those who regard darkness as an invitation to go farther, the Daymaker ™ LED headlight with LED fog lamps will light the way. With 2,136 powerful, daylight-simulating lumens that bathe the dark road in natural light, a shoulder-to-shoulder spread of 160 feet and a 450-foot punch, the night is yours to take with full confidence. Because not all of us look for an exit when day turns to night.
LED Tour-Pak ® Lighting
Bright, eye-catching LED Tour-Pak ® luggage carrier lighting isn't there for glory. Being seen is important when you're on a motorcycle. All riders know it.
It comes standard, thanks to Project RUSHMORE.
New Ergonomically Designed Hand Controls
It's hard to enjoy the ride or keep your eyes focused on what's coming down the road when you're fussing and bothering with the switches on your handlebar. So we've worked over the hand controls on our new touring bikes with as much passion as we've worked over our new engine. We made the shape more ergonomic and located and angled them to fall right under your thumbs.
We've added left-hand cruise for easy activation, new toggle switches to control infotainment functions, an easily locatable trigger switch to control and scan through functional readouts. And we've improved the feel to give you a confidence-inspiring click at every push of a button. Even the dash panel switch gets better.
And it's all prewired for parts and accessories, which even lets you customize with less fuss and bother.
New Steering Head and Front Forks
Whether it's a big sweeping curve or a set of tight turns, getting through the corners just got better. We stiffened up the front end, increased the fork diameter to 49mm and added new steel ball bearings, with lubricant contained inside to keep contaminants out for durability. The responsiveness is dialed in.
AUTHENTIC STYLING
Project Rushmore
Project RUSHMORE is the journey we set out on to take our touring motorcycles to places never imagined before to turn all the possibilities for what a motorcycle can be now into true Milwaukee steel. We did it our way, as we've always done. As riders. Riding with other riders.
Thousand of hours, countless road tests, millions of miles. Looking for the technology and innovations that truly make the ride better. We went over the bike fender tip to fender tip. Making it work better. Making it look sleeker.
Modern. Clean. Tight. Let your eye take the journey over the machine. This is classic Harley-Davidson® style and an all-new look at the exact same time.
At Harley-Davidson®, form has always followed function. And both have always reported to emotion. Now we're just doing it on a completely different level.
Restyled Fairing and Front Fender
Let's start with this: When you see the iconic shape of a Harley-Davidson ® Batwing fairing coming at you down the road, it leaves no question that you're looking a machine born in Milwaukee and built for gigantic miles of road. But this is about moving forward. How do you maintain that iconic shape, yet give it a sleeker, more progressive style? The answer is right here.
The new Batwing fairing gives you less head buffeting (see comfort section for the full story on that) but also the look that instantly announces "Hey, this is a Harley-Davidson ® motorcycle. Of course, we didn't stop at the fairing. The fairing lowers, saddlebags and Tour-Pak ® luggage carrier got a sleeker new look to match.
And we worked over the front fender, too with a clean new look that's cut back to expose more of the wheel and tire. It all comes together for a look that's totally new, yet instantly familiar. Welcome to the next generation of Harley-Davidson® touring.
Classic Fuel Tank
Part of the unmistakable style of the Harley-Davidson ® Electra Glide ® Ultra Classic ® motorcycle is plenty of room for showing off your paint. This classically styled, bold six-gallon fuel tank doesn't just give you a bigger canvas for premium or custom paint; it holds six gallons of go so you can eat up a lot more road between pit stops. We know fuel economy is importantbut so is style.
A dual-color paint scheme, crisp pinstripes and unique Harley-Davidson ® tank medallions give this ride a one-of-a-kind look.
New Inner Fairing Design
Put your eye to the inner fairing of the Electra Glide ® Ultra Classic ® motorcycle and you'll see a whole new layout to greet the eye. There's a bigger display screen (see the whole story in the infotainment section). The gauges have been given a new treatment, too. You'll notice a 10 percent larger viewing area, wider, taller numbers sitting on top of that classic black background.
The information gets bigger and better too. There's a gear indicator for all six gears and the display area, which can now be operated by an extremely convenient trigger switch, puts more information at your fingertips. The temperature and fuel gauge are larger too.
When you're on the road, one quick glance tells you everything you need to know.
New Tank and Fender Badges
This isn't just a motorcycle. It's a work of art, born out of passion, creativity and long days, late nights and refusing to be satisfied until every detail was perfect. When we added the signature, we did it with metal.
Nothing else would be right on this masterpiece.
Bullet Turn Signals
We went end to end and top to bottom to give the 2014 Harley-Davidson ® Touring line-up the clean, tight, sharp, iconic look and feel that is only befitting of the next generation of our motorcycles. The finishing touch bullet turn signals. Sleek and modern, yet a timeless classic.
17 Impeller ® Front Wheel With New Brake Rotor
Sitting out front on the Electra Glide ® Ultra Classic ®. you'll notice a 17-inch cast aluminum, 10-spoke Impeller wheel. In the back you've got a 16-inch Impeller to match. There are new brake rotors designed to show off more of the premium custom look of the wheels.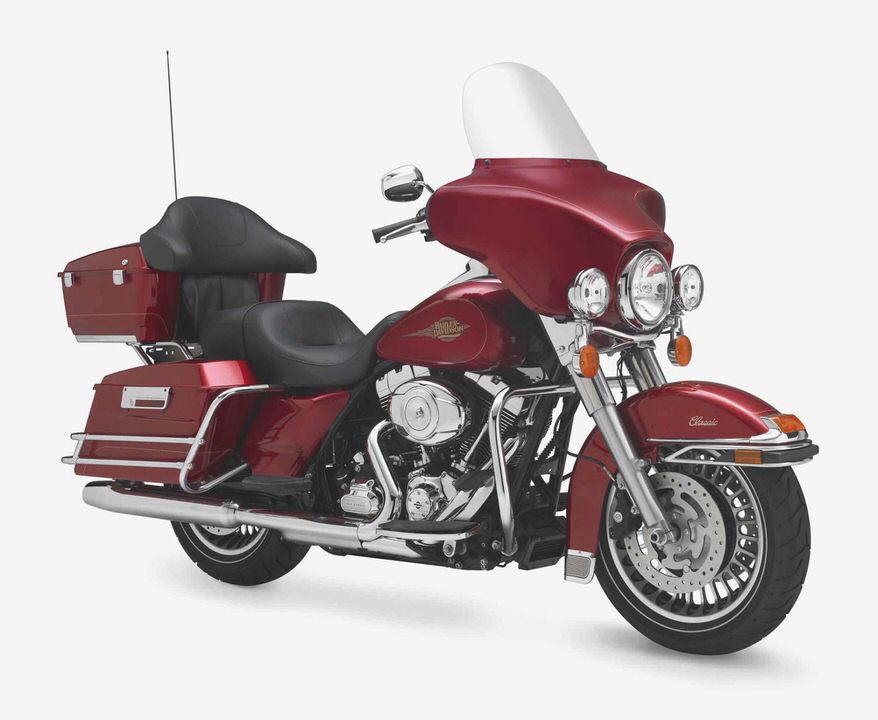 Because if you're going to go this far, you might as well take it all the way.
Project Rushmore
We dialed in the comfort of our machines the hard way: over thousands of miles in all kinds of riding conditions on every kind of street, road and highway ever laid down in pavement. Experienced riders and passengers putting in long hours in the saddle and giving us feedback on every aspect that contributes to comfort on the road.
Airflow, heat management, passenger space, back rests, seat textures, leg room and hand controls all went under the hard microscope of the road and got tested and re-tested by real riders and worked and re-worked by us until we were satisfied we had built the most comfortable machines on the road. We all want to go farther, and when you and your passenger are more comfortable in the saddle, you can.
Full-Length Footboards Toe/Heel Gear Shifts
Your boots were made for ridingany way you see fit. Our full-length footboards boast a time-tested, tried-and-true design and rubber isolation for a comfortable ride, while the height-adjustable passenger boards add another level of customizable comfort for your riding partner. And for shifting gears, you can use either the traditional toe-shift or the even easier, more convenient heel-shift.
It might take a few rides, but once you've gotten used to the smooth shifting rhythm, you'll never give it up.
Two-Up Road King ® Seat
A classic feature revamped for contemporary looks and performancewithout sacrificing an ounce of nostalgic style. Sculpted with a deep bucket and narrow neck this ultimate Touring saddle relieves pressure on your thighs, while providing more back support and comfort for a wide variety of rider sizes. And the lower seat height693 mm to be exact (739 mm unladen)puts your feet closer to the road to enhance your confidence.
Additionally, the leather trim and premium stitching accentuate the advanced ergonomics while giving the seat that sharp detail you only find on a Harley-Davidson ® motorcycle. It's science in service of comfort, and your way to beat fatigue over the long haul.
Wide Set Handlebar
Classic style and maximum comfort. That's the perfect balance of the wide set handlebars that come standard on the Electra Glide ® Ultra Classic ® model. They're designed to keep you comfortably propped in a commanding position while making sure your neck muscles stay calm and relaxed mile after mile, state after state.
Durable stainless steel insures the structural rigidity you expect from a Harley-Davidson ® motorcycle with the deep, lustrous finish you desire.
Increased Passenger Seat Space and Leg Room
Here's a message for all passengers: Your time in the saddle just got better. That goes quadruple when you're 1000 miles into the ride of a lifetime making the final leg of the day to get to the hot tub and relax for the evening. Because the longer the ride, the more you'll appreciate the improvements we made. This year the passenger pillion is one inch wider and one inch longer. And we put 2 more inches of room between the speakers.
We moved the saddlebag guards down for more leg room and to make sure they don't rub your calves. It all adds up to a ride that provides best-in-class comfort.
New Fairing Design Reduces Head Buffeting
This is what the science of cheating the wind involves at Harley-Davidson now: Fluid mechanics, algorithms, high-speed super computers and thousands upon thousands of wind-tunnel tests with riders in the saddle telling us how it feels. And that's before we take it out on the road for thousands of miles of real world wind gusts and every form of rain a cloud can spit out.
The result: a brand new take on the classic Batwing fairing that delivers smoother air flow and drastically reduced head buffeting. Most of it thanks to the pressure-equalizing duct on the front. It opens and closes with one touch of a button.
The feeling of being in the wind just got even better.
Newly Designed Back and Arm Rests
If you really want to know what makes a passenger comfortable, you start by asking people who've seen a good part of the world from the back of a bike. You run thousands of miles of road tests in heat, cold, sun, and rain. You use their input to perfect the height, the width, the shape, the contour, the texture of the leather, the lumbar support.
You install controls that can be easily reached and operated with one hand. What you end up with is the back and arm rests you're looking at right here. Passengers love them like they're their own babies, because in a manner of speaking, they are.
New Fairing Lowers
There's no such thing as a minor irritation when you're going to be experiencing it for tens of thousands of miles. The little things make a difference. Like the way the wind comes around your fairing lowers.
We've got the new fairing lowers dialed in just right, thanks to more wind tunnel and real world riding tests than we've ever done before. They're also vented so you can let some air through when the road gets hot. You'll appreciate them more with each passing mile.
Standard Cruise Control
Installing cruise control is standard operating procedure on the new touring models because riding long stretches of unbroken highway is standard operating procedure among touring riders. Electronic throttle control means no cable cluttering up your handlebar. And the switches are placed where you can easily dial in your speed with your left thumb, give the wrist a break, and keep hauling on down the road.
Project Rushmore
If you want the ride to be truly epic, you have to sweat bullets to make the little things work exactly right. This is what Project RUSHMORE was all about. Now you have saddlebags and Tour-Pak ® luggage carriers that can be easily opened with one hand. Compartments that open with one touch.
And we've increased the storage space on these new machines without ruining the sleek, road-eating look of the bike. It all adds up to hundreds of little moments where things just click conveniently into place. Because there can be no imperfections in the quest for the perfect ride.
High Output Accessory Connector
Touring means maximum comfort in all conditions and the capacity to add whatever enhances and personalizes your ride. The high output charging system provides an electrical capacity robust enough for your add-ons: heated vests, heated seats, heated handgrips, lights to showcase the engine, you name it. So if you're hell-bent on two-wheeling it, we make sure you've got the juice to do it your way.
One Touch Design Philosophy
Here's the rule we laid down for every compartment cover and saddlebag lid on our touring line: if it doesn't open with the single touch of a button or one hand, while wearing gloves, it doesn't go on the motorcycle. Because in all our conversations with all the riders we talked to while we were rebuilding these motorcycles from the ground up, we didn't encounter a single individual who wanted to have to put something on the ground before he could store it in a saddlebag.
New Saddlebag Design
Don't let the sleek new look of these saddlebags deceive you. The look is tight on the outside, but things just got a little roomier on the inside. You want stuffability and these deliver bigger than ever.
The hinges are simple and clean and the lids open with one touch of one hand. The lock is tight and integrated into the latch where you can put the key in without the danger of scratching your premium paint. And new removable Travel Bags are standard.
Welcome to the next level of the bagger.
New Tour-Pak ® Design
Like the new saddlebags, the new Tour-Pak ® luggage carrier design is sporting a sleeker new look, but it didn't come at the expense of storage space. They're bigger inside than ever and can easily accommodate two full-face helmets. There's a new document and toolkit pouch. The lock is integrated into the latch to keep your key away from your premium paint.
And new premium hinges that work better and look sharper. You can operate the single latch with one hand. Storage. Check. We have it covered.
Push Button Fuel Door
One button, one touch, fuel door open. Any questions?
New Standard Battery Charging Harness
No question a battery charging harness is a must have on a motorcycle. Now it's standard. So you don't have to waste even the ten minutes it takes to install one on some sunny Saturday when you could be riding.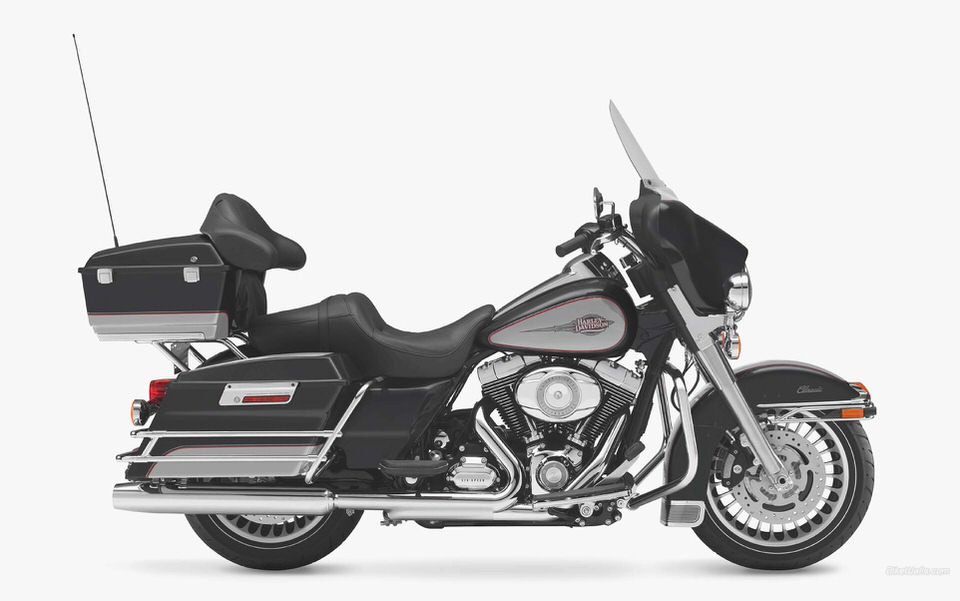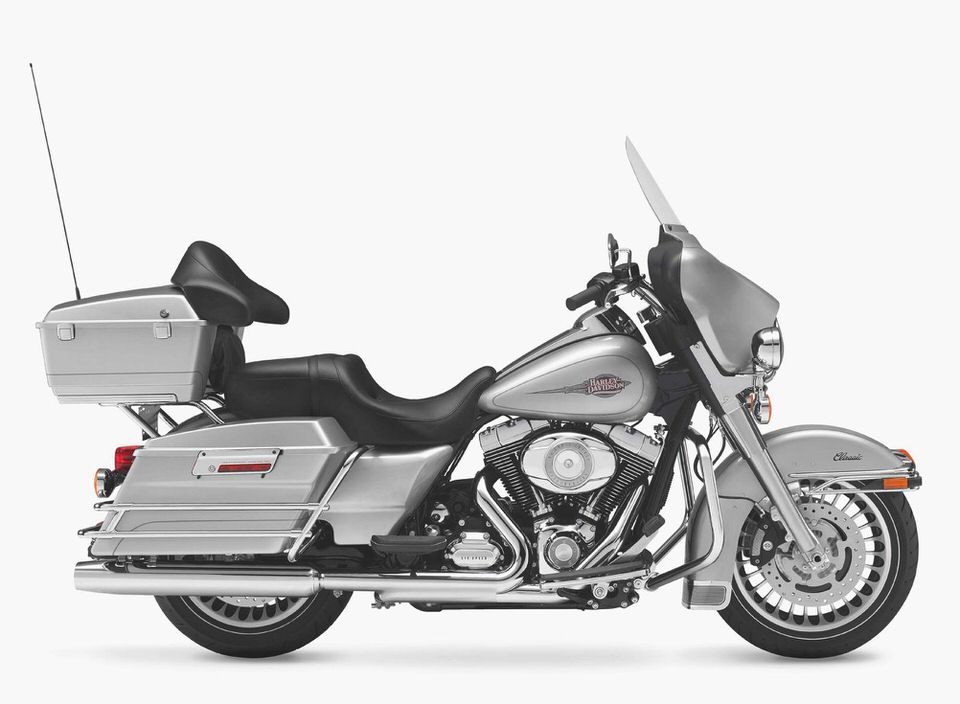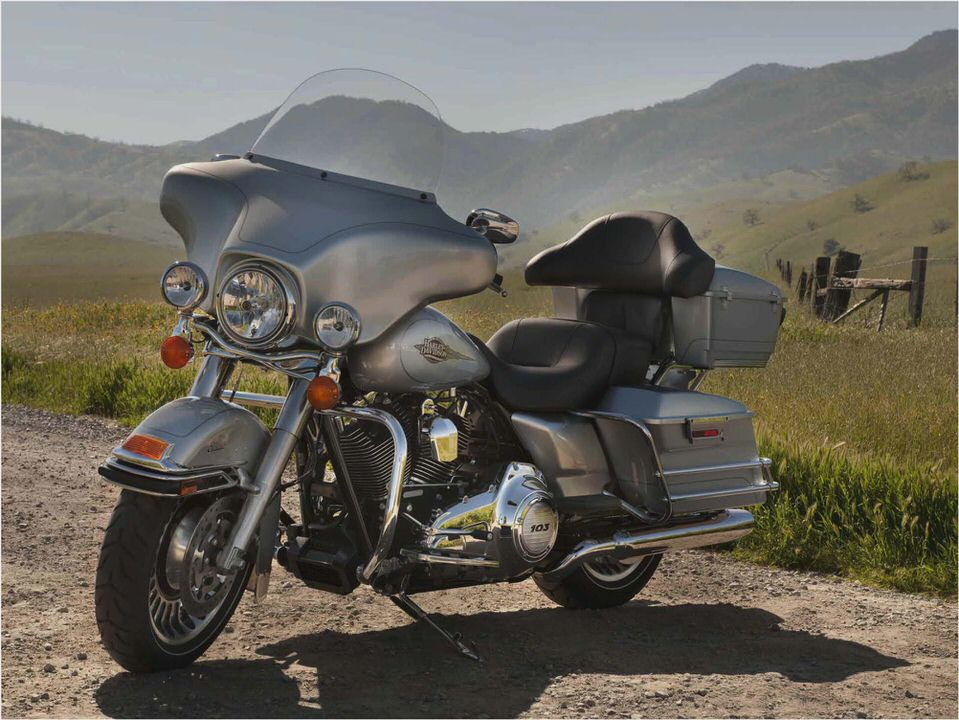 Harley-Davidson's FLSTSB Softail Cross Bones Thunder Press
History of The Harley-Davidson Electraglide Sport FLHS
2006 Harley Davidson VRSCR Street Rod Motorcycle – First Ride & Review…
I Have a 2006 883 Harley Davidson Sportster — How Do I Change the Oil…
Test Ride: 2010 Harley-Davidson FLHXSE CVO™ – NikJMiles.com