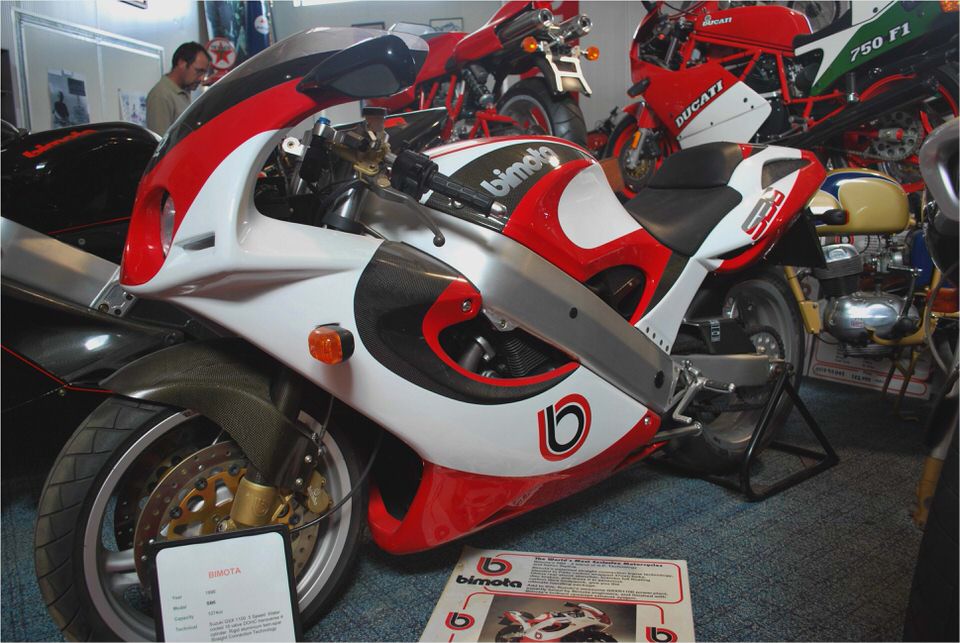 Bimota SB2
Tuesday, May 22nd 2012. Category. Motorcycles views. 6213
If you didn t know about the SB2, it would be very easy to underestimate the impact and importance of Bimota s first serious streetbike. Sure, it has a streamlined full fairing and a swoopy tank – seat unit, but quite a few superbikes had such things even several decades ago, right? Same goes for cast wheels and monoshock rear suspension.
But in fact very few other production bikes had any of those features when the SB2 was launched into an unsuspecting motorcycling world in 1977 – the long – ago year in which Elvis and Steve Biko died, and Apple sold its first personal computer. And more to the point, the year in which both Suzuki and Yamaha built their first four – stroke multis. Suzuki s GS750, whose four – cylinder engine powered the SB2, and Yamaha s XS750 triple were naked machines with twin rear shocks.
As were Honda s CB750F2, Kawasaki s Z1000 and even Laverda s Jota.
Compared to all those flagship superbikes Bimota s sleek and high – tech creation was a machine from another planet. Which in retrospect is not such a surprise, because the small firm from Rimini on Italy s Adriatic coast had been co – founded by a young engineer named MassimoTamburini, later to create Ducati s 916 and MV Agusta s F4 750, and to become widely regarded as motorcycling s greatest ever designer.
The SB2 was the first production roadster produced by Bimota, so signified a change of direction for the firm that Tamburini had founded with his friends Valerio Bianchi and Giuseppe Morri (hence the name BiMoTa) to make heating systems in the mid – 1960s, before moving into bike racing chassis with spectacular success. His frames took Johnny Cecotto s TZ350 – engined Yamaha and Walter Villa s works 250 and 350 Harley two – strokes to world championships in the mid 1970s.
Bimota s involvement with Suzuki began in 1976 with the SB1, a racebike that was commissioned by the marque s Italian importer, and was powered by theTR500 two – stroke twin engine. It won an Italian National championship, and led to Suzuki Italia arranging for Bimota to build a roadster based on the GS750. By this time Bimota had developed its first four – stroke, the HB1 that Tamburini had designed after crashing his CB750 at Misano.
A total of 10 HB1 s had been built but the SB2 was a much bigger and more high – profile project. Suzuki s order of 200 bikes reportedly prompted Bimota to increase its workforce from 16 to 30 people.
Tamburini s SB2 prototype was even more futuristic than the eventual production model. Its petrol tank was below the engine, and used an electric pump to raise fuel to the carburettors. He later said that this was his worst ever design -Too complicated!- and he had returned the tank to a conventional position by the time the bike was unveiled at the Bologna Show in January 1977 – after Suzuki engineers had reportedly flown from Japan to inspect it.
They must have been mighty impressed because the SB2 s striking style and advanced rear suspension layout were just the start of its futuristic specification. The tank – seat unit was a self – supporting structure of the kind later used on Grand Prix race bikes, though in the Bimota s case it was made from glass fibre lined with aluminium, rather than carbon – fibre. It required no rear subframe, being held in place by rubber toggles that allowed quick removal.
Brakes lack the modern ease you may be used to, but they do have plenty of bite in them.
Bimota s frame was a work of art. Welded from chrome – molybdenum tubing, it had a heavily braced steering head and used the engine as a stressed member. Conical couplings enabled the close – fitting front and rear frame sections to be split for engine removal.
The frame s weight of just 10kg helped explain why the SB2 weighed 198kg with an empty tank, almost 30kg less than the GS750.
Other advanced chassis features included steering geometry that could be adjusted by rotating eccentric bearings in the triple clamps.
Like the foot controls, these were machined from billet Avional 14, an aircraft – grade aluminium alloy. The fork legs were set at a different angle to the steering head (28 degrees the forks, 24 the head), to reduce the change in trail under braking.
The monoshock rear suspension system incorporated a rocker arm above the vertical shock unit. The long, box – section steel swingarm curved outwards at its front to pivot concentric with the final drive sprocket, maintaining constant chain tension with suspension movement. Even the Bimota s wheels were special; made from magnesium and designed by Bimota to take unusually wide tyres, the rear typically a 130/80 – section Michelin.
The result was truly sensational; even more so when, as was often the case, the powerful, smooth and robust GS eight – valve air – cooled engine was tuned to increase its standard output of 68bhp to as much as 85bhp. Bimota didn t modify the motor but some of the handful of bikes brought to the UK by importer David Dixon (who also imported Yoshimura parts) were tuned in that way. Combined with the SB2 s much improved aerodynamics this pushed top speed towards 140mph, roughly 15mph faster than the stock Suzuki.
Chassis performance was improved to a similar degree, with the result that there was surely no standard production bike that could have kept up with a well ridden SB2. As well as being much lighter than comparable superbikes, its frame rigidity and suspension quality were far superior and its braking power a match for any other machine. It also had the ground clearance to exploit its tyre grip, thanks to its engine being mounted 25mm higher than in the GS.
Inevitably the SB2 s one big flaw was its eye – watering price: at almost ?4000 in 1977, it cost roughly three times as much as a GS750, and 50% more even than the mighty Jota. Despite that, 140 of the 200 ordered were produced and sold. Of the remaining 60 frames, half were used to build the more conventionally styled (and slightly cheaper to produce) SB2/80 follow – up, also using the GS750 engine, and the rest were scrapped when Bimota moved on to the GS1000 – powered SB3 and Kawasaki – engined KB1.
So the SB2 can t be judged a complete commercial success, but it had a huge impact in showing the motorcycle world what was possible. And it certainly made its mark on anyone lucky enough to ride it. Cycle, the leading American magazine, concluded: Its suspension settings, its weight distribution, its geometry, its wheelbase length, its cornering clearance and the strength of its frame all work together to provide handling response and stability that s beyond our critical expertise.
As hard as we could ride it, on the fastest, meanest roads we could find, it remained at the end what all of its technical ornamentation promised at the beginning: perfect.
Hyperbole, undoubtedly. But since Honda s CB750 began the superbike era in 1969 there has arguably not been another machine so technically and dynamically far ahead of everything else on the road.
WHATIT LIKE TO RIDE?
Amazingly fast and capable for such an old bike, is the short answer. Just as when merely eyeballing the SB2, when riding one you have to remind yourself when it was built, and the sort of opposition it was up against back in 1977. Perhaps Bimota s Japanese – engined four doesn t have quite the character of Italian contemporaries such as the 900SS, Jota or Guzzi s 850 Le Mans, but it s more sophisticated and every bit as fast.
Especially in the case of Lancashire based Bimota enthusiast Andy Graveson s well preserved machine, which is typical of a UK model in having a tuned motor, bored out to 850cc and fitted with high – comp Yoshimura pistons. Unfiltered, 29mm Mikuni carbs replace the standard 26mm units; the exhaust system is a free – breathing four – into – one. A gas – flowed head and Yoshi Stage 3 cams help increase rear – wheel max to a dyno – tested 78bhp at 9000rpm, compared to about 60bhp from the standard Suzuki.
That hotted – up lump provides plenty of speed on the straights. There s a dip in the power band at around 5000rpm, but once into its stride the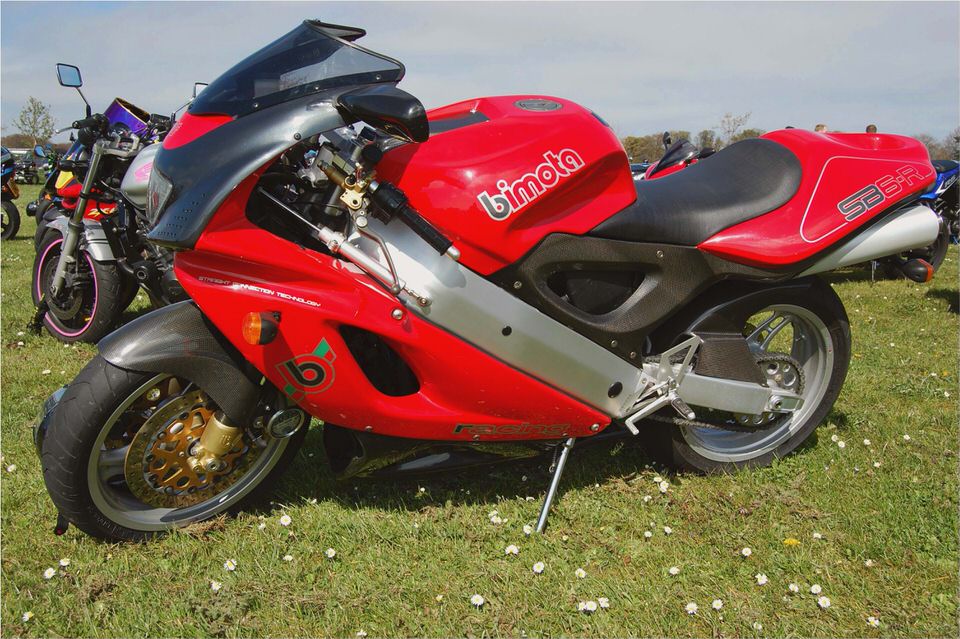 Yoshi – tuned eight – valve unit sends the Bimota howling forward. An indicated 100mph is effortless, thanks partly to the efficient fairing.
But it s the SB2 s chassis that makes most impression, from the moment you throw a leg over a brown suede single seat that is thinly padded and very low, giving the impression of sitting in, rather than on, the bike. The Bimota is small, particularly by 1970s standards, with a 1390mm wheelbase (108mm shorter than that of the GS750), low clip – ons and high, rearset footrests. For such a sporty machine the fairing is protective, extending out around the bars, and rising up to a fairly tall screen.
One series of bends is all that s needed to confirm that the SB2 is much sharper than other 1970s superbikes. The response is very neutral, and the Bimota stays effortlessly stable as the pace hots up.
This bike s original De Carbon shock has been replaced by a Quantum unit that gives a smooth and well controlled ride, albeit with comfort a secondary consideration. Braking from the drilled front Brembos is strong, though lacking the effortless power of a modern system. Concern about the grip of the Dunlop tyres limits cornering pace but the Bimota gives no unwelcome surprises, even when making use of its generous ground clearance.
The Bimota is certainly powerful and sweet handling enough to feel mighty good decades after it was produced, in a way that most of its contemporaries do not. Back in 1977, when Suzuki s GS1000 and Honda s CBX1000 had not yet been released, and the only Japanese superbike with comparable power was Kawasaki s naked Z1000, its level of engineering and performance must have been mindblowing.
What to look out for
Both John and this SB2 s owner, Andy Graveson, answered that question with the same word: Originality. Anyone wanting one of these is going to want it original, says Fallon.   The good thing is that the bodywork is basically glass fibre so unless the bike has a horrendous crash it s very repairable."And anyone selling a bike of this rarity and value would be unlikely to do so without making sure it was in the best possible condition.
Some people used to modify the bodywork to put the battery in the tailpiece and extend the tank, says Andy. If that s been done to a bike it will reduce the value. So will replacing the original magnesium wheels with Speedlines or Campags.
Graveson reports no problems with his bike s wheels, although similar magnesium items have been known to crack. The only way to be sure is to get them x – rayed.
Mechanical problems are rare, thanks to the quality of both engine and chassis, and the relatively low mileage that most SB2s cover. The GS motor was very reliable even when tuned, says Graveson. The only thing I ve had trouble with is the electrics – the wiring harness isn t great and it s crammed in on the bike.
Sadly an SB2 did suffer a failure on one of its most high – profile outings in 1977, when ridden by Bill Smith in the Isle of ManTT. Fujio Yoshimura, son of Pops, had helped tune the 944cc motor, and the bike was timed at 145mph before theTT. But Smith hit the bump at the bottom of Bray Hill hard enough to dislodge the tank – seat unit s rubber mounts, after which it rubbed on the back tyre.
Then the camchain tensioner broke, forcing the Bimota s retirement in a cloud of smoke. Thankfully most SB2s will have been treated a lot more gently than that.
What they cost
If you want to own an SB2, your first problem is likely to be not how much it will cost but finding one in the first place. With so few bikes built so long ago, most are in the hands of collectors who have no need or wish to sell. They hardly ever change hands but I did hear of one recently that was on offer for €30,000, (about ?25,000) says John Fallon, boss of Suffolk based specialist Made in Italy (www.madeinitalymotorcycles.com).
Fallon didn t buy that bike but thinks the price was roughly right. Fifteen years ago I sold an SB2 for ?6000 when a Ducati 900SS was worth ?4000, so the Bimota was 50% more expensive. A good 900SS is worth over ?15,000 these days and you d expect that ratio to have stayed the same.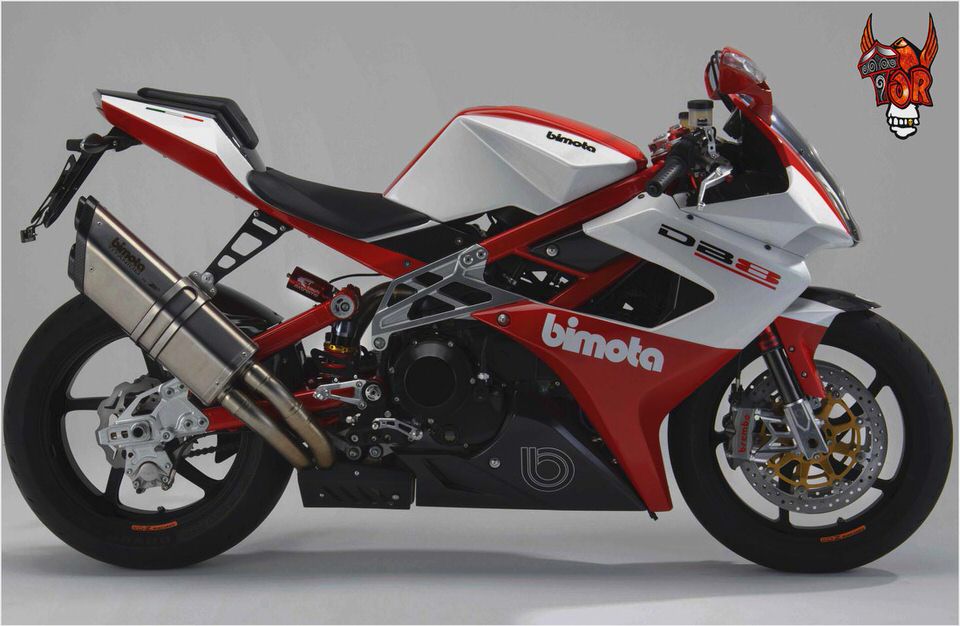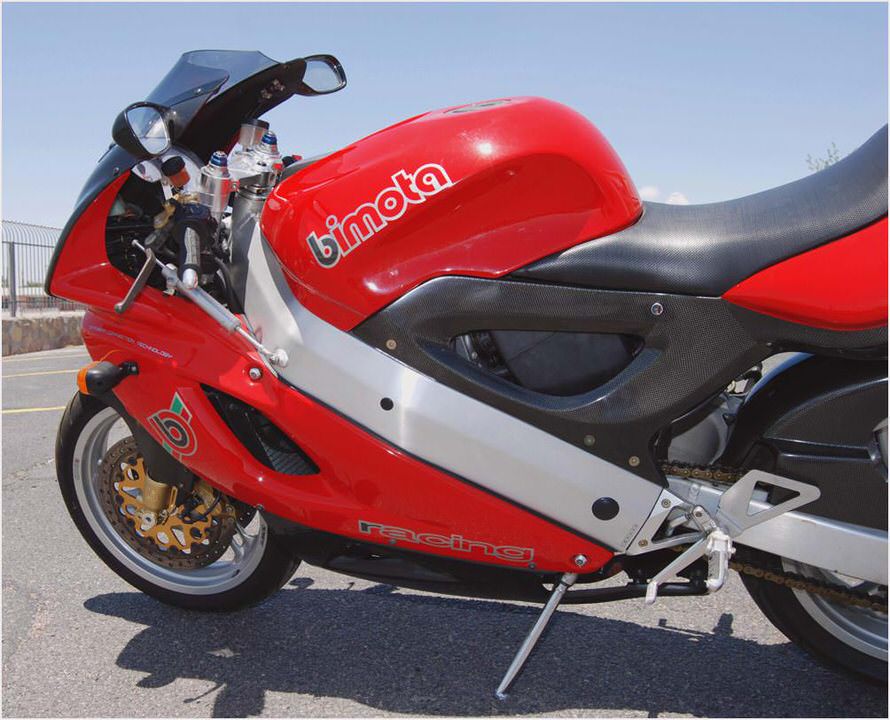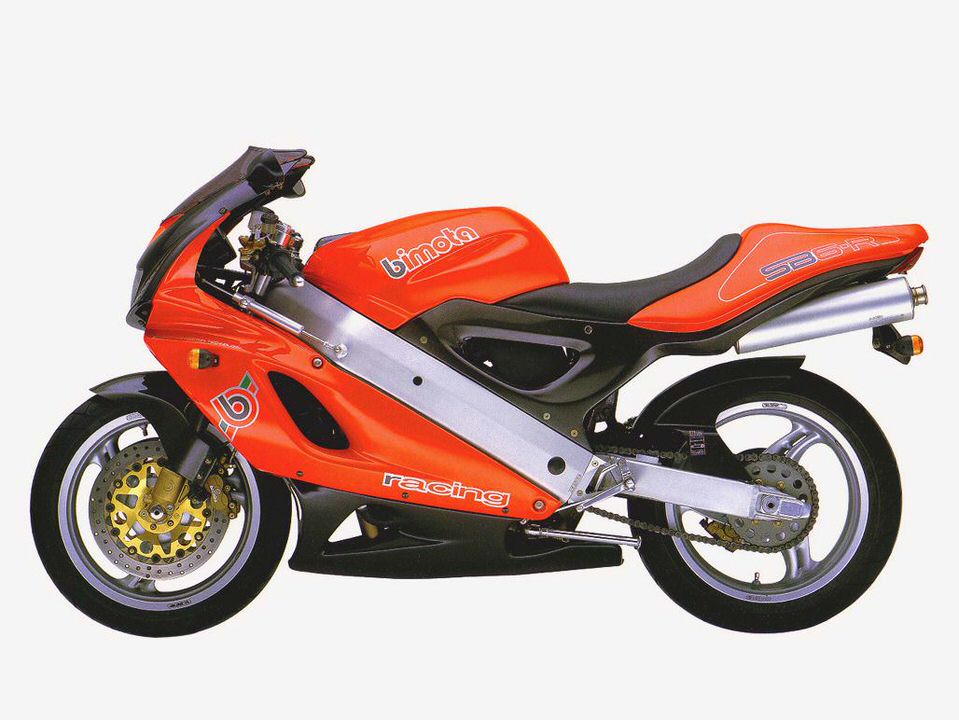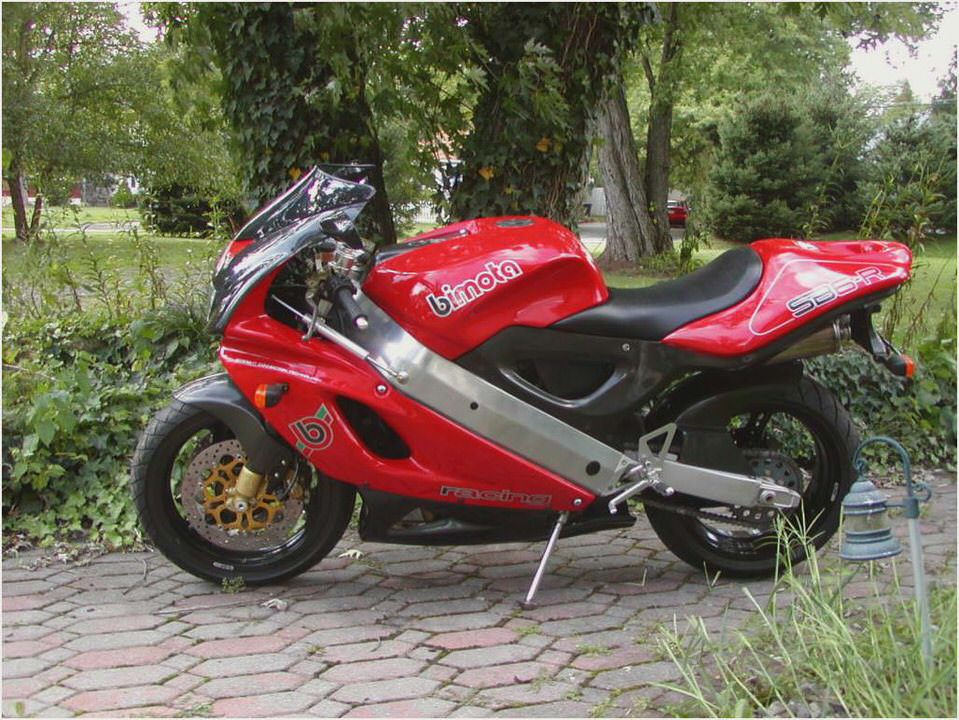 Effenbert Liberty Racing Withdraws from WSBK'Again
Bimota SB8R Moto Street Wheel – Carbon Fiber 5-Spoke – Front – 19001-7004-16-000…
Shopgoodwill.com – #14541523 – Bimota Tesi 1D Motorcycle: Tamiya-1/12…
Bimota DB7
2013 Bimota Tesi 3D E motorcycle review @ Top Speed