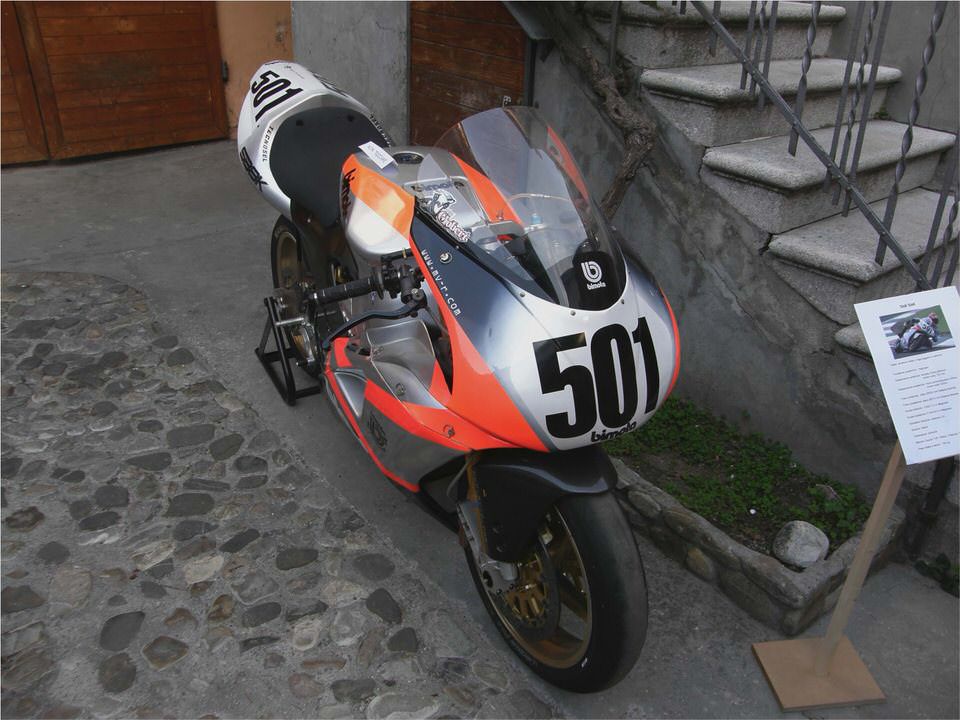 World Supersport Championship underway with another Ten Kate Honda win
World Supersport Championship underway with another Ten Kate Honda win
February 26, 2006 Winston Ten Kate Honda CBR600RR rider Sebastien Charpentier started his championship defence in the best fashion possible by winning the first race of the World Supersport Championship at the Losail circuit in Qatar yesterday, scoring pole position, leading every one of the race's 18-laps and setting a new lap record on the way. The Frenchman ran out a five second winner over Kevin Curtain who debuted Yamaha's ride-by-wire 2006 Yamaha YZF-R6.
Perhaps the most promising aspect of the race was that despite the speed of the well-sorted Ten Kate Honda CBR600RR, the new Yamaha was very fast and competitive though it is sill very early in its development. The third generation YZF-R6 looks like it has the goodies to take the race to the dominant Ten Kate team and the talents of Charpentier.
It was a successful day all round for the Winston Ten Kate Honda team. Charpentier took a new lap record of 2'03.921, having set pole with a 2'03.093 and ther team's newest Supersport recruit, Turkish rider Kenan Sofuoglu, score a podium in his first Honda CBR600RR Supersport ride, taking a safe third after challenging for the lead in the first few laps and frightening Curtain with some wild riding in the early stages.
Curtain rode a cautious race on the Yamaha Motor Germany YZF-R6to take the flag behind Charpentier. Despite having only had 90 minutes dry weather practice at the circuit, Curtain was able to run under lap record pace to start the season with 20 valuable points.
Curtain was able to break away from his young Turkish opponent, running several laps on record pace to close right up with the champion. But Charpentier was able to increase his pace and build a gap over Curtain, who decided discretion was the better part of valour. Unsure of the endurance of his front tyre, he decided to bring his R6 home in a safe second place, five seconds behind Charpentier but a similar distance ahead of third placed Sofuoglu.
"We're not that far off for the first time in a race with the new bike," said Curtain. "We have a little bit to go yet but I'm really happy we can just about match them, especially in top speed. It was close but not close enough. Sebastien ran a fast race today, and the opposition has shown that they are still strong this year.
But I am happy that the new R6 has performed this well this quickly so it can only get even better. We didn't have much time in the dry and I wasn't sure if the front tyre could last the distance. In the end it was fine but I didn't want to risk a DNF at this stage. Now it's off to Phillip Island, where we've already tested and have a good set-up, so that's something to look forward to."
For Charpentier the race, conducted at a high pace throughout, was a vindication of not only his machine, but the preparations of his team in pre-season. In testing in December we made a lot of improvements and set some good times here in Qatar, said the 2005 champion. We pushed very hard for many laps, and today we did 2'04s consistently, with some 2'03s, so I am very pleased about that. It improved on last year and proved to us that we have many possibilities this year.
I felt very comfortable on the bike and we are in a good condition. Kenan did very well; he is young and hungry to finish on the podium so it's perfect for me. You need a fast rider in your team to compare yourself against.
Sofuoglu, fast from first to last this weekend, raced with a maturity in the final few laps, taking an outstanding podium in his first ride for his new team. I am very happy with this result, even after we knew would could be fast after the pole time I set, said the charging Kenan, who played it safe towards the end. I ran in the first group in the race, and even though it was very difficult in the first laps, I knew I could go with them.
After ten laps I was in third position and I realised that I had to keep the podium, so I stopped trying to challenge Kevin Curtain for second. This is a good result for us and thanks to the team for providing me with such a fast bike. The bike is completely different from my 2005 Superstock machine, there are many things you can change in Supersport, and more you can do with suspension.
The seat on the second Ten Kate Honda which was taken by Sofuoglu was last year held by Japanese star Katsuaki Fujiwara who this year swapped to the Team Megabike Honda CBR600RR. Fujiwara was fully in contention in the early stages, as he led off the line before being swamped by Charpentier's pace. He was to fall at high speed on lap five, breaking a scaphoid bone in his wrist and will now miss the Phillip Island round in Australia.
Yoann Tiberio (Megabike Honda CBR600RR) was forced to miss the Qatar race in its entirety after suffering a cycling injury, but is heading of to Australia, hoping to be fit in time.
Fujiwara was firmly on course for a strong finish after a fourth place qualifying, but his crash stopped not only his race, but his ambitions for the next round in Australia. It's a shame for this to happen, not only crashing out but losing the chance to race in Australia, said Fujiwara. I am going home to Japan now to have an operation to pin my wrist, so it should be OK for the Valencia round.
Curtain's team-mate Broc Parkes' Qatar outing was a short one, ending in the gravel on lap two. The Australian burnt the clutch out on the startline but continued anyway, only to be caught out by a lack of engine braking caused by the slipping clutch.
The new R6 is powering the bulk of riders in this year's championship with Spanish privateer Javier Fores showing the potential of the machine with a fine fourth place. Italian riders Massimo Roccoli and Gianluca Vizziello also finished in the top 10 on their Lorenzini by Leoni entered R6s.
Finally, the race saw the return to international racing of eternal wild-child and eight-time world superbike race winner, Anthony Gobert. The former international supercross, MotoGP and World Superbike star has had a series of well publicised falls from grace with a series of the world's leading race teams due to testing positive to marijuana (hardly a performance-enhancing drug) in blood tests, or missing drug tests or just going missing. Despite all this, the spectacular Gobert is still acknowledged as having superstar abilities by those in the know and though he's seemingly been around forever, he's still only 31 years of age and quite capable of putting it all behind him if he can find a sponsor and remain on the straight and narrow.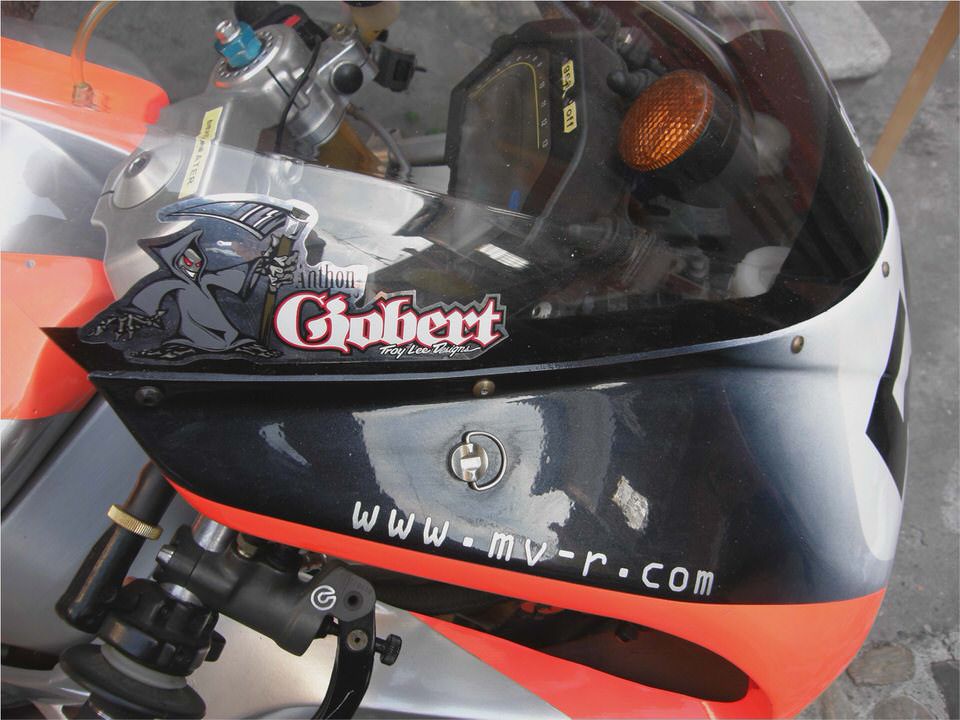 A crash by Yamaha GMT94 rider David Checa in testing last week saw him break his arm and Gobert has been given the opportunity to substitute for Checa. After undergoing a successful operation on Friday the Spaniard is expected to return to the saddle by the end of March, leaving the team needing a replacement rider for the opening two races. Round two takes place in next weekend at the Phillip Island circuit in Australia, being Curtain, Parkes and Gobert's home race and it is to be remembered that the Philip Island circuit has seen Gobert perform miracles before.
Gobert, who celebrates his 31st birthday on the day of the Phillip Island race, rocketed onto the world superbike scene at the end of the 1994 campaign – taking pole position and a win at the Australian round. After three years in the championship 'The Go-Show' moved to 500cc Grands Prix before returning to the world superbike series in which he made his name in 2000.
His win on the underpowered Bimota, again at Phillip Island, was as memorable as the race six years earlier and showed his undoubted natural talent as he won by almost 30 seconds in a wet race. His last world championship outing came in October 2000 when he rode a Yamaha YZF-R7 at Brands Hatch.
In the intervening years he faced well-documented personal problems while racing in American and Australian national championships. I'm really happy to have the opportunity to get back into the world series with a good team and bike, he said. I took a few years out to work out what I wanted to do and I've realized that it is to get back into racing. I raced in Australia last year and it looked like I might be doing that again, until this offer came to ride in the first few races.
At first I was approached for the Phillip Island race but I really wanted some time on the bike beforehand, so the team invited me along to Qatar as well.
The first race will really be a test for us. I raced supersport for Yamaha US in 2001 and 2002 but the bikes have changed a lot since then. It's a new track, team, tyres and bike for me and I haven't ridden for five months.
If we can get into the groove in Qatar then there's no reason why we can't be aiming at the top five in Phillip Island.
After the race, Gobert said, "I struggled a bit at the start but once I got going and into the groove of it, it went better."
"There were so many things different today, the suspension, the gearing shorter and so on. By the time I had adjusted to the new settings I was 24th but then worked my way back up to 12th at the finish."
RACE. (Laps 18 = 96,840 Km) Pos /Rider /Nat. /Team / Time /Gap 1 / S. CHARPENTIER / FRA / Winston Ten Kate Honda / 37'30.955 / 2 / K. CURTAIN / AUS / Yamaha Motor Germany / 37'36.351 / 5.396 3 / K. SOFUOGLU / TUR / Winston Ten Kate Honda / 37'42.612 / 11.657 4 / J. FORES / ESP / SLM Racing / 38'09.097 / 38.142 5 / J. STIGEFELT / SWE / Dark Dog Stiggy Motorsports / 38'10.123 / 39.168 6 / R.HARMS / DEN / Stiggy Motorsports / 38'16.502 / 45.547 7 / M.ROCCOLI / ITA / Yamaha Team Italia / 38'18.586 / 47.631 8 / C. ZAISER / AUT / LBR Ducati Racing / 38'18.637 / 47.682 9 / G.VIZZIELLO / ITA / Yamaha Team Italia / 38'19.530 / 48.575 10 / J. BROOKES / AUS / Ducati SC – Caracchi / 38'20.769 / 49.814 11 / S. LE GRELLE / BEL / Legrelle – Honda Belgium / 38'25.464 / 54.509 12 / A. GOBERT / AUS / Yamaha – GMT 94 / 38'25.657 / 54.702 13 / W.DE ANGELIS / ITA / Intermoto Czech Klaffi / 38'28.317 / 57.362 14 / T. TUNSTALL / GBR / Hardinge Ice Valley M. / 38'34.391 / 1'03.436 15 / G.NANNELLI / ITA / Kopron Edo Racing / 38'36.437 / 1'05.482 Fastest Lap 13° Sébastien Charpentier 2'03.921 156,293 Km/h Lap Record: S. Charpentier 2'04.684 155,34 Km/h 2005
Riders Championship Standings: Charpentier 25, Curtain 20, Sofuoglu 16, Fores 13, Stigefelt 11, Harms 10, Roccoli 9, Zaiser 8, Vizziello 7, Brookes 6, Le Grelle 5, Gobert 4, De Angelis 3, Tunstall 2, Nannelli 1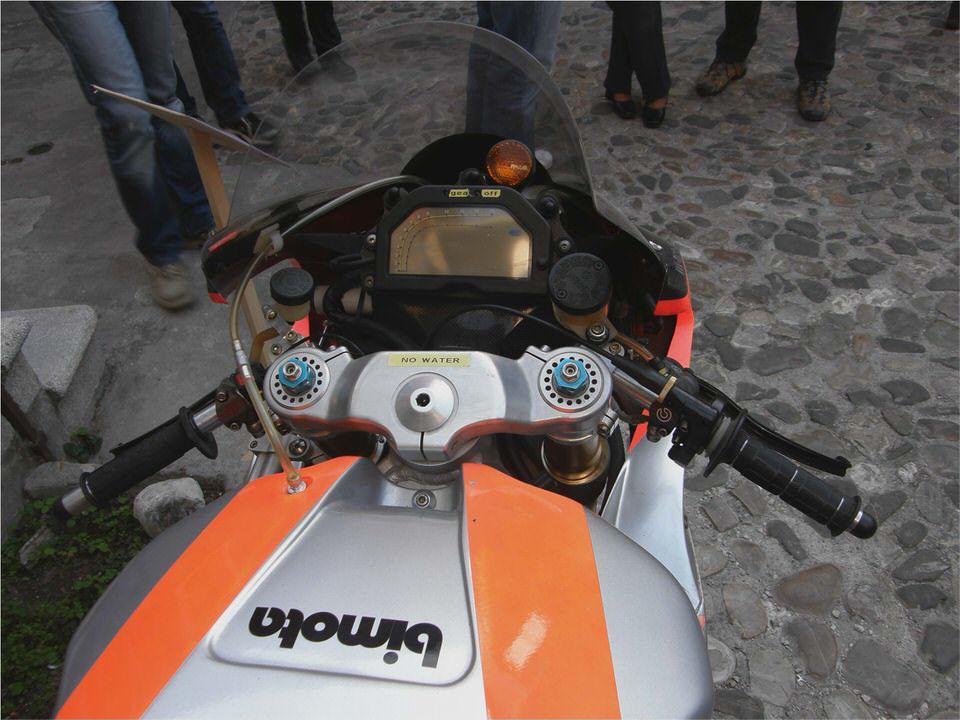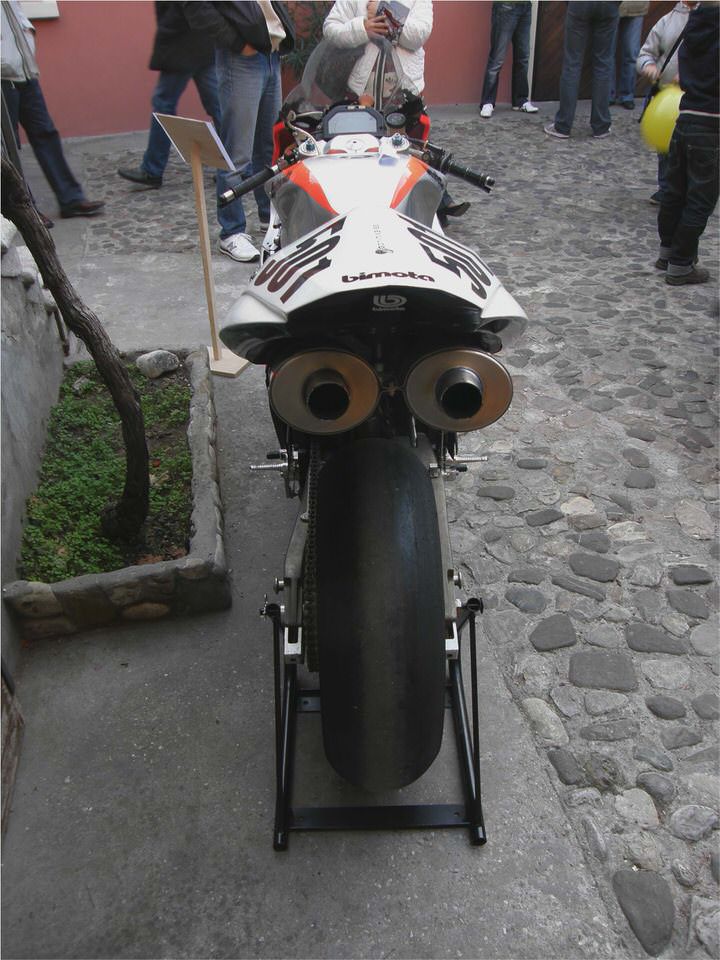 2007 DB6 Bimota Delirio Super Fast, Super Strong Cool Bikes
2013 Bimota DB6 Delirio motorcycle review @ Top Speed
Visitors bikes page 3l
Aprilia Tuono Factory-Aprili
Bimota DB7 – Carbon Fiber – Motorcyclist Magazine Online Page 2